First things first: Jonny Hayes is one of those players that makes a club overwhelmingly better by his mere presence. He's what we call in the U.S. a "lunchpail player," the kind of player who, without flash or fanfare, shows up to work, clocks in, and goes above and beyond the job asked of him in any given game.
So when he posted an Instagram message saying that he's moving on, the Celtic faithful rightfully is mourning his departure and wishing him well in his future endeavours. My wish would have been that his "future endeavours" would have been in green-and-white, but . . . .
"Football at times brings tough decisions," Hayes writes in his post, "so I'd like to thank you for all the support received along the way!"
Most of the memories relayed on social media involve Hayes' goal against The Rangers™ earlier this season to put the game out of reach, as the picture speaking a thousand words above outlines. That was completely sublime, of course, but there was so much more to Jonny's contributions to Celtic since he came to the Hoops from Aberdeen.
Hayes will always be remembered for his leave-it-all-out-on-the-pitch style of play, where he gave his all every game. There's nothing more you can ask of an athlete, and he always delivered. Solid play against Lazio. A potential goal-saving tackle at Rennes. The list is quite long.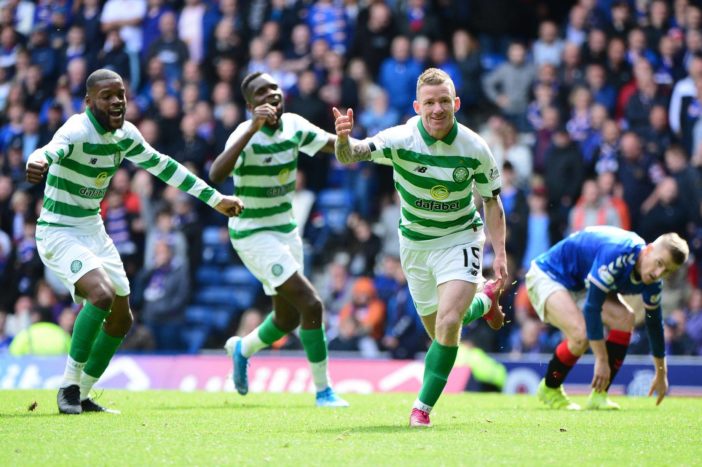 But what I like to remember Hayes for — and this seems inconsequential to most — is how that brand of play was typified in his throw-in at Hamilton back in February that led eventually to the 2-1 winner by Christopher Jullien. Hayes literally vaulted the signage on the Hamilton sideline, retrieved the ball, quickly threw in to Callum McGregor, who passed it back to Hayes, and then Hayes passed forward to Ryan Christie, who crossed it to Jullien, who put it in the back of the net.
It looked something like this.
At the end of that clip, we see Neil Lennon congratulating Hayes for starting the ball rolling, so to speak.
Like Mikael Lustig and Scott Sinclair, whose careers I still follow even though they're playing elsewhere, I'll keep watching Jonny Hayes because he will always be Celtic through-and-through.
Good luck in your future endeavours, Jonny!
Larry Cafiero
The Celtic Blogger stateside at '67 in the heat of Felton – A view of Celtic FC from the Central California coast by Larry Cafiero
VOTE NOW FOR THE CELTIC STAR'S PLAYER OF THE YEAR
 Loading ...