When Fabrizio Romano links a player with your club it's usually worth at least paying attention to it, as such when he comments on interest in one of your club's players it's just as wise to attach a similar weight.
In the case of the transfer expert and his assertion that clubs are interested in Josip Juranovic and that interest may convert into hard offers this summer, it may not be welcome news but nor should it really be a shock.
Croatian national team right back Josip Juranovic is expected to leave Celtic FC this summer as many clubs are following him. 🇭🇷 #transfers

Jurankvic is attracting interests from Premier League clubs too after great season for club and country.

— Fabrizio Romano (@FabrizioRomano) June 20, 2022
Celtic's shift in recruitment tack of purchasing players in an older age bracket brings more chance of the club having players who can hit the ground running at Celtic and less need to coach improvement out of players, as we perhaps tried to and in the main failed with a raft of project signings under previous managers. Conversely however, what comes with that is perhaps less longevity in a player's term with Celtic, alongside less of a window of opportunity to reject substantial fees when they arrive.
If Juranovic was 22 or 23 Celtic could perhaps sit tight and have the player play for another couple of seasons well aware that the players value to other clubs would hold if not increase. When you sign established players approaching their peak however – as we did, signing Juranovic when he was 26 – there is a smaller window of opportunity to sell and maximise the worth of the player on your books.
Whilst young players, who may feel they have their career ahead of them, may not be too fussed by Celtic playing a long game in terms of maximising their transfer income, an older player is likely to be made aware by his representatives that when EPL opportunity comes knocking it's probably wise to answer the door, rather than hope the visitor will pop back later.
If Josip Juranovic has admirers, it's hardly a surprise – he's had a very impressive season, he's now an established Croatian international, and the two areas of concern for big club scouts prior to signing for Celtic have probably been alleviated in one season in the hoops.
Having been converted from a midfielder to a defender, the sample size on the player's new position was relatively small when Celtic made their move, since then he's proven he's a natural fit. Secondly whether the player had the mentality to play on a big stage, in European football and at club with hefty demands having previously been playing with smaller clubs has also now been confirmed. Juranovic could have sunk under the weight of expectation at a club the size of Celtic, instead he swam, and now clubs with demanding supports and owners know the player can cut it even when the pressure is at its highest.
Juranovic is now of an age where clubs in the big leagues will still see value in buying the player and for a substantial fee, if Juranovic was 28 or 29 the value would decrease accordingly, as the buying club would enter into the agreement knowing there was little chance to recoup the outlay further down the road.
Celtic of course don't need to sell anyone this summer, and it may well be we won't – after all a good World Cup with Croatia may even see Juranovic's value reach a higher peak. Yet with a player trading model still very much in operation, the player will have his price, be that this summer, the January window or next season and being only a year into a five-year contract Celtic will know they can ask for maximum value.
Champions League football will be an aspiration for the player himself, that's probably why he chose Celtic when leaving Legia Warsaw. That may be enough to persuade Juranovic to stay until January at least, but the time will come – and far sooner with someone in the age bracket of Juranovic than a younger player – where the opportunity to earn life changing money in the highest profile leagues will trump any connection to Celtic or the lure of playing in Europe's premier competition. Meanwhile for Celtic, wounds remain fresh as to the impact unhappy players who wish to leave but are prevented from doing so can have on the squad dynamic, and ultimately on league campaigns.
Fabrizio Romano hasn't said Josip Juranovic will leave Celtic; it appears however he is aware of interest. And Romano is probably right to assume concrete interest will likely lead to offers and subsequently offers will leave Celtic, Juranovic and his representatives with a decision to make.
After all the price of success at Celtic is clubs in bigger leagues become attracted to your assets and it's always been that way.
And check bottom right corner of this Instagram image from Josip himself which sort of gives you an idea on what he's focused on…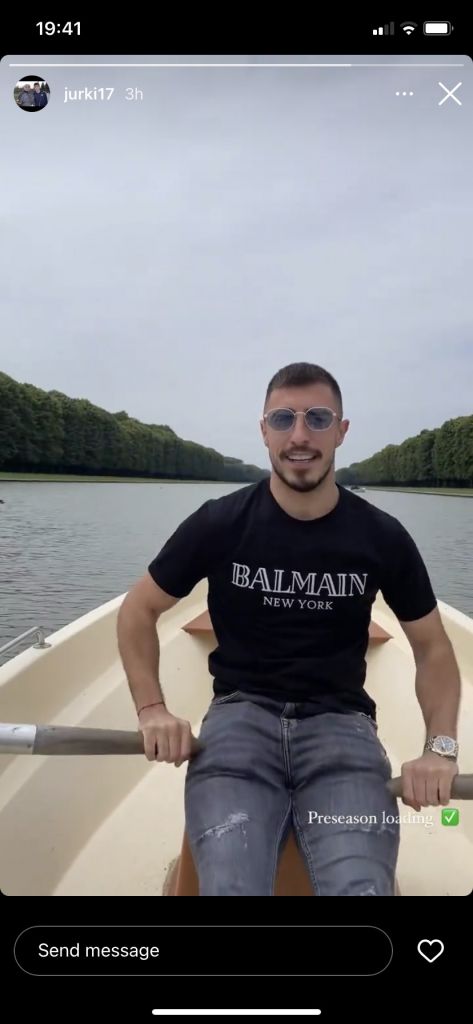 Niall J