Smells like Team Spirit doesn't it?  You've just got to love this social media clip of the superbly original celebration between Jota and Joe Hart just after Celtic have regained the lead in last night's incredible 3-2 win at Pittodrie.
Jota waves at Hart at the opposite end of the pitch to grab the 'keeper's attention, before miming a seven Iron delivery that swerves past the attentions of a grumpy Willie Collum and Joe Hart grabs the delivery one-handed just outside his right-hand post, much to the delight of Jota. Brilliant stuff!
Jota hitting an imaginary golf shot to celebrate his first goal and Joe Hart pretending to catch his imaginary golf ball at the far end of the pitch is the thing you didn't know you were going to see today🏌🏻‍♀️pic.twitter.com/yxlbszR6BG

— Republic Of Football (@the_eriugena) February 10, 2022
It's fair to say Jota likes a trip to the frozen north. On both occasions this season our Superstar from Portugal has played superbly, has scored three times, and two of them have been winning goals impacting massively on Celtic's position a point clear at the top of the Scottish Premiership.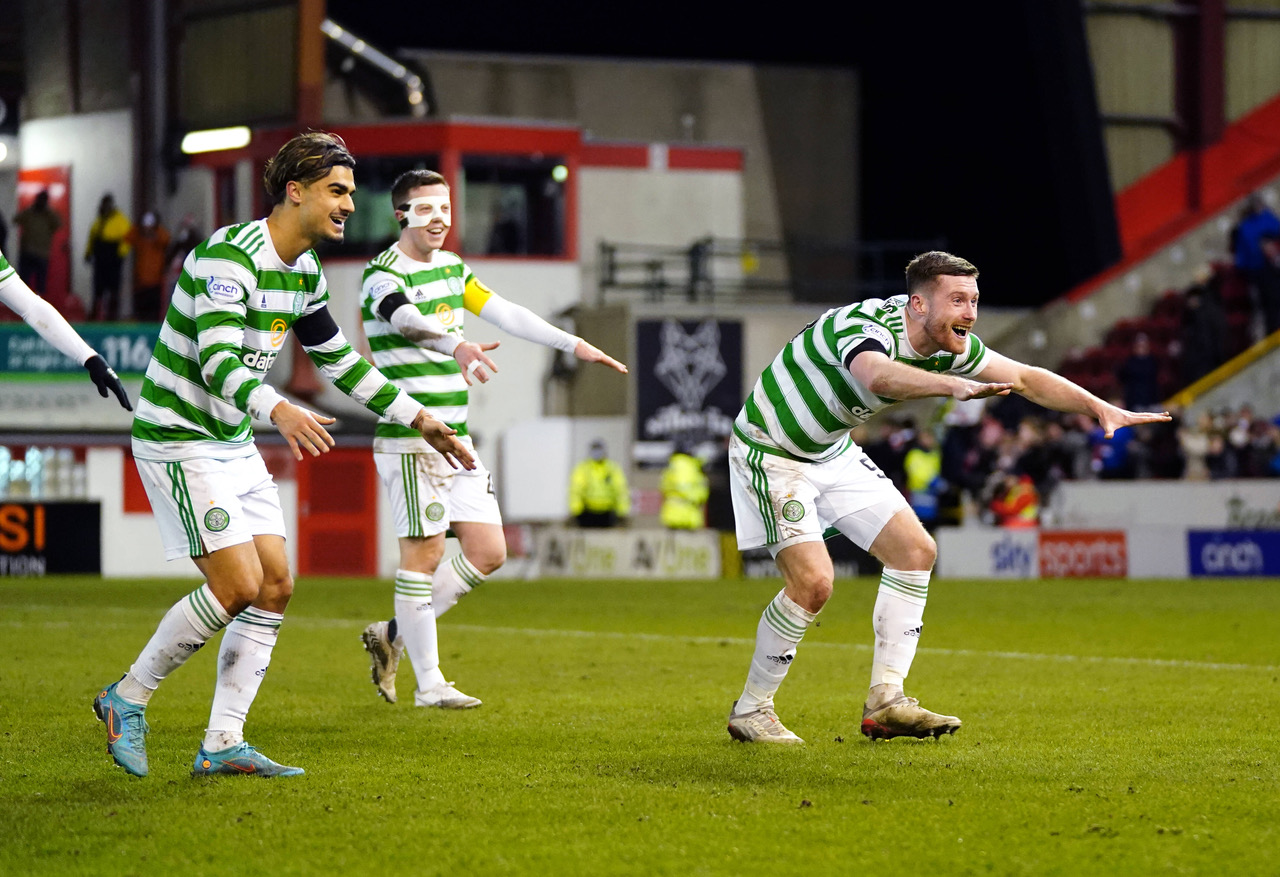 And as much as the performances on the pitch have been tight so too does it appear are the relationships between the players. Ange Postecoglou has somehow managed to build a squad of superbly talented individuals in the space of just two transfer windows, but on top of that the character of those players also appears to be spot on.
Joe Hart also had a cracking game last night making one vital second half save in particular, while even having the time to pose for a selfie from an Aberdeen fan who somehow made it on to the pitch, grab his photograph and get back to his seat without any intervention from Police or stewards.
proud day pals just got his first minutes at pittodrie pic.twitter.com/Dx0Af9duPO

— Callumbo (@Callumbo4) February 9, 2022
After getting his selfie with Joe Hart the young Aberdeen fan ran back to his section going past the Celtic supporters in the stadium who were actually left speechless by what they had just witnessed! So he'd done what no one else in Scottish football has been able to do this season, he silenced the Celtic support single handedly! One for a few seconds though it has to be said.
Only in Scotland!
Niall J
⛳️ Jota 𝗹𝗶𝗻𝗸𝘀 up with Hart! 😃

Check out the latest #CelticFC @GIPHY drop and reply with your favourite ⤵️

🔗 https://t.co/uimoKgCLBW pic.twitter.com/0oXeestZjM

— Celtic Football Club (@CelticFC) February 10, 2022
Here are a few video from the back row at Pittodrie…watching Glasgow Celtic, putting on a show!
Here are the teams coming out…
"We're at the Top of the League, looking down on the Rangers…"
We Shall Not be Moved…The Post Match Celtic celebrations…
Happy Hoops heading for the exits..