Mike Maher who now lives in New Zealand, faithfully followed Celtic home and away during the 9IAR years. Over three articles Mike tells us what it was like supporting the club during these glory years. What follows is a truly wonderful account. You can almost hear the songs being sung on those supporters buses in the 60s and 70s…part 2 tomorrow and the concluding deice will be posted on Sunday…
I have often thought that I was lucky to become a Celtic supporter at the time I did. Sure the first 5 years were not exactly rewarding trophy wise but that just made me appreciate more the great years following the arrival of Jock Stein. When big Jock took over at Celtic Park I was just 14 years of age. Old enough to be able to go to most games by myself or at least in company of friends. 10 years later when that glorious decade in Celtic's history came to an end I was 24, not yet too old to have social, family or work commitments that would stop me going to the games.
I was able to go to virtually any game and took full advantage of that position. Of the 306 league games Celtic played during the nine in a row seasons I missed only 7. In that same period only one league cup game did not have my attendance. All Scottish Cup games were attended and as well as the home European games I managed to get to 7 games outside Scotland. Throw in a few testimonials and friendlies in England and you can see I covered a lot of miles following the Bhoys.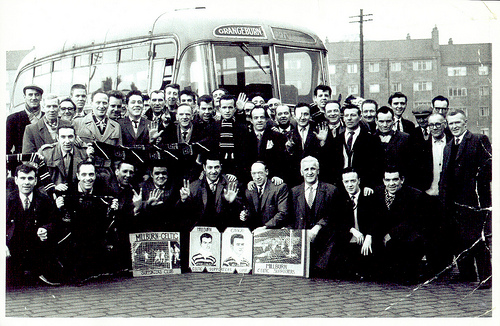 Like most people my early Celtic experiences were mostly witnessed at Celtic Park. Parkhead was a relatively short trip from Baillieston and my first visits were mostly with my father or with my friend, Peter's father. Soon Peter and I were able to go on our own and would take the tram or bus for the princely sum of three pence. The fare to Parkhead Cross was actually four pence but we would get off at the fare stage at the bottom of Westmuir Street. This not only saved a penny but gave us the opportunity to visit Peter's Aunty Betty who lived in the tenement right beside the bus stop. Invariably that meant getting some biscuits and a drink of ginger before making our way up to Paradise.
In my early teens my family moved further out to Bellshill. Although the distance was a bit greater it was still an easy task to get to home games. Plenty buses passed Bellshill Cross en route to Glasgow City centre and all went via Parkhead. In addition from Bellshill there were buses to Coatbridge (and then to Airdrie) as well as Motherwell and Hamilton. That meant I could also now easily get to see the Bhoys when they were in Lanarkshire and if Celtic were away from home I could still get to a game of football if I wanted at the likes of Fir Park or Broomfield. Bellshill train station was also handy and gave a short trip to Glasgow Central and made train trips to venues like Hampden and Love Street a lot easier.
When Jock Stein was appointed I just knew success would follow and I wanted to be part of it and follow the Bhoys everywhere I could.
The first game of Big Jock's first full season was a League Cup sectional tie at Tannadice. As the song says "how are we to get there without a motor car?" Public transport would be the answer of course but it would be the longest journey I had made on my own. Then fate stepped in. Some 5 years earlier my mother's brother Eddie had taken a job with Timex in Dundee. By now he had a managerial position and regularly commuted between his home in Monifieth and the factory in Besancon. The day before the game he would be flying in from France so arrangements were made to meet in the city centre and then get the train from Buchanan Street Station up to Dundee.
On the Saturday Eddie and I got the bus into Dundee and together we stood on the terracing to see Celtic lose 2-1. In fact Celtic lost 2 of their first 3 games but recovered to get to the last day of sectional matches on top of the group. Public transport had got me easily to Fir Park for the other away group game but the clincher would be back on Tayside. This time at Dens Park. The winner of that game would top the group. The family option was not available this time so it looked as if I would have to make my own way. Then a suggestion by a school mate that would change my whole approach to going to games and introduce me in a sense to a new way of life.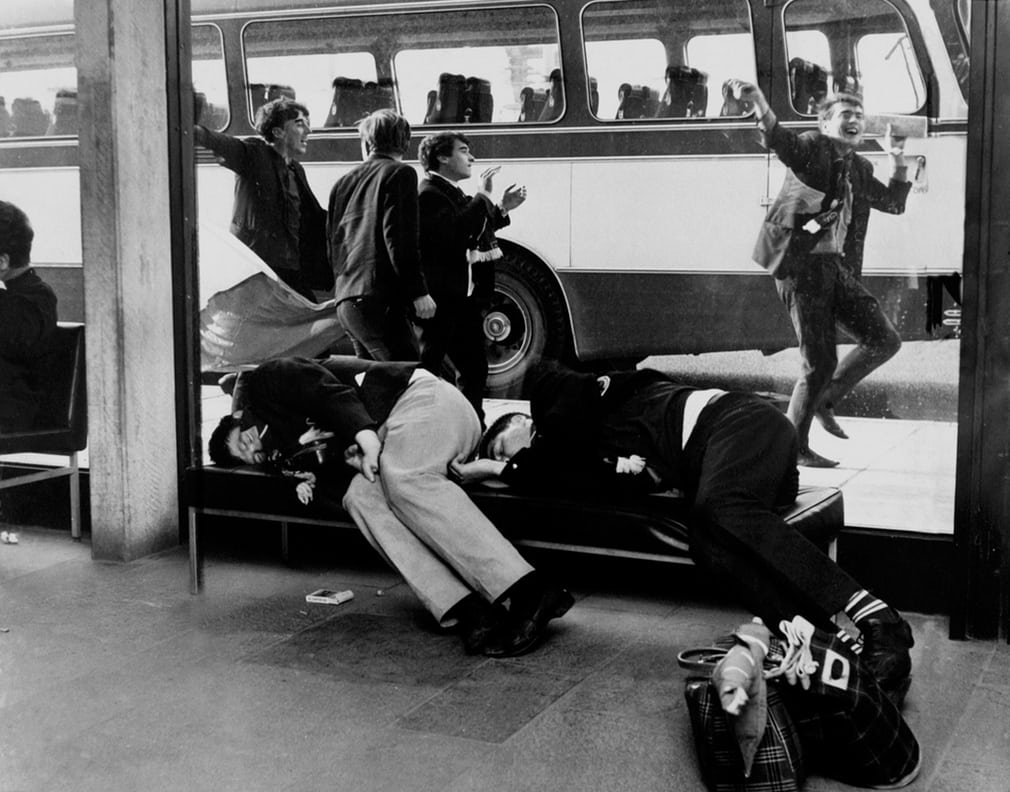 "Why not come on the Supporters Bus?" That was John Fagan's idea. He went regularly with his Dad, cousin and uncle. I had never really thought of using a Supporters Club bus before. With Celtic Park not far away by public transport I had never seen the need. Going to school in Coatbridge meant you could not avoid knowing about the Celtic Supporters buses. There were plenty – Dundyvan, Phil Coles, Merryston, Hutton Street, Whiflett St Mary's etc. At that time the Celtic support did not enjoy the same reputation as now and to some people these buses were viewed as carriers of drunken hooligans so I was not sure what my parents would think when I asked them.
However my father, although by now only an occasional attender at home games, had been a founder member of the Carfin Celtic Supporters Club after the War. He reckoned it would be all right and I was set to go.
John was a member of the Kirkwood Club and that so it was with them that I set out on that sunny Saturday at midday on the road and the miles to Dundee. It was at that stage my most enjoyable trip to a Celtic game. In those days there were no motorways or bye-passes so we actually went through places like Stirling, Bridge of Allan, Dunblane, Aberuthven, Blackford, Auchterarder and Perth. Often at a crawl with the locals looking on at this line of passing buses with their singing passengers.
I found that the Kirkwood bus was to be like many others I would travel on over the next few years. No drink was allowed on the bus and although it was not the type of place the archetypical maiden aunt would enjoy there was never any real problems. The passengers were in the main ordinary working class guys (very few women). They could seem raucous but that was mainly due to the passion for Celtic. They were knowledgeable about their football and in a time when there were hardly any books about Celtic their stories were how the next generation learned the Club's history. There were generally opinions on politics as well and some of my early interest in Irish history was stimulated by hearing the debates and songs on these buses.
Anyway on that day in September 1965 we arrived in Dundee after a journey of around 2 and a half hours. I had enjoyed the banter on the way up and had participated in that other great custom of the Supporters buses- the first goal sweepstake. I had drawn "Celtic 11" When the teams were announced I discovered that position would be occupied by John Hughes. As Big Yogi was himself from Coatbridge I considered it a good omen. As it was John Divers opened the scoring and Celtic went on to win 3-1 and thus progress through to the quarter finals.
It was on the journey back that I was really struck by the impact of the travelling Celtic support. As we waited at the end of Clepington Road to get on the main road all I could see was a long line of buses all the way down the Kingsway starting the journey back down the road. I really now felt part of the Celtic family.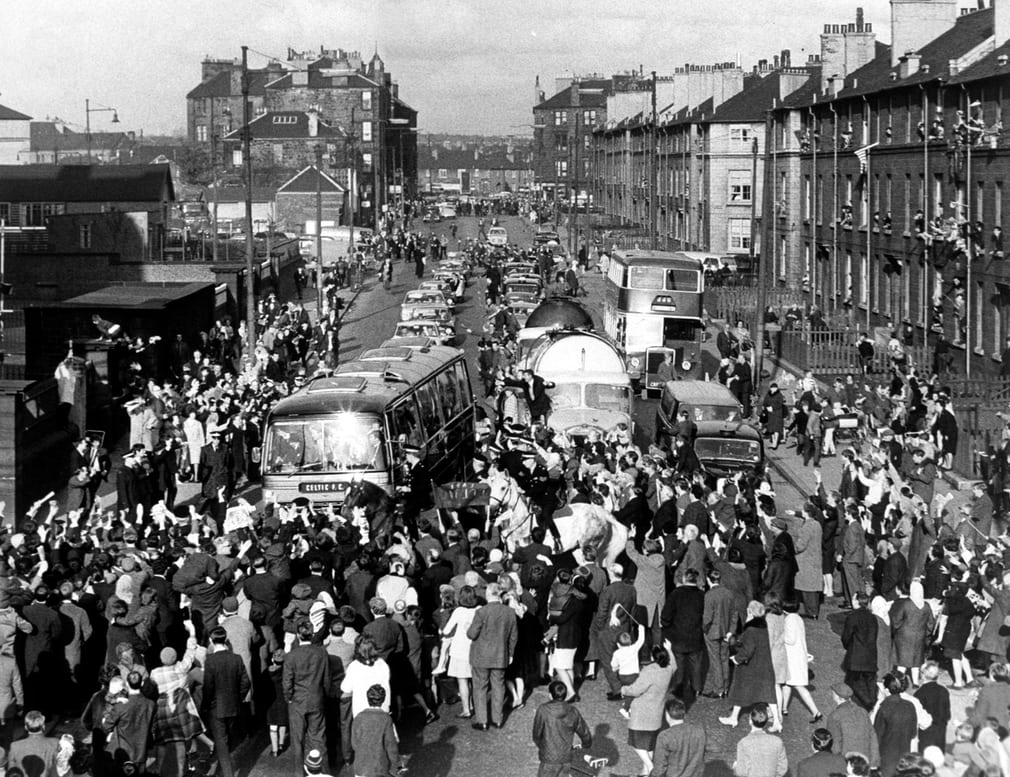 The trip home took an alternative route to enjoy a refreshment stop at Milnathort. Before we got there however there was a decision to be made regarding the first goal sweepstake. The guy who had drawn John Divers had decided to stay on in Dundee with some mates and was not on the bus. Some debate ensued regarding the pay-out of the prize. I wondered if there was some "Supporters Association Sweepstake Rule Book" to be consulted. A suggestion that the money should go the second goal scorer raised my interest as that had been John Hughes. Eventually the decision was reached. Holder of the second goal scorer ticket would get the prize. Part of the reasoning I heard was that the original winner "would just have wasted it on drink anyway – so give it to the laddie". I then proceeded to waste it on extra servings of Irn Bru in Milnathort!
For the rest of that season I was pretty much an away game regular on that bus. I was making first time visits to most grounds in the First Division- Brockville, East End Park, Easter Road, Annfield, Cappielow, Rugby Park and others. The game itself was only a part of the whole match day experience. The banter on the bus, passing through parts of the country I had not seen before, seeing the large fleet of buses in the parking area afterwards, many with their own distinctive club badge and then the journey home discussing the game and the other results of the day. I had found the ideal way to spend a Saturday.
TO BE CONTINUED tomorrow on The Celtic Star…