Well it's now been officially confirmed, Celtic are the Cinch Premiership champions of 2021/22. It's something most of us dreamed of at the start of the season, our hearts said it was possible but our heads said maybe this would be a season of transition, as new manager Ange Postecoglou gelled basically a brand new squad of players together from scratch.
💚🏆 "It means everything, this is why we play for this club"

Our #cinchPrem Captain, Callum McGregor 𝒐𝒏 𝒘𝒉𝒂𝒕 𝒊𝒕 𝒎𝒆𝒂𝒏𝒔 𝒕𝒐 𝒃𝒆 𝑪𝒉𝒂𝒎𝒑𝒊𝒐𝒏𝒔 ⤵️
#DUTDCEL | #COYBIG🍀 pic.twitter.com/Ibr63PSrFH

— Celtic Football Club (@CelticFC) May 11, 2022
We did it tonight at Tannadice against a determined Dundee United side, who at the end of the 90 minutes probably deserved their point after Celtic seemed to lose their focus during the second half. To be honest you can't really blame the players, once they got the first goal their minds were probably already thinking about celebrating with the fans after the match.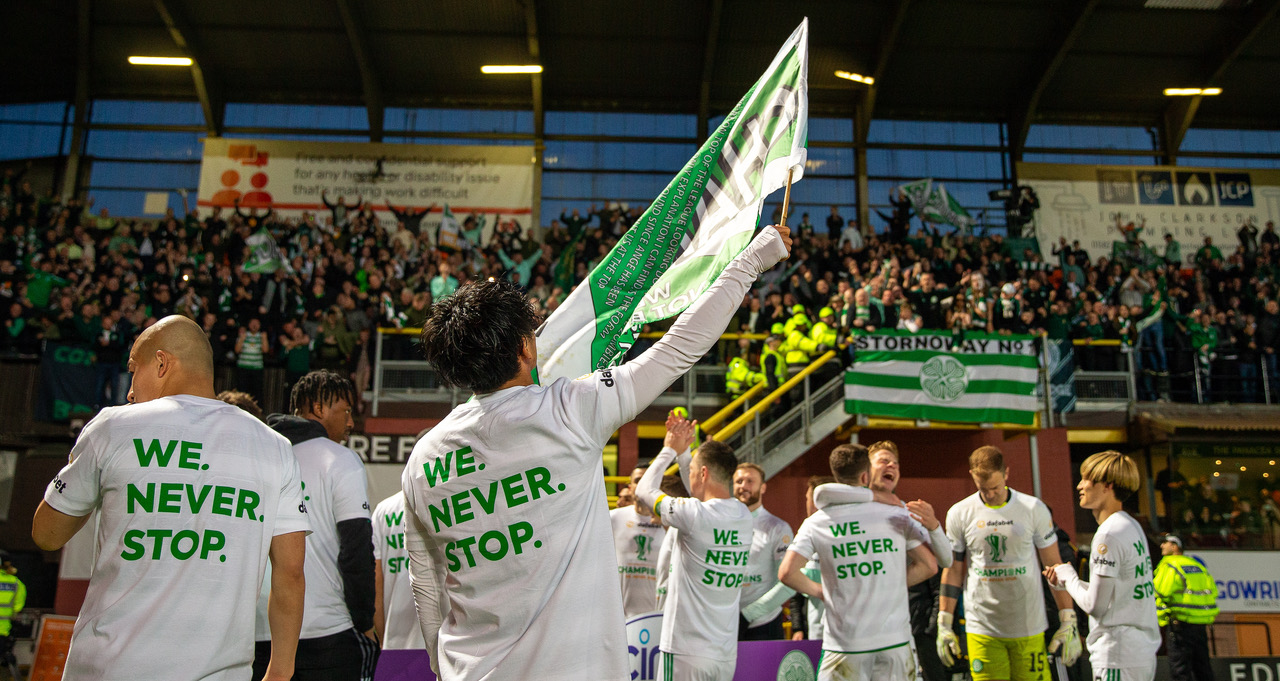 Celtic started brightly and in the first 5 minutes I imagine I wasn't the only one who had the feeling that this could be an absolute romp as the Celtic players were buzzing around Tannadice full of energy leaving the Dundee United players looking bewildered. If we had of got an early goal during that opening period of pressure, I'm sure it could have ended as I imagined but it wasn't to be and Dundee United regained their composure and started to make it harder for Celtic to break them down. They weren't offering much going forward but we're proving hard to score against.
Inject it 💉🍀❤️ pic.twitter.com/rsUqY5XXeH

— Scott (@scottmcg88) May 11, 2022
The second half saw Celtic take the lead through Giorgos Giakoumakis and it seemed after the goal that Celtic lost their composure a bit which was to be expected. Dundee United had a few chances to equalise and took one of them, a long range cracker that nobody in the hoops could have done much about, including Joe Hart in the Celtic goal. Celtic also had chances to win later on but it wasn't to be, but the away supporters celebrated the full time whistle like it was anyway. It was much more in the end, it was a championship we had to work unbelievably hard to win.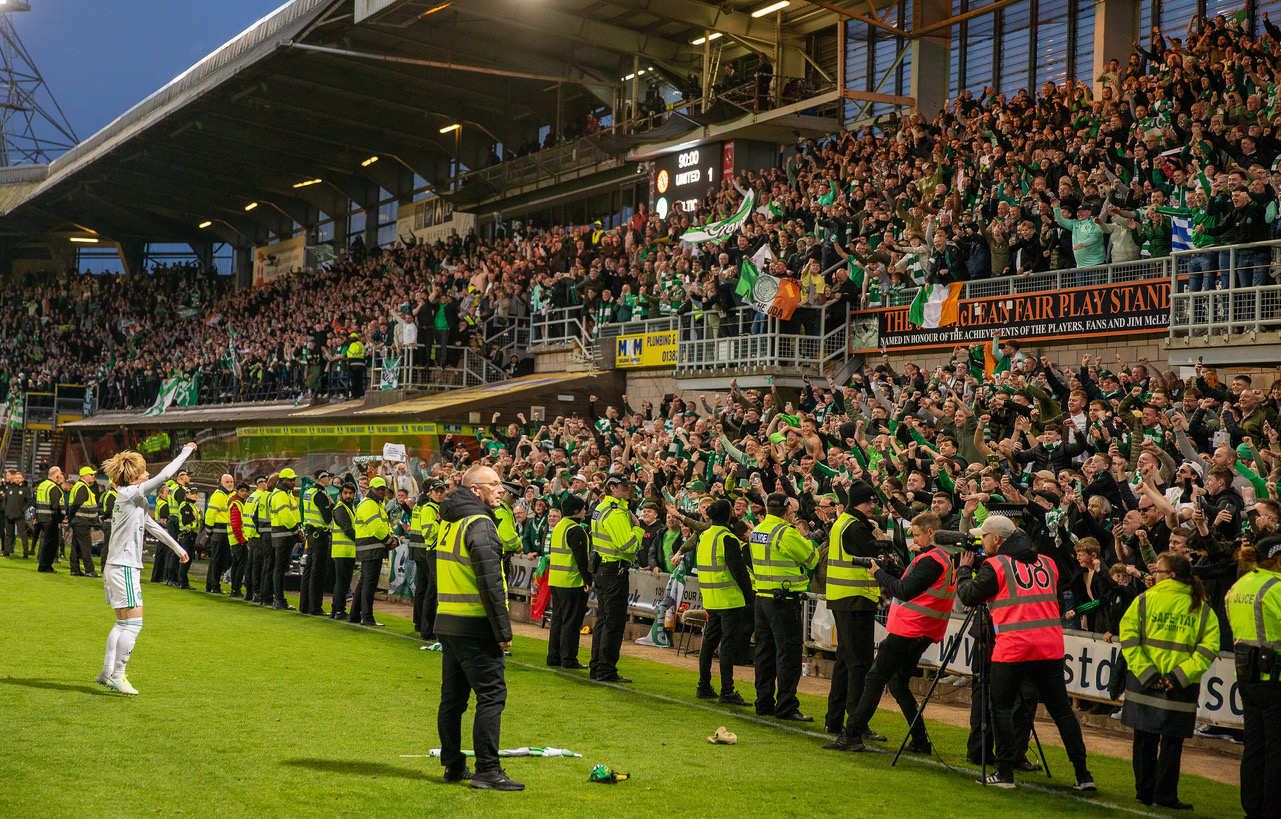 Antony Ralston won the man of the match award tonight and it was thoroughly deserved after an impressive performance both defensively and in an attacking sense. The lovely hanging cross he provided for Giakoumakis to score the opener was a thing of beauty. Almost as joyful to watch was the effort he put in when denying Dundee United a tap in as he showed his heart and desire for the Celtic cause.
Just LOOK at what it means to the #CelticFC players and fans! 🤩🍀🔊pic.twitter.com/SNbHVaDemM

— Sky Sports News (@SkySportsNews) May 11, 2022
Giakoumakis once again got on the score sheet and it has to be said he really has proved his worth to this Celtic team in the second half of this season. After a slow start, and especially after that penalty miss against Livingston, he had plenty of naysayers but he proved he's a strong character by coming back and making himself a vital part of this team. It will be interesting to see how he progresses next season and I'm sure I'm not the only one who is excited to see if there is more to come from the Greek international.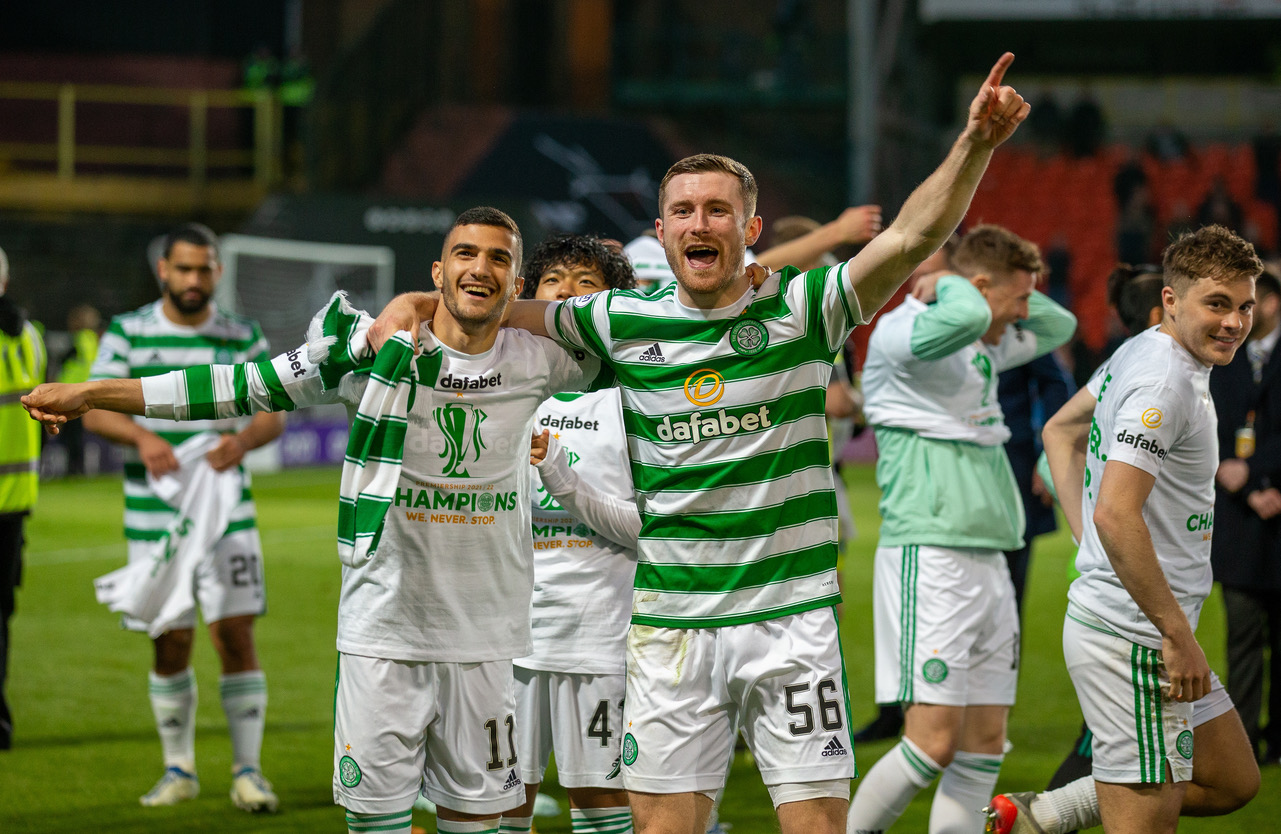 It was a great moment to watch the players celebrate with the fans at the end of the match. You could see how much it meant to some of the homegrown players such as Callum McGregor and Anthony Ralston. This is McGregor's first season as captain and he showed just how much that role means to him throughout the campaign, on and off the pitch. He has won the player of the year which was thoroughly deserved and he has also received countless mentions throughout the year from teammates about how he has helped them, especially the new players. We thought replacing Scott Brown would be impossible. Callum is giving it a right go.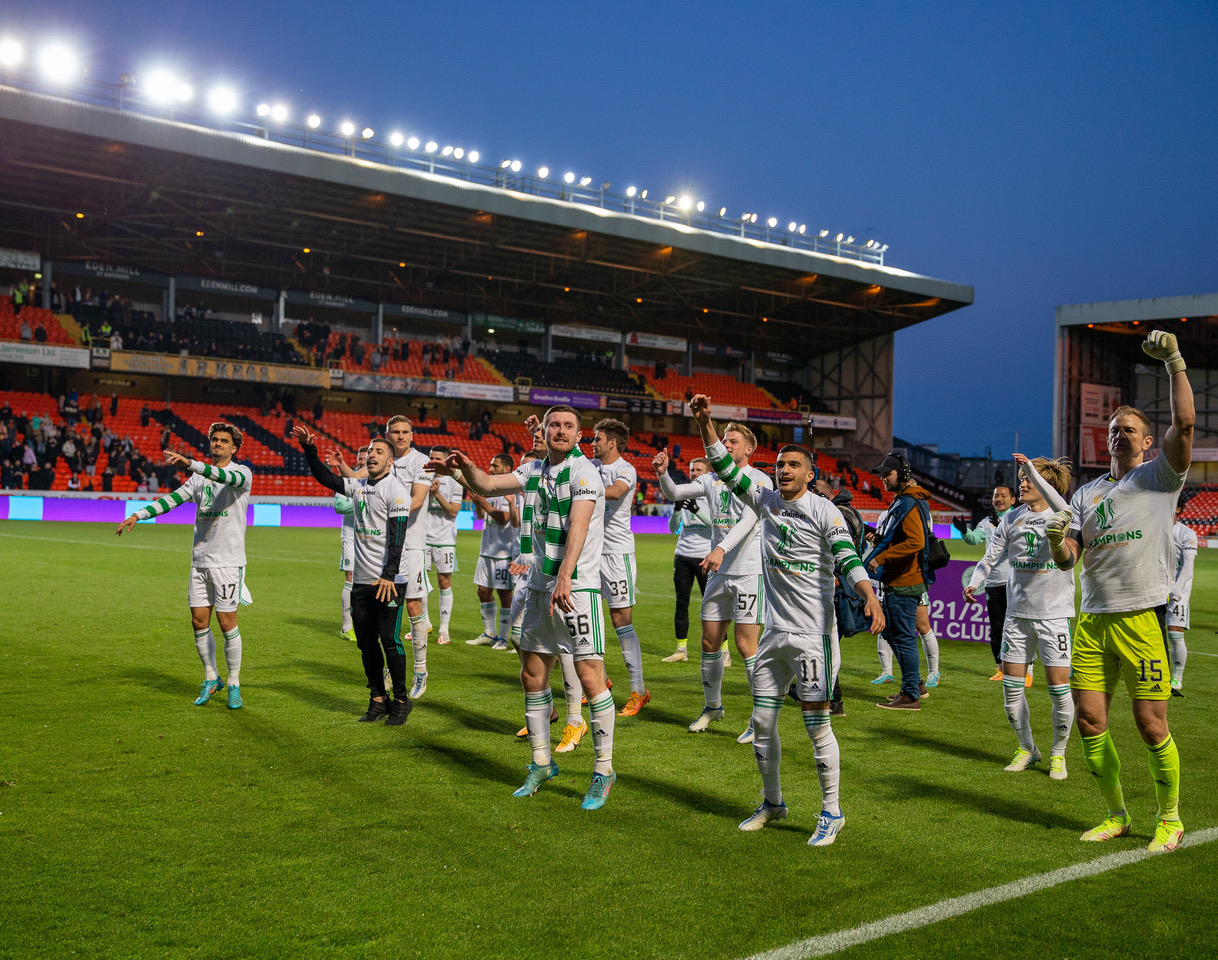 Ralston has been at the club his whole career but this season must mean so much more to him having played a vital role in winning that title. He has come up trumps countless times for his team during the campaign, that goal against Ross County will stick in our minds for a long time to come. His story this year is a fairytale one and he deserves it for putting the hard work in to prove he has what it takes to perform at this level. He may not be the best player in that team but what he lacks in footballing ability he makes up for with his love of the club and giving everything to the cause.
Callum McGregor.

League title winning captain.

That's it. That's the tweet. pic.twitter.com/5VHXqdLrqs

— FE22 (@French_Eddy22) May 11, 2022
It was also great to watch the new players experience that atmosphere and release of utter joy emanating from the Celtic support in the stands as they stood celebrating on the pitch. Many of those players will never had experienced a league win in their careers and will enjoy every second of this victory. Hopefully it leaves them wanting more.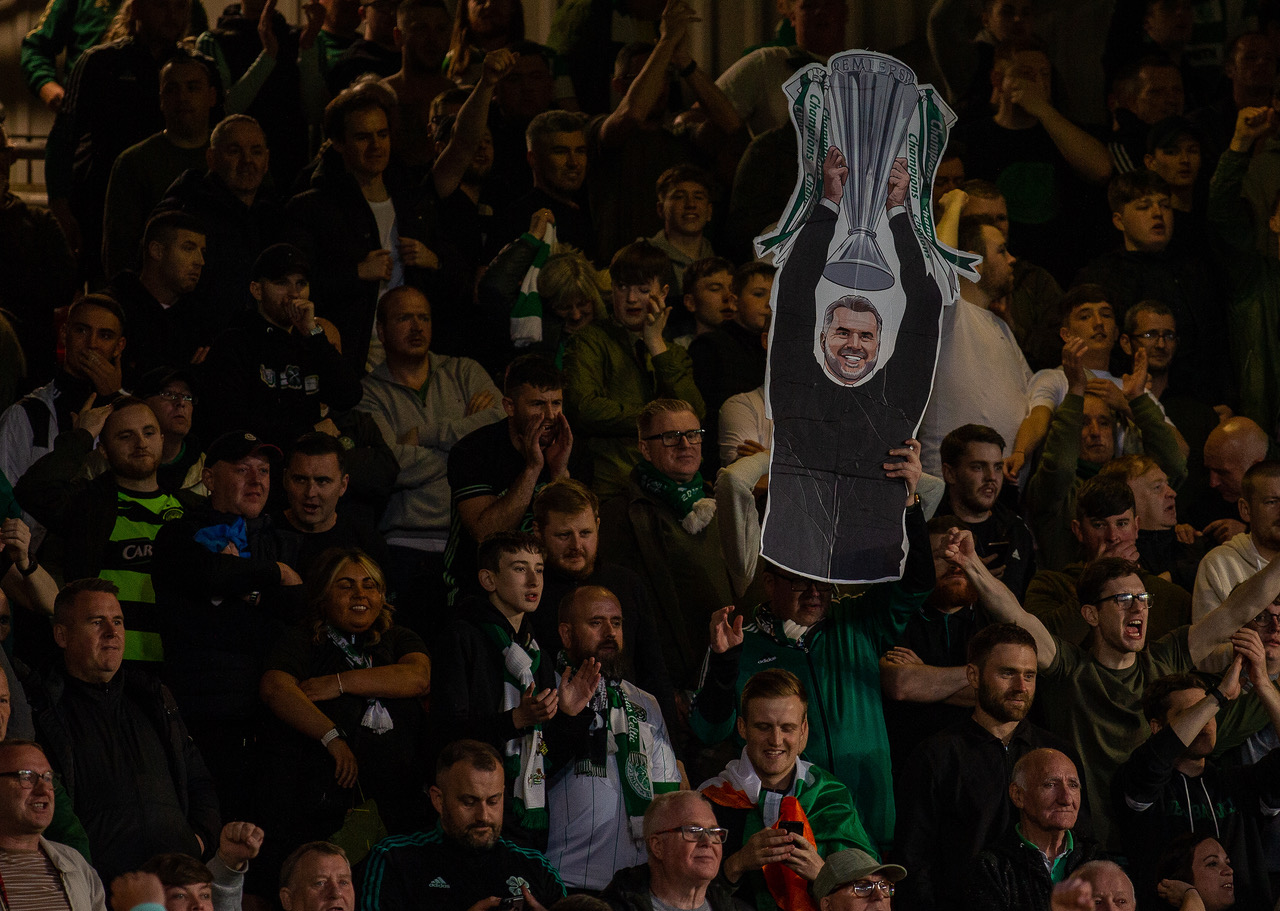 Ange Postecoglou was interviewed straight after the game by Sky Sports and it was clearly evident how emotional he was by the look on his face and by the tone of his voice. It must have been a huge moment for the Australian to watch all his hard work this season come to pass and maybe, for the first time since he arrived he can take a moment to step back, look at what he has achieved and enjoy it all. I'm sure he won't find it hard to come across Celtic fans willing to buy him a drink if he wants to celebrate.
"UNBELIEVABLE! UNBELIEVABLE!" 🤩

Man of the Match Anthony Ralston is 'delighted' after #CelticFC clinched the title! 🥳 pic.twitter.com/k8q804FTWG

— Sky Sports Scotland (@ScotlandSky) May 11, 2022
As it said on the t-shirts of the players as they celebrated at the end, We Never Stop. Let's celebrate this incredible achievement then turn our focus to achieving even more next season. We all know that will be the managers mindset. He expects nothing less.
Conall McGinty
"Absolutely DELIGHTED!" 🤩#CelticFC captain Callum McGregor reacts to his side winning the Scottish Premiership! 🏆🍀 pic.twitter.com/NRfmWFs7tj

— Sky Sports Scotland (@ScotlandSky) May 11, 2022