JOZO SIMUNOVIC will not face any action from the SFA's Compliance Officer after winning the ball in a challenge with the Hibs player Oli Shaw on Wednesday night.
It was an incident that absolutely no-one was talking about and was similar the the 'elbow' incident involving Scott Brown against Hearts back in August where footage from a supporter's mobile phone was used by BBC journalists to try to get the Celtic captain punished.
Commenting on Jozo….the ball is beyond Shaw…Simunovic has eyes on the ball and cleanly heads it….his arm is in a natural position with his jump @ClydeSSB pic.twitter.com/gtXTIonhB6

— chris munro (@chrisbhoy77) February 7, 2019
Of course this was the same game where Naismith stamped on Jonny Hayes who was injured and lying on the long grass. The SFA's Compliance Officer then decided to take no action against either player ie so Naismith, who later admitted to 'red mist' coming down, got off scot-free.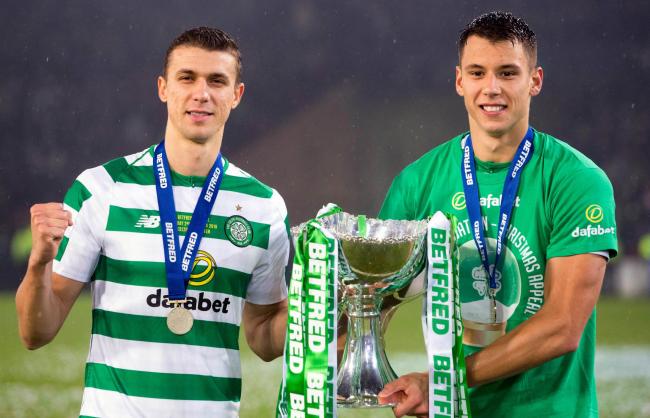 So with Simunovic getting dragged into the latest Rangers shame game at Pittodrie, it was looking likely that McGregor – yet again – would get off with assaulting opponents. He's left his stud marks on opponents at Fir Park, Celtic Park (Kris Ayer) and now on young Ferguson at Pittodrie.
This time though the Compliance Officer Clare Whyte has acted and has offered a 2 match ban. Of course he will probably reject that and the mysterious, masonic refereeing panel of three anonymous former referees will consider the matter, two will say red, one yellow and just as happened in September after he kicked Ajer, Allan McGregor will get off.
Meanwhile we await news on Morelos who has kicked more opponents than James Tavernier has taken penalties this season including of course the three Celtic players on 29 December.
Anyone heard if Police Scotland have made any progress in their death threats to John Beaton investigation?
Rangers goalkeeper Allan McGregor's been offered a 2 match ban for his challenge on Lewis Ferguson in win v Aberdeen.

No action being taken against Jozo Simunovic.

— Alison Conroy (@AlisonGConroy) February 8, 2019
Also on The Celtic Star today…
The Valencia file (Part 5) – Celtic face another Magyar legend in Zurich
Why Celtic's home record is 'Perfect', Callum McGregor explains
Pillow Talk – 'We've given ourselves a little bit of a cushion,' Celtic Star
Have you signed up for the new fans forum Celtic Noise yet? It's the new Celtic forum where ALL Celtic supporters are welcome and the conversation is friendly and always lively – get yourselves over for a look and signing up is straight forward, so you can have your say on the things that matter to you…