JOZO SIMUNOVIC has reflected on his surprising Celtic exit by insisting that he understands the Scottish Champions' decision not to renew his deal even if it is gutting that he cannot stay for 10IAR.
The Croatian defender joined from Dinamo Zagreb in 2015 following Virgil Van Dijk's departure for Southampton. However injuries curtailed his progress with the Scottish Champions and the decision has been taken to part ways with the Croatian.
Speaking to The Scottish Sun, Simunovic is gutted he won't have the chance to stay as Neil Lennon's side attempt to make Scottish history by winning 10IAR.
"It's a bit weird as I was at Celtic for five years and was a good part of the success.
"My wish was to stay for one more year minimum, as we have a good chance to do something historic.
"To win ten in a row would be a great achievement and I'd remember it for the rest of my life.
"Was I surprised to leave? I need to look at the whole situation in football right now and everything isn't great with Covid-19.
"It was the club's decision and I need to accept it. They are looking at everything as a business.
"What can I do? Of course I can say I am angry and sad that I am not at Celtic for next season.
"But I cannot change that. It's the club's decision and I need to respect it.
"It won't spoil the way I look back at my Celtic career. I am still very happy and proud."
The 25-year-old signed a contract extension back in 2017 for four-years and it was expected that the club would exercise the option of the fourth year after his impressive domestic displays; however, it was decided that Jozo would leave the club as the club look to redistribute the wages spent on him for new imports.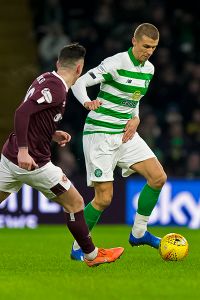 "I have been a big, big part of Celtic and the success there for the last five years.
"I also think of the boys who left last summer and the summer before.
"We have all played a big part in Celtic's run to nine in a row and that will never change.
"I cannot look back with bitterness because I had the chance to have five years at a great club.
"I loved every game I played for Celtic and I need to thank my team-mates, my coaches and especially the fans for their support."
Šimunović will be remembered for that tackle on Kenny Miller in the 5-1 win at Ibrox in April 2017 and he leaves the club having won five Premiership titles and a number of trophies as well.