THE author Stephen O'Donnell posted a tweet this morning which showed a neck and neck comparison between the genuine reviews, all positive, of his book 'Tangled up in Blue – The Rise and Fall of Rangers FC' and the trolling, sabotage reviews, which mostly appeared within hours of the book being published back in August.
Almost there! The genuine reviews of Tangled up in Blue, all positive, are on the point of overtaking the trolling sabotage ones. One final push please lads and we'll have them ????????⚽️???? pic.twitter.com/KOA223Cccm

— Stephen O'Donnell (@StephenODauthor) September 26, 2019
For many months, people reading a thread on a popular Ibrox forum had been plotting to inundate the Amazon page of this book as soon as it was published, so it comes as no surprise that the 'Verified Purchase' tag is absent from these posts, because we are dealing here with a bunch of people who have their head in the sand about the goings-on at their club down the years.
They object fundamentally to any criticism directed towards any Ibrox institution, regardless of whether it is justified and objectively argued or not, and regardless of whether they have read the book or not.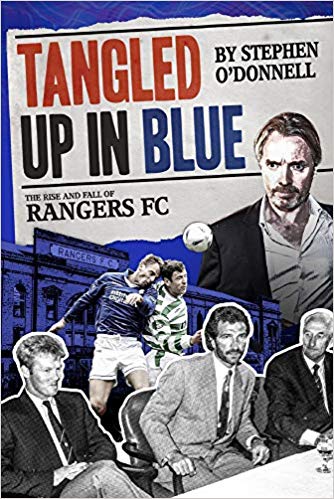 Amazon have, sadly in some ways, taken some of the worst, or best depending on your point of view, reviews down, including accusations which suggest that Mr O'Donnell 'smokes smack' to cure his 'Sevcoitis' and that his wife and kids left him, such was his obsession with the Rangers.
Funny, even hysterical in some ways, but also tragically sad.
Despite blocking all reviews and limiting the feature temporarily to 'verified purchases only', Amazon have not taken down the rest of the trolling reviews, despite the clear breach of the company's own community guidelines about manipulating content. As soon as the block was lifted, another swarm of blue-nosed trolls appeared on the book's page just a few days ago. Apparently the ban on non-purchased reviews is currently back in force.
It might appear that Tangled up in Blue is a marmite kind of book – you either love it or hate it – but that would be a false impression because the response from people who have actually read it has been overwhelmingly positive. These include a few 'non Old Firm fans' (as they call themselves) who have also taken an interest and read the book.
Tom Minogue, the well-known campaigner in favour of disclosure of membership of secret societies by people in public office, has gone further in his review and suggested that O'Donnell could have elaborated further in some of his criticisms of Rangers, including the club's behaviour over events surrounding the Ibrox disaster in 1971.
Others have pointed out that the author could have been more charitable towards good Rangers people in some instances. These are valid criticisms by people who have read and enjoyed the book, but they are not trolling, abusive, illiterate garbage posted by collaborators who don't wish to see the Rangers name linked with any form of censure at all.
My own criticism of the book is that it somewhat fails to address the crucial issue concerning just how 'tangled up' Celtic were in events that followed the collapse of Rangers into liquidation in 2012 and given he's had the luxury of the seven years gap between then and now, that is perhaps an oversight that the author may regret.
Celtic have said and done relatively little but what they did say could and should have been critically analysed as it is important to many of the books readers, particularly those who have supported Resolution 12 and have been increasingly frustrated by the manner in which our own club has acted in this important matter. Many are beginning to believe that there is more to the Celtic position that at first met the eye, and O'Donnell's book would have been all the better for at least considering this.
When the Supreme Court ruled that the Rangers EBT scheme was unlawful, there was no further action taken by a self appointed group who had indicated that the LNS decision would be subject to a Judicial Review should the highest court in the land find as they did. But this was very quietly dropped was never explained properly to the Celtic support. Motives could and should have been examined.
Their decision not to proceed was revealed in a post on the SFM.scot site late one Friday evening, a tactic that Dave King himself often uses, for example when the Director of Football recently left the new club. No criticism is directed towards the excellent SFM site for the avoidance of doubt.
But other that this criticism, perhaps something that O'Donnell could return to in a later project, Tangled Up in Blue is a book that because of the manner in which the media have attempted to re-write history since 2012, should be valued, kept and handed down through the generations. As the years go by the belief of the Myth grows stronger. Word like liquidation are seldom if ever used in the media and are denied or shouted down when mentioned. More and more of their support actually believe the Myth.
O'Donnell's tweet today pointed out that for the first time the honest reviews are about to overtake the fake ones. I'd urge you to read this important book and share your genuine opinion, good or bad, with your fellow readers.
Tangled up in Blue – The Rise and Fall of Rangers FC is available from Amazon and from Waterstones across Scotland and Ireland. It is also now on sale in WHSmith's on Argyle Street, Glasgow. If it sells well there the retailer will roll it out across Scotland including stations and airports.