Although Celtic didn't officially confirm Karamoke Dembele had ever left the club, the player himself has certainly moved on to pastures by signing a deal with French Ligue 1 club Stade Brestois 1929.
Dembele was a player many within the support had high hopes for, but after making just ten appearances in the Hoops, the hype surrounding Dembele, which had led to some Europe's biggest clubs showing interest in the player, seemed to diminish. Yet it must be said the youngster still has a chance to prove the early promise shown could still flourish, and the top flight in France is still a fantastic opportunity for Dembele to truly realise his potential.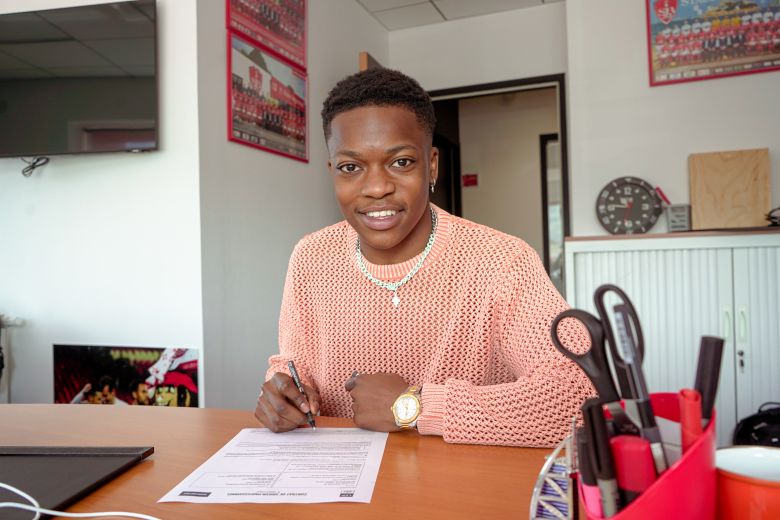 There is no doubting Dembele's ability, but question marks have also been raised about whether his application matched his talents. It's tough to know whether that was rumour and conjecture, or an accurate assessment of the player's time with the club.
What is also evident is Dembele got very little first team opportunities in which to make an impression, indeed the pathway to first team opportunities was very limited for Dembele. That may due to the pressure Celtic managers have to win each and every week, and a lack of a real pathway from the younger age groups to the first team, yet in all likelihood the issue with Dembele may have been a bit of both.
With Ange Postecoglou taking a personal approach when it comes to the B-Team route to training with and playing with the first team, it is clear something wasn't right behind the scenes, and if Dembele did have any attitude issues, perhaps some of that was down to not having a pathway clearly communicated to him, and perhaps led to understandable frustration.
𝗞𝗮𝗿𝗮𝗺𝗼𝗸𝗼 𝗗𝗲𝗺𝗯𝗲́𝗹𝗲́, un nouveau pirate à bord !

✍ https://t.co/3eM8tBS6vG
🤝 𝗔𝗾𝘂𝗶𝗹𝗮 𝗥𝗛, agence d'intérim, CDD, CDI#TeamPirates 🏴‍☠️ pic.twitter.com/Md7pavWRNK

— Stade Brestois 29 (@SB29) July 5, 2022
What is clear is Dembele didn't make the grade at Celtic, and whatever the reasons may have been for that, and whatever changes the club will now look to implement, it will be too late for Karamoke Dembele at Celtic.
With a move to the French top-flight however, a change of scenery and a fresh start, may well see Dembele realise the potential many were convinced he has.
And good luck to the kid, there is more than enough talent in those feet to prove a lot of people wrong. It's now up to him to show he has the application to match – and for Celtic to learn their own lessons when it comes to developing our young talent.
Niall J
🇫🇷 Karamoko Dembele has officially left Celtic and signed a four-year deal with Brest.

— Sky Sports Scotland (@ScotlandSky) July 5, 2022