ONE of the reasons why the away support for teams visiting Celtic Park is so small is perhaps because it's more expensive to go along to support their team, maybe take a child or go along with an OAP or a student.
Yes, you could think that the chances of getting a win at Celtic Park is pretty remote so why bother? Undoubtedly a factor but pricing is always a consideration. Going to support your team away from home can be an expensive business and a dearer day out by definition will cost more than a cheaper away day.
Take Motherwell for instance. They also scored a dramatic late winner against Hearts at Fir Park on Sunday before Celtic played at Rugby Park. Their players ran to the crowd and the celebrations were pretty wild, maybe not up there with what was to happen later in the day, but the player reactions were very similar, and their fans surged forward to join the players in the celebration. Football can be a passionate affair.
Motherwell's next two games are coincidentally away to Celtic this Sunday and then they visit Rugby Park themselves next Wednesday – 27 February.
The Fir Park side have been on a great run themselves this year and will go into their next two away games with a fair degree of confidence. Football fans are usually optimistic about their team's chances, particularly when they are enjoying a good run of form. So Motherwell's travelling support should be bigger than usual when they travel to Celtic Park then Rugby Park.
Let's look at what tickets will cost for Motherwell fans who might fancy going to these two games, starting at Celtic Park this Sunday.
On the Motherwell FC website adult tickets for the away end for Celtic v Motherwell are priced at £28.
Under 13 tickets are £10 while Over 65s/Under 16s tickets are priced at £18. All tickets are described as being full view, which is better than what the back half of the upper North Stand enjoys at Celtic Park incidentally.
But are these prices expensive from a Motherwell fans point of view?
Well the best way to answer that is to look at the prices that they are being asked to pay next Wednesday at Rugby Park. For Kilmarnock v Motherwell the away support can buy adult tickets for £22 (£6 cheaper than Celtic Park), Under 16s can get their tickets for £5 (half the price charged at Celtic Park) and Over 65s/U21/students can purchase their tickets for £17 (a pound cheaper than Paradise).
So it is clearly cheaper to go along to see Motherwell play at Rugby Park than at Celtic Park.
What's the point of all of this? Well, let's look at what Celtic supporters were asked to pay when we visited Rugby Park on Sunday.
Our adult tickets were NOT priced at the same rate at for Motherwell fans at £22 but actually £5 higher at £27.
Celtic supporters paid Kilmarnock £19 for concession tickets – £2 more than they are charging the Motherwell supporting students or pensioners.
And the kids tickets for young Celtic fans was £10 while the Motherwell weans are admitted for half that price.
So what's going on here? Well, Celtic Park is expensive because Celtic are charging these clubs the same price that they decide to charge Celtic when we visit their grounds.
Why are Celtic supporters, including pensioners, school-children and students asked to pay more? It's simple really clubs like Kilmarnock and Motherwell exploit Celtic supporters. They over-charge knowing that The Celtic support is 'faithful through and through'. We have a big support and we are always there to support our team.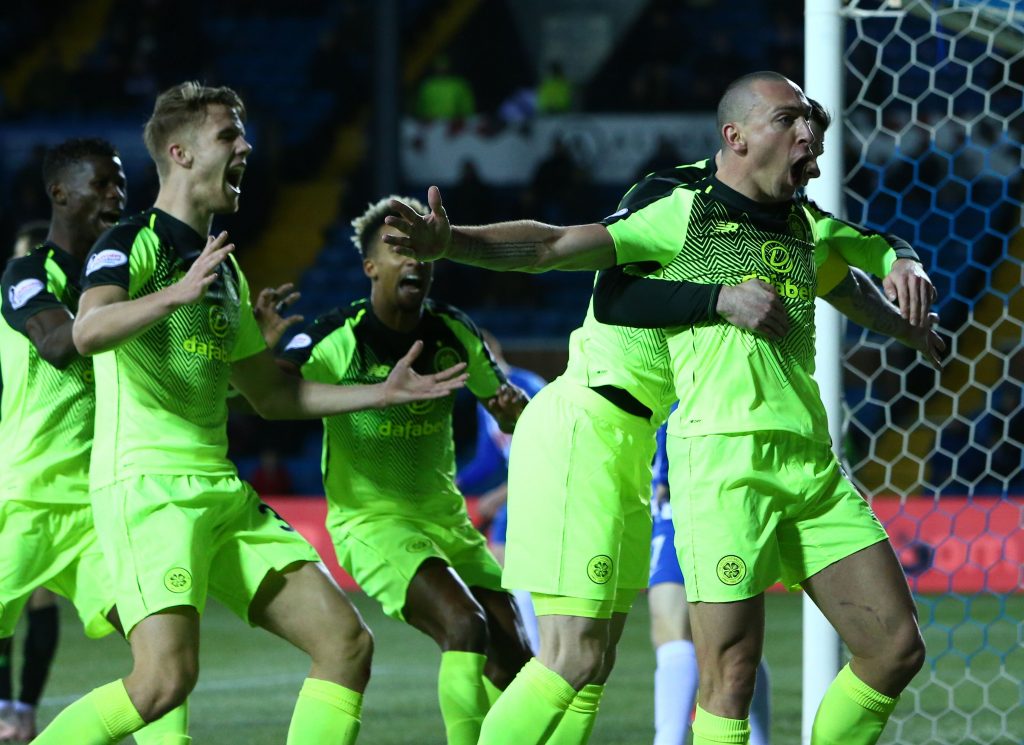 This evening Kilmarnock FC released a statement about what happened at their ground yesterday and asked very publicly for Celtic to pay for the damage to the seats. This damage would have been caused by the forward surge in the crowd when the late goal was scored.
Celtic might decide to pay for the damage but why the need for a statement? Why not pick up the phone and ask Celtic to pick up the tab for the damaged seats? Did this happen and did Celtic refuse? They didn't say did they? Chances are they didn't do that but just issued this statement.
Let us not forget that Kilmarnock have already over-charged Celtic supporters on this occasion and indeed just about every trip we've made down there over the years.
The Kilmarnock FC statement, released this evening, reads as follows:
"The Board of Kilmarnock Football Club wishes to express its dismay at a number of events which occurred during yesterday's game against Celtic.
"During the course of the match our club captain Kris Boyd was struck by a missile thrown from the crowd, a number of Chadwick and Moffat Stand seats were damaged or broken while some Celtic supporters invaded the field of play and confronted our players.
"We condemn all of these incidents in the strongest possible terms and reiterate that the safety of all players, staff and supporters is paramount at all times.
"Under SPFL Rule H40, Celtic FC will be required to pay for the damage caused to Rugby Park.
"Over the course of the day, initial investigations have begun and we will be seeking meetings with Police Scotland and G4S.
"Kilmarnock FC is a family club and as a board we continue to work hard to ensure Rugby Park is a safe and welcoming environment for families to enjoy watching football.
"We will work with a number of parties, including our leading supporters' groups, to explore all options to fulfil this goal and maximise the number of Kilmarnock fans cheering the team on at all home matches."
The coin thrower has been widely condemned by Celtic supporters, including by The Celtic Supporters Association today. It has been condemned on The Celtic Star and all other Celtic websites. The mini pitch invasion, wasn't the first one this season but was the first involving young Celtic supporters. They have seen this elsewhere and will have noticed that no big deal was ever made of it – it seems to be different when it is Celtic supporters involved.
The damage to seats could and should have been dealt with behind the scenes by the clubs. Kilmarnock are grand-standing on this.
One last point their 'club captain Kris Boyd' has been actively undermining Celtic in the press all season – making up stories about splits in our dressing room and so on. Do Kilmarnock think that it is appropriate for their club captain to spread unfounded and malicious gossip about Celtic in the press?
Maybe there will come a time when the Celtic support decides to watch a game on the television rather than go to Rugby Park at all? An early in the season game would be a good time to think about that.