Noticed that the red-tops are featuring this pre-season match from summer 1977 today. Here's Mike Maher writing about it on The Celtic Star…
King Kenny and the Queen's Silver Jubilee match, Glasgow Select v English League Select
A Jags supporting friend sent me a photo of this strip which was worn by a Glasgow Select in 1977 and asked me what I knew about it.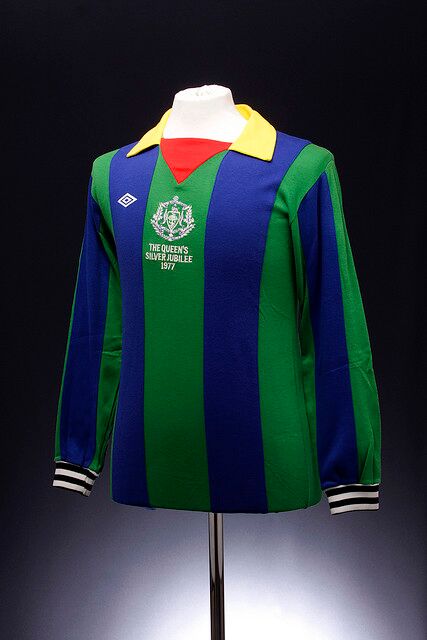 I didn't remember that strip (how could you forget it!) but I remember the game. It was a Glasgow Select v English League Select at Hampden as Glasgow's contribution to the Queen's Silver Jubilee for which we were given the Monday and Tuesday as Public Holiday to celebrate. In view of the cause I decided not to go to the game and instead my wife and I had an extra long weekend in the Highlands and left the game to the Royalists.
The weather was great I recall and we had a great time. We did visit Glencoe and Culloden so we did have some reminders of the Queen – remembering what her predecessors had done!
I was thinking of how much football has changed since then. I cannot imagine a representative game like that would attract much interest these days. At that time though there were not as many games and the season was shorter.
It started on the 2nd Saturday in August and finished last week in April or the first week in May. Then maybe the Cup Final and apart from the odd international that was it for 2 and a half months. Withdrawal symptoms set in early and we had to seek out games somewhere to get our fitba fix. The Juniors would usually help for a week or two as they finished off their fixtures. The Junior Cup Final was still capable of pulling a reasonable crowd to Hampden.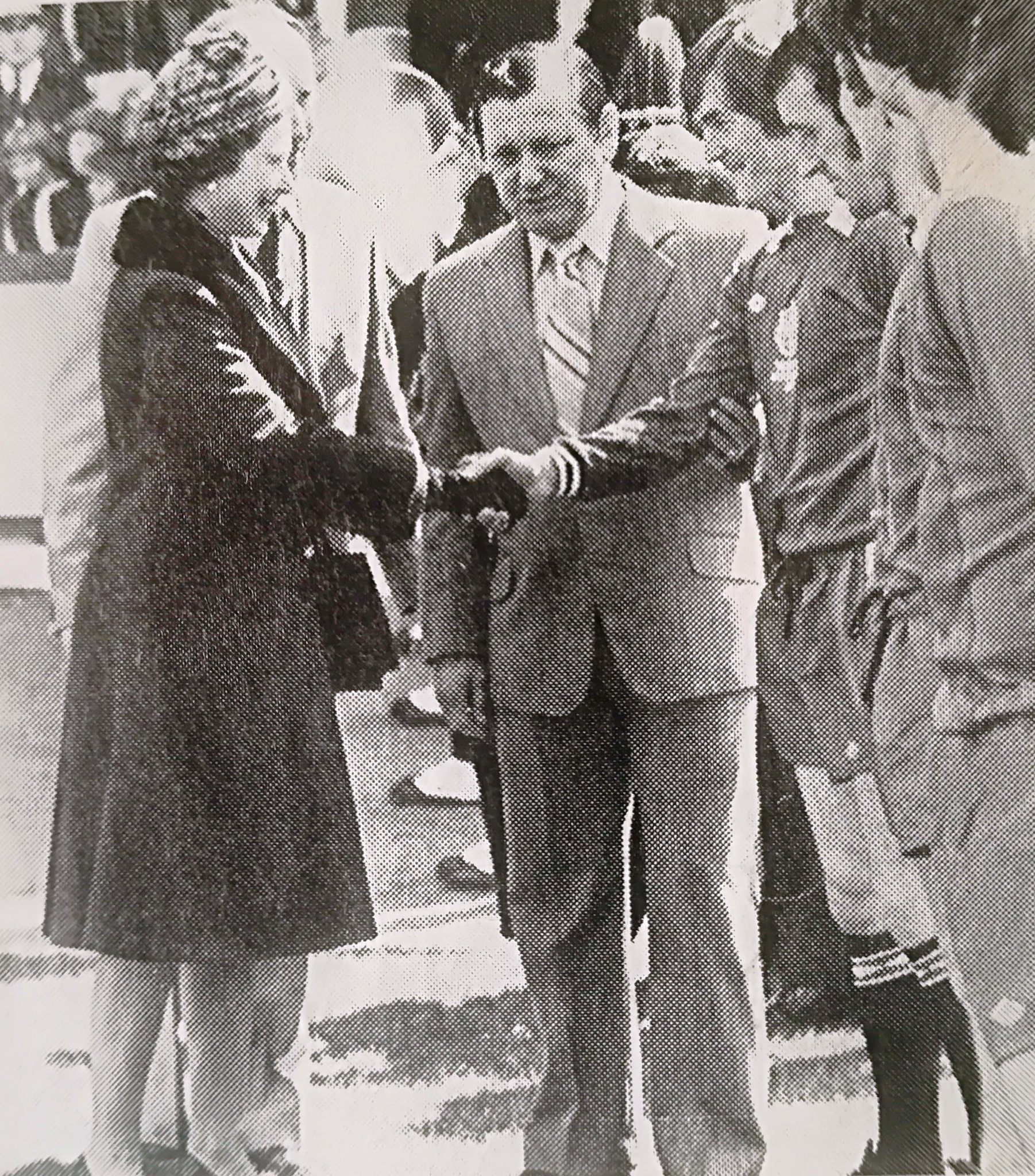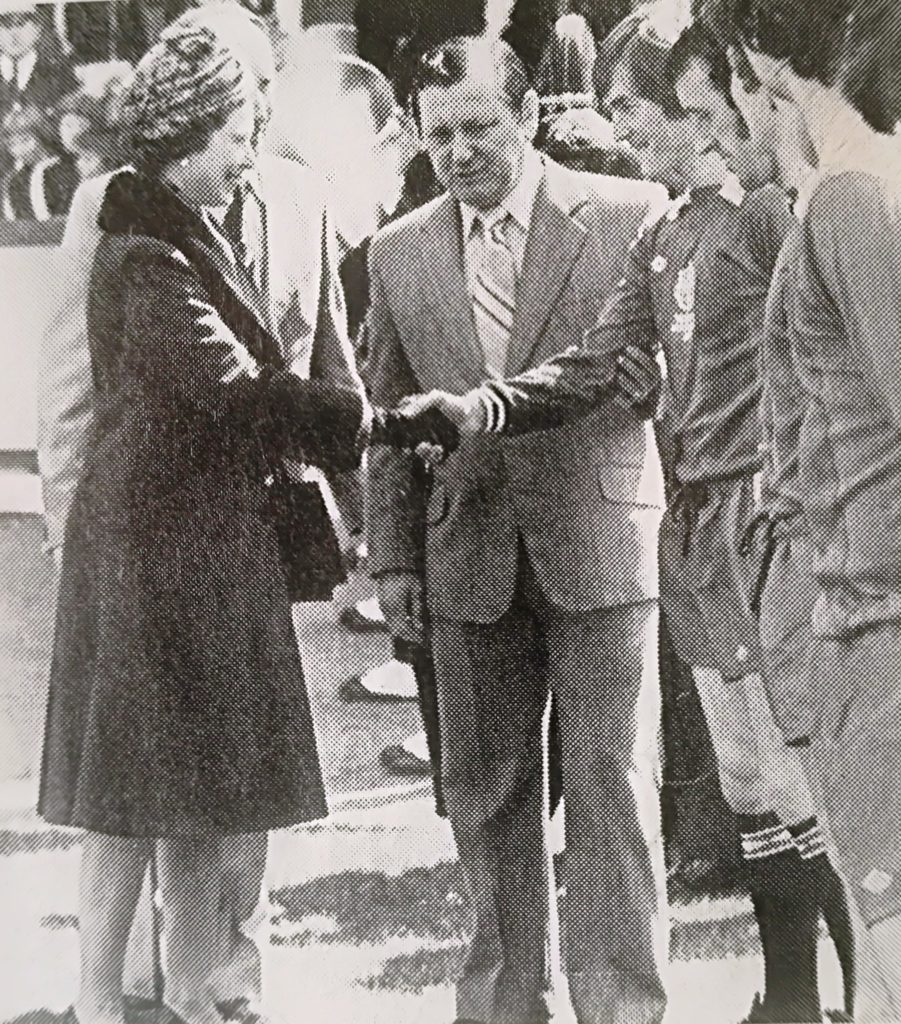 We also went a few times to the Maryhill Charity Cup Final. It was a competition for Junior sides in the north of the city (St.Rochs, Ashfield, Petershill etc) with the final being played at Firhill. After that it was a long drag.
Of course that was the time when we had a chance to have a look at some minority sports (i.e. anything other than football) Wimbledon help pass a fortnight and of course the British Open was compulsory viewing for a few days. And there was the cycling. The Tour de France caught attention for a day or so and the Milk Race in Scotland.
The reason I always remember the latter was that it was run at end of June/beginning of July on the same day as the next season's fixtures came out. I would go and get the Saturday Pink Times or Green Citizen to get the fixtures and there was always an item on the front page about the cycle race which always seemed to have Billy Bilsland as the winner. Then it was a case of checking the fixtures – especially to see when we were going to Pittodrie and Tannadice.
However there was still several barren weeks to go. In the early sixties the SFA did not allow pre-season friendlies in Scotland so we made do with the public trial games that the clubs put on. In Celtic's case it was the Hoops (first team ) v Shamrocks (reserves). Entrance was by donation to charity and it was a chance to see how the squad was looking for the coming season.
In Jock Stein's first season a crowd of over 17,000 turned up for that game. Clubs were able to play outside Scotland and I well remember a trip to Sunderland where the home team were destroyed 5-0. Although this was only a friendly, it gave an indication that Celtic under Jock were going to be a much improved team.
In later years the SFA relaxed the restriction and English and some overseas clubs would play warm up games in Scotland. Celtic played the likes of Leeds Utd and Spurs in front of big crowds but we were so desperate to get to a game after such a long time without football that we went to other games such as Clydebank v Aston Villa and Stirling Albion v Sunderland.
Then at last the season got underway. All games started at the same time – 3pm on a Saturday. This made it more of an event. Opening day attendances were scrutinized and  compared to previous seasons. There was genuine interest to see who scored the first goal of the season – it was invariably somebody in the lower divisions who would get his 10 minutes of fame.
I always would make a note of who scored the first goal at Berwick Rangers home game and then months later would pose the question "who scored the first goal scored in England this season?" Guys would rack their brains and suggest lots of players with English teams but of course the answer was always whoever had scored that goal at Shielfield Park as the Scottish season started a week before the English one.
This year Celtic will be playing in the Champions League in early July.
Much as I love my fitba' I do think you can have too much of a good thing. Forty or so years ago I would never imagined saying this but maybe the idea of a longer break is not a bad idea after all?
Mike Maher
CELTIC FROM THE CORONATION CUP TO THE SILVER JUBILEE – CELTS GRAB THE GOALS!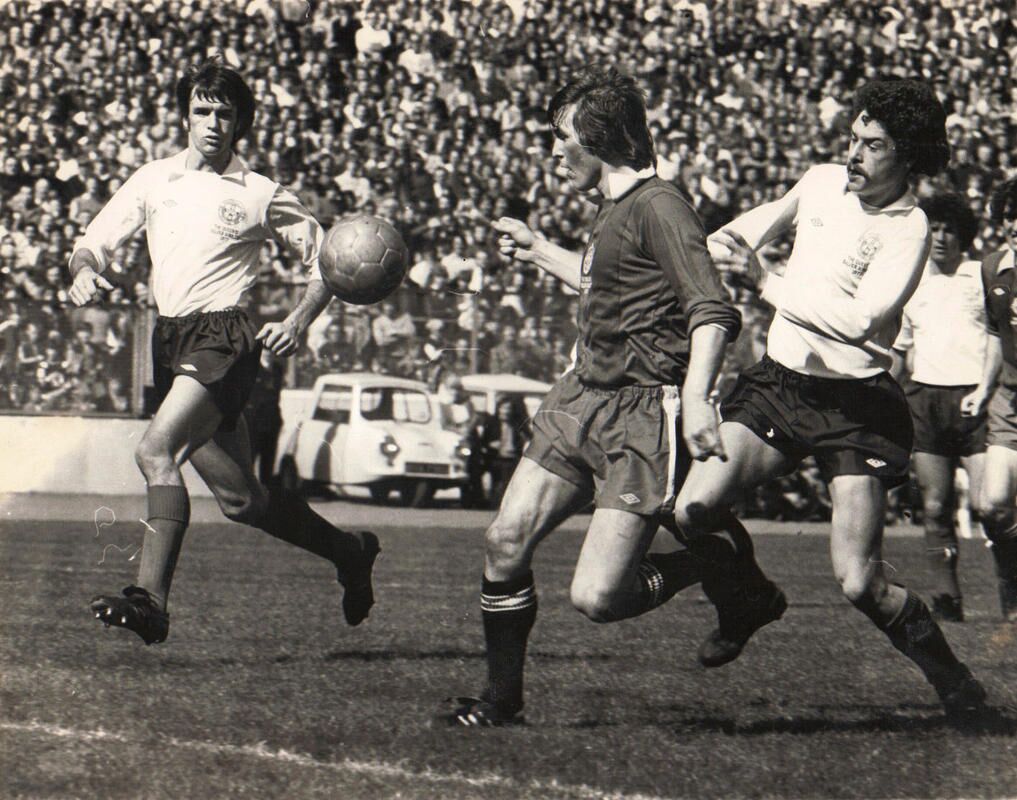 The Glasgow FA Select v The Football League match was played at Hampden on Tuesday 17 May 1977, with a 3pm kick-off and with a crowd of 28,380, including the Queen. The Glasgow side won the game by 2-1 with Kenny Dalglish scoring the winner.
The Glasgow shirt has the colours of all the Glasgow sides, Celtic, Queens Park, Partick Thistle, Clyde and Rangers.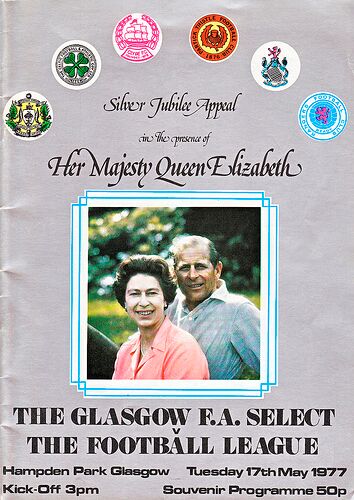 The shorts being red with a yellow side panel and black and white socks.
The Glasgow FA team was: Alan Rough (Partick Thistle), Danny McGrain (Celtic), Brian Whittaker (Partick Thistle), Jardine (Rangers), Roddy McDonald (Celtic), Forsyth (Rangers), McLean (Rangers) – sub McNaughton (Queen's Park), Kenny Dalglish (Celtic), Joe Craig (Celtic), MacDonald (Rangers) and Johnstone (Rangers). The substitute was Somner (Partick Thistle).
The Football League squad was as follows: Corrigan (Manchester City), Clements (Manchester City), Peach (Southampton), Stanley (Chelsea), Watson (Manchester City), Wilkins (Chelsea), Francis (Birmingham), Channon (Southampton), Royle (Manchester City), Barnes (Manchester City), Owen (Man City) and Tueart (Manchester City). There were so many Manchester City players due to that club being one of the few to have fulfilled all their fixtures.
The sides were managed by the managers of the England and Scotland at the time – Don Revie for The Football League and Willie Ormond for Glasgow FA. This game was Ormond's last duty as manager prior to Ally Macleod assuming control of the national team. Wonder how that went?
Tueart scored the opening goal for the visitors, with Jardine equalising before King Kenny got the winner for Glasgow.
There were no Manchester United or Liverpool players in the English squad as they were preparing for the FA Cup Final the following weekend – where ex-Celt Lou Macari played a pivotal role in the winning goal which prevented Liverpool winning a domestic treble.
It was certainly fitting that a Celtic player should score the winner at this Silver Jubilee Exhibition match, given that Celtic had won the Coronation Cup on 20 May 1953 at also at Hampden Park, beating Hibernian by 2-0. On 16 May in the semi-final Celtic beat Manchester United 2-1 and on 11 May triumphed over Arsenal by a goal to nil.
Think there's a song about this…
Meanwhile did you read Matt Corr's European Diary last night on The Celtic Star? In particular the situation after the final whistle where Celtic fans were caged in for a long period of time is something that the club needs to address with UEFA. Matt's European Diary is well worth a read…