Kris Ajer was accused of playacting after Sam Cosgrove got sent off for a tackle on the Norwegian in Aberdeen's 2-1 loss at the hands of Celtic last week. It also resulted in him being suspended for the Dons next two games after their appeal was rejected by the disciplinary body.
Cosgrove, who has scored 20 goals this season, is a huge part of this Aberdeen setup. Thus, his sending off and eventual suspension was not taken too lightly by manager, Derek McInnes, who disagreed with referee Euan Anderson's decision. The 48-year-old even went on to accuse Ajer of playacting to get his star man sent off and winking following the incident. He was later backed by Aberdeen chairman Dave Cormack.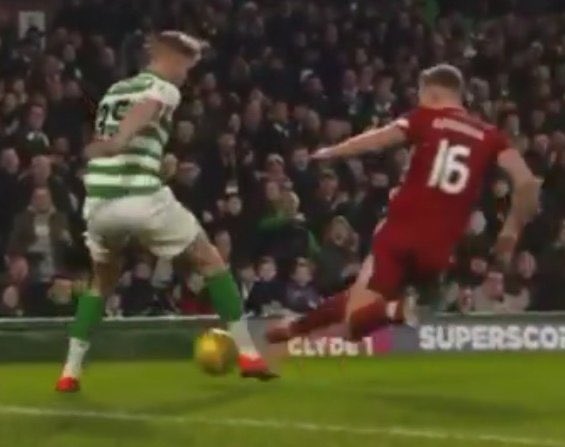 But Kris Ajer is adamant that there was no winking or playacting involved and instead it is on Cosgrove's challenge that the focus should be on. As reported by Daily Record, the Celtic centre-back said:
"I was on the ground and Cosgrove got sent off – but there were no winks.

"If you look at the tackle I'm not really fooling the referee. He hits me with quite hard speed."
Ajer also feels that the attitude in Scottish football could eventually turn foreign players away from the league:
"As a foreign player I can't really understand that this tackle is even discussed really. From where I am from if you come in with such speed you should be sent off.

"It is the same as the incident the day before with Barisic which, I have heard in the dressing room, is also being discussed.

"After seeing that one I can't believe the red card is even being debated. Barisic could have been out for the season. If Scotland wants that to be the product here no foreign players will come. That is the truth.

"I have no problem about getting negative comments or something like that. Just look at the tackle – it is a sending-off.

"For some reason here in Scotland you almost have to keep your leg planted for it to be a red card and this is the problem."
The noise coming from Aberdeen around the incident has certainly been a little confusing. It was clearly a tackle that would have gotten Cosgrove sent off nine out of ten times. And Ajer is right in coming out and clearing his name, which has been unjustly blotted over the past week.