The Hampden sky was overcast as the rain came lashing down. This description suggests something quite melancholic but what was to happen in the next few minutes in the National Stadium would be definitive of a season that will hold a special place in the hearts of the Celtic support.
A flash of lighting cut the dark skies and the rumblings of thunder was almost drowned out by the tense crowd, desperately hoping their team would get a late winner their play deserved.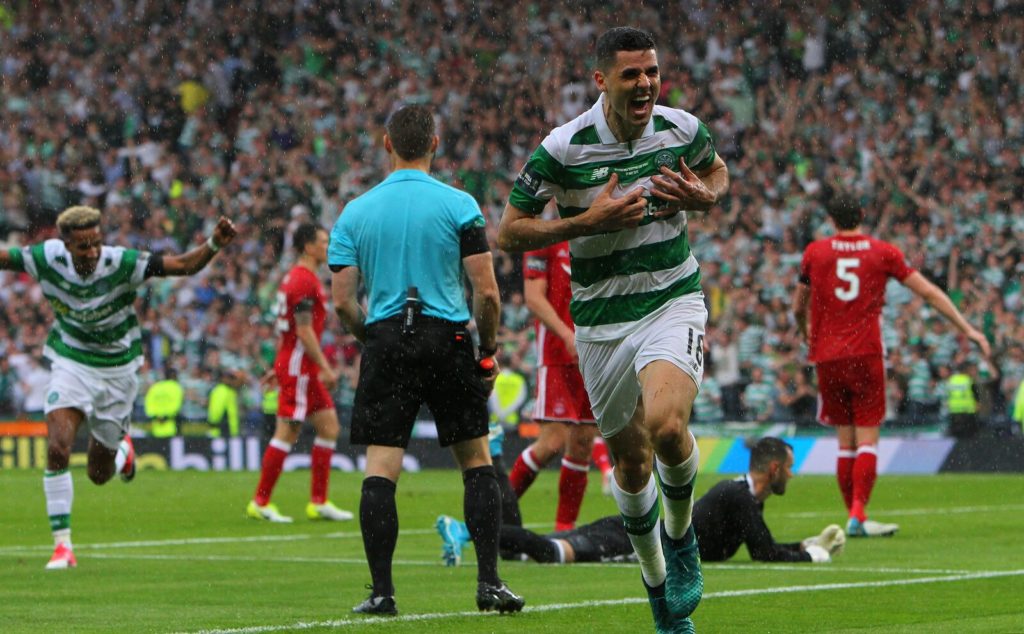 As if by magic, the atmosphere became electrified matching the clouds, with the ball dropping to Stuart Armstrong, who controlled it with his chest before finding that wonderful Australian, Tom Rogic.
Tom controlled the ball neatly with his right foot, before he raced away from the onrushing defender, a quick interchange of the ball between his right and left foot to beat the fatigued Andrew Considine, as if in slow motion, Rogic had opened the Aberdeen defence up and in climax he fired a quick right footed drive past the helpless and surprised Joe Lewis. It was over before he could react, he had been done at his near post by a wonderful piece of skill at the most important moment for Celtic this century.
This goal sparked wild scenes of celebration amongst the players, fans and management. The euphoria of the goal was surpassed by the astonishment and realisation at what had been achieved by the side in that season, treble-winning invincibles.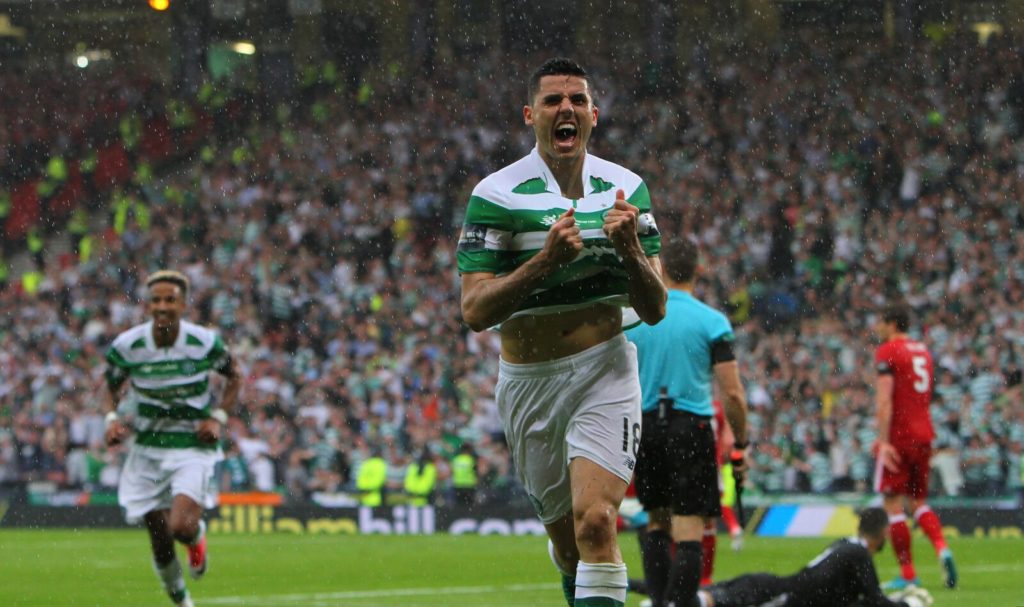 Many grown men shed a tear. Women jumped for joy. Children dance, jumped and cried all at once.
Rogic, 25, spoke about that moment in the wake of one of the most dramatic cup finals in modern history.
"I wasn't really aware how much time was left when I picked up the ball. I knew it was late but didn't know exactly. It's pretty cool.
"It was possibly just a matter of time and when I got the ball it was about being positive and trying to carry it forward. The space opened up and luckily enough it went in. It's hard to put into words how I felt when I scored.
"You don't really realise what you've done at the time so you don't know where to run or what's happening.
"It's a special moment and something to look back on forever. Everyone has played their part this season. We have a big squad and we've had a lot of games.
"To achieve what we have, going the season unbeaten and winning the Treble in the last minute, is fantastic.
"It's without doubt the most important goal I've ever scored.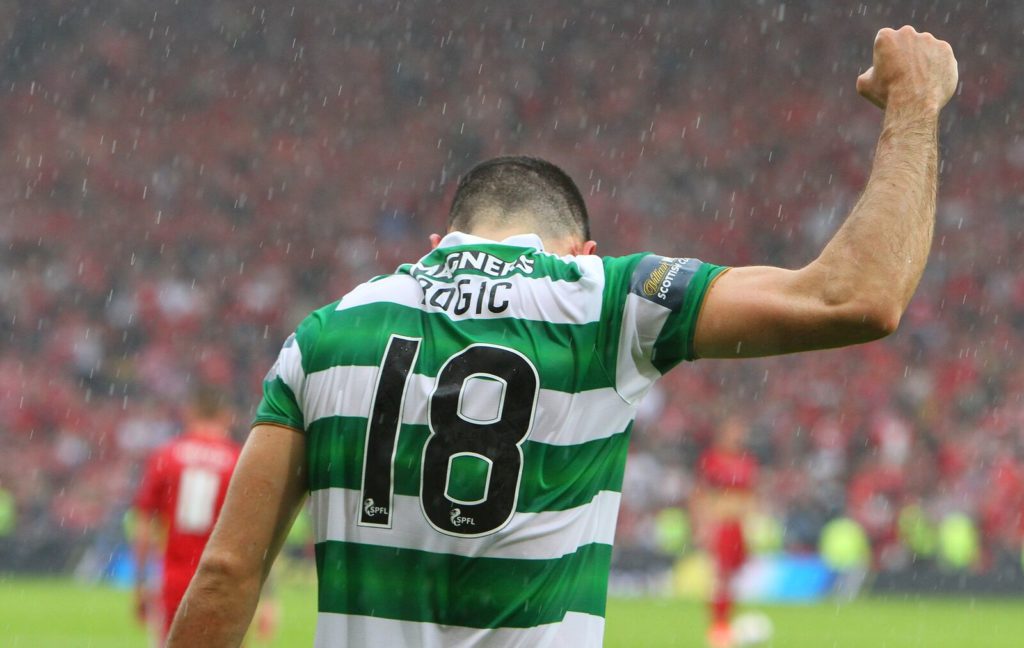 "I've been lucky enough to score a couple of late winners but nothing compares to that. When it's in the last couple of minutes it makes it even more special."
Celtic are after a back to back Treble. Out injured since early in December, the magical Australian is back fit and in the team. He started at Pittodrie, finding his feet for an hour or so. He'll be there on Saturday as Morton threaten Celtic's grasp on the Scottish Cup.
Don't be surprised if the Australian doesn't do something about that.
He has a World Cup to look forward to but before that he has his eye on Hampden. Beat Morton and we are there for the semi-finals. It is a stage Rogic now relishes. The demons from the turf moving in a penalty shoot out was put to bed last May.
Whenever any Celtic supporter talks about the Invincible season the goal they will all remember the most is the very last one, scored by that man, Tom Rogic.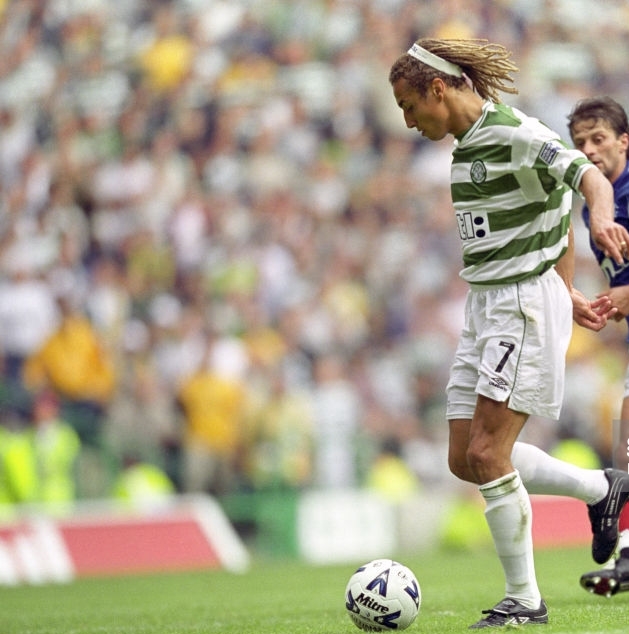 Better than Henrik's lob in the 6-2 game? Yes, it probably so it was some goal judging by that standard!
Written by Lewis Faulds for The Celtic Star. If you would like to write for The Celtic Star on any Celtic related subject, then please email editor@thecelticstar.co.uk and we will get right back to you.
THE CELTIC STAR PODCAST – FEATURING DAVID LOW
THE CELTIC STAR PODCAST EXTRA – FEATURING CELTIC BY NUMBERS