The Celtic Star has teamed up with popular artist, Chris Harland, to give one lucky winner the opportunity to get their hands on a copy of Walfrid & The Bould Bhoys (signed by all three authors) and a Celtic treble prints pack!
TO ENTER – RETWEET THIS ARTICLE & COMMENT #GIVEAWAY
Competition: Win a signed copy of Walfrid & The Bould Bhoys plus a Treble Prints Pack! | The Celtic Star https://t.co/E3UvQ362qZ

— The Celtic Star Editor – Walfrid & The Bould Bhoys (@CelticStarMag) September 29, 2020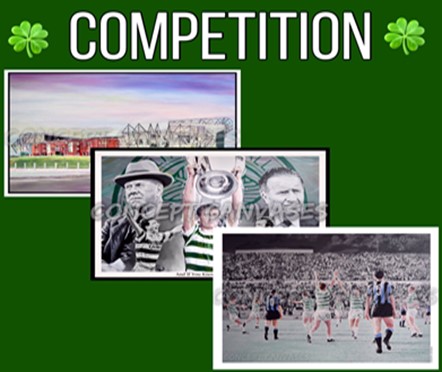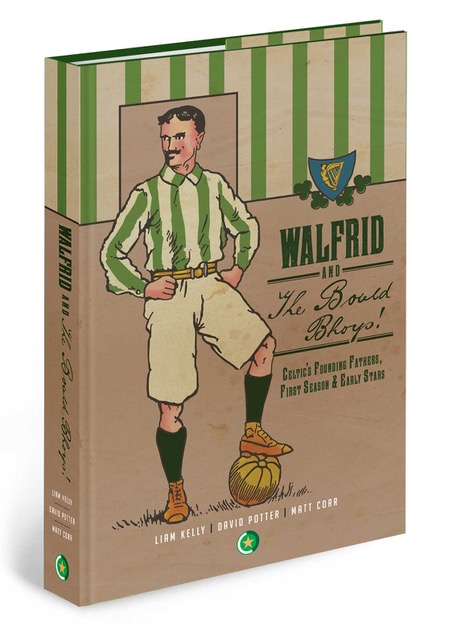 Chris Harland: @conceptcanvases (Twitter)  conceptcanvases.co.uk
A Celtic fan from the east end of Glasgow, Chris Harland has been involved in artwork his whole life. Having always wanted to be an artist, he decided to leave his job four years ago and put everything on the line by going full-time. Since making that decision, Chris has never looked back. Videos of his paintings have gone viral and he has even attracted the attention of some Celtic players.
Shane Duffy 'Long Time Coming'. I thought I'd get the new Bhoy painted as my way of welcoming him to the club, all the best @shaneduffy hope you smash it and if I'm lucky you see this and enjoyed watching 🎨👍🏻🍀 #shaneduffy pic.twitter.com/2xNHs0rajG

— Chris Harland 🎨 (@conceptcanvases) September 3, 2020
Chris said: "It's good getting a wee bit of recognition now and again but I've got so far to go. Odsonne Edouard is a great guy. He keeps in touch and has always been very supportive when it comes to my art.
"My proudest moment was when he messaged me to commission a painting and come back to the house for even more art, keeping his word to come and meet my daughter, Myah, as she missed him the first time. He is a class act."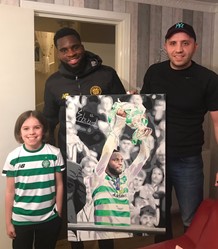 "My shop (conceptcanvases.co.uk) sells everything from football to film art. Although football art, and especially Celtic, is my great passion, I feel I offer far more and will continue to work as hard as I can to maybe one day be remembered for producing some special paintings and making my family proud.
"I know I'm lucky to be able to do something I love, so I don't take it for granted and I'm grateful to everyone who continues to support what I do."
Walfrid & The Bould Bhoys – available at celticstarbooks.com (As seen in official Celtic FC Stores)
Both Walfrid & The Bould Bhoys & Invincible looking good at @CelticFCShop also available online at https://t.co/aYWJv1Iejk @Boola_vogue @cfcliamk96 pic.twitter.com/CFVU1xI0w9

— The Celtic Star Editor – Walfrid & The Bould Bhoys (@CelticStarMag) September 22, 2020
There can surely be no other football club in the world whose history is devoured, cherished then handed down through family, enabling our children and grandchildren to recite the great names and events of the past with the same feeling and passion as for those they witnessed first-hand. It is a rite of passage. A gift which is uniquely Celtic…
In Walfrid & The Bould Bhoys, authors from three generations of that Celtic family take you on a magical journey through the early days of the new football club which was springing to life in Glasgow's impoverished east end.
Through Liam Kelly we meet the founding fathers. Those men whose compassion, vision and energy created Celtic Football Club for the most wonderful of reasons, to help those struggling to survive. Those of our forefathers and mothers who had nothing. Origins and principles which set us apart as more than a football club, even to this day.
We walk game-by-game through an incredible debut season with Matt Corr as players are recruited to form a team which will become a cause, a reason for living the other six days in the week. Challenging the established order and creating joy in the communities of the east end by reaching the prestigious Scottish Cup Final from a standing start, then delivering silverware, all within that thrilling first year of existence.
We hear the thoughts of a Celtic supporter, Dan Drake, who lived through that first season and who attended the original Celtic Park with his own father on the day it all began, with a 5-2 victory over Rangers back in May 1888.
Then Celtic historian David Potter shares his thoughts on the inaugural heroes in white and green who would thrill Dan and the other Celtic fans of the early years, playing their way into our hearts and the opening chapters of The Celtic Story. Men like Kelly, McMenemy and Quinn, whose names still roll off the tongue more than a century later, idolised to this day by the descendants of the men and women who watched them create history. This unique collaboration between these three Celtic writers, all published authors in their own right, has it all.
*Winner announced on Friday 2 October