The season may be coming to a disappointing end and after a year that will live in infamy, Celtic fans can be hopeful of a return to Paradise in the coming months. A report by the Telegraph claims that Boris Johnson, UK Prime Minister, will be told that social distancing measures are not necessary in mass events meaning that a return to Celtic Park at capacity could be only a matter of months away.
Johnson is expected to be told that the test events, which included Manchester City's win over Tottenham in the EFL League Cup, were a success. This could hasten plans to 'unlock' the sporting industry, which has suffered from almost a full season of fans being locked.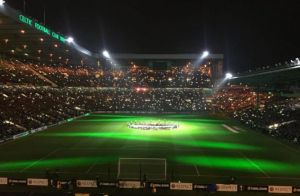 Celtic fans have been locked out of Paradise since March 2020 but will be hoping for a return ahead of the new season. There will be 12,000 fans at Hampden for the European Championship in early June but it is hoped that given the mass vaccination programme that is currently being rolled out across the UK, fans could be back on an increased capacity at the end of June with incremental increases until capacity is reached (in line with vaccination drives).
The support have sorely missed being at games and the players have evidently missed having the fans there. It is cliched but the added edge that Celtic have on the back of the roaring support is phenomenal and it will be emotional for a lot of people when they return to Paradise.
The club are likely delaying their Season Ticket renewal campaign for a couple of reasons – the manager and the status of returning to grounds for next season. The SPFL and Sky Sports have confirmed that they will allow virtual season tickets and PPV for games not selected by the broadcaster but this may be merely a safety net for the clubs.
Things like mass testing and vaccine passports have been muted as potential solutions to allow mass events and these might be incorporated in order to mitigate the potential risks associated with the return of these games.
Hopefully a return to Paradise will be soon.