ONE Celtic supporter is currently being investigated in relation to an alleged incident that was reported by a Celtic season ticket holder to the club after the Glasgow Derby on 29 December 2019.
Celtic immediately did the correct thing and reported the complaint to Police Scotland.
Today The Celtic Star can reveal that another similar alleged incident has now been cleared up and the matter is now closed with no charges progressing. And the one remaining alleged incident – again as a result of a complaint made from a Celtic season ticket holder – is close to being concluded.
Neither incident, the one where a supporter has been cleared of making a racist remark and the other in which investigations are close to being concluded, are NOT, according to sources at Celtic FC, featured on the video that the ITN journalist Peter A Smith mentioned on social media the day after the game.
To re-cap, ITN journalist Peter A Smith stated this on social media on 30 December 2019.
"I've seen the video of racist and sectarian insults being shouted at Alfredo Morelos yesterday. It has been sent to me but I am not sharing it because it doesn't deserve the platform. It is horrendous and it needs to be stamped out by all clubs and by all reasonable fans quickly."
I've seen the video of racist and sectarian insults being shouted at Alfredo Morelos yesterday. It has been sent to me but I am not sharing it because it doesn't deserve the platform. It is horrendous and it needs to be stamped out by all clubs and by all reasonable fans quickly.

— Peter A Smith (@PeterAdamSmith) December 30, 2019
Peter A Smith describes himself as follows on his twitter handle. "Journalist: Scottish correspondent for ITV News and ITN. From Glasgow…" He has 21.4k followers and is following 8580.
The Celtic Star has been told from sources at Celtic FC that the video, referred to by Peter A Smith does NOT contain any racist insults whatsoever. That is surely a problem for the ITN man?
This video was shared by others on social media immediately after the match and has been seen by The Celtic Star. Ranges sites were happy to back the claims that the video did prove that racist and sectarian remarks were made but that doesn't make it correct or accurate. These same fans have had sections of their ground closed by UEFA this season for singing a banned racist and sectarian song.
We have discussed this repeatedly since Peter A Smith made his claim the day after the Glasgow Derby. The video does certainly does contain insults, one relates to the colour of Alfredo Morelos' tracksuit – not his skin – and the other uses the term that the Tommies used for the soldiers in the opposing trenches in the Great War.
You can have a debate if you like that these remarks made while Alfredo Morelos was threatening to cut the throats of the Celtic Support are sectarian or not, but when these matters have been decided previously in court more often than not they are not regarded as such. However we will park that for others to consider.
If you work for ITN you would imagine that any story surrounding a football match would make the news on the same day, not the day after – so why the delay Mr Smith?
Was Mr Smith made aware of the complaints made by Celtic season ticket holders, that were by 30 December, the subject of a Police investigation and as a result was he emboldened to make the claims that he did?
However had he simply stated that there were allegations of racism and these were being investigated then he would have been on solid journalist ground?
Instead he says he has seen the video and has claimed that this video contains racist insults. Has someone sold him a line that because UEFA has deemed one Rangers song as racist the opposing insult from the Celtic Support is therefore also racist?
From the information we have from Celtic Mr Smith's is completely wrong and therefore it is defamatory to both Celtic FC and the Celtic Support. And Mr Smith and his employers will now be aware that they are the subject of a complaint to Ofcom for the 30 December tweet.
The defence for defamation is Veritas – the truth. Unlike other court matters, when the pursuer has to prove their case, in matters of defamation it is up to the defender to prove he is telling the truth if Veritas is to be a successful defence.
So perhaps Mr Smith can clear this matter up once and for all? Can he send us the video that he claims to have seen that he alleges contains "racist…insults" being shouted at Alfredo Morelos at Celtic Park on 29 December? We will watch the video and having done so will be happy to confirm on here that the ITN journalist is indeed correct, if he is. We will then take the matter up with Celtic FC and complain to them that they have failed to deal with the well founded allegations that Mr Smith made on 30 December 2019.
Surely that is a fair and reasonable offer, Mr Smith?
"I've seen the video of racist and sectarian insults being shouted at Alfredo Morelos yesterday," he said. The above solution will clear that up, one way or the other.
Either Mr Smith or Celtic FC is wrong here and we need to know which one it is.
I've complained in writing to @ITV and @ITVNews about this Tweet now.

Given Ofcom getting involved with Sky, it seems reasonable to find out of @PeterAdamSmith has shared this video with the Police or @CelticFC, or he is part of the 'fake news' culture.

— 🍔 Gastro Celtic 🍀 (@Gastro_Celtic) February 7, 2020
Mr Smith stated, "It has been sent to me but I am not sharing it because it doesn't deserve the platform."
"It has been sent to me," by whom Mr Smith? Or would you rather not say? Perhaps you will want to protect your sources as a journalist? Or maybe you will have no problem telling us if the sender of this video was someone who is involved in PR for a certain Scottish Premiership side?
Maybe the news that there was a Police investigation as a result of Celtic's actions to report claims made, coupled with this video you have been sent was enough to convince Mr Smith that the video did indeed contain racist insults? Or more cynically Mr Smith, you wanted to boot Celtic confident that you had been tipped off and were ahead of the story and if things panned out as you thought they would on 30 December, you would have been proved correct, even without sharing your fake racist insults video? Job done and all that.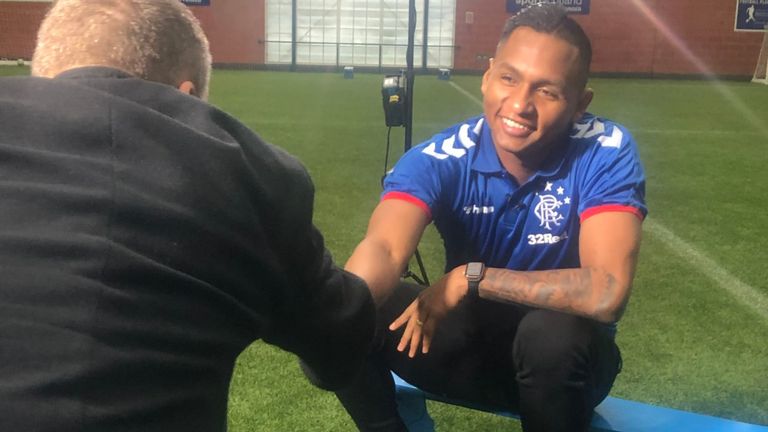 This week Sky Sports has had to pull an interview with Alfredo Morelos in which subtitles were added that also falsely claimed racist incidents at Celtic Park occurred on 29 December when Alfredo Morelos actually made no such claim. The wonderful work from the Alicante Celts exposed these lies.
Sky Sports issued a full apology but that is entirely inadequate and Celtic followed up their initial statement on the matter by issuing a subsequent statement which included the text of a letter Celtic CEO Peter Lawwell has submitted to Ofcom.
And when pundit Michael Stewart decided that enough was enough and called out James Traynor on BBC Sportsound on Monday night, he was not backed by the broadcaster who issued a full apology to Traynor the following evening and suspended Stewart for what many people believe, was simply telling the truth.
What is it to be Mr Smith and indeed ITN? Celtic FC and the Celtic Support may have been defamed by you and your organisation and it's something that you are going to have to clear up one way or another.
You can email a link to the video to editor@thecelticstar.co.uk
Help raise money for Celtic Youth Development by joining the £1 weekly lottery and you could win up to £25,000 – just click on any one of the photographs below to join. Lots of our readers have already done so and they're now doing their bit to help fund Celtic Youth Development that can deliver the stars of tomorrow and beyond. And you might even win a few bob too!