In four matches against Celtic under the management of van Bronckhorst theRangers have lost two, drawn one and emerged victorious after extra time in one other game. In short, they haven't beaten the Hoops in regulation time in four attempts – while Postecoglou has emerged with both home and away wins in that time – not to mention the 12-point turnaround Celtic have managed since the new Ibrox boss took the job.
And it should be noted that the draw on Sunday was a much better result for Ange Postecoglou than it was for van Bronckhorst who said before the game that his side had to win if they had to have any realistic chance of retaining their title. So in the four games, Ange leads Gio 3-1 in satisfactory outcomes.
Yet according to Brian Laudrup, writing in his Daily Mail column, theRangers boss has a 'handle' on Celtic and Ange Postecoglou.
"All the talk about van Bronckhorst not being able to compete with Postecoglou has surely gone. He now has a real handle on what Celtic want to do and the best ways to try and combat it, even with important players missing. That offers a lot of optimism for the future where (the)Rangers are concerned."
If that's sussing Celtic out, then long may it continue.
Laudrup, you fear misses the bigger picture here, theRangers have made inroads in how to defend against Celtic, but the key to sussing an opponent is turning the defensive work into winning games – the hard bit as any coach will tell you. So far Van Bronckhorst has found a way to disrupt Celtic, he hasn't yet found a way to dominate them as a one win (AET) in four record indicates.
In truth sussing Celtic's gameplan isn't hard to do. After all we aren't a side who hides how we play, we rarely change tactics and our blueprint is laid bare on a weekly basis for all to see.
Every team therefore could claim to have sussed how Celtic will play, some may even have worked a way how to limit our attacking intent, but over the course of the season few have managed to turn that knowledge into points in a league title race, something Celtic's unbeaten league run since September testifies to, and it's also something van Bronckhorst has yet to master.
Celtic have stuttered in recent matches against theRangers that much is clear, but for those of us who remember Derby games prior to the implosion of the previous club to operate out of Ibrox, those games were regularly close affairs, particularly when title races were tight. And with two clubs with similar budgets and expectations that has predominately been the way.
The Rodgers years while enjoyable were very much the outlier. Four and five goal thumpings were commonplace, but those days have long gone.
Now it's about who comes out top against the rest of the league and who can collect the most points against each other in often title defining Glasgow derbies.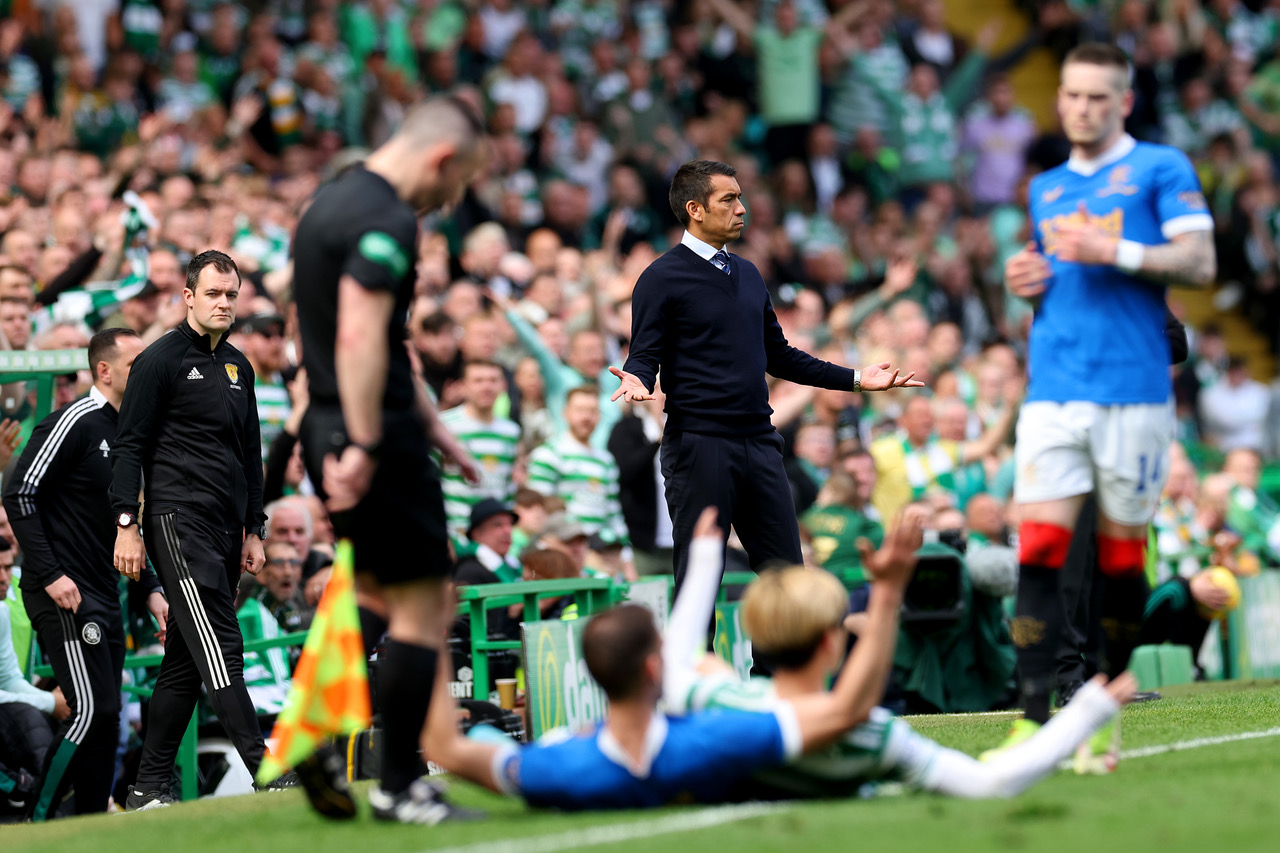 So far Ange Postecoglou is ahead in all those battles and that is why Celtic are on the verge of regaining our league title – we have been more consistent against the rest of the league and we've gathered more points in Glasgow derbies than our rivals.
If that average continues next season, and the one after, then I'm all for Ange Postecouglou apparently being sussed out by Gio van Bronckhorst, because no matter what Brian Laudrup may think, the evidence over van Bronckhort's tenure and the course of the season points to the contrary.
Niall J