As 'the' Rangers contend with unsustainable losses and ongoing threats of High Court compensation claims, the word hedge normally has ears perking up in the Ibrox boardroom and amongst the loyal hordes. On the 29 July 2012 it wasn't so much Hedge funds as Hedge fun for the fans of every other team in Scotland. The Banter years had well and truly arrived.
Glebe Park, Brechin was the moment the new club really found how low you can go. Prior to liquidation a team out of Ibrox, had performed in The Nou Camp and the Bernabeau, the phoenix from the flames however was going to have to settle with a Challenge Cup encounter and a 2-1 victory over Brechin City – but only after extra time! The match mitre getting stuck in the foliage is an enduring image of the banter years. Anyone bring a ladder?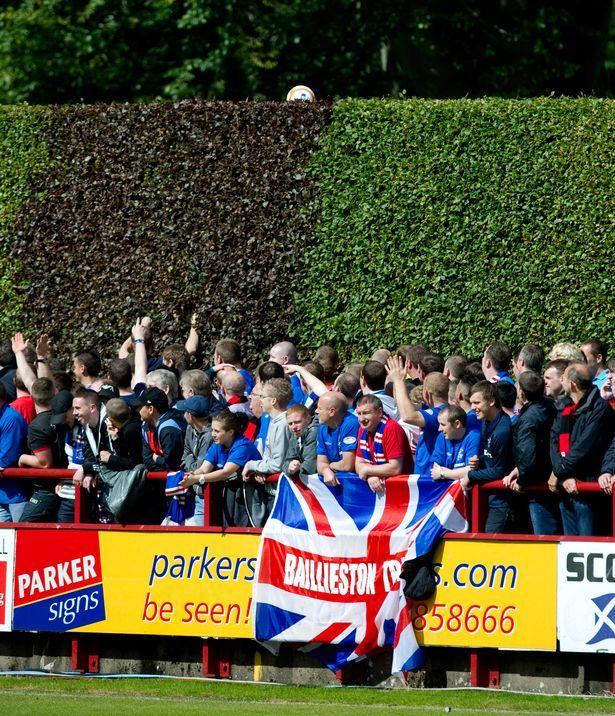 And if you're already embarrassed about extra time wins at Glebe Park, you must be hiding behind the couch when John 'Bomber' Brown offers to be your saviour. His 'one fan one vote' speech is only matched by his cry of 'Where's RaaDeeds?' I'm sure his heart was in the right place but for every cringing bluenose there were a hundred fans of every other club in Scotland in stitches.
Come on Bomber, now that the 'glib and shameless liar' has handed in his notice, the time is right for a comeback. Who wouldn't fail to get behind another cry of 'You buy the pies?' Shame for them they didn't have the same appetite for share issues. Now who does have those deeds?
Now does anyone recognise this man?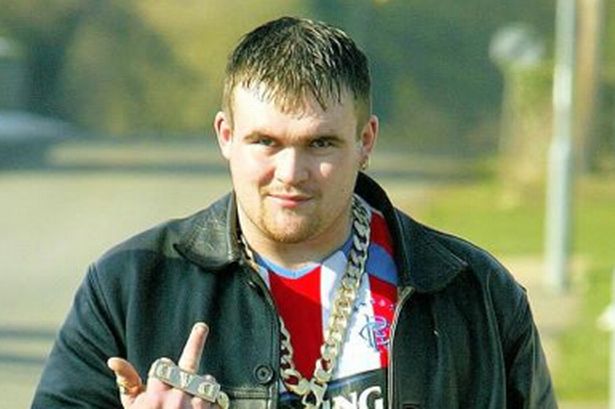 What about his jewellery? Bet you've seen that somewhere before, perhaps you can't quite put your finger on it…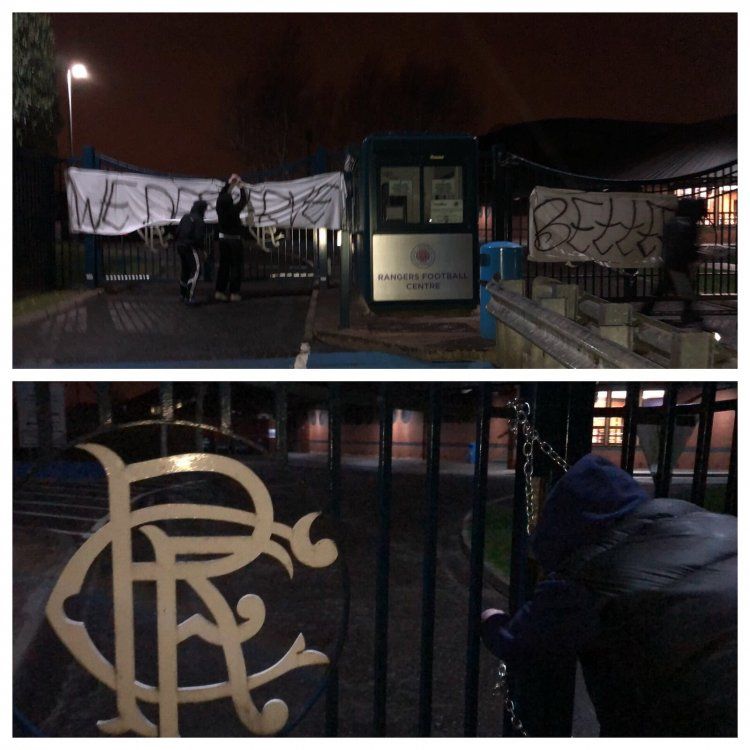 There you go. Nothing says 'save my club' like a Halfords bike chain around your training ground gates. Yes the training ground, not the stadium.
Perhaps John Brown was in the wrong place all the time and those deeds are buried under the penalty spot on the five-side pitch.
Now chaining yourself to the gates I could almost understand, simply adding an extra layer of security is a bit of a harder concept to decipher. As difficult as those bedsheets really.
Now for my personal favourite of the banter years, as a Celtic supporter fools Rangers striker Francisco Sandaza into admitting that he only joined the club for the money. In a 23 minute phone call, Glasgow taxi driver, Tommy, posing as a US-based agent named Jim McGonagle gets Sandaza to spill that he's currently on £4,500 at Rangers and would love a move to the MLS if he was offered a little bit more money. It was a work of genius.
Strangely 'the' Rangers either didn't see the funny side or took an opportunity to offload a hefty salary from the wage bill and sacked Sandaza, claiming breach of contract for disclosing details of his salary.
Sense of humour bypass or what?
Actually can I change my mind on my number one choice? I'd almost forgot about this one.
Following a temporary upswing in both performances and results under interim boss Graeme Murty, there had been genuine belief amongst 'the' Rangers support that the Banter Years might finally be a thing of the past.
Scottish football breathed a huge sigh of relief, then, when Celtic's 3-2 win at Ibrox triggered a brave new dawn of Banter Years material.
The man responsible for not only a return to form but actually exceeding what went before was Rangers TV co-commentator and former player Hugh Burns and his "WHIT'S THE GOALIE DAEIN' TOM? WHAT'S THE GOALIE DOING?"
Wonder how he was feeling when French Eddy climbed off the bench to score the winner for ten man Celtic? One of the finest commentaries ever uttered into a microphone.
Hopefully that little lot has tuned the frown upside down for anyone self-isolating or feeling a wee bit deflated at the moment. I'm sure there's more to come from the gift that keeps on giving. God Bless the Banter Years.