THE TWO most impressive stats this week, or perhaps the two that might make you stop, think and enjoy are firstly that among all the clubs competing in the Europa League this season only Seville have a better points total than Celtic and secondly Celtic in the five Europa League Group stages matches have got more points that Hearts have managed in 13 Scottish Premiership matches this season. Celtic have 13 points from 5 Europa League games while Hearts have 11 points in their league campaign to date.
So if Hearts win tomorrow at Ibrox they'll close down that particularly embarrassing statistic, and the best of luck to them too!
One of the key Celtic players this season is James Forrest who just as he was given a his very own song by the Green Brigade, (well it wasn't his, it was a second hand, recycled effort of an old one that once belonged to Brendan Rodgers) ended up song-less again when the Green Brigade found themselves ticketless after Celtic CEO Peter Lawwell decided to make a stand on the smoke bombs, pyros, unacceptable songs, illicit banners, breaking wind and anything else he could think of to take the Res 12 heat off himself.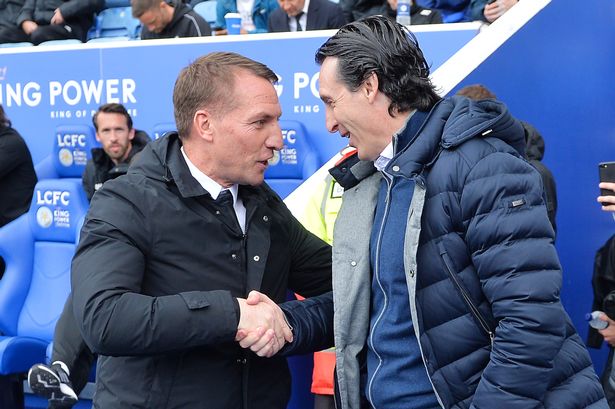 Talking of Peter Lawwell, remember when he added that 15% sell-on clause to the Virgil van Dijk – who has scored twice for runaway league leaders Liverpool  in the 2-1 against Brighton this afternoon – transfer to Southampton? Clever, so to was. Very clever.
Now, wouldn't it be nice if he's done the same in the deal that allowed Brendan Rodgers to head to Leicester City? Lawwell must have realised that loyalty was not Brendan's strongest attribute and that Rodgers would jump ship from Leicester if he got offered a job at one of the so-called Top 6 clubs in England. There are stories doing the rounds this afternoon that Leicester City would be looking at compensation of over £15m from Arsenal and our former manager seems to be the front-runner to be Kieran Tierney's next manager.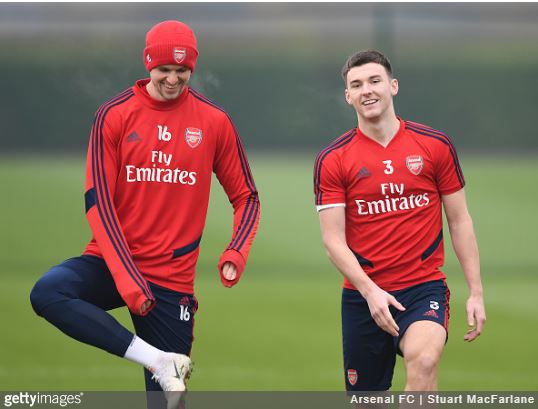 Chris Sutton summed Rodgers' likely outlook on the chance to manage Arsenal this morning. A slice of any Compo heading from Arsenal to Leicester would be delicious and Pistol Pete, who likes to thing of himself as smarter than the rest of us, will have inserted this clause right? Surely?
It would be more than enough to cover the cost of all those UEFA fines that he blamed on the Green Brigade, a group of young supporter who have now raised over £250,000 for charity.
It wasn't just them Peter, you know. Just about all of us sang that Lazio song and it was also sung on Thursday night against Rennes, when there were no Green Brigade, just your pre-prepared banners.
Anyway back to James Forrest, song or no song, the Bhoy is an absolute star. He's been speaking to the official Celtic website ahead of tomorrow's Premiership match in Dingwall and started by looking back to the win over the French Cup holders.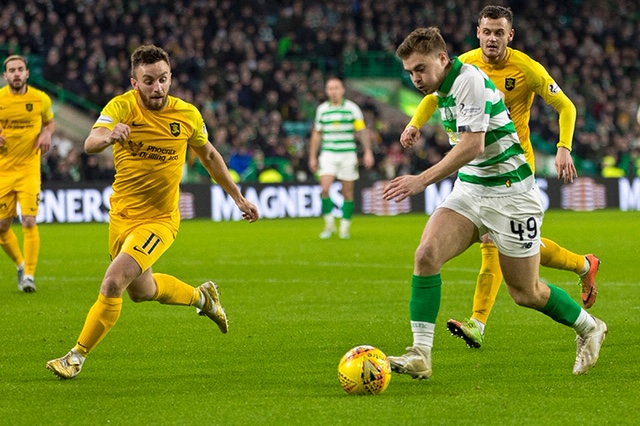 "The Rennes game was class and another good European night at Celtic Park," Jamesy said. "To win three games at home is a massive achievement, and it's a great feeling to do that for the fans and for us as players.
"The last few years have been incredible domestically, but we've also qualified for Europe after Christmas three times in a row, and it's important for us to remember that. It's always been good, but the way in which we've done it this year has been at another level again.
"It's exciting. We'll play to win in Cluj, but it's a nice position to be in, where we can look forward to the draw with a game to go, top of the table. We'll now turn our attention to Ross County on Sunday, and then we've got a couple of games after that, including a cup final, before we play Cluj over there. By the time that game comes around, the manager will decide what he wants to do and how he wants to set us up."
Forrest played on the left hand side with Greg Taylor behind him at left back for Scotland and again on Thursday for Celtic against Rennes and the two seem to have formed a decent understanding, combining to set up goals for both Scotland and Celtic.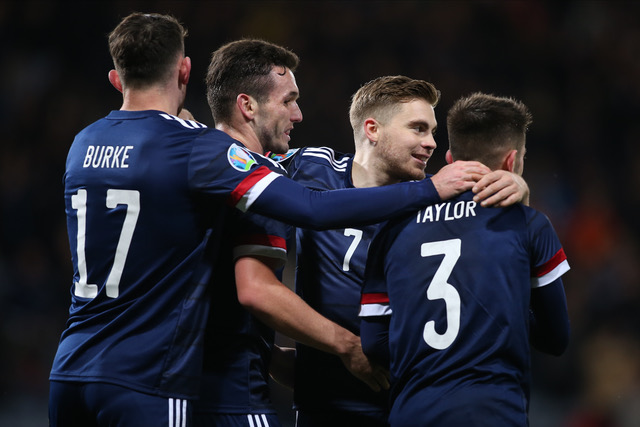 Taylor and Forrest are likely to combine down the left in Dingwall in the lunchtime kick-off tomorrow but not against the Rangers next Sunday as Taylor is cup-tied. Forrest certainly enjoys playing with the former Kilmarnock man.
"I've played with Greg a few times in the national team as well, so we've already got a good understanding of each other's style of play. It's always good forming different relationships with different players, and against Rennes I think Greg and myself were able to show that.
"For the first goal, we played some really good stuff down the left side, and of course it's a great finish from Morgie. He put in a great shift – he played up front in a European game for Celtic at Celtic Park and did really well. That's great for him, and I'm really pleased for him as well.
"At the other end, Fraser was brilliant and probably deserved the clean sheet after a few tremendous saves over the course of the game. He'll be a bit gutted missing out on the clean sheet, that's what he's like and that's credit to his character, but to be fair, there was nothing he could do about the goal.
"December is always really busy, but we've got the squad to cope with the busy schedule. As you saw against Rennes, we had a few players who haven't been playing every week come into the starting XI and perform really well. That's brilliant for everyone that's playing every week, and for the other guys waiting to come in as well – to see guys hitting the ground running without much notice."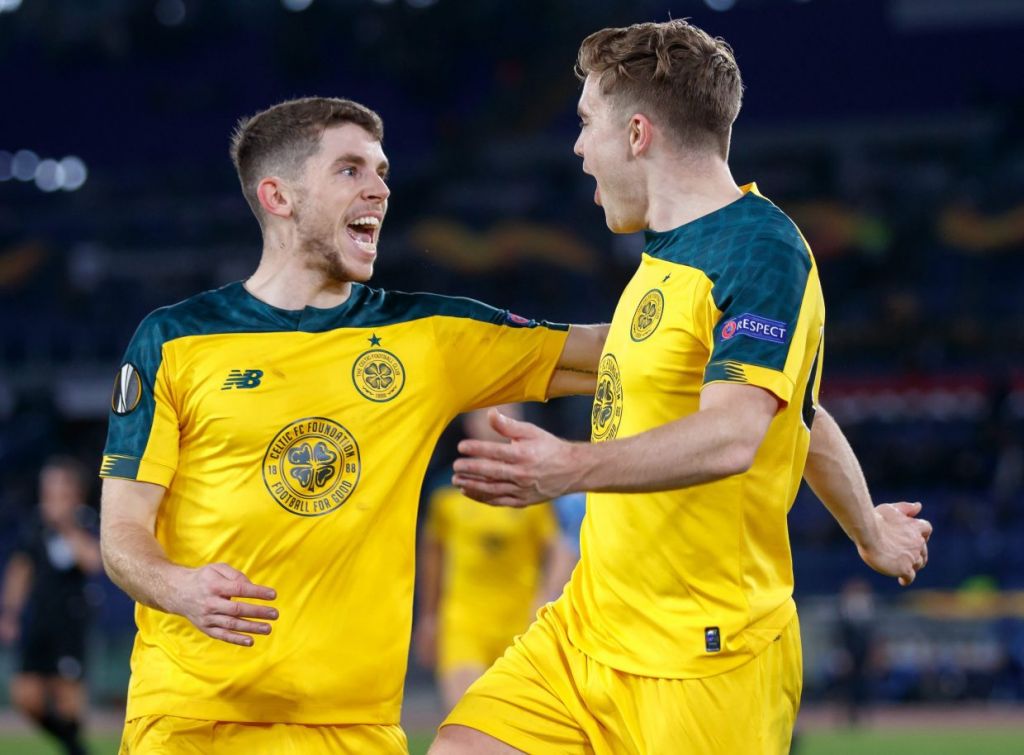 Forrest's determination to go for the win in Cluj will of course be music to the ears of Lazio boss Simone Inzaghi who is praying for a Celtic win in Romania. That result plus his own team winning in Rennes would see Lazio go through.
"First of all, we have to do our duty in France. There's no point worrying about what is happening in the other game if we can't beat Rennes.
"Celtic have given everything in this group and I believe they will do this also in Romania.
"I believe it's the mindset of the Scots to try and win every match and we have to hope they will do that and win at Cluj.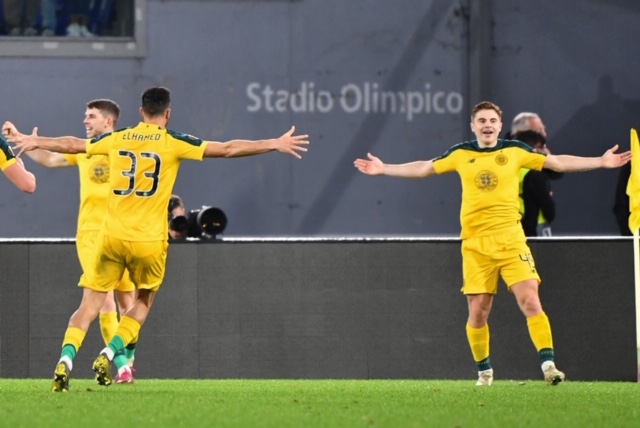 "In football, nothing is impossible. We have to keep believing we will qualify.
"Celtic won at the Stadio Olimpico so they can certainly also win at Cluj. Like I say, it won't matter if we cannot beat Rennes. Let's do our job there and see what happens," the Lazio boss told the Italian media as reported in Scottish Sun.
ALSO ON THE CELTIC STAR…
The Rangers Rent-a-gob, Kris Boyd and his amazing insight into Celtic's bottle
Sutton Video – 'He left Celtic, the team he supported as a boy, to downgrade and go to Leicester. So why wouldn't he upgrade to go to Arsenal?'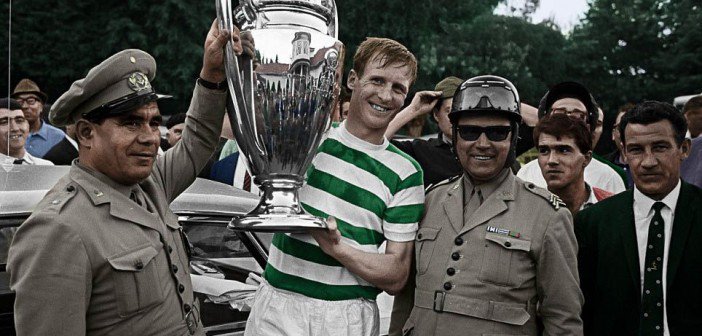 After this week's events in Rotterdam, the deeper significance of Celtic's 1967 European Cup win.
Hillsborough, The Families – 'They have persevered with the utmost integrity and in a way that shames all who have let them down,' Kenny Dalglish