Leigh Griffiths has struggled with both form and fitness this season, falling behind even Lewis Morgan in the pecking order. And Kris Boyd has sent the Scot a warning, claiming that he has "four weeks to save his Celtic career".
It has been only a little more than three years, that Leigh Griffiths scored 40 goals in the 2015-16 season, taking home all individual honours in Scottish football as a result. But it does feel like a lot more. The striker has suffered three terrible seasons since then as both on and off field issues have left him as a mere shell of the player that he once was.
Griffiths' downfall began in 2016-17, when he found it difficult to make his way back into the Celtic first-team after an injury, due to emergence of Moussa Dembele. Even then it was a decent season with him scoring 18 goals in 37 games. But the numbers continued to fall as he scored just 13 goals in 2017-18 and a mere 6 goals last season when he had to take some time off from football to resolve his personal issues.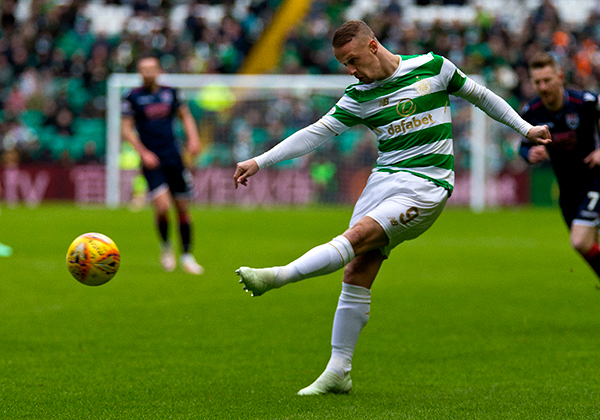 Celtic's highest goalscorer of this decade and once their main man, Griffiths now finds himself convincingly behind Odsonne Edouard and can't even make it into the team while the Frenchman is out with injury due to Neil Lennon's preference for Lewis Morgan upfront. And Kris Boyd believes that the striker is quickly running out of time to save his career at Parkhead.
As reported by the Evening Times, Boyd told Sky Sports:
"Leigh Griffiths right now is at that crossroads in his career. He needs to be first in, he needs to be last away. He needs to train every single day to the best of his ability because he's not going to play.

"He's miles behind Odsonne Edouard. For me, he has got four weeks to save his Celtic career. If he doesn't show Neil Lennon inside these four weeks, they will go and recruit a striker in January and for me, it will be over for Griffiths."
Boyd certainly has a point as Celtic might very well go and recruit a striker in January. Edouard has not had much back up this season with Griffiths out with injury while Bayo has failed to make much of an impression in the chances that he has been given. Now it is up to Griffiths to make the most of the opportunities that he will be given or it might really be curtains for him at Celtic Park.