I wake up feeling slightly fragile to the stunning Leipzig skyline. Time for a healthy Adina breakfast and then duty calls, I have to pull the diary together. An hour or so later, I am interrupted by the sound of Celtic fans singing and look down to see hundreds of supporters marching below my hotel window, heading for the city centre. These will probably be the fans who have travelled through from Berlin and surrounding area by train, as the main Hauptbahnof is just around the corner. The match day nerves are really kicking in now.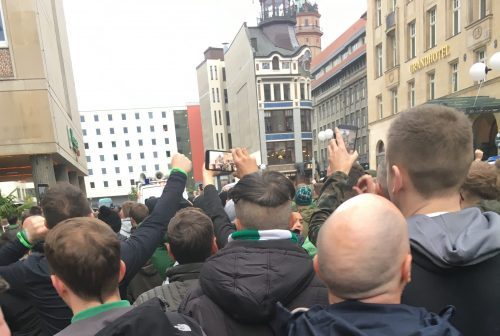 Job done, I head back up to the Markt square. This will be where the bulk of the troops will assemble this afternoon, prior to the fan march to the stadium, which for an 'old git' I'm quite excited about. It is already bustling with the usual mixture of supporters and onlookers.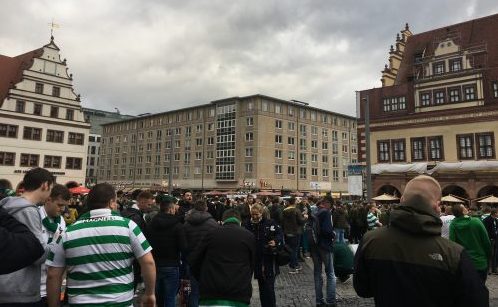 The world's biggest game of football is taking place in the old square, as a lime green ball is propelled repeatedly into the air above the crowds to massive cheers, whenever someone heads it back or is caught unawares by the dropping missile.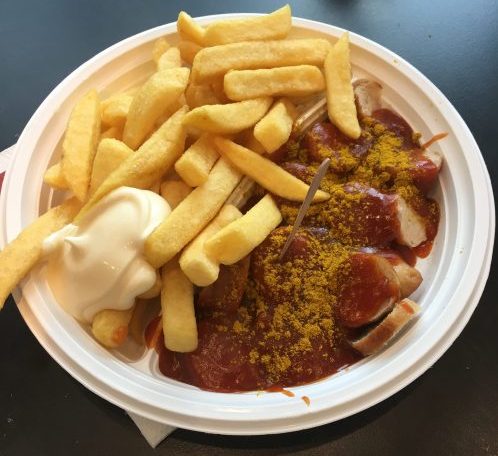 I find a spot to have my promised currywurst lunch, a Berlin custom which should surely be adopted by Glasgow, then grab a beer to do some people-watching. Today will be a quiet day drink-wise, I had my 'training day off' yesterday and the final marathon countdown is now on. Today I am the Captain Sensible CSC.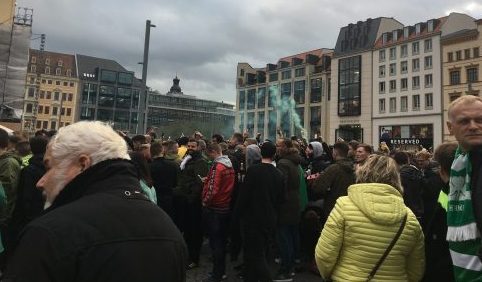 Soon it is time for the fan march to commence and the crowds huddle together in the corner of the square, awaiting the nod from the police escort. Mobiles and cameras are in overdrive as we set off and it really is something else. There are several thousand people in the noisy human snake, which winds its way through the old town and past the Hauptbahnof before heading out of the city centre towards the stadium. It is a Celtic carnival and it feels good. There are people waving from windows and holding babies, like a scene from a movie. I'm guessing that this is not a common occurrence.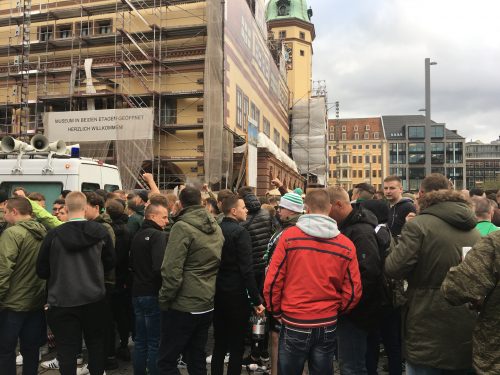 We have been walking for over an hour and a half before we reach the stadium area. I'm getting a tad nervous as there are now only forty minutes before the scheduled kick-off and it turns out I am right to be, we are faced with just six electronic turnstiles to manage thousands of supporters safely into the Red Bull arena. This is Love Street 1980 revisited. This is just not going to happen.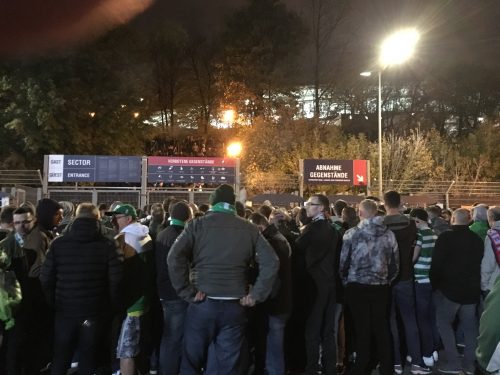 What does happens next is entirely predictable, as the fans try to squeeze into the ground and progress is slow to zero. The crush is getting worse and someone is going to get hurt here. Kick-off time comes and goes and we are no further forward. Eventually, I make the call to come out of the melee until things calm down. The game is now a sideshow to this farce. Safety is the issue here.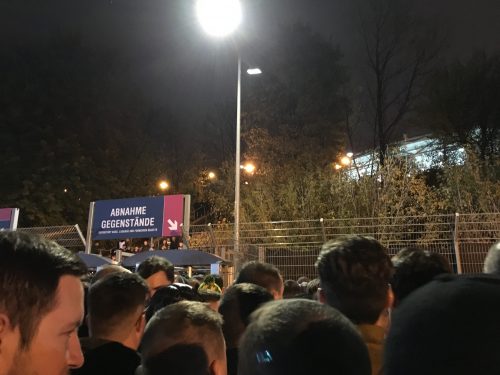 I spot a couple of my colleagues from Celtic Park, Jim and Martin, over here to provide support to the travelling fans. They provide some background to the issues and are in big demand as fans look for explanations and answers. This is a tough gig but I am impressed by their calm demeanour under real pressure, as they deal politely and tactfully with the many Hoops supporters voicing their anger and frustration over the situation.
Finally, the crowd subsides enough for me to rejoin the queues and fairly soon I'm inside the ground. Full body searches are carried out and then there are several flights of stairs to negotiate before I can take my seat in the arena, which is quite impressive. The clock is showing 30 minutes and the game is goalless, so we have something positive to cling on to at last. C'mon the Hoops.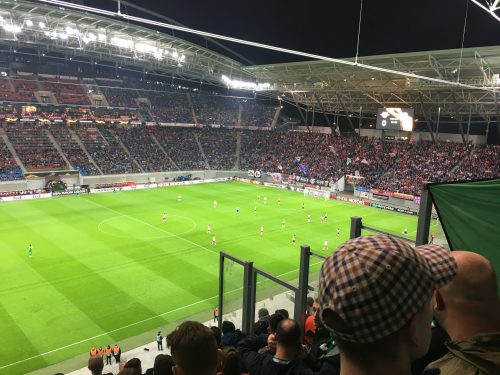 The clock is showing 32 minutes and we're a goal down. Frankly, I'm wishing I had just stayed outside or gone home. By 35 minutes we're two down and I have a severe case of deja-vu. The stadium reminds me greatly of St. Petersburg and suddenly so does our performance. Couple of half-chances for Eddie have gone a-begging. That's it. Half-time. Only 45 more minutes of this to endure.
Joe from the Grangemouth CSC spots me in the stand and comes over for a chat. He also marched to the stadium but managed to get inside for kick-off. He tells me that French Eddie had an earlier opportunity and we were looking comfortable until they scored. There is a sense of resignation in our conversation which is depressing. This is not feeling like the day we will win away.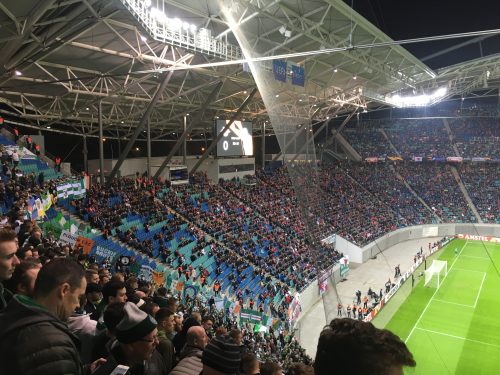 Highlight of the second-half is a seemingly endless version of 'Here we go, for ten in a row', including huddles and various other improvisations from the support. If the Champions and Europa Leagues could be won by fans, then Celtic would be genuine contenders. There are literally thousands of Bhoys and Ghirls here, both in our sections and elsewhere in the stadium. It is a massive show of support and defiance and I am very proud to be amongst them.
On the pitch, the show is over. At least it didn't go to three like St Petersburg, however it is still dreadfully disappointing. The team come over briefly to acknowledge the fans and then we can contemplate the journey back into town, which after the earlier performance, I am dreading.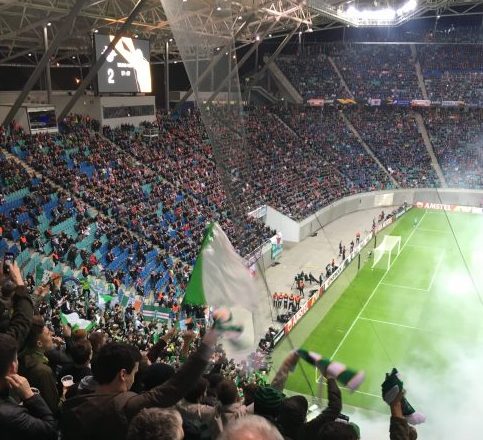 In the interests of balance, I have to say that return arrangements are in complete contrast to the stadium access shambles. A fleet of trolley-buses awaits, as in Athens, and I am lucky enough to squeeze into the first available shuttle. Just before we pull off, on comes Iain Hynds and I manage an eyebrow nod, as does he. No words. The sense of disappointment at the constant awayday defeats just never seems to reduce, however many we face or the older we get. It would break your heart.
In no time at all the bus pulls up at the Hauptbahnof and we're back on familiar ground. I'm going to treat myself to a steak dinner and so the search is on. I find a cracking little place eventually and the meal is excellent. For once, I am the only Tim in this part of Leipzig.
That soon changes on the way home, as I again pass Kildares and the place is bouncing. There are TV cameras catching the action and a full scale Huddle going on inside the bar. There are Leipzig fans in the midst of the madness and I allow myself a wry smile but I am most definitely not in party mood.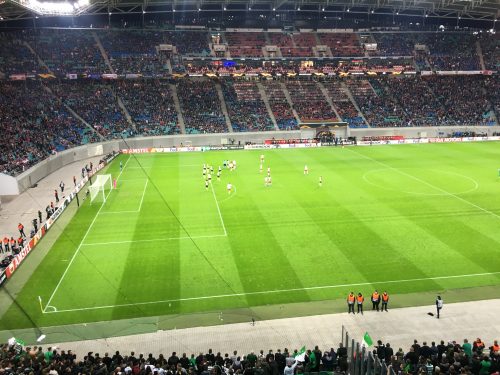 As I'm just about to leave 'the lane', I am approached by a young German, who asks if we won and is genuinely surprised by my response. "So why do you party?", he asks. 'Good question", says I. Best I can manage is something about how we love our club and that fact doesn't change despite defeats, so we celebrate that and we have a good time, wherever we go. "This is very cool", he says. And it is.
Matt Corr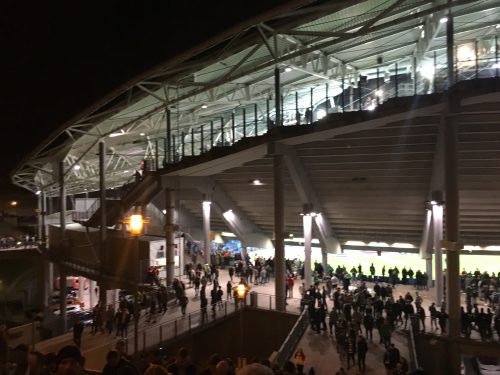 You can catch up with the first part of Matt's Leipzig Diary HERE.