HALF TIME and 2-0 down, two gifts and the same thing happened in Salzburg. We need to learn how to defend. Anyway Matt Corr is in Leipzig and here is his first installment of his European Away Day Diary for The Celtic Star…
Leipzig Diary – We're on the road again!
Hard to believe it's been three weeks since Salzburg. Been a busy time. There was a very welcome and unexpected return to form at McDiarmid Park, where James Forrest joined a fairly exclusive club of Celts who have hit four goals in one game, in one half in James' case. In midweek, the Tour Guides went on tour, as Big Davie and myself went to Oran Mor to watch our friend and colleague Matthew Joseph Campbell excel in The Last Picture Show. An absolute star in the making is young Matt…remember where you heard it first.
We then had to endure another miserable international break before Celtic's next match, a home game with Neil Lennon's Hibs. Yours Truly was an absentee for that game, having bought tickets months ago, before the fixtures were announced, to see U2 in Manchester that night. A combination of Radio Scotland and my son texting updates furiously from our seats meant that I was up to date with our half-time 2-0 lead. However, once reception was lost, it was a long wait until back in the hotel before I could pick up on his second half updates. 4-2 Celtic. Result!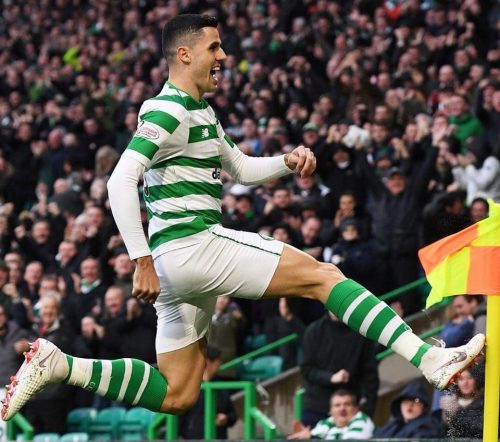 So to the gig, assuming that word is still used. I've been a fan of U2 since my late teens, believe it or not lured to them by a certain Charlie Nicholas. Back in 1981, he was sitting there thinking that they were a great band and I was sitting there thinking he was probably right. This was the era of I Will Follow and Gloria, long before Paul Hewson announced himself to the world as Bono Vox at Live Aid, with a stunning performance. In all of the years since, I managed to watch them live only once, back in 2001 at the SECC. Strange the things you remember. The show was announced when I was literally working around the corner from the venue, so I immediately joined the queue. We waited several hours, during which the draw for the group stages of the Champions League was made, our first ever participation in it.
Fellow Tims in the line passed on the news that we had drawn Juventus, Porto and Rosenborg and the excitement was immense, as was the show when it finally came around. I think Bono had just lost his father and was at his emotional best. As we were leaving afterwards, I noticed Neil Lennon, Steve Guppy and several other Celtic players heading home just a few feet away. Good taste Bhoys.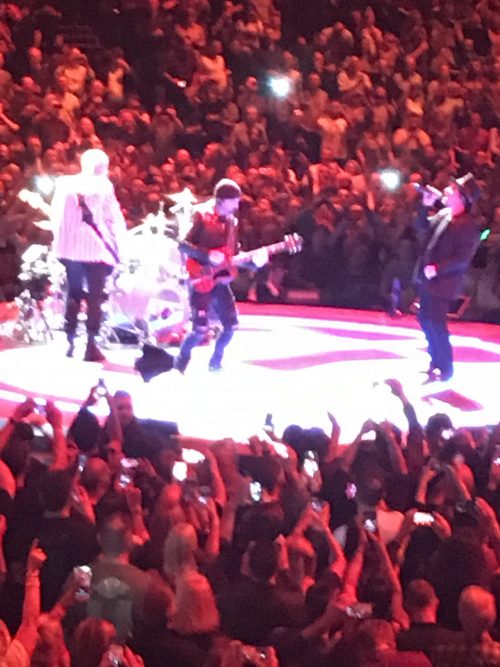 Seventeen years down the line, the band were once again brilliant, save for one cringeworthy piece around Brexit. Bono usually has one political or humanitarian cause to push during the show, which reminds me of the story about him doing something similar in Glasgow, back in the day. As the music fades to background, Bono solemnly paces the stage, every so often clapping his hands once. Pace. Clap. Pause. Pace. Clap. Pause. You get the drift. Then, in his soft Dublin accent, he says, "Every time I clap my hands, a child dies in Africa". Pace. Clap. Pause. Pace. Clap. Pause. Then a voice shouts from the crowd, "Well you better stop clapping your f*****g hands then!". Only in Glasgow.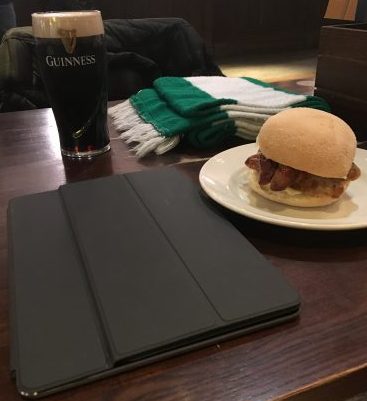 Anyway, I digress. It's Wednesday morning and we're going to see the Celtic in Germany. Well, when I say 'we', I mean me, the Norman Naemates CSC, the world's most exclusive Celtic club. This time I'm going with Hynds Travel, a family-run independent business in Milngavie, who have been taking Hoops fans abroad for decades, since the days when it was run by Harry Hynds himself. These days, son Iain is at the helm and the kids and I have travelled with them several times, trips to Lisbon, Milan and more recently Munich spring to mind.
Through security and the traditional Guinness/roll and sausage breakfast is ordered, then I indulge in my new passion, Twitter, which I've also joined since Salzburg. Big Davie got fed up with me sending him stuff on WhatsApp which he'd already seen and so gave me a crash course, introducing me to some great Celtic guys at the same time (please read this the right way!). Some of the knowledge and photos on here are fantastic and whilst I'm struggling to keep up at the moment, I'm loving it. You can follow me at @Boola_vogue, if Celtic history/stories/photos are your thing.
Onto the plane and result, I have one of the seats above the wing at the emergency door, only two passengers in the row and extra leg space. The stewardess asks if we're ok to help in the event of an emergency and I nod solemnly, like Bono. I choose not to caveat that with 'as long as we don't land in deep water', where I would be as comfortable as Dave King in a confessional. Sitting next to me is the aforementioned Iain Hynds and we get talking about some of the away trips he's been on or ran.
I am impressed that he has a three-match unbeaten run in Moscow and has been on around seventy European trips with Celtic. Twenty to twenty-five of these have produced victories. Reverting to my Charlie Nicholas persona, I'm sitting there thinking, "I hope he doesn't ask me what my record is, as I'm probably nearer five than twenty". Thankfully he doesn't. One of these days I'll go through all of my trips to work out my record, or more likely I won't bother.
It's an enjoyable flight. The jet2 cabin stewardesses are polite, smiling and friendly. Mine looks surprised as I order tea and a Kit-Kat, she then repeating my order and laughing. Apparently, I'm the first person not to order beer and I'm sitting on row 12. I can't believe she hasn't worked out that I'm an athlete, ten days away from the NYC marathon and my body is a temple, for the duration of the flight anyway. Iain hands out Celtic v RB Leipzig enamel badges, a lovely touch and a nice surprise for my daughter when I return home, unless of course she reads this first.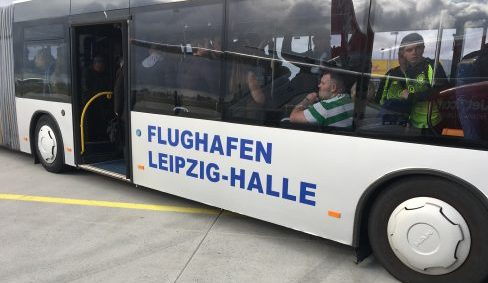 We've landed and quickly clear passport control. Three buses sit outside and soon we are in Leipzig city centre for the hotel drop-off. I've chosen the Adina, one block from the Hauptbahnof and once inside, it's clearly a good choice. I am on the eighth and top floor, with fantastic views of old Leipzig. I have a sitting room, kitchen and a place to write. Happy days.
Well not quite. As I unpack, I quickly realise that I have ignored the advice of Chris Evans, charging my toothbrush before packing charger and toothpaste but leaving the brush at home. Priority shopping trip required. I find a chemist around the corner but no sign of dental products. When I enquire, the smiling assistant produces a pack from under the counter, a brush plus the two biggest tubes of toothpaste in Germany. I try to explain that I only need the brush but he is adamant, this is a bargain, so I buy it. I am here for two days. They are too big for the flight. I will be out-smiling Brendan tonight and there will be no need for floodlights.
Toothpaste crisis averted, it's time to explore Leipzig. On the bus journey into town, Charlie was sitting there thinking that it's just like East Germany. However, head into the old town and he would have discovered a lovely old area, full of stunning buildings and quaint squares. There is history here, old and new. I find the Nicolaikirche first, which is appropriate. This is the source of the Peaceful Revolution of October 1989, where 8,000 people left the church to join another 70,000 or so on the streets and march for freedom, despite the very real threat of a hostile State'n'Stasi response. This demonstration inspired similar protests all across East Germany and was repeated on the following Mondays, eventually the crowds in Leipzig swelling to over 300,000. A few weeks later, the Berlin Wall fell, as did communism across the wider Eastern Bloc. It all started here, in the Hero City. The banner under which the protesters walked read, 'We are the People'. I'll leave that one there.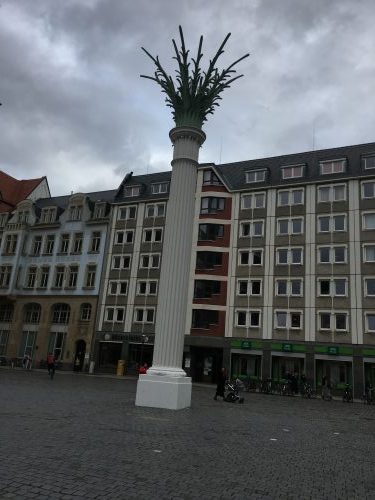 As Salzburg had Mozart and Glasgow had Paul Buchanan and The Blue Nile, so Leipzig has Bach, Johan Sebastian Bach to be exact. His statue dominates the square outside St Thomas' church, where he served as cantor for many years. Bach's offspring are among the famous alumni at the stunning 15th century University, as are Chancellor Angela Merkel and Richard Wagner (the famous musician, not the guy from Hart to Hart).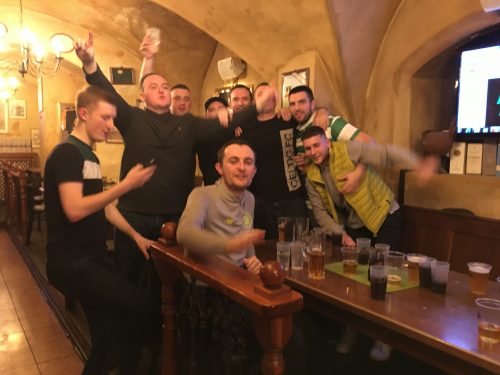 Anyway, Culture Vultures, enough of this and back to something a little more Celtic. My stroll has taken me past Base Camp, the Kildare pub in the town centre. Some of the troops are enjoying an afternoon beer outside, so it would be rude not to join them for one. I head in to check it out and order a Guinness, as you do, for research purposes. I've timed this just right. As if by magic, the Celtic family are zoning in on this place and soon it is heaving. Captain Kirk has ordered the Bridge to move to Full Wolfers Mode and the party is quickly in full swing. I am joined by a fellow Tim who introduces himself as Joe from Falkirk, a member of the Grangemouth CSC. Turns out I should have recognised his shoes, as he was sitting behind me and to my left on the flight, where the missing seat would have been. The craic is good and we're having a chuckle, food and a few drinks.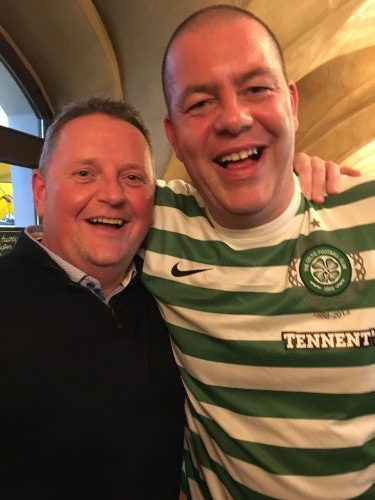 The atmosphere is interrupted as a German guy wearing a Celtic shirt and touching seven feet starts arguing loudly with the barstaff, who respond with the international language of a shoulder-shrug. He then explains to us that ordinarily the bar serves beer at 4 Euro 50 cents, whilst today that's been hiked up to 6. Rip-off big time. The owner is nowhere to be seen as the poor staff bear the brunt of his dissatisfaction. He is Sven from Stuttgart and he pulls up a seat beside us. He explains that he fell in love with Celtic following our 2003 visit there, as have many other football fans in the city. Few of them, however, will show the dedication of Sven to all things Celtic and Ireland. He has attended the Bundoran Celtic Festival in Donegal for the past twelve years and appears to know every word of every song currently belting out of the pub jukebox. In no time, Joe and I are being lined up for the next event, in September 2019! The Stuttgart & Grangemouth Emerald are going on tour!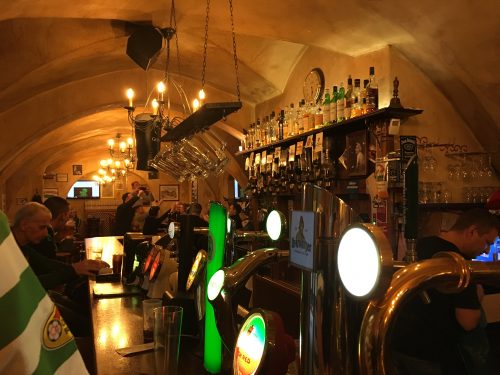 Joe's been having a chat with a couple in the corner, Aileen and David. Turns out that Aileen is David's mum and this is her first-ever Celtic away game, none of your Firhill or Fir Park for Aileen. I like her style. They are leaving and soon, so are we, on a point of principle. Sven asks if he can come along and that's a definite 'yes'. We don't make it very far. The outside of Kildare's now resembles Ashton Lane in Glasgow's west end. The narrow street is thronged with fans and the party is in full swing, as curious German onlookers wonder what on earth is happening. An enterprising bar-owner across the street has moved a mobile serving station into place and is advertising beer at 4Euro. This will fit nicely with our new-found principles, so camp is pitched again.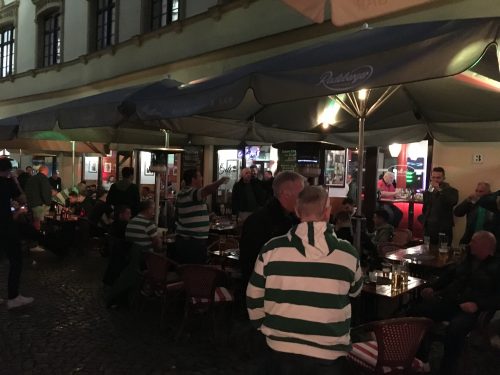 You meet the nicest people on these trips. The beer is flowing so apologies if some of the names and places are missing or inaccurate! We're talking to a couple of great guys from Coatbridge, when Graham mentions hiring lederhosen in Munich for the Salzburg game. I'm sitting there thinking, 'it can't be, can it?' I quietly check through my photos and there it is, the bold guy in O'Malley's, Salzburg, wearing full Bavarian clobber. I produce the photo without a word and there is uproar, a real laugh out loud moment on the streets of Leipzig. Small world indeed.
Then there is Lorraine from Moodiesburn, who now lives in London and travels up every fortnight to watch the Celtic. A real labour of love. She is here with her partner and young nephew, and they are soon laughing and joking with the ever-evolving company. She introduces us to the 'Fondue Fenian' who proudly displays his t-shirt and gives me his 'Celtic Supporters Switzerland' calling card. You couldn't make this stuff up.
Sven is moving around, holding court with anyone who will listen and the vibe is noisy but extremely friendly. There are literally hundreds of fans and locals mixing on the street and no visible police presence whatsoever. This is how it feels to be Celtic in Germany.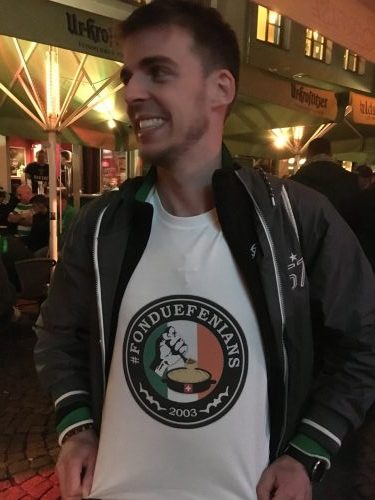 Eventually, I decide that more food is in order and head inside to a nice place where a live band are playing. This is a good move. Before too long, many more follow the same path and the party has moved indoors. The band plays 'Just Can't Get Enough' – inspired choice or accident – and the Troops are loving it, it's the Barrowland in Leipzig. The band finish and the crowd take over. I decide that will do me and head back to the hotel. It's been a brilliant day. Roll on tomorrow.
Matt Corr
5min bevor das ganze Heer an Fans kam – 2 Vorboten der Schotten <3#RBLCEL pic.twitter.com/uPJkjfvgwh

— Ron Gold (@lerongold) October 25, 2018