Bob Geldof may not have liked them back in the day but there have been three very special Mondays in my lifetime, where the Celts have clinched the Scottish League championship flag, prompting title cheers for the green-and-white on a day more associated with the blues. May even be another record in there.
I first watched the Hoops as an excited 4-year-old kid back in October 1965, the first season of what would be an historic 9-in-a-row League titles for Celtic, the first time such a feat had been achieved in this country. Whilst that first championship win for Jock Stein would be all but clinched in a 2-1 win over Dunfermline Athletic at Celtic Park on Wednesday, 4 May 1966, old pals Bobby Lennox and Jimmy Johnstone scoring after Alex Ferguson had given the Pars the lead, the remote possibility of a heavy defeat at Fir Park in the final League match of 1965/66 meant a three-day wait until that man Lennox beat Peter McCloy in the final minute at Motherwell, before the party could get started officially.
Almost a year to the day, Saturday, 6 May 1967, it would be the incomparable Jinky ploughing through the Ibrox mud to score both goals as a 2-2 draw gave Celts the point required to secure a second successive title, in front of the watching Herrera.
That game had been postponed on New Year's Day 1967 due to a frozen pitch. Jock Stein's men had actually passed up a wonderful opportunity to clinch that title defence on their own Celtic Park, something that remarkably they would not achieve within that original 9-in-a-row sequence. The Hoops had been 1-0 then 2-1 ahead against mid-table Dundee United three nights earlier, requiring just a solitary point to clinch the club's first-ever domestic treble. Two late goals from the white-clad United meant the champagne would be on ice until the weekend trip to Govan. The Tayside men would thus complete a remarkable 'double-double' of their own, having beaten Celtic by that same 3-2 scoreline on Hogmanay 1966 – the Hoops again blowing 1-0 and 2-1 leads – and also defeating Fairs Cup-holders Barcelona home and away, a feat they would repeat some twenty years later in the UEFA Cup to give them an outstanding 100% record against the Catalan giants. United would be one of only two sides to defeat European champions Celtic in that season of seasons, the other being Yugoslav champions, Vojvodina.
The third of the nine was perhaps the tightest of all, with Celtic and city rivals Rangers neck-and-neck as the 1967/68 season came to a thrilling conclusion. Victory at Cappielow, on the night Celtic won the Glasgow Cup at Hampden with an 8-0 win over Clyde, would have left the destination of the flag in the hands of the undefeated Ibrox club, one point ahead with two to play. However, Rangers slipped up, at one stage 3-1 down to Morton before rescuing a point. The vastly superior goal average enjoyed by Celtic then meant that two wins for the Bhoys would see the trophy remain in Paradise for a third season.
But this is Celtic so there would be further drama. Three days later, Morton visited Celtic Park and most of the 51,000 crowd would be biting fingernails to the bone as the minutes ticked down with the sides locked at 1-1, Willie Wallace's opener countered by Joe Mason's stunning equaliser on the brink of half-time. Then, with literally the last kick of the ball, up popped Bobby Lennox once again to net the crucial winner, his 19th goal in just 13 League games.
The Glasgow sides would therefore go into the final fixtures level on points, with Celts far ahead on goal average, so only requiring to match the Rangers result to win another title. The fates would conspire to stagger those games, Celtic's opponents Dunfermline Athletic in Scottish Cup Final action against Hearts as Aberdeen visited Ibrox on league duty. Having gone the entire campaign unbeaten, Rangers would contrive to lose 3-2 to the Dons, thus virtually handing the crown to their fierce rivals. As had been the case two years earlier, there was still a mathematical possibility that a calamitous defeat in Fife would see the Govan side win the flag. Indeed, incredibly Rangers would suggest that should the clubs finish level on points, a play-off should decide the outcome, despite the goal average rule which was already in situ, and which had decided the 1965 Championship in favour of Willie Waddell's Kilmarnock. It would all be irrelevant, appropriately, as a record 27,000 crowd packed into East End Park on Wednesday. 30 April 1968, to watch Stein's men recover from an early Pat Gardner strike to beat the new Cup-holders 2-1, thanks to a double from…Bobby Lennox, of course.
The following season would see the first of the Manic, Happy Monday celebrations, although the pedantic in me would argue that technically the championship was actually clinched the next night. Celtic visited Rugby Park on Monday, 21 April 1969, five points clear with three games remaining. Two days earlier, a last-minute Billy McNeill 'winner' had been controversially disallowed due to a lineman's raised flag, as the green-clad Celts drew 2-2 with Airdrieonians at Parkhead. It could have been worse, yet again Lennox to the rescue with a late equaliser.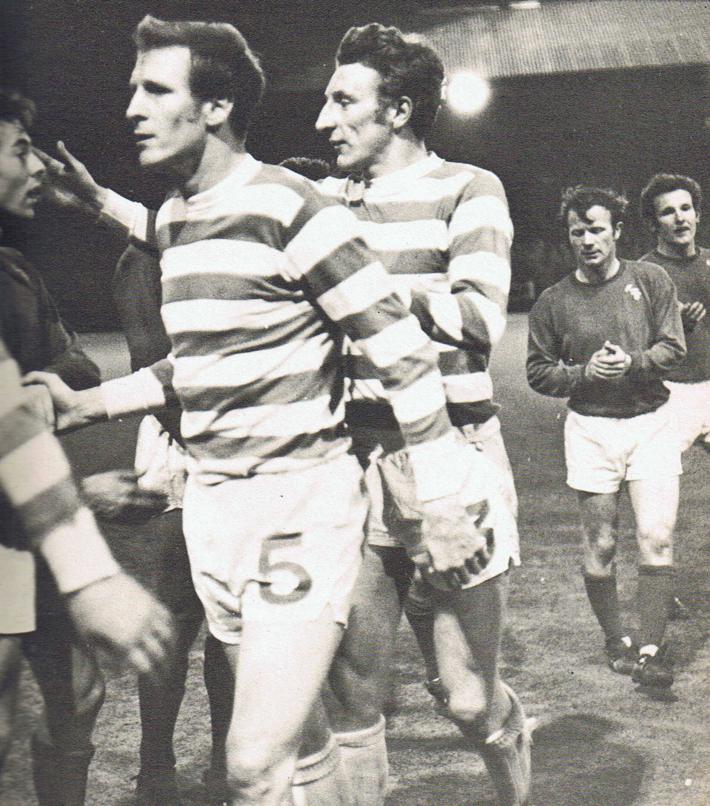 There would be more last-gasp drama in Ayrshire, as Celtic fought back from two goals down in the second-half, Killie skipper Frank Beattie heading into his own net to give Stein's men a lifeline. With seconds remaining, Tommy Gemmell pounced to slam the ball home for 2-2. The defending champions were then six ahead with second-placed Rangers still having three matches to play. Using the same logic as 1966 and 1968, i.e. the possibility of catastrophic defeats in the two final fixtures, I would argue that Celts still mathematically required a point to be uncatchable, or for Rangers to drop something, whichever happened first. As it transpired, it would be the latter. The following night, Rangers would lose 3-2 at Dens Park, leaving them six points behind with two to play. So Manic Monday or Title Tuesday? You decide. Here's how the papers reported on that dramatic Monday night at Rugby Park.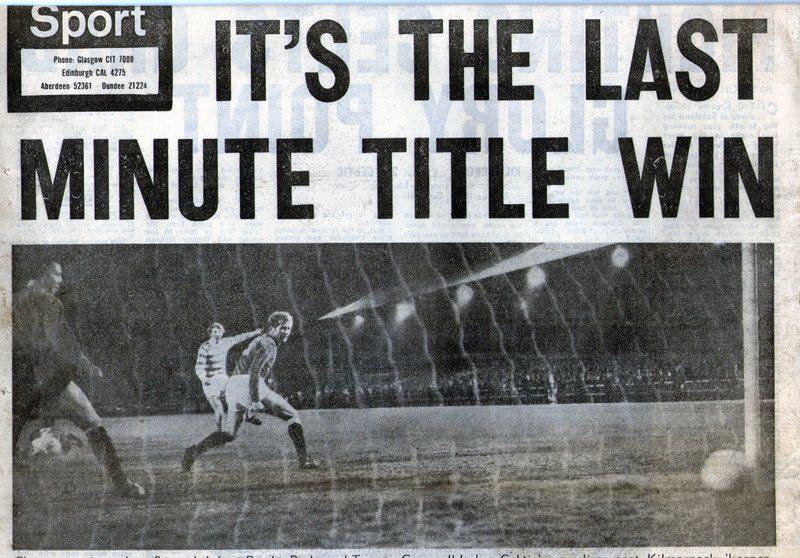 Five days later, the April Treble was secured with an unforgettable 4-0 victory over Rangers in the Scottish Cup Final at Hampden. On the 5th of that month, Jock's Bhoys had destroyed Hibernian in the League Cup Final at the same venue, a Lennox hat-trick setting the Celts up for a 6-0 lead before two late goals gave the Leith fans a glimmer of respectability. The final had been deferred from its traditional Autumn slot following a fire in the main stand at Hampden. Thus, a second domestic treble for Stein and Celtic would be secured in a three-week period. It would then be 32 long, frustrating years before the next one came along.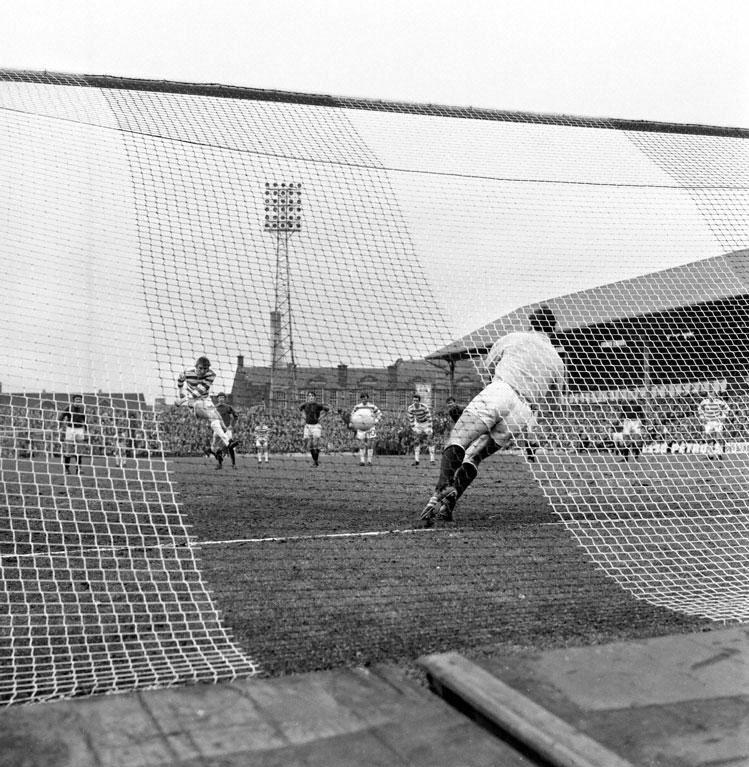 Tommy Gemmell would be in the title-clinching spotlight again the following season, as I finally witnessed the championship being won, on Saturday, 28 March 1970 at Tynecastle. My young sister's birthday and my first visit to Edinburgh. You played a blinder there, Dad, considering you then managed to wangle a trip to Leeds three days later! Celts had again passed up the chance to win the flag at home the previous midweek, this time Gemmell's late goal insufficient to stop Eddie Turnbull's Aberdeen emerging as 2-1 victors against the side they would beat in my first cup final a few weeks later. A Hoops side minus several first-team regulars, presumably rested ahead of the European Cup semi-final, would finally get the point they required in Gorgie, despite Hearts keeper Jim Cruikshank saving a penalty from Big Tam early in the second half, as the match ended goalless.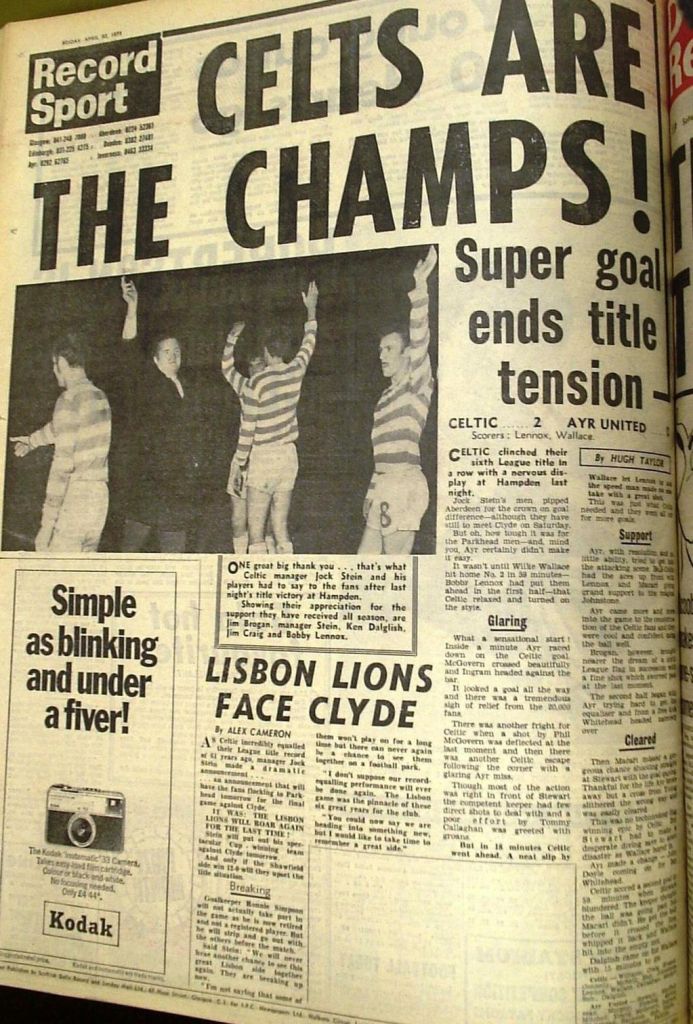 Six-in-a row would be won at Hampden the following season on a Thursday night, one of two flag-clinchers I can recall attending on what is not typically a 'football day.' The other would, of course, be that Title for Tommy at Tannadice in May 2008. Requiring three points from their final three games of the 1970/71 campaign to pip Aberdeen to the Scottish crown, Celts faced two games in three nights to secure them. On Tuesday, 27 April 1971, yet another Lennox equaliser enabled Celts to obtain the first of those points with a 2-2 draw at Love Street, a result which relegated St Mirren. The Saints side featured Denis Connaghan in goal, just months before his move to Parkhead, and a young centre-half called Gordon McQueen.
With the main stand at Celtic Park undergoing major refurbishment, the home game with Ayr United two nights later was played at Hampden. I recall it being a miserable, wet night and a low-key atmosphere for what would be a flag-winning fixture. Who else but Bobby Lennox would open the scoring within 20 minutes, with Willie Wallace sealing the points and the title on the hour.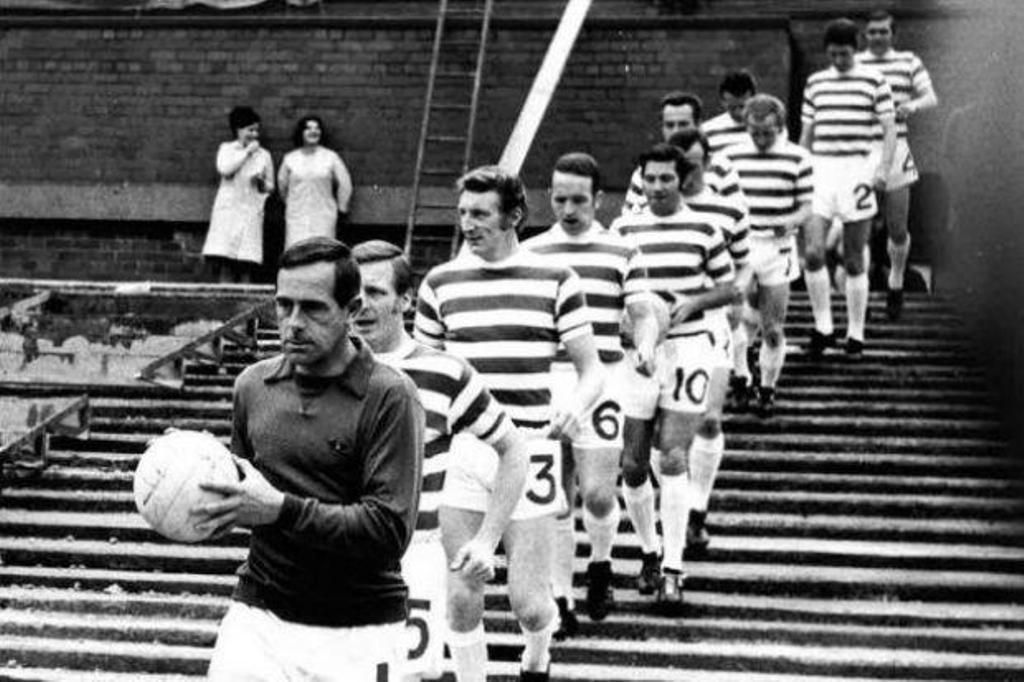 Two days later, the Lions roared for the last time with a 6-1 win over Clyde at a Celtic Park which resembled a building site. A Lennox hat-trick was a fitting way to bid farewell to the side who had conquered Europe and changed the face of continental football forever, just four years earlier. With Ronnie Simpson having retired the previous May, this would be Bertie Auld's swansong in his second spell in the Hoops. He joined Hibernian, whilst within months, John Clark and Stevie Chalmers would be wearing the Hoops of Morton, John Hughes and Willie Wallace would be entertaining at the Palace, and Tommy Gemmell saw his hopes of a move to Barcelona somewhat dampened by a move to Nottingham Forest. There would be a new superstar in town, with the emergence of the young, free-scoring Kenny Dalglish.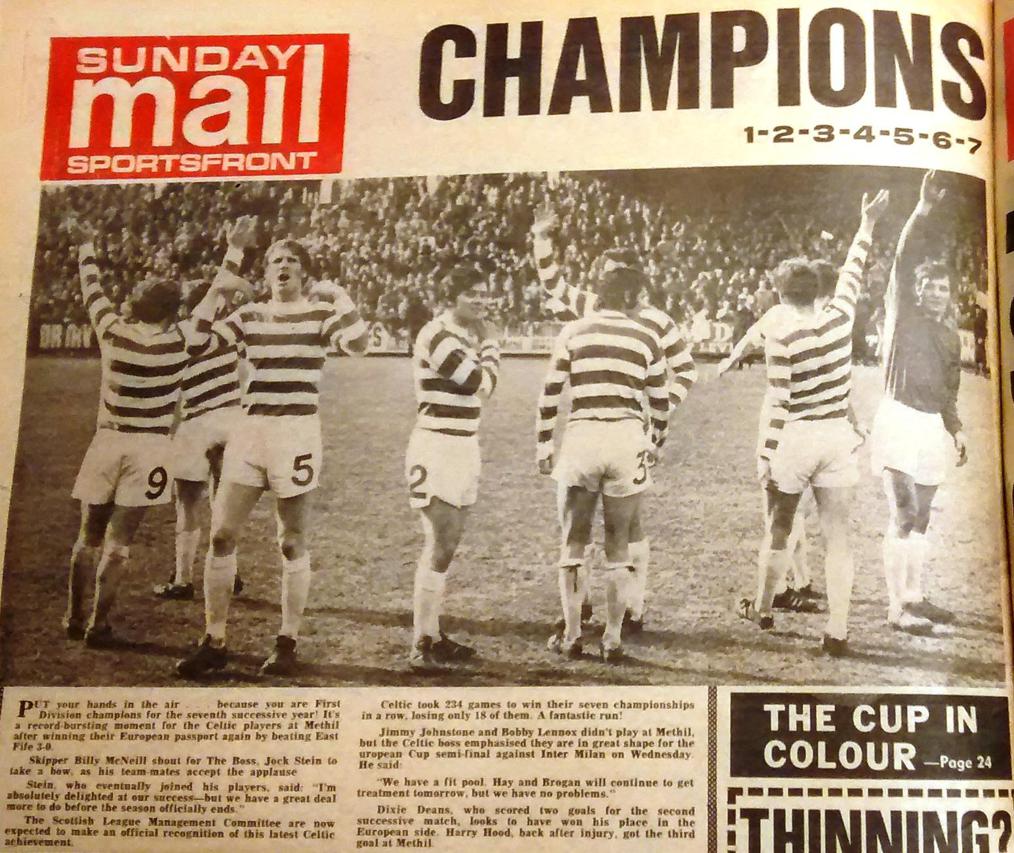 The next four Seventies League Championships would be clinched on the traditional Saturday afternoon slot. There was Bayview, Methil as Maley's 6-in-a-row record was eclipsed in April 1972, Easter Road the following year and again in 1977, whilst the nine was won at Brockville in 1974. However, the last Celtic title win of the decade would give us our second Manic Monday, and this one would be the stuff of dreams.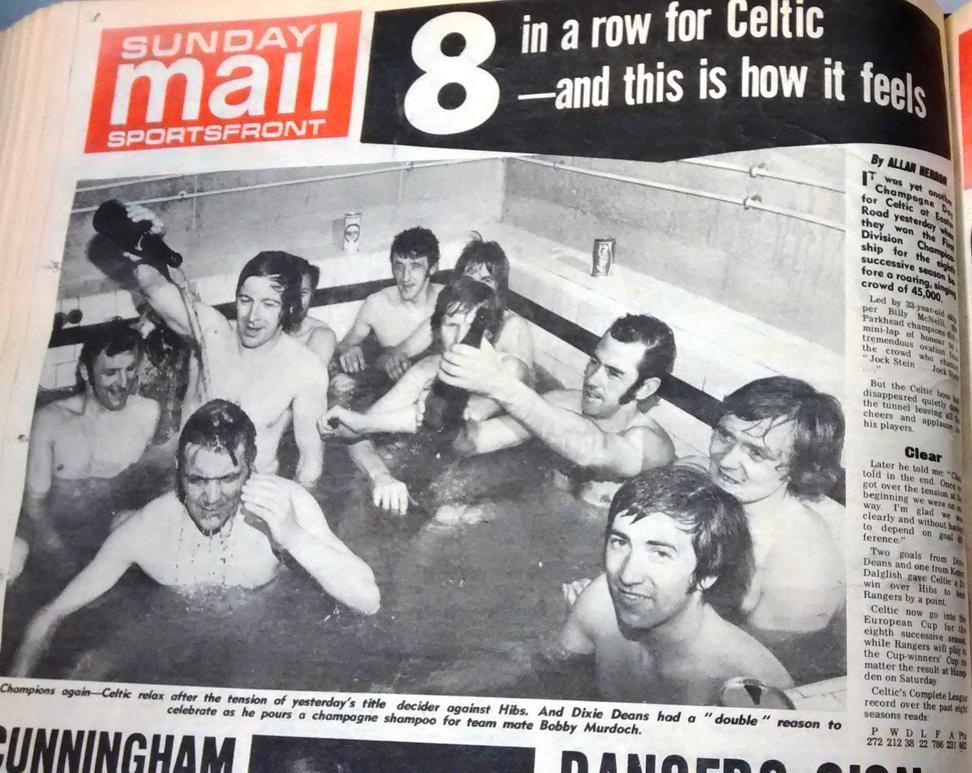 On Monday, 21 May 1979, Celtic lined up against Rangers in the final League game of a season which had seen them come from nowhere to within 90 minutes of the most unexpected of triumphs. Billy McNeill had taken over as manager from Jock Stein in the summer of 1978, following the worst campaign supporters of my vintage could remember, a mid-table finish insufficient to secure European football as the club from Govan won a second treble in three seasons under Jock Wallace. The return of the indestructible Danny McGrain after an 18-month injury absence was then the springboard for an incredible sequence of wins which saw the Hoops overtake long-term leaders Dundee United and the defending champions to give themselves a shot at the title.
The situation was relatively clear-cut. This was Celtic's final League match, whilst Rangers had three to play, with Partick Thistle and Hibernian to follow the game at Parkhead. Celtic were three points ahead, so a win would take them an unassailable five clear. A draw or an away win would almost certainly see the flag continue to fly across the river. All or nothing, Celtic.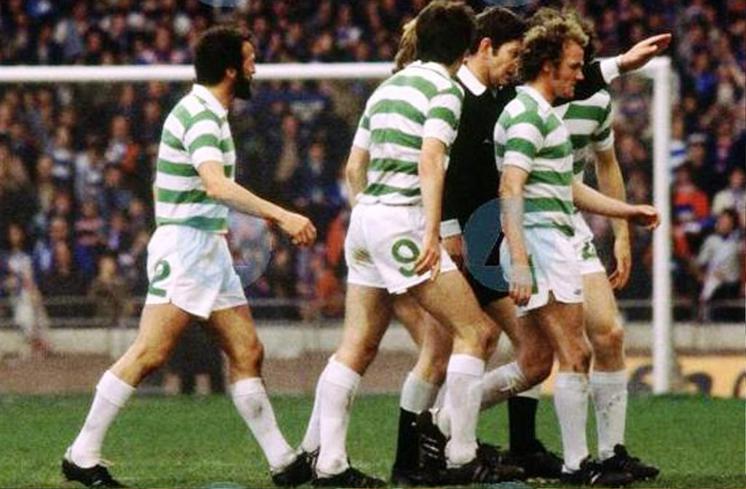 What followed next is the stuff of legend. The Hoops are a goal and a man down early in the second-half, Johnny Doyle taking the walk for a dig at Rangers' goalscorer, Alex MacDonald. With 25 minutes remaining, Roy Aitken equalises, and as the tide turned, George McCluskey put the Bhoys ahead with 15 to play. Within sixty seconds, I recall holding my head in my hands as Bobby Russell's shot crashes off the far post to nestle behind Peter Latchford. 2-2.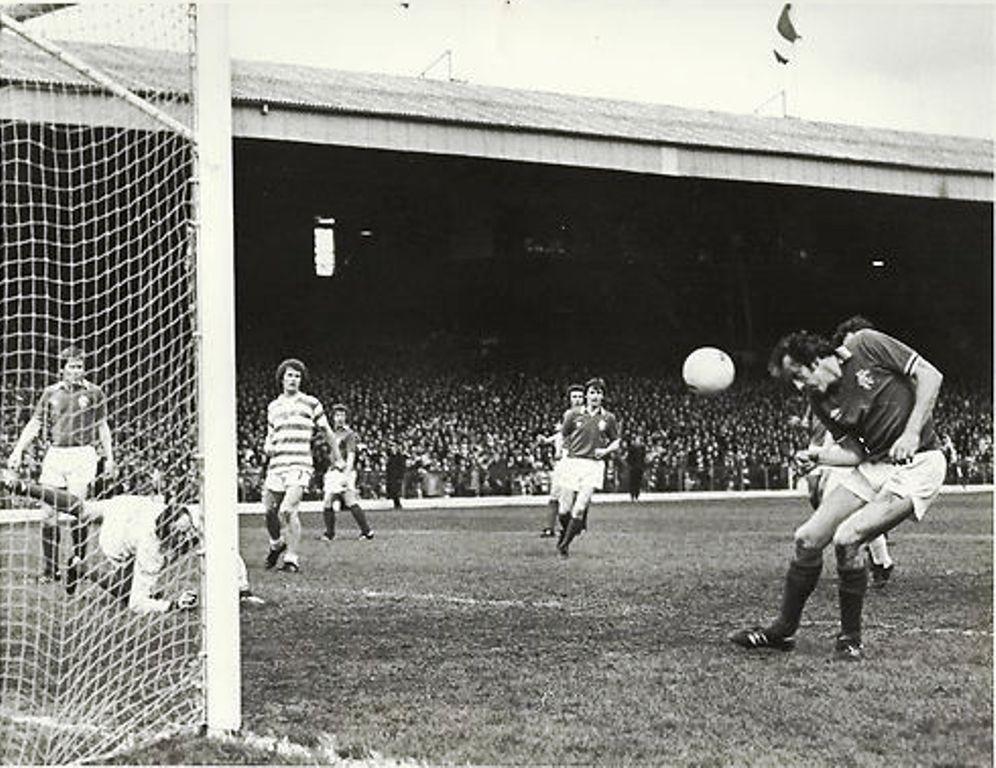 There were only five minutes remaining when the giant Aitken and the wonderful George McCluskey combine to force an own-goal from Colin Jackson, and then, with the tension unbearable, comes the moment which will live with us forever. Murdo MacLeod picks up the ball 25 yards from goal, in the dying seconds, and with every Celtic fan screaming for him to launch it into the crowd, Murdo chooses option 2, thundering it high past Peter McCloy – remember him from 1966 – for an unbelievable title-winning goal. The legends are born. 4-2. Ten men won the League.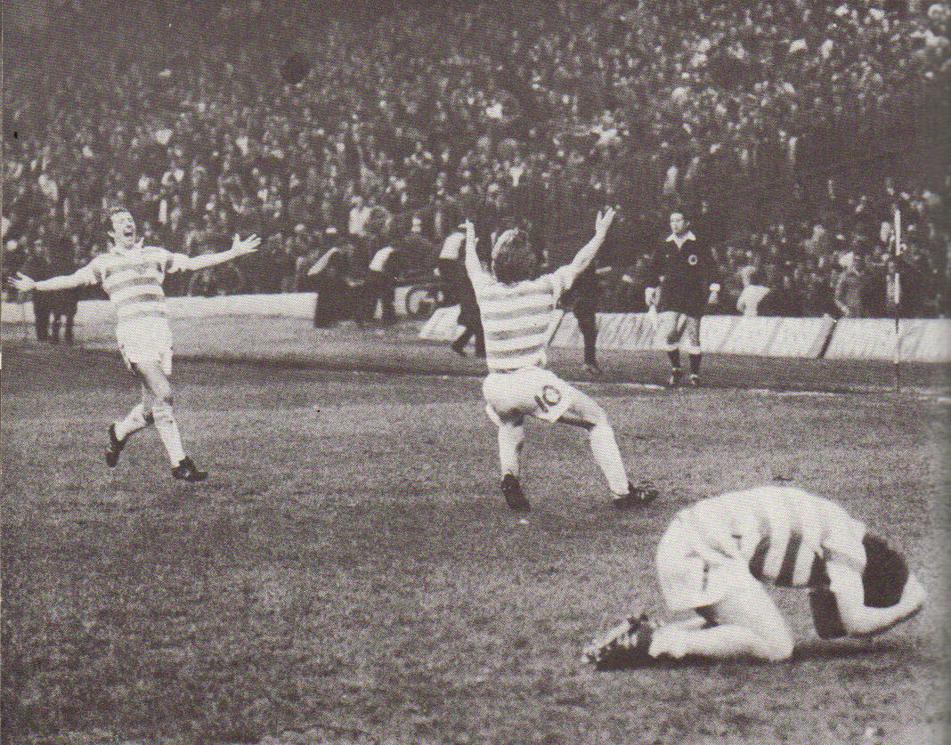 It was a Wednesday night clincher at Tannadice two years later, although Charlie Nicholas' winner at Ibrox the previous Saturday had all but wrapped up the flag. Poignantly, given the circumstances many years later on that hugely emotional Thursday evening in May 2008, Tommy Burns would score a crucial and superb goal as Billy McNeill's second title in three seasons was delivered with a 3-2 win on Tayside.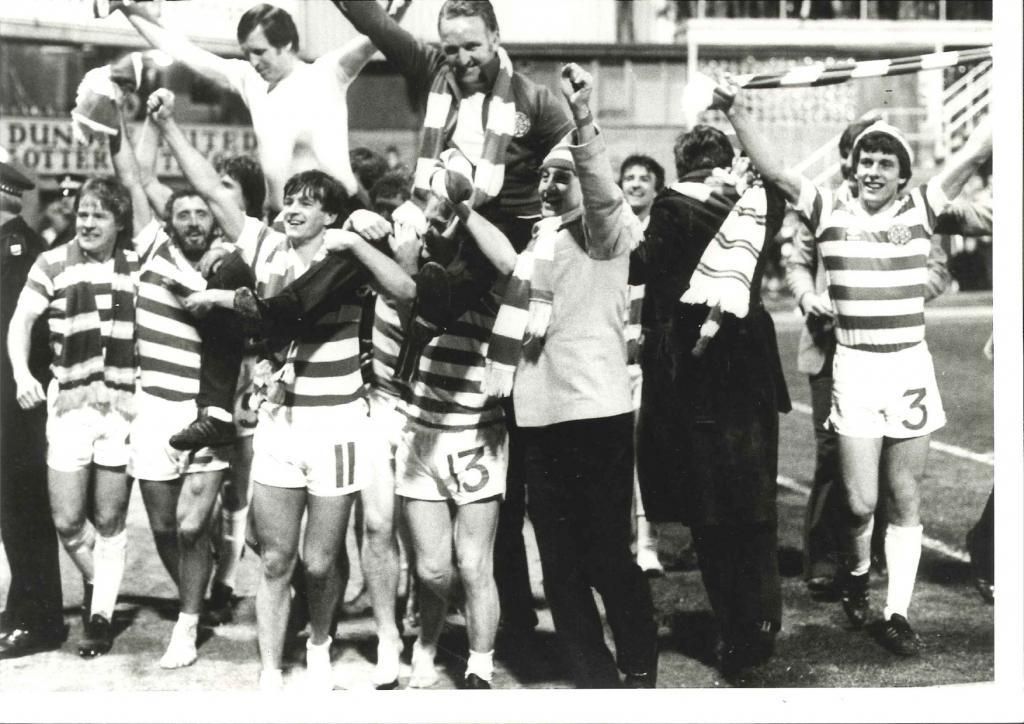 The following season, we made our way to Glasgow's East End on a rainy May Bank Holiday Monday afternoon to witness the retention of that title. With three games to play, Celtic required just two points to secure back-to-back Championships for the first time in eight years, having beaten Hibernian 6-0 two days earlier. St Mirren were the opposition and their side, featuring future Celts Billy Stark and Frank McAvennie, had obviously not read the script, leaving the majority of the 28,000 spectators frustrated after a 0-0 draw. That disappointment would become anxiety at the weekend after a 3-0 mauling from Dundee United at Tannadice.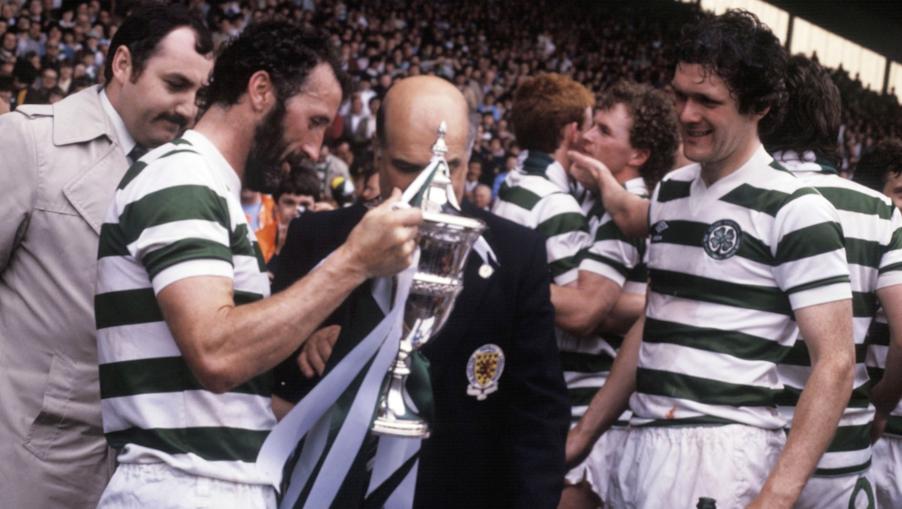 It would all come down to the final Saturday, 15 May 1982, with the fixture Gods pairing our nearest challengers Aberdeen with Rangers at Pittodrie, whilst we faced a rematch with St Mirren at Celtic Park, just 12 days after the rearranged Bank Holiday stalemate. A Dons win by five goals coupled with a Celtic defeat would have seen the trophy head north again and this unlikely prospect seemed worryingly possible at half-time, with Aberdeen already 4-0 up and the Bhoys drawing with the Buddies at a palpably-nervous Parkhead. The announcement of the half-time score from Pittodrie brought a storm of booing from the Celtic support. To this day, I believe that sense of injustice inspired the second-half onslaught which brought a 3-0 win and the title, with superb performances from George McCluskey and Tommy Burns.
We could not possibly have imagined that day that the remaining 18 years of the millennium would produce just three more Scottish League Championships for Celtic.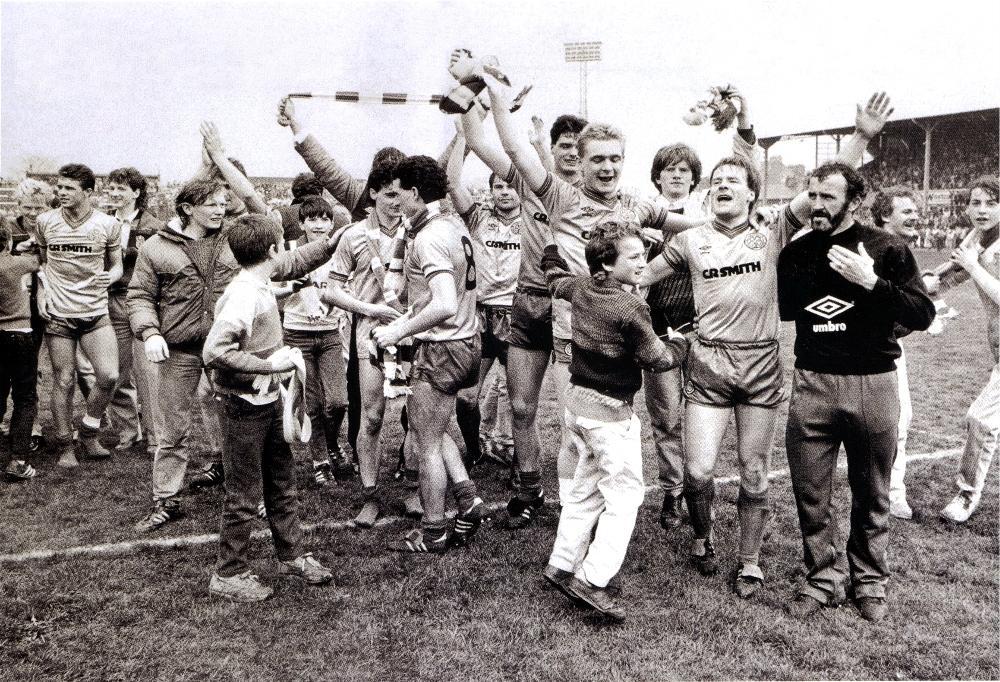 David Hay's single success came on that never-to-be-forgotten day at Love Street on Saturday, 3 May 1986. Needing a Celtic win and a Hearts defeat at Dundee, coupled with a four-goal swing in our favour, we travelled to Paisley more in hope than expectation. By half-time, Celtic had honoured their part of the deal, 4-0 up and playing fantastic football. That all looked to have been in vain, however, until the 83rd minute, when the Paisley ground erupted as Saints goalkeeper Jim Stewart prepared to clear the ball upfield. News of Albert Kidd's late opener at Dens had hardly filtered through when a second roar confirmed that the Celts would be champions again. Wonderful stuff, unless you're a Jambo.
Billy McNeill's return to Paradise in the summer of 1987 was the catalyst for the incredible Centenary Double, the title clinched at a packed Celtic Park on Saturday, 23 April 1988 with a 3-0 victory over Dundee, an early Chris Morris strike followed by an Andy Walker double.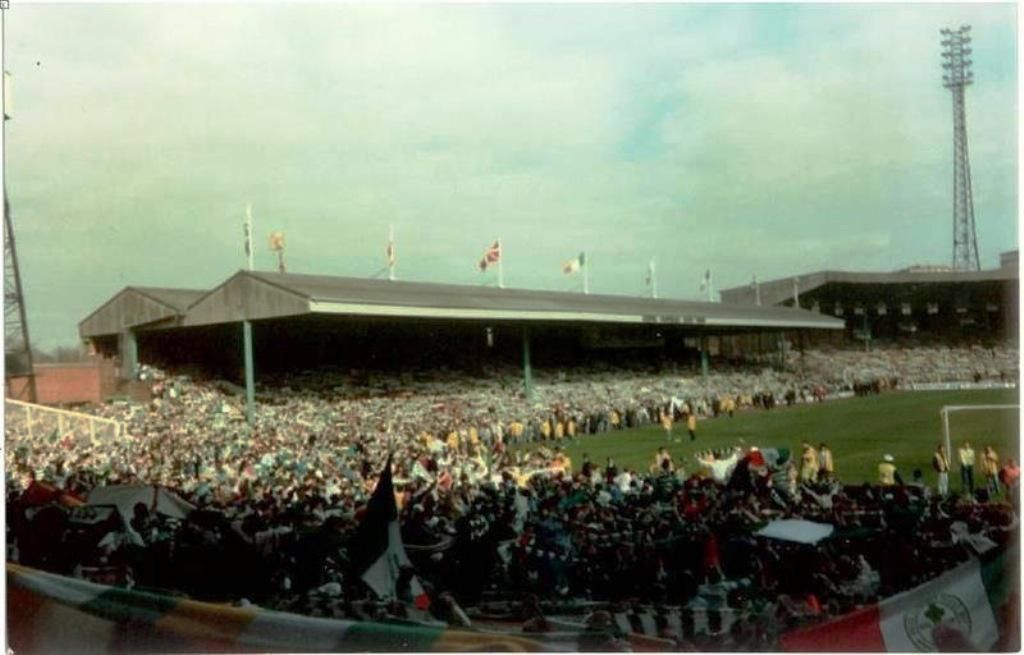 The worst period of my Celtic-supporting lifetime then had to be endured as a full decade passed without titles. That wait was finally ended on another incredible day at Parkhead, an early Henrik Larsson goal giving the Hoops a slender lead until substitute Harald Brattbakk released the outpouring of joy for a million Celts worldwide by netting a clinching second, as the unthinkable prospect of Jock's nine successive titles record being eclipsed was defeated.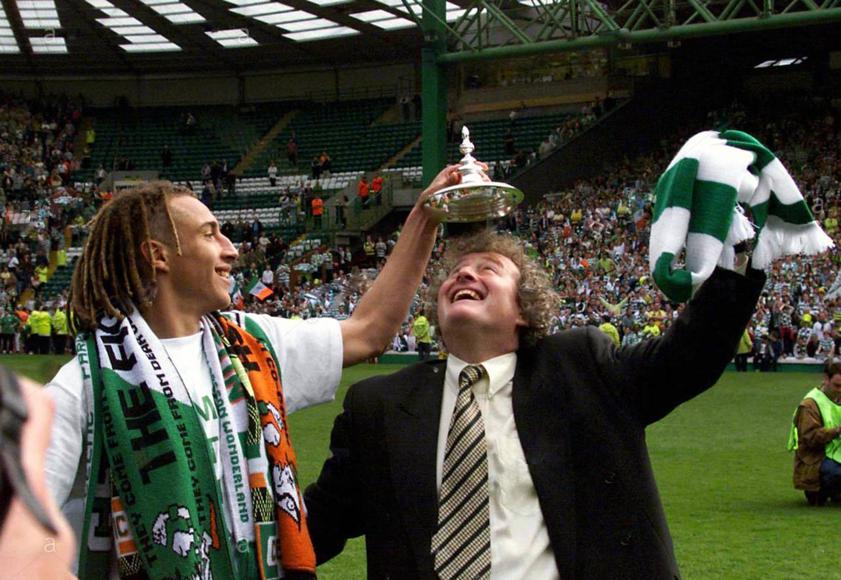 The new millennium brought an unprecedented host of League titles to Glasgow's east end.
Martin O'Neill won three in his five seasons at the club. Home Saturday victories over St Mirren (1-0 in 2001) and Livingston (5-1 in 2002) were followed by a Sunday win at Kilmarnock in April 2004, the first Sabbath success of my lifetime, thanks to Stan Petrov's solitary strike.
Gordon Strachan matched that tally in his four seasons in the Parkhead dugout. Birthday Bhoy John Hartson got the party started with an early winner against Hearts at Celtic Park on Wednesday, 5 April 2006. Shunsuke Nakamura then delivered one of his Sunday-best free-kicks in stoppage time to secure the points at Kilmarnock twelve months later, and of course Thursday, 22 May 2008 produced a title for Tommy at Tannadice, courtesy of Jan Vennegoor of Hesselink's second-half header.
It would be Kilmarnock again on Saturday, 7 April 2012, as Neil Lennon won his first Scottish League Championship as a manager, the yellow-clad Celts running riot in a 6-0 victory with three sides of Rugby Park bursting at the seams on an incredible day. This would mark the start of the current record-equalling run of nine successive winning campaigns. It was a stroll in the Sunday sunshine the following season, as the Bhoys hammered Inverness Caledonian Thistle 4-1 at Celtic Park to retain their crown. And three-in-a-row was secured in record time on Wednesday, 26 March 2014 with a 5-1 victory over Partick Thistle at Firhill.
Norwegian Ronny Deila would stretch that run to five consecutive championships in his two seasons as Celtic manager. His first title would be clinched on a Saturday, albeit Celts didn't play, their 5-0 victory over Dundee on Friday, 1 May 2015 leaving Aberdeen with a must-win game at Tannadice the next day, a match they duly lost to leave the Bhoys as champions. He would get to enjoy that special League-clinching feeling the following season, the flag secured after a 3-2 home victory over runners-up Aberdeen on Sunday, 8 May 2016.
Next up was the era of the Treble Trebles, initiated by Brendan Rodgers. His first Scottish title was won at Tynecastle on Sunday, 2 April 2017 with a resounding 5-0 victory over Hearts. And he repeated this feat the following season, the Bhoys going Hawaiian at Celtic Park against a hapless Rangers on Sunday, 29 April 2018.
Last season's title was clinched at Pittodrie on Saturday, 4 May 2019, a fine 3-0 win over Aberdeen in the north-east leaving Neil Lennon's men just one short of the magical nine.
The 31st and most recent Celtic championship win of my lifetime would prove to be the strangest yet. The final league action of the Hoops season took place on Saturday, 7 March 2020, a 5-0 demolition of St Mirren at Parkhead seeing the champions pull a massive 16 points clear of Rangers, the Ibrox men having two games in hand commencing with a visit to Dingwall the following day. Whilst they would reduce the deficit with a narrow win over Ross County, as the COVID-19 curtain came down the Govan side's desperate performances since the winter break meant the title was heading in only one direction, a case of 'when not if.'
Frustratingly, for those of us looking forward to that 13-point gap being stretched in the final furlong, the ongoing pandemic would see the 2019/20 season called early on the basis of 'average points per game', the Celts far and away the most consistent team in the country thus claiming their second 9-in-a-row run in the boardroom rather than on the football field.
That seal of approval was given on Monday, 18 May 2020, hence the third of three title-winning Manic Mondays.
Boomtown Rat Bob may have had his issues with the week's least popular day, threatening at one point to 'shoot the whole day down.' However, in the hearts and minds of Celtic fans there are now three Reasons to be Cheerful, the League flags of 1969, 1979 and 2020.
Happy Mondays mean Happy Celts? What's not to like?
Hail Hail!
Matt Corr
Follow Matt on Twitter @Boola_vogue