When you are heading into a Cup Final bereft of form a couple of confidence building wins suddenly gives everyone a shot in the arm.
For Celtic in search of their mojo, wins against Lille and Kilmarnock have lifted the clouds of uncertainty and the Celtic support will now feel that a record-breaking Quadruple Treble is well within our grasp.
Yet Cup Finals themselves can often be tight and nervy affairs. Players can be too scared to over commit when it comes to creativity as a fear of losing possession and coughing up an oportunity for the opposition weighs heavy on the decision-making process.
As games get bogged down, they can become a war of attrition. When that happens, you need something in reserve to change a game.
As such as much as Celtic's return to the winning groove has been vital in the build-up to this match so too has been the return of a homegrown talent capable of producing that moment of magic, often entirely by himself, a player who can turn a drab looking stalemate into a celebration. Step forward Mikey Johnston.
Mikey's cameo from the bench after a ten-month injury hiatus against Killie on Sunday certainly raised the spirits, and his brief introduction showed despite his long lay-off the player has lost none of the entirely warranted confidence in his own ability.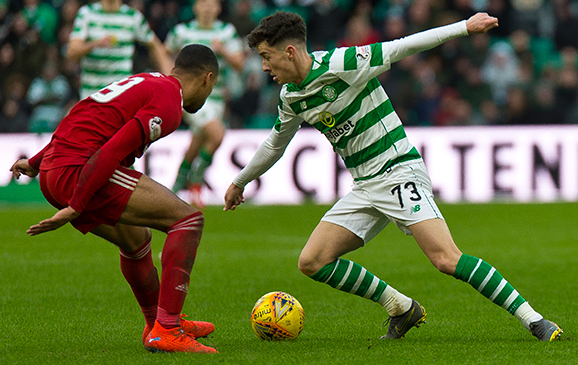 It's often the case you don't appreciate what you have until it's gone and with Celtic losing the goals and assists of James Forrest, and with the can regularly, and worryingly, being kicked down the road when it comes to a timescale for the talismanic winger's return, the impact has been felt keenly within the Celtic ranks and reflected in chances created and goals scored.
James Forrest's directness and ability to run with the ball at pace, allied to an end product to match, has had a huge impact on Celtic's goals and assists return, indeed it beggar's belief there remain any fans left who question Forrest's value to this team. You can only assume absence has made the heart grow fonder for any left who questioned his deservedness of a starting place in team.
And it will be much the same if we can get Mikey Johnston onto the subs bench on Sunday, ready to turn a game as and when required.
Johnston is a throwback, a player who has wonderful close control, links up superbly with teammates and much like James Forrest has the ability to win a game purely by his own endeavours.
Johnston has played predominately, in 22 of his 49 appearances for Celtic, as a left sided attacker. But it shouldn't be overlooked that he is a versatile forward having played eight and scored three when operating on the right side of attack too. He's even managed a two goals in two games record as a Centre forward and has been played centrally in midfield on occasion too. Ideal versatility then with a view to impacting a game from the bench.
With Forrest still out and Jeremie Frimpong being asked to deputise of late as an attacking option, having the natural ability of Johnston available to impact the game from the bench could be the joker in the pack for Celtic on Sunday.
It's safe to say such an important game, the size of the Hampden pitch as well as the occasion, means a gamble of starting Johnston after so long out would be a bridge too far. But when the Hearts defence has spent over an hour covering the expanse of the national stadium's turf the last thing they'd want to see is a fresh Mikey Johnston stretching on the touchline. To have them running at them moments later may well turn the Hearts defence and in turn the game itself.
Neil Lennon mentioned in yesterday's press conference that he still had some big decisions to make as to who would populate the bench on Sunday.
It may be a wise move to include Mikey Johnston a player very much one of our own and capable of producing something special. He may not have the reserves to last a game, but he certainly has the ability to win one.
Niall J