"When I find myself in times of trouble," McCartney once wrote and half a century later his next line has been amended by Lennon. But it was not Mother Mary who has came to his rescue it was Martin O'Neill.
The former Celtic manager was wheeled out amid the club's response to the growing unhappiness surrounding the team's lacklustre performances this season in just about all games and the shocking lack of form in so many players – whether new arrivals or long term Invincibles.
Lennon noted that O'Neill himself went through a similar situation while at Leicester City as he endured fan pressure to get him out before turning things around pretty dramatically. Yet despite what you occasionally read on social media when their current crop of fans delude themselves over their club's status in the game, Leicester City is no Celtic and never will be.
After we were served up the spin of Martin O'Neill on Neil Lennon, today we get the reverse where the favourite pupil talks about his mentor.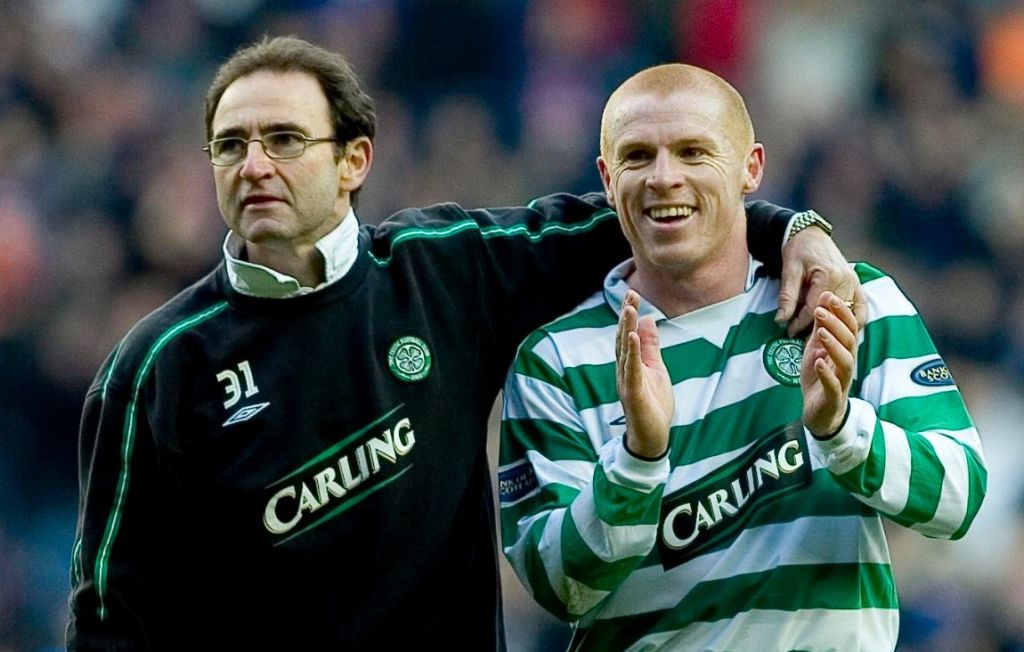 "And in my hour of darkness he is standing right in front of me"
"Martin has been a massive influence on my career and in my life," the Celtic manager told the media, as reported by David Friel at Scottish Sun. "I remember early in his time at Leicester in 1996. We lost at home to Sheffield United and fans spilled onto the Filbert Street pitch demanding a change of manager.
"Martin had to go through that but he remained strong. We then went unbeaten for nine or 10 games and we ended up getting promoted.
"He became one of the best managers in the Premier League for the next five or so years. He went through it in various stages of his managerial career. It's not easy but you have to stay strong. I take a lot of inspiration from that.
"Martin knows me — as a person, a player and a manager. He believes in me. He believed in me when I played for him and he knows what I am going through. He wouldn't say anything publicly he doesn't mean.
"While it is brilliant to have his support, it's also great to talk to him privately about things as well," Lennon revealed.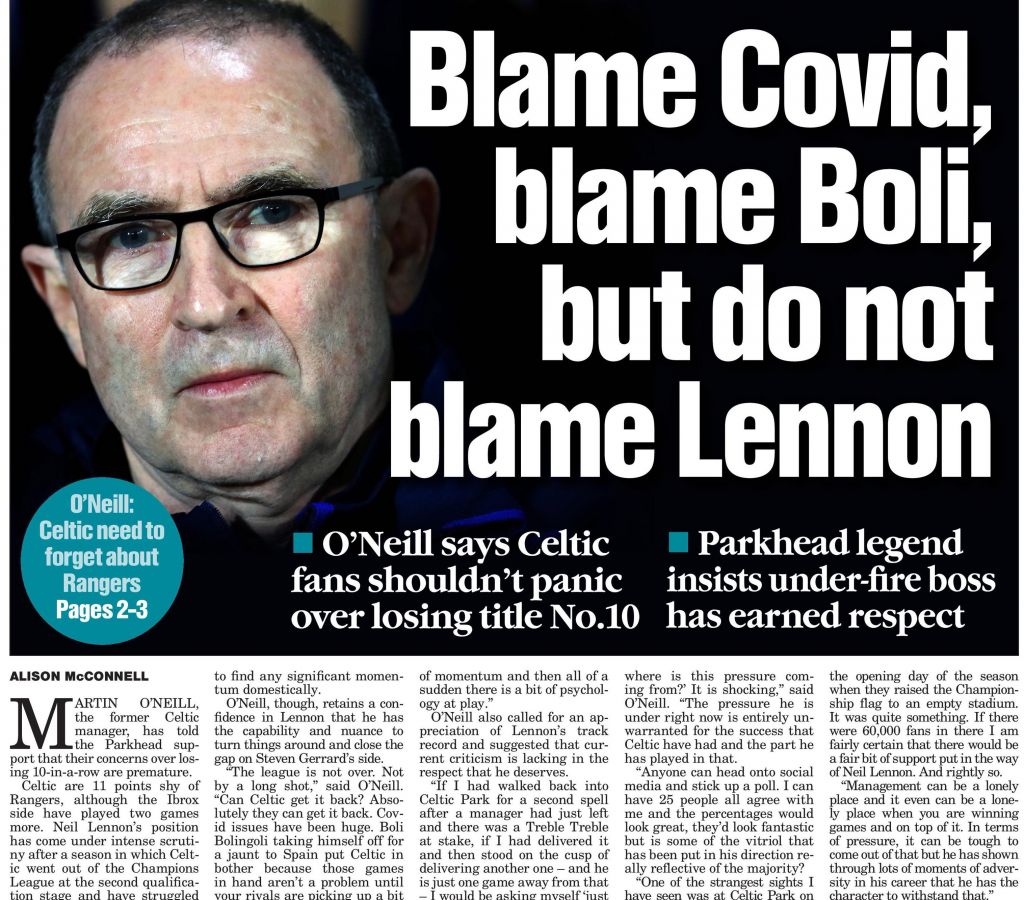 The under pressure Celtic manager looked back at his own footballing journey as he surveyed the current difficult situation he now finds himself in, perhaps the toughest thing he's had to deal with professionally if you set aside the sickening abuse he's endured since moving to Scotland, the sectarian assaults, the bombs, bullets and the threats to his family. The assaults on the street and at his place of work and he survived all that, camp through it and came back for more when Celtic asked him.
"Every player or manager goes through a sticky patch in their career," Lennon admitted. "I have had a lot worse than this, to varying degrees. I went through a really difficult time in my second season at Bolton.
"That was more down to financial reasons as the club went into administration. It was about trying to keep any sort of team together while they were selling off parts of the stadium and chunks of the car park and training ground.
"There have been times here as a player when there's been bad periods, and there were even times at Crewe in my younger days. I was maybe 19 or 20 and went through a lack of form and loss of confidence. It took some words from different people and things picked up.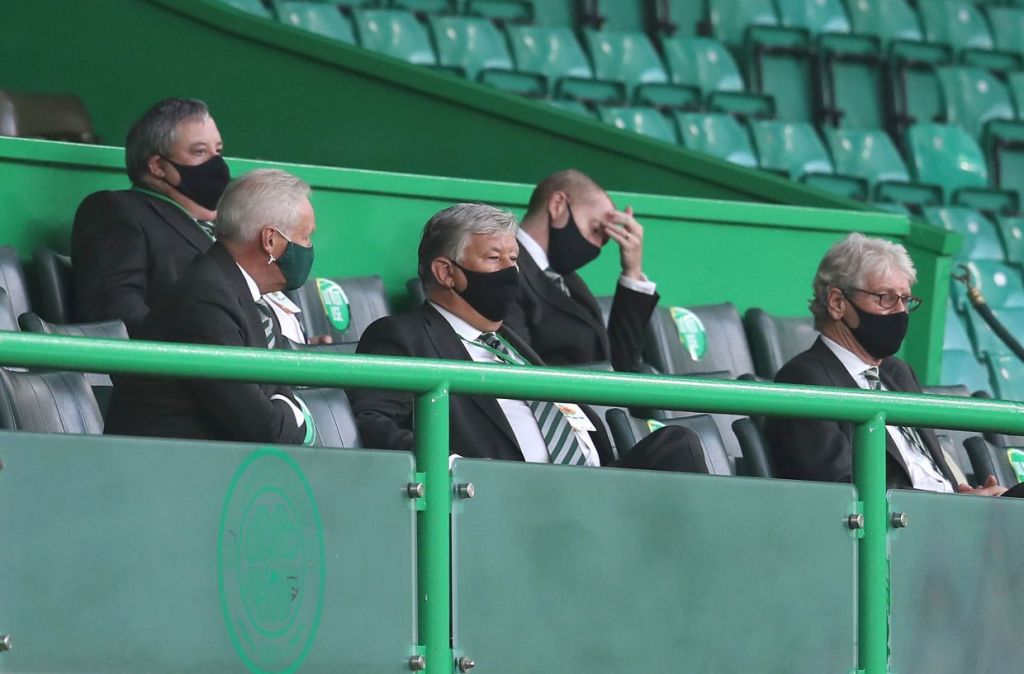 "This is a difficult situation for a club of this standing and in terms of the standards we set over the years, but it's nothing we can't turn around."
Lennon is currently managing Celtic through a spell of form worse than the the of either John Barnes or Tony Mowbray that got both of them the sack, yet he for now maintains the full support of both Dermot Desmond and Peter Lawwell but the clock is ticking. Effectively Neil Lennon needs to win every game between now and the visit to Ibrox on 2 January – and yesterday the Ibrox spin started to talk about Steven Gerrard's side matching Brendan Rodgers' achievement in 2016-17 by having an INVINCIBLE season, an unimaginable prospect really.
The Sports Psychologist
He confirmed in his media conference yesterday that the club have had a sports psychologist in working with the players – yet the way things are going this professional must be under a fair bit of pressure himself given the outcomes we have been witnessing.
"We have had a person in at the club for the last three or four months. More work needs to be done but this is all new with these restrictions. I think it's confidence more than anything.
"Eight of the team that beat Lazio in Rome last November played in Prague. They have done fantastically well but they are lacking a bit of belief at the minute. So there's definitely a psychological difference," Lennon admitted.
"I just think they are lacking a little bit of belief at the minute — and a little bit of confidence. I'm sure that will come back. They need to play their way through that.
"There are dirty bits of the game that we should be doing better. The goals we are losing has maybe become a bit of an issue for them. They've just got to be confident and trust themselves to deal with it.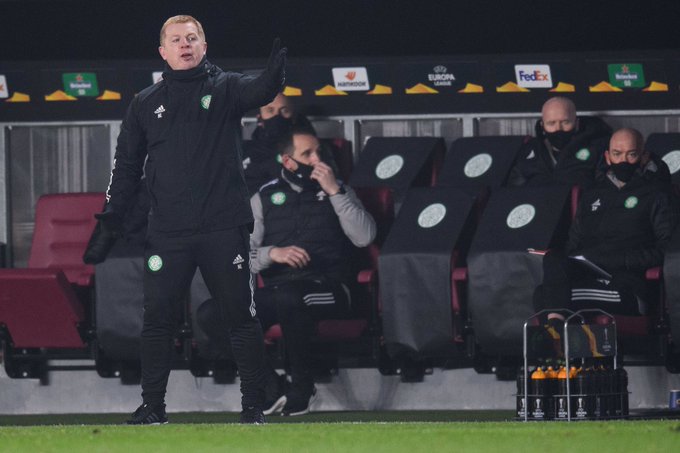 "We didn't have a problem with it last year but for some reason it's become a problem this year. We're working very hard. I may look at it differently, the way we set up at set-plays defensively in terms of the man-marking side of things. It's something we need to definitely improve on," Lennon added.
"I need to keep a calm head and a sense of perspective. I spoke to the players after the game in Prague and opened it up to them. We are all together and very much unified.
"We aren't happy with the way things are and we are disappointed for the fans. The players are feeling it and they want to put it right. They are definitely together. It's all right me saying that and I know it's only words but they are definitely close, I think they are together.
"The way they spoke after the game, they mean it. They are all hurting at the minute and are all determined. I know they are strong enough to change things and change things quickly."
"And when the broken hearted people living in the world agree
There will be an answer, let it be
For though they may be parted, there is still a chance that they will see
There will be an answer, let it be"…