NEIL LENNON, if results go his way in Edinburgh over the weekend could be celebrating 8IAR at Easter Road tomorrow afternoon. He's well aware that for that to happen his old Edinburgh derby adversary Craig Levein – a guy Lennon secretly has a lot of time for – will have to do his bit by avoiding defeat at Tynecastle today against the Rangers.
"If you said to me at the start of the season I'll win the league at Easter Road I'd have thought '**** me, we're having some season.' It's just funny how football throws these quirks up and coincidences," Lenny told The Herald.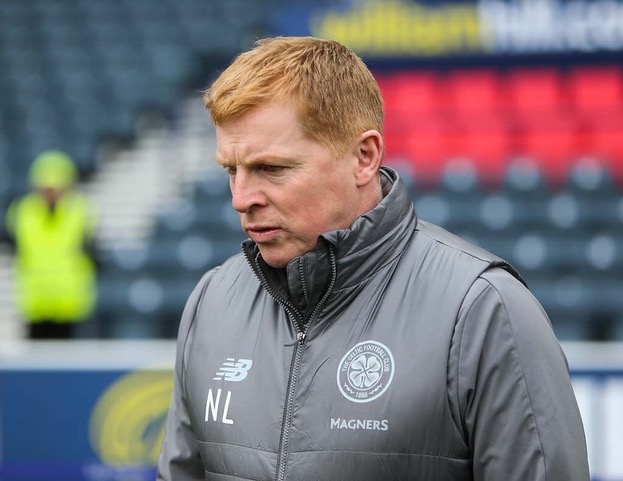 "But listen, (the) Rangers could win at Tynecastle and all that goes out the window. All we're thinking about is winning two games. We negotiated the semi-final brilliantly when we were under a lot of pressure.
"We're looking for more of the same on Sunday against a team that's playing very, very well. We're at our best when we're under pressure. The players take their foot off the pedal and raise their game brilliantly in pressure games, they handle them so well.
"This is just the next one, the most important one because it's the next one.
"Hibs won't just let us walk in there and go away with the three points so we're going to have to be bang at it again. Psychologically, though, last Sunday was big for our players and it's been a good week.
"We're now looking forward to what should be a cracking game of football."
The Celtic squad, especially those who have featured in the 'leaked' team sheets, have been queuing up to praise Lenny for the job that he's done since replacing Rodgers who walked out for Leicester so suddenly and left the club facing two tough – season defining – games in the next few days, again both in Edinburgh.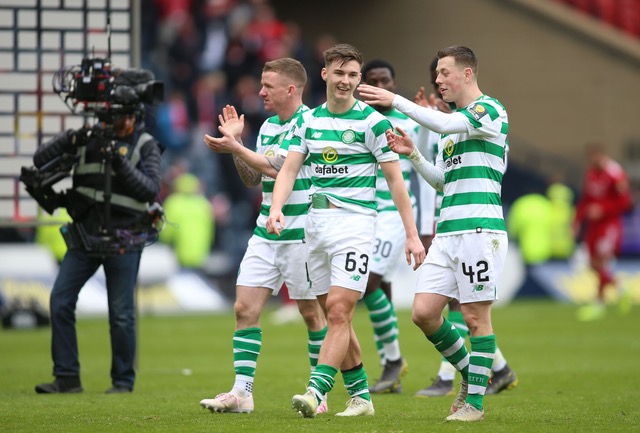 The players seem to have settled down after the uncertainty that such a managerial upheaval inevitably causes and are getting behind Lenny, who for the first time really, imposed his own footballing style on the team at Hampden on Sunday against an Aberdeen who were confident that it would be their day but had no answers at all to the more direct approach Celtic used.
It was joyous to watch. On the player's praise Lenny quickly batted that one away. "They just want picked," he joked.
"The players were brilliant at Hampden and for some it's just been a case of man-managing them. Sometimes players can feel the season is getting away from them. Then they can get a little bit of a lift.
"Jozo is one we have to manage properly with the knee problems he's had.
"I thought he was outstanding on Sunday and looked a really good player. It's just the confidence he's picked up from playing and playing well.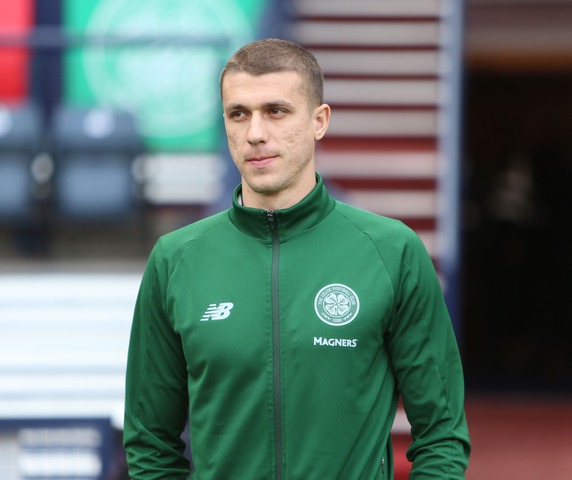 "Jozo has had some injuries but he's 25 and talented. He's been in and out but you can see what a good player he is. He's also good in the dressing room, he's a man, and we need more of those types. I thought he handled Sam Cosgrove really well on Sunday, as a player who can be a real handful.
"I've been delighted with Jonny Hayes. He gives us a different dimension to the way we play. He can play on both wings, like Jamesey Forrest, and that causes defences a lot of problems. I just feel his quality is getting better.
"But it's good to see these boys playing with confidence. I'm just delighted for the players because it's not easy."
If and when Neil Lennon gets appointed – and those who have doubts about him getting the job really aren't concerned about the man but what it means in terms of how the club view the strategy going forward. If it's Lenny does that mean he's going to accept few tools to do his job than any of the big money alternatives that are in the running according to the bookies?
Chris Sutton addresses this in his newspaper column this morning and we'll have a look at that separately.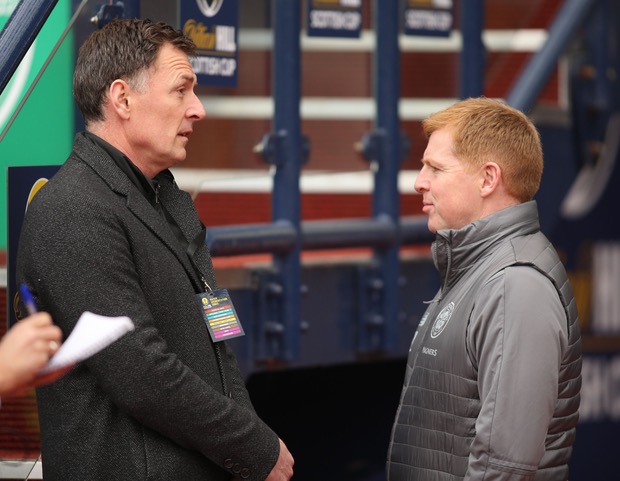 But assuming Lenny does get the job, as expected, he'll have to deal with the facial situation that Celtic have become trapped in, where one season seems to join together with the next with the players being lucky to get a couple of weeks holiday time in between.
Scotland play a vital Euro Qualifier on 11 June while Celtic's first match in pre-season is on 26 June in Austria, as the club announced this week – see HERE.
"Players are human beings, they're going to suffer eventually and I've seen that already here. These boys have played all the domestic competitions, they're playing in Europe, they're playing in the Europa League, they're playing for their countries and now and again the body packs in because they're playing too much football. It's like 12 months of the year, when do you give them a rest?" Lenny asked.
"It's just common sense. Martin O'Neill was huge on that. Some days you'd be in on a Saturday and he'd say 'right I'll see you on Wednesday or Thursday'. You wouldn't see him until the following Saturday right enough!
"Initially I couldn't get my head around it but eventually I realised it worked because you needed the rest. Now the maximum I would have taken would have been maybe two days and then you sort of get itchy feet, but you get away from it, you rest your body and eat right and you come back and you feel the benefit."
Lenny also spoke about the situation at Hampden last week where Derek McInnes got himself sent to the stand and has now been cited by the SFA Compliance Officer Clare Whyte regarding the 'Get it Up Ye' gesture that he made to the section of the Celtic support who still insisted on signing the 'Cheer Up' song – hopefully now confined to the dustbin.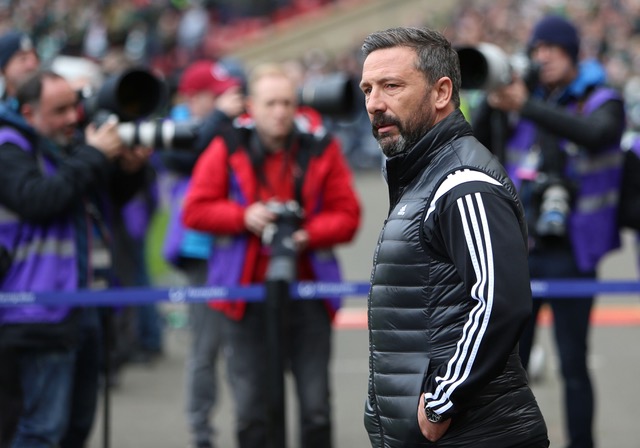 "I have certain sympathy for him. He's a human being at the end of the day. We condone it across the board. I don't like to see it.
"I know Derek very well, he's a great football guy with a lot of integrity, and he's even said that he got it wrong. I think that will work in his favour. I don't want to hear it from our fans and elsewhere. I believe certain managers are due more respect at times.
"Derek knows he maybe shouldn't have reacted the way he did and in the cold light of day, I know, that you might have reacted differently. Sometimes you make mistakes."
McInnes' reaction was very similar to the one that Broony did at the very end of his wee post final whistle celebration so while the SFA were desperate to pin anything on the Celtic captain for the events at the last Glasgow Derby where he was elbowed, punched and confronted aggressively by various Rangers players, they could hardly ignore McInnes doing the same thing.
And they'll probably do both of them now to take the heat off themselves.
Lenny was asked about the introduction of VAR to the game, after it's dramatic role in determining that Celtic would remain the ONLY side ever to win a quadruple with Tottenham (who last won the English league in 1961) progressing to the semi-finals of the Champions League at the expense of Manchester City.
Anyone remember those massive matches between Nottingham Forest and Liverpool in the European Cup? These were all England affairs, just like the other night, but involved the then current English Champions playing the current European Cup holders – thus the reason why both teams were in the competition.
The nonsense about Celtic gaining a wildcard into a rigged competition only has real value in the misery that it has caused among the Rangers support, as we have covered HERE.
Guaranteed to put a smile on your face that one!
Lenny is in favour of VAR. "I like it. I don't see anything wrong with it. Both decisions were correct. The decision in Porto for Mane's first goal was correct. On another day that might have been ruled offside.
"The Llorente goal was a goal. I don't think it was handball, it hit him on the arm and hip and there was no way he could have seen it until late.
"The Man City goal was offside. There is a gap that will be less and less as the technology improves, but I think it's a good aid for the referee.
"The only thing is it takes away from a bit of the emotion when you are away celebrating then you are waiting.
"You're thinking, 'that's just ruined the moment and I had a double somersault lined up!' But ultimately it's about getting the decision right. It just makes you think about all the decisions over the years that were wrong.
"It's taken all that away. Whether it will be good for the game overall, I don't know, maybe if they can speed it up. But it is a good aid for the referee and what if Spurs had been knocked out by a goal that shouldn't have stood?"
"The one in the World Cup was about how the referee sees it. It's still down to a human and how they interpret it. I don't like it when we are talking millimetres, goals, penalties, all that kind of thing is fine."
Finally on the question asked by the boys at 90 Minute Cynic, who have plenty of form themselves regarding being first with the team news, Lenny admitted that he wasn't happy.
Brendan Rodgers would mostly name his team the day before and didn't seem too bothered about it being released on social media, WhatsApp groups and on various forums as well as on some of the Celtic fans media sites such as The Celtic Star.
There's an article this morning, written by an ex-newspaper hack who goes nowhere near the Celtic games, having a dig at the fans sites who have broken the team news – The Celtic Star, Videocelts, 90 Minute Cynic and Celts Are Here.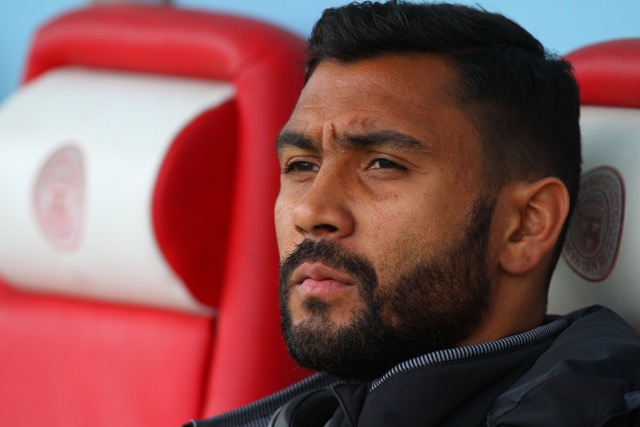 A few weeks ago before the St Mirren game there were team news stories about Marvin Compper getting a game, a clever tactic by Lenny to help source the leaking. You didn't read that on The Celtic Star, although we did break the news that he'd be making his debut against Morton in the Scottish Cup last season.
We knew that Scott Bain would play at Ibrox on what became known as Beautiful Sunday and we sat on that information as it would have given the Rangers a tactical advantage.
For the rest, we have covered the team news that was already out there on WhatsApp Groups, on Twitter and on sites like Kerrydale St etc. Last weekend before the game against Aberdeen we wrote this about the team news for the day…
Play Up Celtic – Team leaks and Lenny's Scottish Cup Destiny
"Neil Lennon has shut down the team leaking after dropping a few false facts to out the culprits. Has Marvin Compper started a game yet or even earned a place on the bench? But, but but…"
Then this…
As for the team – and remember it's NOT been leaked, he might decide to go with
Bain, Lustig, Simunovic, Ajer, Tierney, Brown, McGregor, Forrest, Christie, Hayes and Edouard."
Tomorrow at Easter Road, Christie is out, Rogic in – surely the team picks itself, leaks or no leaks.
Here's Lenny's Media Conference ahead of the game at Easter Road tomorrow.
COYBIG
Cast your Vote for The Celtic Star's Player of the Year 2019
It's down to you the readers of The Celtic Star. A shortlist of four from which to choose.
Callum McGregor, Kristoffer Ajer, James Forrest or Odsonne Edouard.
Who will be The Celtic Star 2018/19 player of the year? You decide! Please note you can vote only once but can check back to see how the voting is going at any time.
 Loading ...