There must have been a nagging worry at Celtic that Leo Hjelde's head had been turned. Even prior to heading to Ross County on loan last January where he clocked up 12 appearances for County under ex-Celt and County manager John Hughes, and scored in a win over Kilmarnock, big Yogi hinted that Leeds had been in contact with Celtic over a move to sign him.
Now having returned to Celtic after his loan spell,  being involved pre-season, and impressing under Ange Postecoglou, it appears flirtations from the Yorkshire club have now resulted in full on advancement as Leeds are now reportedly in negotiations with Celtic over the young Norwegian's move to Elland Road.
Perhaps Big Yogi's description of Hjelde as the next Van Dijk focussed the thoughts of Leeds or perhaps, they just see what we all see, a central defender with a high ceiling.
Having entered the final year of his contract at Parkhead, Hjelde is certainly available for transfer and when this week it was reported via 'Everything Celtic' that Hjelde himself was now following Leeds on Instagram it didn't look good for Celtic.
— Everything Celtic (@aboutceltic) July 23, 2021
And just to add to the woes of those nurturing the next generation of Celtic talent, and those of us hoping to watch then grace the first team, there is also interest from Marcelo Bielsa in another youngster earmarked for a bright future, according to The Yorkshire Post.
17-year-old left-back Matthew Anderson, described as the next Kieran Tierney – as will all emerging Celtic left backs be for the next decade, so take that with a pinch of salt – signed his first professional deal in January 2020 after moving from Blantyre Soccer Academy in Glasgow.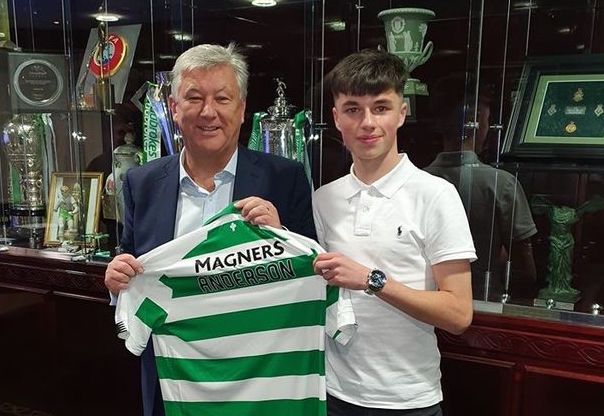 On these links and Hjelde in particular, it would be easy to feel a sense of déjà vu. I've written previously and extensively on the frustrations of losing youngsters like Liam Morrison, Barry Hepburn and Josh Adam as they headed for the attractions of the Bundesliga and English Premier League.
My frustrations were not so much in losing talented young players to big clubs, more that the club seemed to be unable to offer proper pathways for upcoming talent to counter that.
This time I feel a little more conciliatory when it comes to Leo Hjelde. He is a player I admire, left footed centre backs – and ones who can deputise at full back – are as rare as Giant Pandas after all, and if as expected a deal is done and he moves to Leeds United I'll be as disappointed and frustrated as before. I do however feel a little less exasperated on this particular deal.
The first reason for this is in the last few months there has been change at Celtic, with Dom McKay and Ange Postecoglou getting down to work I have a heavy dose of optimism in play when it comes to the future of Celtic. I'm also aware years of managed decline at Celtic under the unchecked micromanagement of the previous CEO (pictured above) cannot be turned around in a matter of weeks.
To fix Celtic from root to branch will take a couple of years, longer to see the fruits of the intensive labour and planning that will be required behind the scenes. As such I'm also aware as that goes on there will be times where we have to take the pain prior to the gain. I have confidence Celtic's future is in good hands, that said I don't expect players, especially young ones to see that and hang around, nor would I expect them too given what they have on offer.
The second reason for accepting the inevitable with Leo Hjelde is that Leeds is a club very well organised and on the ball with post Brexit plans to attract the best of young UK talent immediately. Not only that, Leeds have the attraction of Marcelo Bielsa and an evidenced pathway to offer.
English clubs are positioning themselves, as established talent from abroad becomes more and more expensive and oven ready British talent dwarfs even that, to mine each other's Academies in a post Brexit landscape where the prices for home-grown players can only go up.
It was inevitable with Celtic having been asleep at the wheel in so many areas of the club that they would be vulnerable to a more organised rival.
Leeds is particularly well organised and have already poached Chelsea for midfielder Lewis Bate in a move that has stung the West London club. In youth circles Leeds have a reputation as at least giving youngsters a chance at the club, rather than the farming exercise exampled at both Chelsea and Manchester City. Clubs where first team breakthroughs are possible but most head to a series of loan deals across the world before being sold without bothering the first team.
That approach was offered to Lewis Bate who as recently reported in The Athletic, saw his pathway to the first team blocked by Billy Gilmour.
When even Gilmour, despite his talent and Euro performance against England, couldn't get a place in the team on a regular basis and left on loan to Norwich, Bate backed himself and jumped ship, refusing a new contract at Stamford Bridge and heading to play for Bielsa who regularly fills his bench at least with Under 23 prospects.
With ten players already blooded by Bielsa in the first team at Elland Road from Leeds Under-23 team, Bate at least knows he'll get a chance at least to prove his worth, if good enough, and it will be directly in front of Bielsa rather than a loans manager watching video footage and calling on a Sunday morning after a seventy-minute run out for Vitesse Arnhem on a Saturday afternoon.
As such Leeds are gaining a march on rivals, they are collecting the best of young talent by evidencing clear pathways to first team football, as they have already with Joe Gelhardt from Wigan Athletic and Cody Drameh from Fulham and Amari Miller from Birmingham City. As such it is no surprise Celtic have also been targeted and it will be no shock if that continues for a while to come.
The reason I have faith that could change over the next couple of years is Dominic McKay seems a modern thinking CEO, he has already advised he'll be looking at examples of best practice at the likes of Sevilla and Brentford. That is music to my ears.
I also don't believe for a second that whilst round a negotiating table with Leeds United McKay won't broach the subject of what they do and how Celtic can learn from it, particularly having employed a manager with a reputation of giving youngsters a chance and developing their career in his time in Australia and Japan.
You can only assume Celtic intend to encourage Ange Postecoglou to work with a similar approach in Glasgow as such a CEO worth his salt will want to learn from clubs like Leeds who have a system in place that is not only poaching from Celtic but is also now attracting British youngsters from Chelsea and highly regarded ones at that.
For now, I'll be as bitterly disappointed as anyone to see Leo Hjelde leave Celtic, more so than any of the others that have moved on to date. He is a player I felt would bring success to the club before moving on for millions, but our own legacy of stagnation at boardroom level has led to this.
The reason I feel a lot calmer about this particular deal is I believe the club will at least now be addressing these issues, there will be organised pathways for young players and although it may take some time to be organised and implemented there is a will to modernise the club in that regard.
We'll always have players poached and youngsters will always have their heads turned but at least we'll know that when they do in the future, we'll have done what we can to prevent it.
I have a genuine confidence this in an area the club will address, this after all is a legacy issue. Leo Hjelde will be an example of future millions lost Dominic McKay can use to focus the minds of those on the Celtic Board who will have to sign off on the funds needed to implement the necessary changes. That should be an easy sell, shouldn't it?
Niall J