Villain or patsy – whichever way you want to look at it, Terry Cassidy became a figure of dislike amongst the Celtic support and many won't have changed their views nearly thirty years later.
The Celtic Chief Executive's sacking of Billy McNeill and the alleged public leaking of it in the press, prior to important fixtures at the end of the 1990-91 season didn't sit well with Celtic fans.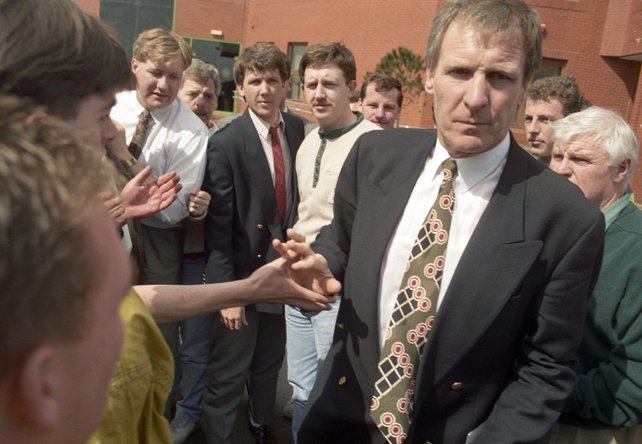 Many felt the way the sacking was handled betrayed a Celtic legend and that Billy McNeill deserved more respect, no matter the results on the park. The Board weren't missed in this either and there was a belief amongst some that the way it was executed was some type of retribution for how McNeill had left Celtic first time around.
The dismissal of Billy McNeill left a vacancy and with Rangers dominance in Scotland now starting to grow following their title wins in the last three seasons, the process of finding a new manager and the right manager was of vital importance. Having unceremoniously rid himself of the previous incumbent the task of finding a suitably qualified replacement also landed under the remit of Chief Executive Terry Cassidy.
It was therefore a surprise when Celtic announced Liam Brady as the new Celtic manager on 19 June 1991.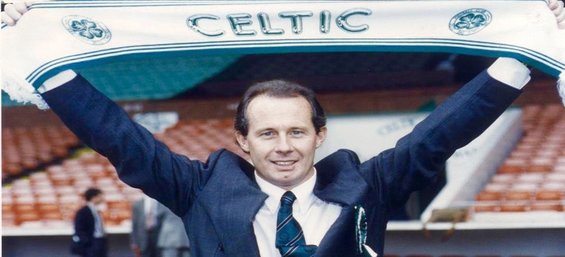 Brady was appointed despite Celtic admitting they did not directly approach anyone, instead they advertised for the Celtic manager. A surprising tactic and one that left the club with little interest in the role, with Brady appointed without having to face much competition. Advertising posts then as well as now is a rare thing outside the lower leagues in England and Scotland, but that was the tactic taken. Brady applied, was interviewed and appointed.
Liam Brady became the first Celtic manager who had never played for the Club. That in itself may not have been such an issue when trying to find ways of challenging Rangers. A fresh approach may well have been called for. What was surprising was he was only the second manager to have no managerial experience whatsoever since Willie Maley in the 1890's.
Brady not only lacked managerial experience he also had no coaching experience, nor had he ever had any experience of Scottish football at any level.
What he did have behind him was a fresh set of eyes as well as a sterling career as a player in England with Arsenal before playing with Juventus in Italy, and not only playing in Italy but also being a genuine success.
Brady was a celebrated International footballer with Ireland and for some supporters that Irish connection was of course an attraction. For others it was simply the reputation as a top class midfielder who got the ball down and played a passing game that excited them about his appointment. Celtic are expected to play with a certain style and swagger. We expected this may be possible under the guidance from a man who at least played the game as we like it played.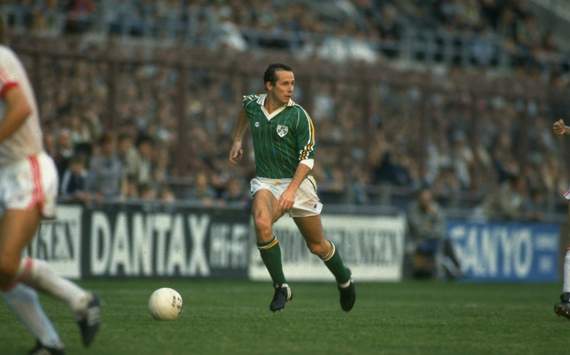 He also talked a good game in the press when he was quoted as saying – "To be allowed to manage a club like that [Celtic] is something special."
Brady made his debut as manager on 20 July 1991 against Dundalk in a goalless pre-season encounter in front to 10,000 supporters. It was part of an Irish tour that took in four games in just eight days.
Two days later Celtic's new boss saw his new charges lose 2-0 to Cork City, the first time the Irish side had played Celtic. Caulfield and Giltenan scored the goals in a match the Cork Examiner called the 'City's finest hour'. Not that you can read much into friendly matched but with no goals scored the signs weren't looking promising.
Things picked up in the following game on the 26 July when a brace from Charlie Nicholas and a Steve Fulton goal saw Celtic beat Shelbourne 3-0. It was also a game that marked the debut for new Celtic signing Tony Cascarino following his move from Aston Villa for a rather hefty fee of £1.1million.
Two days on from the Shelbourne win Celtic ended their Irish tour when they were entertained by Shamrock Rovers in front of a very healthy crowd of 18,000 at Royal Dublin Showground. Charlie Nicholas netted again and it also marked Tony Cascarino's first goal for Celtic. By the end of his time at Celtic I'm certain the big striker was including friendly goals in his tally!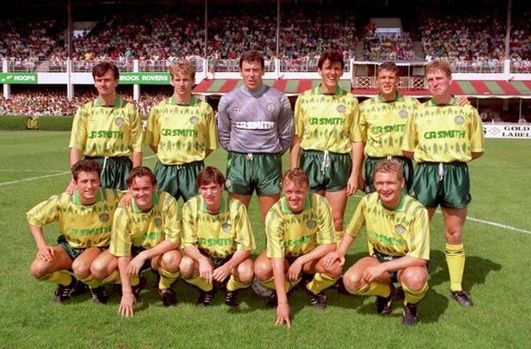 Things were starting to look more positive form Celtic's new boss and Brady must have been fairly happy with his trip home and a chance to get to know his new players.
Celtic stepped things up on 30 August when the new manager's old club Arsenal welcomed Celtic to Highbury in North London for the Paul Davis testimonial match in front of a 30,000 crowd swelled by a great many travelling Celts.
It was also a return for Celtic striker Charlie Nicholas to the team he'd left Celtic to sign for the Gunners in 1983. In a 2-2 draw, it was Charlie who opened the scoring with a brilliant shot across David Seaman following clever wide play from John Collins in the 11th minute.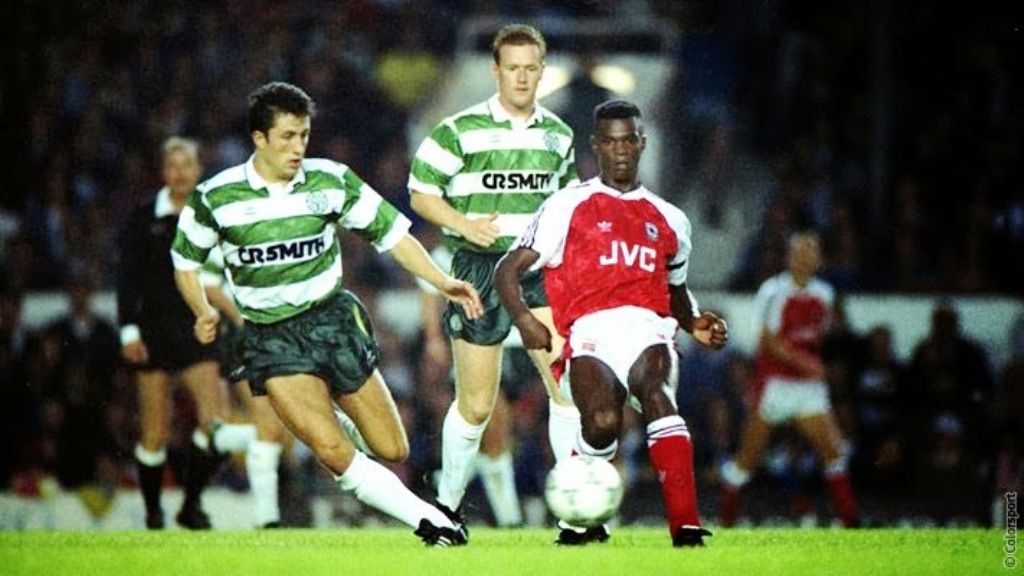 In the second half some dreadful defending at the back allowed Arsenal to equalise in the 48th minute through Alan Smith. Lee Dixon put Arsenal in front when he scored the rebound following a good save from the spot kick by Bonner.
Celtic though saved the best of the night for last when Dariusz Wdowcyk thumped a 30 yard free kick past the England goalkeeper who only saw the ball on the way back out.
You cans see highlights of the match here. Both Celtic goals are worth taking the time out to enjoy.
Celtic had one more friendly before the serious stuff began when a John Collins goal after only four minutes saw Celtic emerge victorious against Tottenham Hotspur in Brady's first match at Celtic Park.
Liam Brady must have by now see just what he had at his disposal. A wonderful attacking element to his team but an ability to shoot themselves in the foot with basic errors at the back.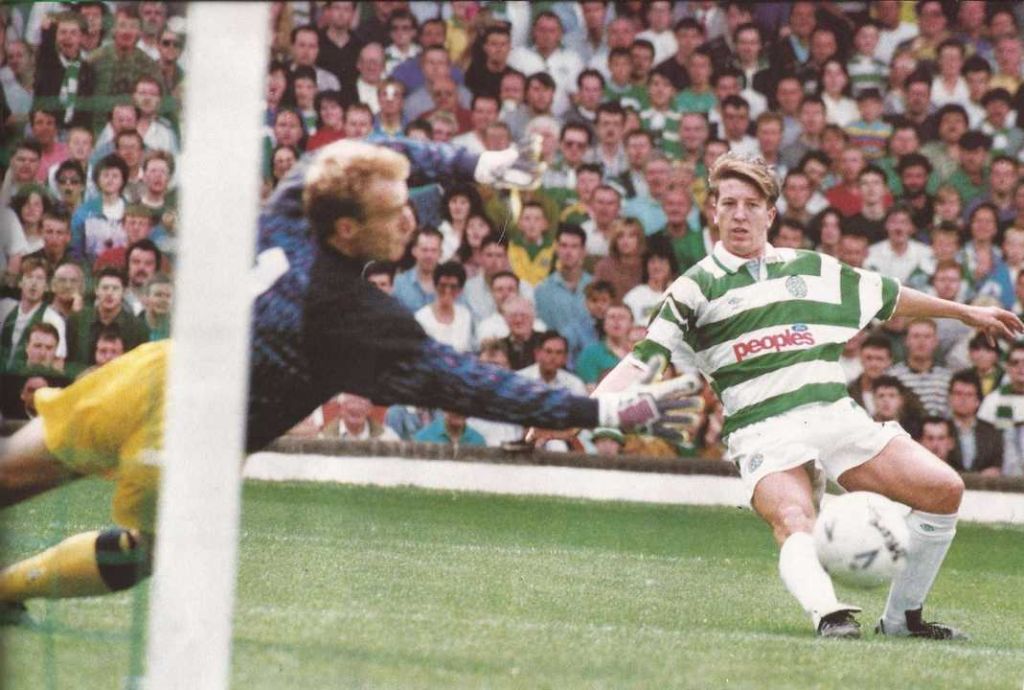 Celtic were due to visit Tannadice on 10 August for an opening league fixture against Dundee United. Pre-season games were all very well, but the real test would be league football.
Next time we will look at the start of Brady's tenure, the big games and the big signings in the next part of our look at Celtic in the 1990s.
Niall J