Liam Henderson took the big step of progressing his football experience by heading outside the UK, a route not often taken by many Scottish players. He's now in third season in Italian football, having initially signed with Bari before moving to Hellas Verona.
This season he's left Serie A's surprise success story temporarily and joined Serie B side Empoli for the rest of what was supposed to be the football season. The Ex Celt has been speaking to The Athletic and giving a bit of an insight into what it's like living and working in Italy, the epicentre of the Covid-19 outbreak.
The loneliness of funerals in Italy during these difficult times.
A priest, a son and his mother.
20th March 2020 Bergamo. 😢
Piero Cruciatti/AFP via Getty Images pic.twitter.com/Tmf75QAbkU

— Paddy McKenna 🇮🇪 (@paddymacc1) March 24, 2020
Italy has been in 'lockdown' since 9 March and Henderson is trying to get across to those in the UK, who may still be ignoring medical advice and government direction that this is all for our own good.
Henderson had this to say to the media, as reported by Edinburgh News on the seriousness of the situation in Italy: "I can understand why people want to go to work. Because they can't afford not to go to work.
"And when my mum, who's a nursery school teacher, says that children go to school and rely on it for a hot meal and to get fed and there's the prospect of that being disrupted, it is going to have a massive impact on thousands and thousands.
"I don't think the UK realises how serious it's going to be. From my experience here, you have to just listen and do what you're told to do."
With football authorities unsure as to when the football calendar will start again, and with clubs not only unable to play matches but also train, Henderson has also let us in on how the players are being kept ticking over should they have to return anytime soon. It seems the Empoli fitness staff are still keeping a watchful eye on proceedings and Liam is training from the security of his own apartment at least some of the time.
First of all he has to check his own temperature then it's down to work, as Liam explained: "The first 10 minutes was a bit of stretching, some yoga. Just to work on your mobility.
"Then we got the chair out and did some split squats. You go up and down so you're working your core, your glutes and your hamstrings. Then we did some lunges where you jump and change legs for explosiveness.
"Yesterday was more core-based. Planks, side-planks, sit-ups, press-ups."
He has also been able to attend the Empoli training ground for one-on-one sessions only, with a member of the Italian clubs fitness team and he's already missing the older members of the community now in strict self-isolation who used to attend the training.
"It's completely closed off (now). You don't see anybody at all," Henderson said. "You see the same faces everyday, it's usually the old boys who have bought their Gazzetta dello Sport, they've had their coffee and smoked their cigarettes, and they turn up to watch the training.
"It's class. In Bari I loved the fact when I went out you'd see the old boys just playing cards or dominoes with a glass of wine or beer, smoking away to their life's content, not a care in the world. I was thinking to myself, 'that's what I'd like to be when I'm their age'."
The strict approach to the Italian lockdown is evident when Henderson reveals he requires to have his passport and confirmation from Italian Police and his club that he has a legitimate need to leave his apartment to attend training. So far though he's not been pulled aside.
"I haven't been stopped yet but I have to take one out with me because if the police pull you over they can fine you and give you a criminal charge. It's a bit extreme. But if it keeps people at home for the certain amount of time that's needed, then it's what you need to do."
Henderson is also unconvinced that the Italian plans to have the football season start again in May is likely to come to fruition. A warning sign for Scotland too then that we are further away from football returning that we might hope.
"If you asked me personally, I can't see the season being finished anytime in the next three months.
"I've been trying to keep my mind active, thinking about after football, managerial stuff, noting down wee bits and bobs, what I've learned from my managers over the years, what formation I'd play, my philosophy, playing the youth and stuff. I'm definitely going to enrol and do my badges.
"I did the 'stay at home challenge' the other day with the toilet roll. I got nominated for that so I did it, but it's not the same. I miss the ball."
A really interesting insight then from an ex-Celt plying his trade in Italian football. It certainly sounds like there could be further changes ahead for Scottish football if Liam's Italian experience is anything to go by.
Let's all hope Liam can stay fit and well and remain safe as he takes each day as it comes in Empoli.
Niall J
'Here we Glow,' @CelticFC fans sang In Kiev, 6 months after Chernobyl – Matt Corr's European Adventures…https://t.co/x4XY1Z4HBV @Boola_vogue @lcafiero @cfcliamk96

— The Celtic Star Editor (@CelticStarMag) March 25, 2020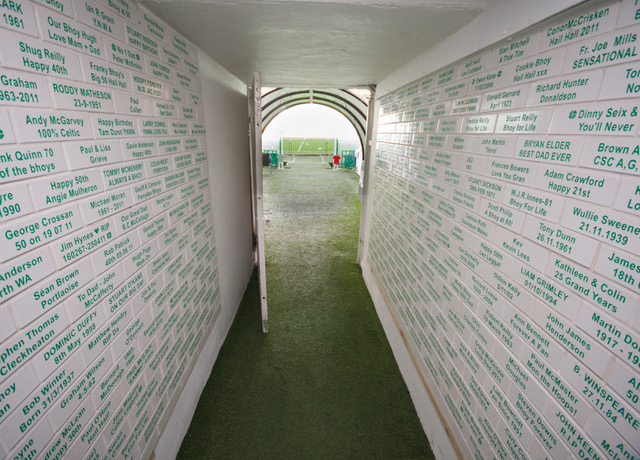 Take The Celtic Star's Photo Tour of Celtic Park and enjoy our stunning photos from inside Paradise RIGHT HERE, RIGHT NOW.
Support Celtic Youth Development
Help raise money for Celtic Youth Development by joining the £1 weekly lottery and you could win up to £25,000 – just click on any one of the photographs below to join. Lots of our readers have already done so and they're now doing their bit to help fund Celtic Youth Development that can deliver the stars of tomorrow and beyond. And you might even win a few bob too! And a special thank you to all The Celtic Star readers who have already signed up and are now supporting youth development to give us the Celtic Stars of the future…