Everyone at Celtic wishes Kyogo Furuhashi a speedy return from injury. Of course, that is not necessarily the case with those who perhaps would wish to see our Japanese striker have an extended spell on the sidelines. As such a bit of idle speculation for Keith Jackson will tell you all you need to know about which side of the debate the Daily Record columnist lands on.
After questioning Ange Postecoglou's managing of Kyogo Furuhashi's injury problems this season, Jackson then went on to speculate entirely as to what Celtic's medical experts are predicting and grasps the figure of four months out from the sky as his estimate.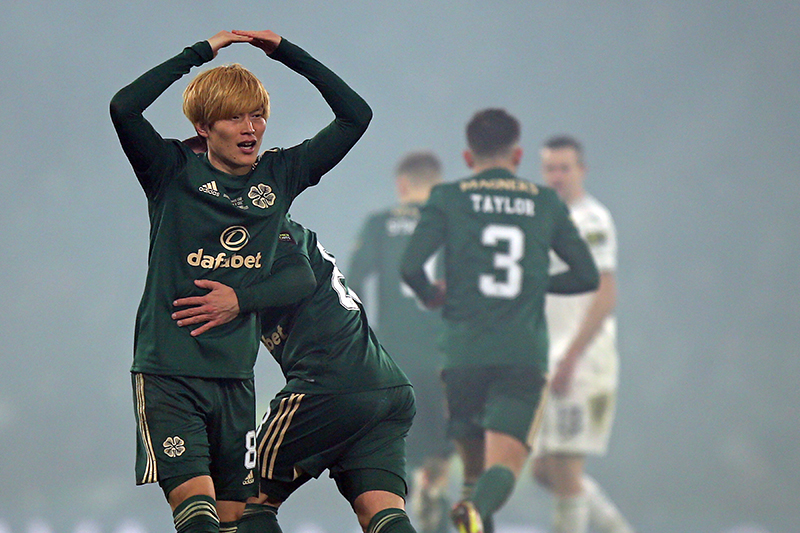 'Perhaps this explains why he's been so very vague whenever he's been asked direct questions about Furuhashi's condition. If the injury has become so serious that it now requires surgery then Postecoglou's insistence that the talisman will most certainly be back before the end of the season seems optimistic in the extreme.

No matter what Postecoglou may say in public, behind the scenes Celtic's medical experts have been discussing the prospect of Furuhashi's hamstring being put under the knife for an operation which normally requires around four months of full rehab time.'
The truth of the matter is Ange Postecoglou has already covered this in his pre-match media conference prior to Celtic's weekend win over Alloa in the fourth round of the Scottish Cup, in fact it was something Jackson's own colleague Michael Gannon covered in some detail just three days ago, when he quoted Ange himself rather than resorting to mere speculation.
"He's not out for the rest of the season. I can assure you of that. Kyogo's injury is more significant than we were hoping it would be and he will be out for a number of weeks. It's not going to be a quick return. I don't know how long and I don't want to put a timeframe on it. Mainly because of Kyogo himself, plus we are still getting him assessed and we need it to settle before we get a definitive answer on it.

"But he will be out for a number of weeks and that is disappointing for us and also Kyogo. He loves playing for this club and he can't wait to be back out there. Kyogo is really disappointed and I feel for him because he put his body on the line for us.

"To be fair to him, he wasn't 100 per cent for the cup final but he scored two goals and helped us win it. That is testament to him as a player and a character. A lot of people would have taken a different option, so I am gutted for him.

"Kyogo did all he could for this football club and I am hoping that because he got the rewards for that cup final performance, it's enough to sustain him through this period out. He deserves to come back better than ever and he will.

"Kyogo is that type. Whatever timeframe is put on his recovery, he will beat it. He is such a determined person and he loves playing for Celtic. The fact he can't go out and perform is hurting him but we will provide him with support. I am sure whatever recovery time is needed; he will do his best to be back as soon as possible."
If Ange Postecoglou was vague in any way, it's because he's trying to communicate to the Celtic support that the prognosis is not entirely certain yet, and as such time is required before a definitive timescale can be given.
Indeed, the only timescale Ange Postecoglou has put on this particular injury concern, is the player may be out for a number of weeks, yet he also categorically states that even the worst-case scenario does not involve Kyogo missing the rest of the season, as Jackson's ludicrous guesstimate would have us believe.
What Jackson really wished to achieve with his opinion piece is to question Ange Postecoglou's decision making when it comes to managing Kyogo's injury and create discord within the Celtic support. However, given there is no actual timescale on Kyogo's return he simply decided to speculate entirely in an attempt to twist the story to suit his narrative.
As such we go from the manager stating the player will not be out for the season, to Jackson's outlandish and unqualified claim of Celtic's medical team predicting a four-month absence, with not a single source actually quoted. It simply smacks of wishful thinking on the part of Keith Jackson.
You'd almost think there was a Glasgow Derby coming up, wouldn't you?
Niall J