Former Celtic boss John Barnes reckons the departure of Steven Gerrard from the Ibrox outfit will work in his old club's favour this season. Barnes, who worked for Celtic between 1999-2000 under Kenny Dalglish endured an awful time himself as manager at one of the country's big two, and he understands the disruption this may cause to our main rival.
The Liverpool legend said: "Even with Gerrard at (the)Rangers, Celtic had an opportunity to close the gap. They're going to get closer this season and it may take van Bronckhorst time to put his stamp on theRangers team. Their success was a combination of things. Steven didn't improve them overnight.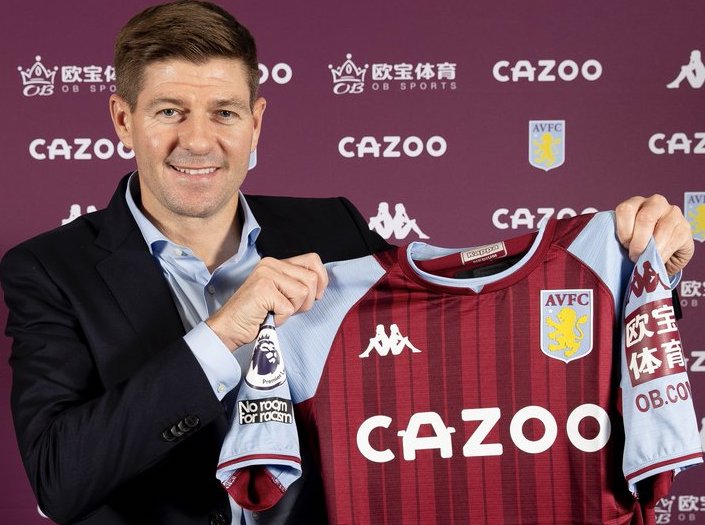 "They were nowhere near Celtic in his first year, got closer in the second and then won the title. Managers in the past haven't been given that time and support. But (the)Rangers supported Gerrard and gave him money, and the support he had was fantastic."
Barnes' is correct in his assessment that theRangers did indeed back Gerrard – more than they could afford to – so now the new man in the dugout will have to sell before he buys. This is despite the infantalizing notion that was put forth by their Board during the recent AGM at Ibrox. The ship will sink unless they keep this winning streak going until the end of the season.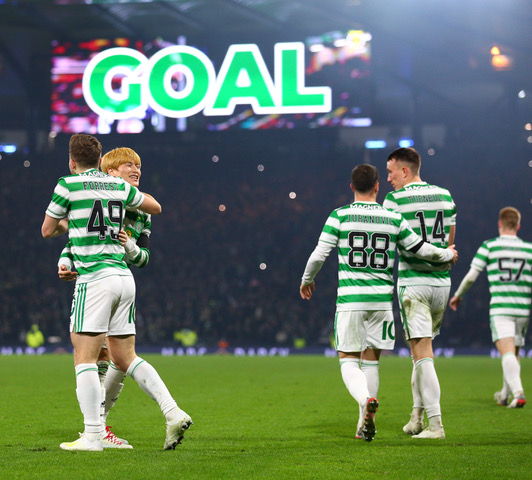 January will be a tough month in Govan and will go a long way in deciding where this season's SPFL trophy will end up. Celtic, although still four points behind in the league race, have still to add more quality and squad depth to an already motoring football side. The winter months promise to hold the key to whether or not Slippy's gobsmakcing departure has rocked them to the point of no return.
When soft penalties are needed continually to keep the head above water, it ain't good news for the team holding onto a lead at the top. We haven't gone away you know!
Paul Gillespie
GET YOUR CELTIC STAR BOOKS DIRECT FROM CELTIC STORES OR THE CLUB'S ONLINE SHOP…
Supporters walking into the Celtic Superstore last night will have seen this Celtic book display straight ahead right at the front door.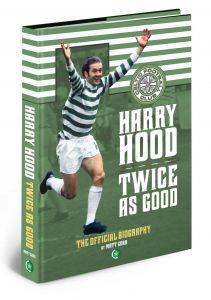 The Celtic Star has all FOUR of our books proudly on these shelves. There's the fast selling Harry Hood – Twice as Good which is the official biography of a legendary Celtic goalscorer. Matt Corr really has done Harry proud with such a wonderful Celtic book which is absolutely flying off the shelves at Celtic were stocks are low. Indeed we have a second print order arriving next week to top the club's supplies up and to re-stock our own bookstore.
Then there's Walfrid & The Bould Bhoys and the copies you see here are the only ones still available. Our bookstore has completely sold out of this book that is sure to be a collector's item in the future. And again what a fine looking book, expensively produced and a fascinating read with three Celtic authors all contributing – Matt Corr, David Potter and Liam Kelly.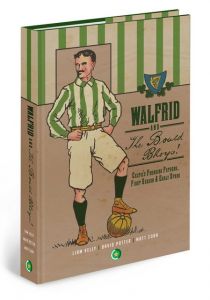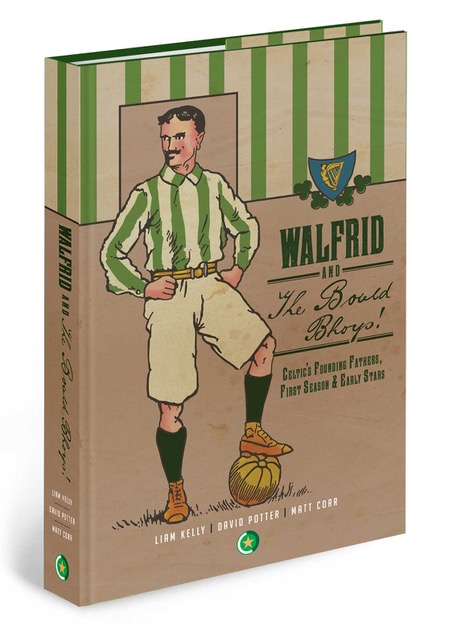 Next to Walfrid & The Bould Bhoys is David Potter's wonderful account of the life and times of perhaps the least recognises of all the true Celtic legends – Alec McNair, Celtic's Icicle. Along with Billy McNeill, McNair gave Celtic more than any other player and his brilliant story deserves to be widely shared.
Alec McNair played in Celtic's first team for an incredible 21 years. No-one has ever matched that. He played for Celtic four months into his 43rd year. Another record. McNair remains the only outfield player to take the field for the club after his 40th birthday and is one of only two men to have done so, his friend and contemporary Celtic goalkeeper Charlie Shaw being the other.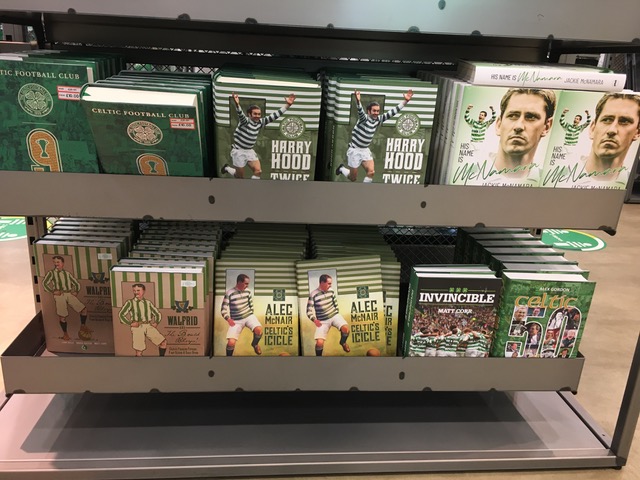 Alec McNair played a total of 584 League games for the club. Another record. He made 716 appearances in total for Celtic, despite the Scottish Cup being suspended for five seasons during the First World War. Only Billy McNeill has beaten that, and Cesar's tally of 822 included over 200 matches in the League Cup and European football, neither of which were available in the era of McNair.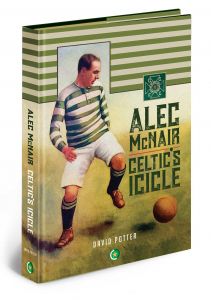 Alec won 34 honours with Celtic, another record.  These included an incredible 12 League Championship titles, another record. McNair was a key member of the team which won 6 successive League titles between 1904/5 and 1909/10, a Scottish record which stood until Jock Stein's Class of 1972. He then formed the core of Maley's next great Celtic side, which won four Championships in a row from 1914.
He is also one of a select group of men to have captained both club and country as a Celt, Alec's international highlight no doubt being the day he led Scotland to victory over England at Hampden in April 1914.
It would have been easier for David Potter to write about more recent Celtic stars who with the greatest of respect to them are nowhere near as worth as Alec McNair. If you don't know his Celtic story you will be astonished. Next up incidentally from Mr Potter is a biography of Willie Fernie and that will be out in the spring. The book has been written and will be designed first week in January.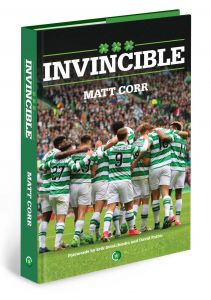 Moving along the bottom shelf and you'll find Invincible the story of Celtic's finest season since Lisbon and our biggest selling book so far. One of those little things that makes the effort worthwhile occurred on this book where so many of the players and their families and indeed the gaffer's family all purchased copies – often multiple copies of Invincible – to keep as a souvenir of what was a unique experience in their football careers.
If you were there, watched it all unfold and want to enjoy the action all over again then if you don't have a copy of Invincible then pick one up this evening. It's right there as you walk into the Celtic Superstore.If you can't make it any of the Celtic stores then you can order our books direct from the online Celtic store.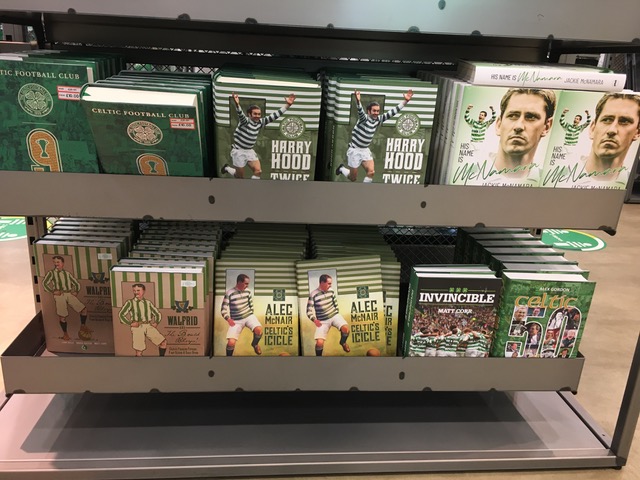 £1 from each sale of Harry Hood – Twice as Good will be donated to Marie Curie in memory of Harry and in accordance with the wishes of Harry's family who have supported Matt enormously in writing this fine book and also in supplying numerous family photographs.
CLICK ON ANY OF THE IMAGES BELOW TO ORDER OUR BOOKS DIRECT FROM CELTIC'S OFFICIAL ONLINE STORE!