There's been a lot of unnecessary angst in the last few days when it comes to an upcoming game against a team bottom of the league – and one who is there for a reason. Indeed, a famous Celtic fan probably summed it up. 'Don't worry, about a thing 'Cause every little thing, is gonna be all right.'
Maybe it's just me but when an opposition manager's pre-match clarion call via the press is 'our pitch is pure mingin and are you ready for it?' I can't say I'm overly concerned the opposition will hurt us too much.
In fact, if I was Bruce Anderson, a half decent striker, or Alan Forrest a perfectly capable attacking wide player, or indeed Craig Sibbald a functional and tidy enough player, I'd be more concerned that the best defence my manager can summon up when facing the next opposition is a sticky plastic pitch, that he may not rate my abilities as a player, or indeed his own as a manager.
In fact, if I was in any way employed as a Livingston player or member of staff, I'd be more concerned my manager's war cry had nothing to do with what his club did or didn't have in their ranks rather than the insecurities the opposing team might hold.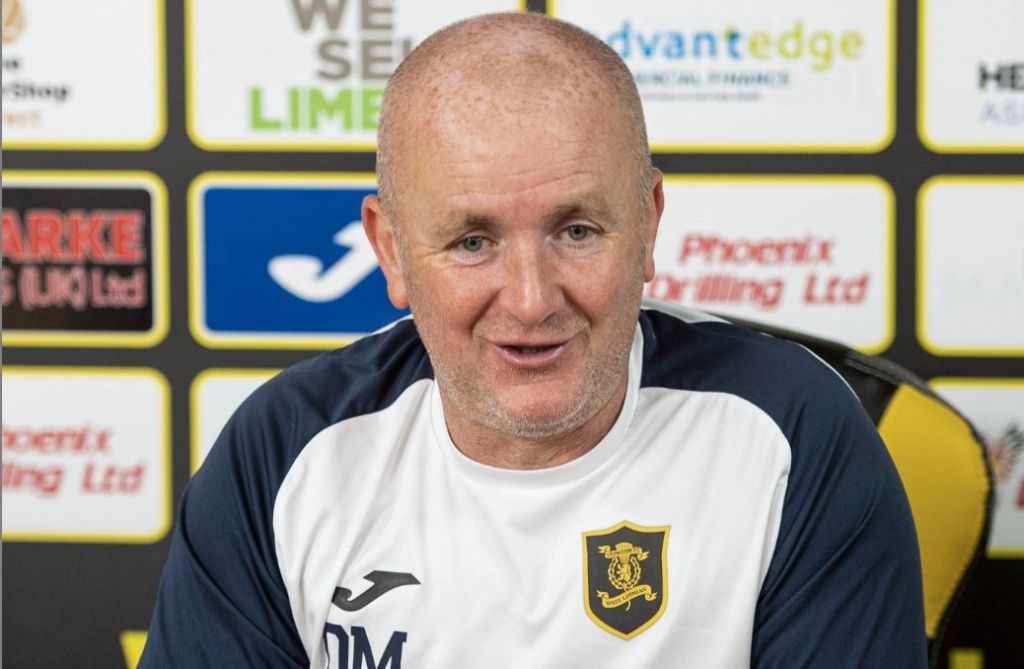 How about Celtic haven't won away from home since Valentine's Day? Or indeed it's 2007 since our opponents have emerged victorious from the lands of identikit housing and roundabouts? Or Derek Riordan was the last Celtic player to truly lay a glove on us so what the hell do we have to be worried about?
Does that not strike more of a below the belt punch than, our patchy and bald surface will so make it hard for your sand-dancers to land a blow – and by the way our sprinklers won't be working?
Psychological warfare it was not on the part of David Martindale. In fact, his pre-match tactics seem to mirror the in-game strategies that have seen plucky Livi lie bottom of the Scottish Premiership, with one point from five games, score just two goals, concede nine and have and a goal difference of minus seven in that time. Yet we're to believe with a solitary draw to hang on to, their pitch is the hill our team die on, despite none this season having even had a grazed a knee much less have fallen fatally to the carpeted floor begging for mercy.
Indeed, the only issue and I mean the only one, I have any concerns over Celtic today is our away record in general, not Martindale, not his journeymen footballers and not the last standing plastic monstrosity of a pitch left in the Scottish top flight, and one that looks like it will fall through the trapdoor this season.
In fact, I'm less worried about what went before in terms of away form and more concerned that after this penalty kick of three points, we face Aberdeen, Motherwell and Hibs on our travels. All three of those opponents have footballers, form and managers I fear far more than the Tony Macaroni and a ground Celtic have lost only once at since 2007.
Our away record is a concern but it is one that will begin to be rectified this afternoon. And once the monkey is off the back and Livi are plummeted into the relegation battle in which they will engage, whimper in and ultimately fail to negotiate, Celtic have far bigger fish to fry.
No matter the team Celtic put out, no matter the players the opposition send out to engage, and no matter the rudimentary tactics Martindale employs, on or off his plastic pitch, Celtic will win this game.
Celtic will not play in front of this opposition any longer and we won't be physically intimidated as we once were, because this is a different Celtic team. The mentality is stronger, the movement is better and the confidence is higher.
Meanwhile Martindale and his team are a million miles off the team that had Lyndon Dykes, Jon Guthrie, Jay Emmanuel Thomas and Scott Robinson to call on, and David Martindale knows that otherwise he'd have talked up his players rather than his pitch in the build up to this one.
Sometimes it's what you don't say rather than what you do that gives you away and Martindale's own players now know he places more trust on a carpet than he does their abilities. There's not a chance that would have been the case even last season and it smacks of a manager clinging on by the fingernails to a footballing narrative that has long been yesterday's story.
Meanwhile Celtic's history at Livingston belongs to others rather than Ange Postecoglou and there's no doubt he'll go about proving just that later today. In fact, I doubt he's worried about a thing. And nor should we.
Niall J