The saying goes loose lips sink ships but Kris Ajer needn't worry about scuttling the good ship Celtic, that vessel is already in the dockyard clocking up time and money lying dormant as the club tries to assemble a Shipwright team willing to carry out the work.
One thing that is certain, in whatever shape of sea-worthiness Celtic do end up, when the crew are ready to board and Celtic is in a fit state to embark on its next journey, Kris Ajer doesn't wish to be on deck.
Celtic's Norwegian tends not to talk to the press in Scotland indeed much of the information he likes to pass on comes via agents and international managers of late, and in truth I fully understand why. In Scotland translation can be lost in the mainstream media and if we're honest Kris Ajer has long been finished with Celtic. Unlike some however his performances belied his want away perception.
There has however been nothing lost in translation when it comes to Celtic's centre half on this occasion. Ajer, having already been warned to get out of dodge for the sake of his career development by his international manager, has clearly made his thoughts clearat this juncture. With a year left on his contract and having already wished to leave last season, he has a gentleman's agreement with Celtic that this summer Celtic cash in he gets his move now and both parties bank their respective cheques, thank each other for being good for one another and move on.
Ajer – and no doubt the representative he signed with last summer – it seems may however be concerned that with the guts of a first XI heading for the exit and assurances from the club not always perceived amongst the players as being honoured, that a verbal shot across the boughs whilst on International duty may be the best time to make clear his intentions and remind everyone involved of assurances made.
For Kris Ajer there is nothing left to learn in Scotland, he has seen it all, done it all, and achieved it all. There is nothing further Ajer will learn from strolling through Scottish Premiership games, it can only blunt him now. With little to no real European aspirations from the club and a localised focus of staying one step ahead, and having dropped several strides behind, a single rival, to really be tested and make the next steps Ajer, as he's claimed, needs now to be playing in the big leagues with top strikers exposing his weaknesses and forcing him to learn on the job.
His next move will be vital however. Celtic's last top central defender was Virgil Van Dijk, he left Celtic with all the attributes needed, however he played Scottish football on occasion at 60 to 70% of his optimum performance. His choice of club was sensible.
Southampton were a relatively secure mid-table Premier league team, just enough threat of relegation every season to keep everyone on their toes and just enough hope of European places to supply a level of ambition to strive forward.
Van Dijk had enough attackers raining down on him to ensure his standards didn't drop and enough of an attacking philosophy and ambition to do well to ensure his attacking instincts as a ball playing central defender wouldn't be put into cold storage either. He soon won a move to Liverpool and the rest is glorious history for arguably the best defender on the planet.
Van Dijk is perceived as improving at Southampton when really, he was already ready for Liverpool. All the Southampton move did was ensure he was on focussed every week and no laziness set into his play, no thoughts of dropping his levels as he had in Scotland could enter his mind. With that evidenced doubts in the minds of those who scouted him at Celtic and saw a player who could switch off, were now convinced he'd simply been playing in cruise control, now it was evidenced he could move up and down the gears week in week out.
For Kris Ajer the choice of club now is just as important. Norwich is a well-coached side, evidenced as too good for the Championship but also not quite good enough for the Premier league. Ajer would be tested but with that move he could be a Championship player the following season as relegation is a near certainty for a prudently run side who will not break the bank and gamble on the Premier League. There is not the security at Norwich and Van Dijk had at Southampton and Ajer would do well to consider that.
Much the same goes for Newcastle. Relegation shouldn't but does threaten a club Mike Ashley is bored of and wishes to sell. In Steve Bruce there is a fine old fashioned central defender who has a mixed record as a manager and despite his career he is not known as a hands-on coach, and allied to the fact he'd be a Bruce signing and the manager's jacket is on a shoogly peg, Ajer could well find himself part of a club takeover and a management change and the chaos that entails. A half decent representative would point out right destination wrong time for Ajer.
Bayer Leverkusen however have been pointed to as an alternative and that makes a lot of sense. Excellent league, well coached team, structure in place and ambitious. It is a move Jeremie Frimpong has made so the lines of communication between the clubs is open and it is an environment where Ajer could improve.
Ajer still has weaknesses in his game the timing of his leap, a tendency to go to ground, hands on opponents in the box and strikers get a run on him far too often, however good coaching allied to exposure to excellent strikers in the Bundesliga would see a player not shy of work ethic and a thirst to develop having a real opportunity to kick on.
For Celtic, Leverkusen will pay a going rate for a player and negate the need to deal with Ashley at Newcastle, and his spiv like tendencies, or penny prisoners Norwich.
For most Celtic fans, certainly for myself, Kris Ajer would go with nothing other good memories of silverware and a fine attitude from a player who could develop further but won't at Celtic, and one who it will be of interest to see how far he goes. He is no Van Dijk yet but he's the best since and that is praise enough.
It is now down to Celtic to allow this move to happen now, cash in and move on to finding a suitable replacement. We sell these players this stepping stone, it is not a good reputation to gain, if you intend to repeat that process, to stand in the way when promises have been made. That approach sticks in the mind and your reputation gets out there, as we're finding in the search for a new manager.
That's why Kris Ajer's carefully chosen words should be taken on by Peter Lawwell and the Celtic Board. We've heard enough in the past of those leaving a sinking ship being derided as a rat, Kris Ajer is nothing of the sort, he's a player who needs to go to develop himself, if we've made promises we need to be seen to keep them.
Niall J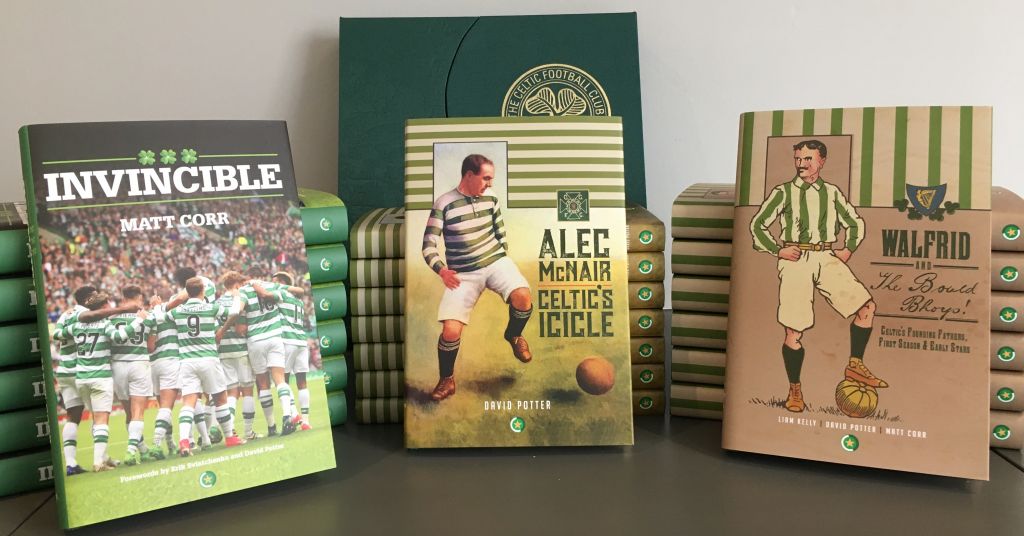 Father's Day ideas on Celticstarbooks.com….
(PROPER) Invincible by Matt Corr, get a signed copy with a personal message added by the author especially for your dad.  Then there's Walfrid & The Bould Bhoys, but hurry as we only have around a dozen copies of this wonderful book remaining – again a personal message can be added for your dad.  Then there's David Potter's new book, Alec McNair – Celtic's Icicle which has already SOLD OUT but we have a re-order arriving this coming week, in plenty of time for first class postage (guaranteed) for Father's Day on Sunday 20 June. Click on the image below to order…