With Celtic action restricted to just one team playing this weekend, with Celtic FC Women heading up to the Balmoral Stadium to play Aberdeen on Sunday afternoon, there was surely a great chance to raise the profile of of the women's game by holding a Media Conference that perhaps would have been better attended that has otherwise been the case.
Instead Celtic have kept things in house, releasing a preview video on You Tube with the manager being questioned by Colette Carr from Celtic TV. If the women's game is going to grow then there's got to be a commitment to opening up to media exposure rather than going backwards.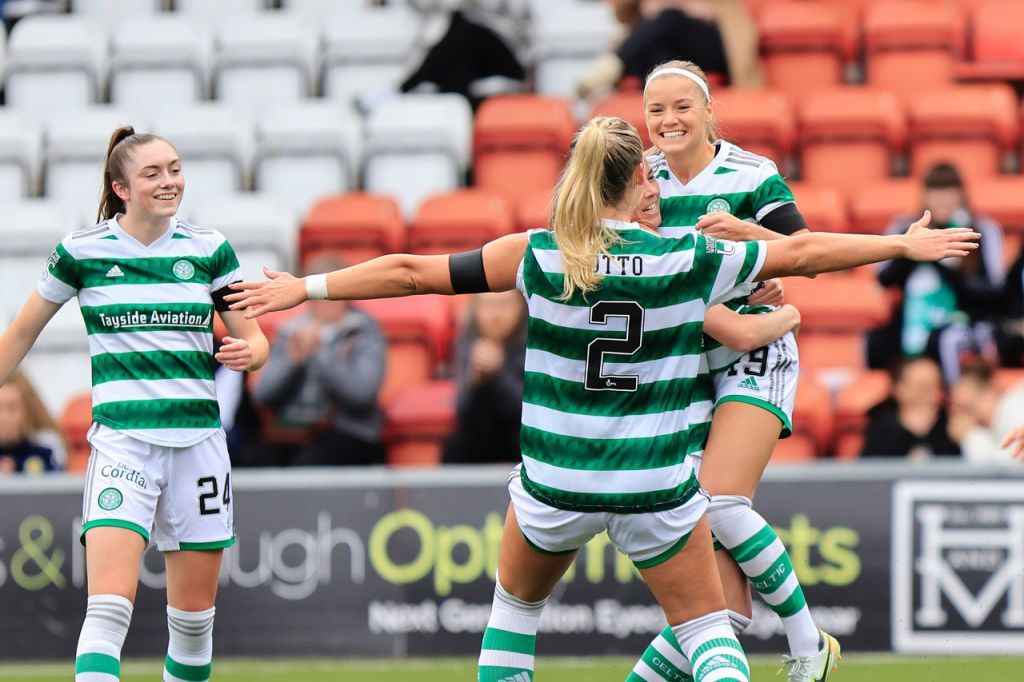 It's doubtful that there will be much media coverage from a Celtic perspective for the game at Aberdeen on Sunday, although The Celtic Star plan to cover the game, with a photographer present and a match report published shortly after the final whistle.
This week theRangers women side played Benfica in the Champions League. The match was at Ibrox and attracted a decent-sized crowd, with the Portuguse side coming out on top by the odd goal in five ahead of the second leg in Lisbon. Fran Alonso's thoughts on that match and the motivation it gives his squad to go on and win the SWPL1 this season and have big Champions League nights at Celtic Park next season, would have been good to hear.
He might have been asked about attendances growing down south, for example Crystal Palace this week reported that they are now getting around 1800 to their games, which is a considerable jump on last season.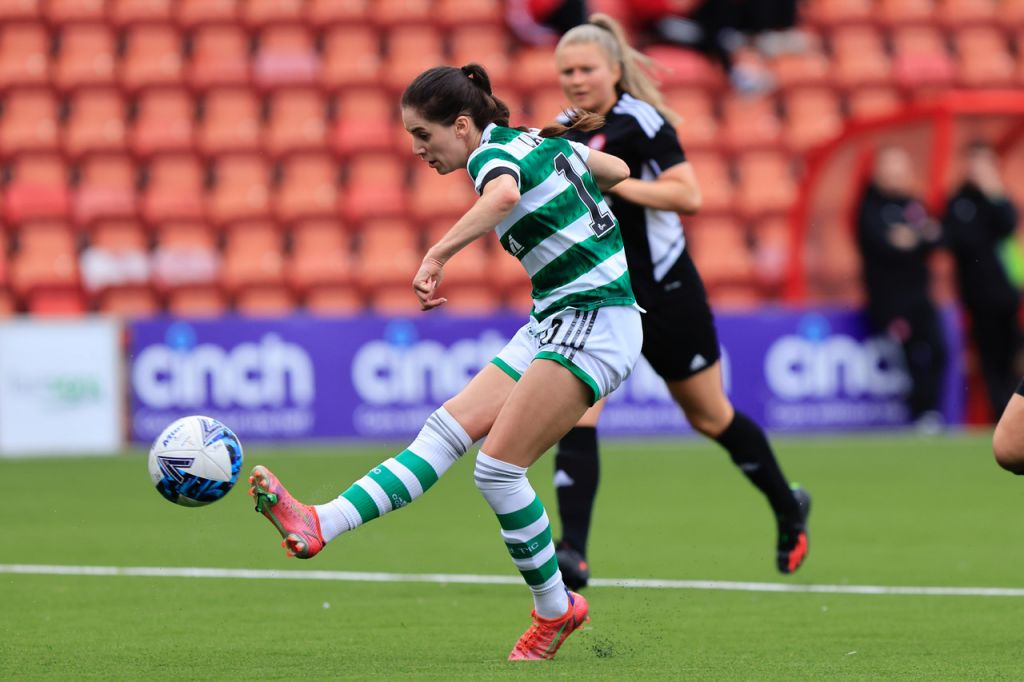 The chance to interview some of the new signings from over the summer gives the support a chance to know the players better and that's hard if their profiles aren't out there in the media. And for players like Clarissa Larisey, back after the amazing achievement of breaking into the Canada squad (they are the Olymic Champions and one of the top sides in the World) despite having no international recognition at any age level previously. Her development and current form at Celtic should be celebrated, and promoted.
Maybe it's to do with the disappointing size of the Celtic support currently attending the women's games. It should be noted that recently there's been clashes with the mens team and while that can't be avoided, it does provide an explanation of sorts. With the SWPL now under SPFL control is there plans to avoid clashes like this going forward? Could the SWPL look at Friday night football?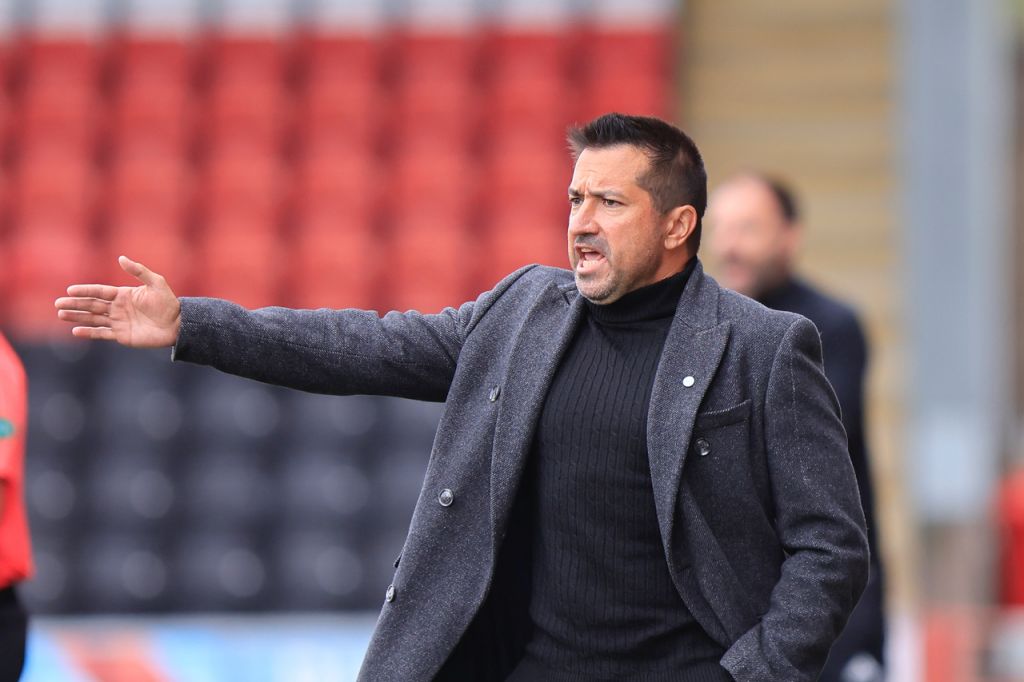 We could have asked Fran to send a message to Celtic supporters in the North East this weekend to come along and support the team in the match against Aberdeen.
As we get closer to the World Cup, the plans to stage some Celtic FC Women's matches at Celtic Park will be under discussion. Fran could have been asked about this and also about this week's draw for the beginning of the defence of the League Cup with Celtic drawn away to Partick Thistle. Again the manager's thoughts on this would have been appreciated.
Anyway it's not to be so here's Fran Alonso's pre-match thoughts via Celtic TV with Colette Carr asking the questions. Previously Louise Gould might have done this, but she left the club in the summer heading back to Bristol City, again her departure was low-key.
On the Aberdeen v Celtic game on Sunday, Fran stated that he's been happy with the week's training after last weekend's 6-0 win over Hamilton Accies. "It's been very good, we were happy with our performance last Sunday after two weeks off. So that was very important – to keep playing at the same level, and we did that, and now this is another opportunity to try to keep the momentum against a tough opponent.
**Sneaky Peek** #RedMatchday programme cover design for @AberdeenWomen v @CelticFCWomen this Sunday features @EvaThom17563467. #StandFree pic.twitter.com/5VzG8rzcXX

— 𝔇𝔬𝔩𝔩𝔶 𝔇𝔦𝔤𝔦𝔱𝔞𝔩 (@dollydigital) September 22, 2022
"It's always tough to play Aberdeen, they are very, very dangerous on the counter. I think we are preparing well to try to impose our game, but also knowing their threats and how we can hopefully get the three points. The girls are switched on, they are all fighting for a spot, and we are really looking forward to the game."
Aberdeen have really struggled in the league this season after impressing on their debut season in the SWPL1 last time around. "They haven't had a great start, I think last year they had a better start, but at some point it will pick up.
"They will start to gel, I like them as a team and I think they are well–drilled. They have a lot of energy. Although this year maybe in the last parts of games, maybe they are conceding far too many, but I think that's pretty much psychological because they haven't started great.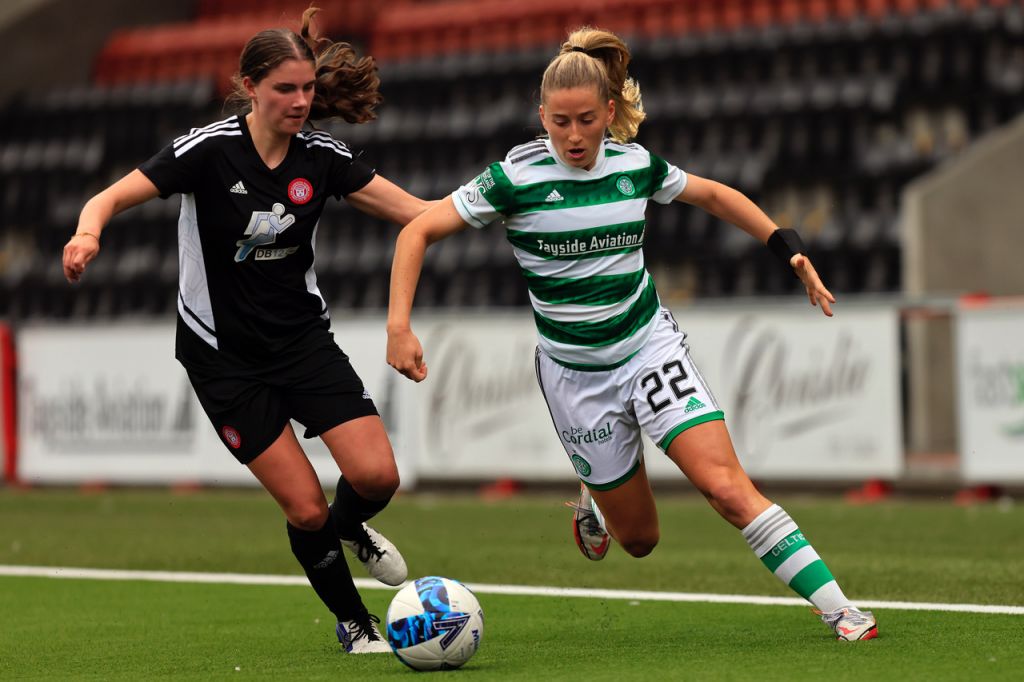 "But I still think they are a great threat, I think they will do very well this season and we have to be at our best to get the three points."
With an enhanced squad from last season and so much competition for starting places, Fran admits that the hardest part of his own job is deciding on his starting eleven given the numerous options he has available and so many players making valid cases for a start.
"It's a very good headache to have, that's the part that I struggle the most with – how to pick players, how to be fair, how to reward hard work, but at the same time how to make sure we get the three points and keep playing at these high standards.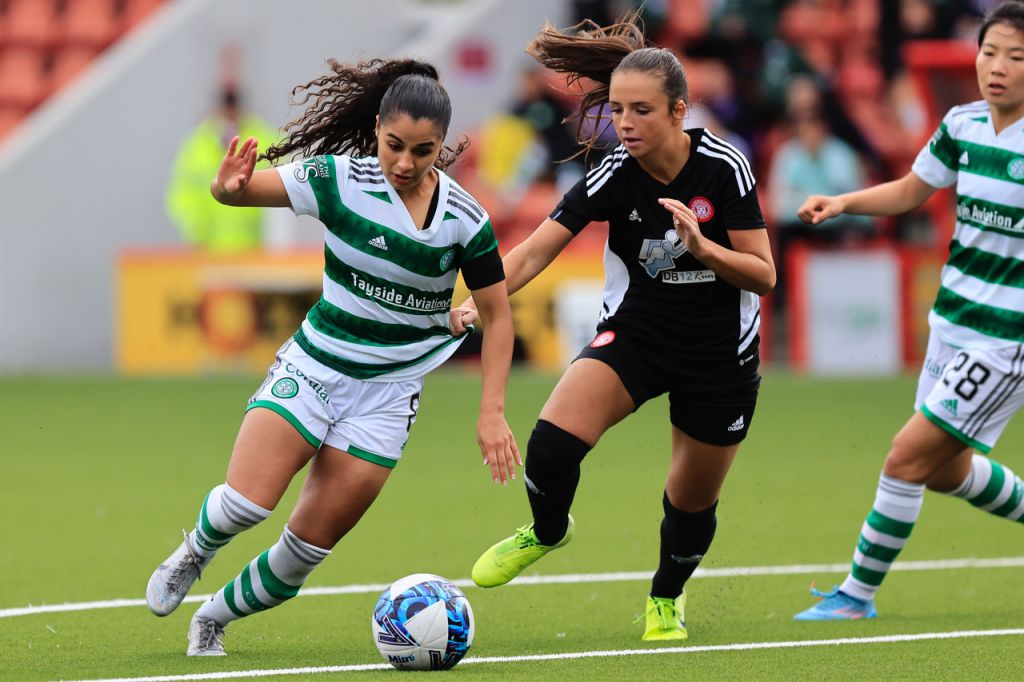 "So we will always try to rotate a little bit with the squad, maybe make one or two changes from the previous game if we can, and hopefully we will do the same thing this week, but we have to reward the girls who earned the position on the pitch, and because we only think about the next game, what happens the following week is always irrelevant.
"So I'm very happy with the squad, I'm very happy with the fight they have on the pitch and I'm very happy with everyone getting better. Every single player is getting better, they try to fight for a spot and they try for the team keeping this great momentum. I'm very happy with the squad and hopefully we'll carry on working as we have until now."
Celtic FC Women have yet to concede this season so defensively you can't ask for anything more, while last week's 6-0 win over Hamilton Accies isn't even the best scoreline of the season to date with Celtic also hitting nine and eight goals without reply in earlier games against Hibs and Motherwell respectively. Yet the Celtic manager still isn't satified and wants more from his players.
"There's always room for improvement, especially after last week. I thought we played very well, we played almost the whole game in their half, which is very impressive because Hamilton are a good team.
"But, I thought our chance conversion wasn't anywhere near our standards. I thought it was around 22 to 24 per cent, our average is 44 per cent so that was way below our season so far.
"So that is one of the focus points of this week, we have put a lot of emphasis on that, not only in training but also in analysis, we did analysis specifically about the final third.
"So hopefully we will see an improvement there. Hopefully we can convert most of our chances, hopefully we can have a lot of chances, but it won't be easy because, as I said earier, they are good team, but we've got our own individual task and team task that we have to be better.
"So despite that so far we are winning and we haven't conceded a goal, there is a lot of room for improvement and we try to be a little bit better each week, and so far that is working well."
Aberdeen Women v Celtic FC Women kicks off at 4pm on Sunday 25 September. If you're in or around Aberdeen why not head alone and give the Ghirls some support? Admission is £5, you can pay at the gate and concessions are free.
We are back at the Balmoral Stadium this Sunday when we host Celtic. Kick-off, 4pm.

Ticket info // https://t.co/kS3NewAUbo pic.twitter.com/IkO4a96JPA

— Aberdeen FC Women (@AberdeenWomen) September 20, 2022