There's more noise this morning concerning a Celtic star leaving in the summer, this time it's Liel Abada who is rumoured to to join an English Premiership side.
And while this may well be the case, the Celtic support will probably remain as relaxed as they were in the January transfer window when Ange Postecoglou shipped out Josip Juranovic – a bronze medalist at the Qatar World Cup with Croatia and Greek striker Giorgos Giakoumakis, replacing the pair with Canada's Alistair Johnston and South Korea's Oh, plus funding the acquisition of the classy left sided Japanese central defender Yuki Kobayashi and the J-League Player of the Year Tomoki Iwata with plenty of change left over.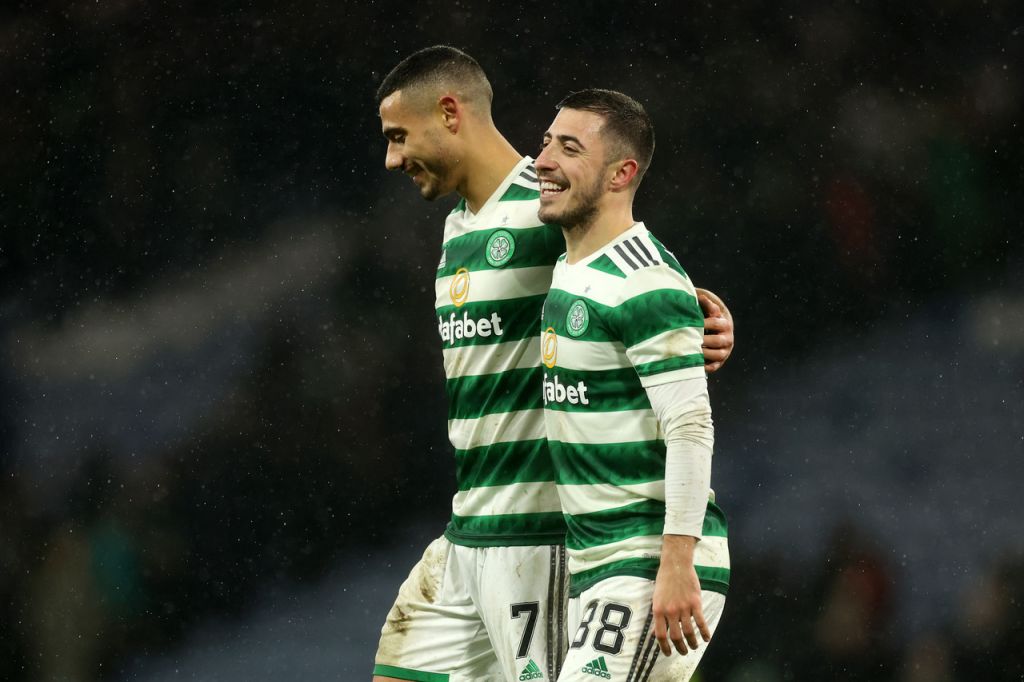 The Celtic manager had pre-warned the support that he planned to be aggressive in the transfer window and if any player – as apparently was the case with Juranovic and Giakoumakis – wanted away then that was always going to be pushed through by Celtic on the manager's say-so and on terms that suited the club.
So it will be with Liel Abada who was reported offered a new and improved contract at the same time as Giakoumakis last November but like the Greek, this was rejected. Abada though had the sense to keep his head down and he has continued to play his part in Celtic's domestic success this season as the Champions sit at the top of the league with a significant points advantage of the second top side and have already won the League Cup with a Scottish Cup semi-final to come in just over a month's time.
Celtic signed Abada for around £3.5m from Maccabi Petah Tikva and it's more than likely that the Israeli side will have a sell-on clause within that deal, so certainly have a stake in hyping on an Abada to England story. Whether it's wishful thinking or pushing limited inside knowledge to suit their own agenda, we'll never know and there will be nothing in this that will faze Ange Postecoglou.
Avi Luzon is the man who sold Liel Abada to Celtic as President of Maccabi Petah Tikva and he has been speaking to Israeli media about his former star player moving to the English Premier League in the summer. Indeed he claims that he could have made the move in January but the player wanted to stay at Celtic for now at least. And Luzon also claims that the 21 year-old Abada has rejected the new contract on offer at Celtic with his eyes set firmly on a summer move south of the border.
Speaking to Israeli media outlet One Sport, Luzon provided the following insight into Liel Abada's current situation at Celtic, and remember his club stands to benefit from Celtic achieving a high transfer fee from England for his former star player.
"I believe he will be sold in the summer to the Premier League. There were talks already in the last window, but he didn't want to be sold," Luzon claimed.
"They offered him a contract extension and I know he didn't agree, because he wants to be sold. I don't know the names of teams, but there are offers and I believe at a probability level of over 90% that he will move to the Premier League in the summer.
"I hope that he will continue to score goals until the end of the season and then he will be sold for sure."
Luzon noted that there is already an Israeli playing in the Premier League, that being Manor Solomon at Fulham and was happy to give a comparison between him and the current Celtic winger. "These are different players. Liel has always had one advantage over Manor: that he is much more of a scorer than him. He knows how to score goals from any situation. Let's call it that."
If Maccabi Petah Tikva are to cash in then it will only come from Celtic achieving a significant fee for Abada and perhaps Luzon has grounds to be concerned if he thinks too much about the relatively modest fees Celtic received for both Juranovic and Giakoumakis?
Those two were older and therefore had a much lower transfer valuation but at 21 years of age Abada should attract a premium price from a Premier League club outside of the top six.  If Celtic were to achieve a £20m transfer fee that would net approximately £1.65m for Maccabi Petah Tikva so there's little doubt that it's in the Israeli club's interest to talk up this possible transfer that would give Celtic a profit of around £15m for Ange Postecoglou to shrewdly re-invest.
That's why few Celtic supporters will be losing any sleep over transfer speculation such as this.