FORMER Manchester United star Darren Fletcher has never hidden his affection for Celtic and there was another little example of this today. And it fits in nicely with Niall J's look back at Celtic in the early 1990s.
Over the last few days he's written about the wonderful week in March 1991 when Celtic thrashed Graeme Souness' Rangers side twice at Celtic Park. The St Patrick's Day Massacre was quickly by followed a Palm Sunday Humiliation of the Ibrox side.
A week later Celtic had another home game, this time against Motherwell and managed to lose 2-1. That pretty much summed things up for the Celtic supporters' lot at that time in our history.
Amid all that kind of inconsistency Celtic released a frankly bizarre Celtic kit which it is fair to say received mostly negative feedback at the time, it was also the Celtic shirt with had some sponsor's BLUE, on it. Plenty weren't happy about that! Some noticed that there was also some red and white too!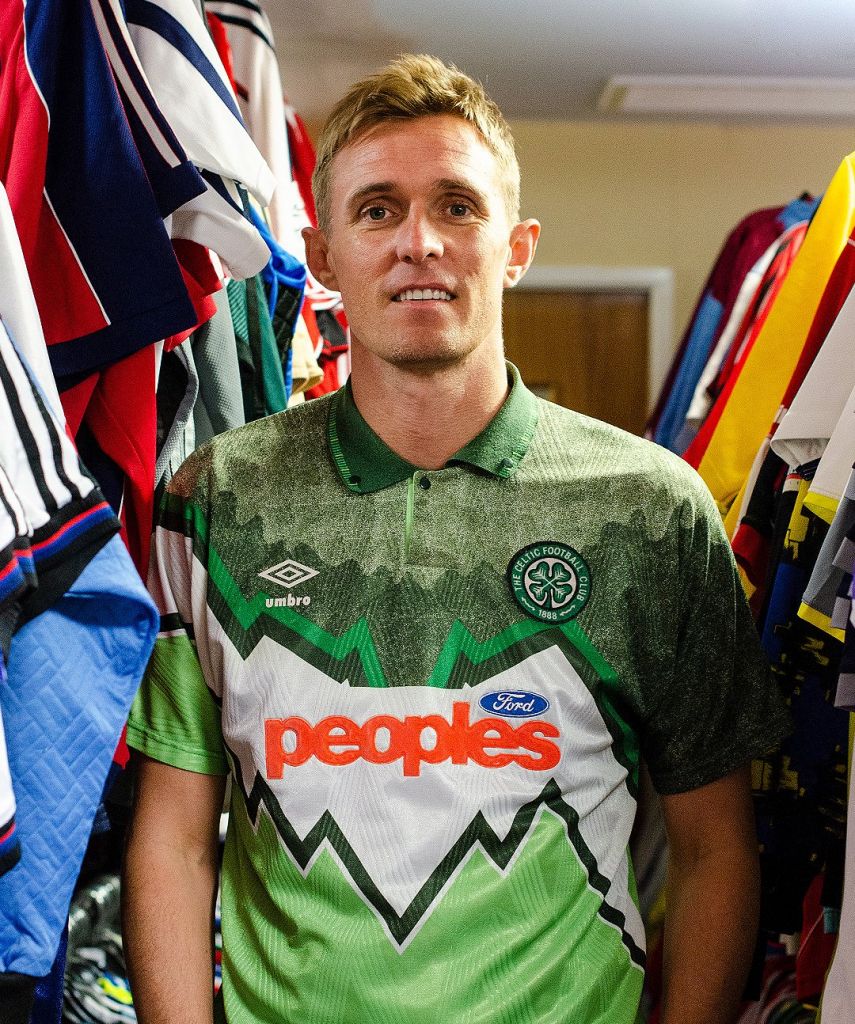 However sometimes things can be so bad that they end up popular and it certainly seems to be the case for this Celtic shirt from the 1991-92 season. And today the former Manchester United man managed to get his hands on one of these now sought after Celtic shirts.
On a visit to Classic Football Shirts the Man Utd man passed up on the chances to go grab a red shirt and instead opted for a green one, with just a little splash of controversial blue!
"Great to have Darren Fletcher at CFS HQ today," they tweeted.
"He left with an absolute beauty, this Celtic '91-92 away."
Great to have Darren Fletcher at CFS HQ today

He left with an absolute beauty, this Celtic '91-92 away#CelticFC pic.twitter.com/kfbJs2YB4i

— Classic Football Shirts (@classicshirts) November 12, 2019
Some of the reaction to Fletcher's choice is below.
I'm lucky enough to have a #matchworn one of those in my collection 💚🍀https://t.co/8QHXf0lmDx pic.twitter.com/D7zJNOtJQR

— Paul Lamb (@paolodilamio) November 12, 2019
Dave, clearly supporter of the Rangers – he has Morelos as his profile pic – noted the controversial colours. "A Celtic top with red white & blue on it haha" he gloated.
Quick as a flash a Celtic supporter responded about his own team. "A club killed by the Green and Whyte," was the reply.
Another reckons that Celtic missed a trick in not signing up Fletcher for his last few years playing, given his affection for the club. "Incredible that we didn't try to get this guy towards the end of his career. The way he cracks on about Celtic surely he would have played for free."
And our witty Hoops fan was back in again. "Lawwell said that was too much."
Commenting on the shirt, someone said it was "probably one of the worst Celtic jerseys ever" but not many agreed. "Man's got taste," one said, another added, "it's a classic top mate, controversial at the time I remember but still a cracker."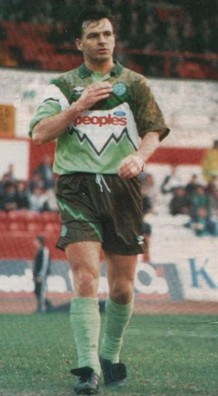 "I remember when it was launched, it's still a very unique shirt."
"Topper of a strip" while a Hearts fan got involved saying "that could well be the most hideous top in the entire history of Association Football."
And a Hoops man agreed with him describing Darren Fletcher's new vintage Celtic shirt as "the worst Celtic top in my living memory. Absolutely honkin. Wouldn't wear that painting the fence."
The worst celtic top in my living memory . Absolutely honkin. Wouldn't wear that painting the fence

— Neil  (@neily_bhoy) November 12, 2019
Fletcher once told the then Celtic manager Brendan Rodgers that he'd got his club brilliant again, although there may have been a sweary word in there too. Have a listen and judge for yourself.
👀 Look who's back at Liberty Stadium… 👏👏#TateTestimonial pic.twitter.com/JOEM0ugHs2

— Swansea City AFC (@SwansOfficial) August 9, 2017