"Marmite for some fans, but we have missed him this year," Torrancetim noted on Celtic Noise. He touches on a key factor that has possibly been somewhat overlooked in trying to get to the bottom of what has gone wrong this season.
There are of course a number of factors that we are all well aware of and there is no doubt that theRangers have managed to thrive off our mishaps and push ahead with their run to the title without the pressure that they usually crack under. Take yourself back to midweek at the start of March last year – the last tine the Celtic support were able to attend an away match. We had won every single match of the year to that stage but were losing 2-1 to Livingston before Tom Rogic came off the bench and grabbed a late equaliser.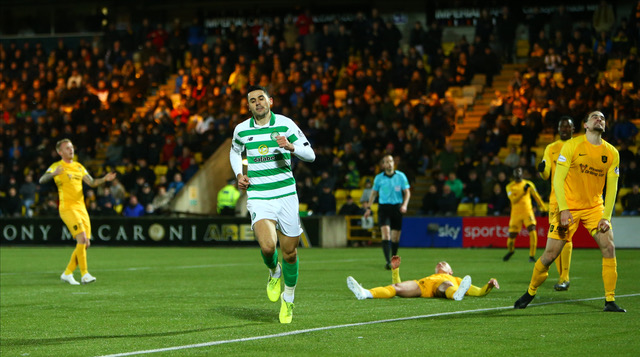 It wasn't a case of two points dropped though because over at Ibrox Hamilton had beaten theRangers 1-0 and things were starting to get very ugly indeed for Steven Gerrard, who was receiving sectarian abuse from the Ibrox fanbase on social media that night. Celtic were 13 points clear and the towel had been thrown in big time by theRangers – with the Liverpool legend unlikely to survive. Then came a global pandemic that saved his neck.
Watch this if you want to see the proof…
But back to Celtic missing James Forrest this season after he was injured in the Europa League Qualifier against FC Riga. "We're incredibly fortunate to have had Jamsie his whole career," Maestro stated. "He's a living legend who is down in history. We've never had to deal with any disruptions over contracts, he never runs to the press, he has conducted himself impeccably and is rightly a role model to young Celts everywhere.
"I think we have been guilty of under appreciation of what he brings to the Club, his skills are top drawer and in the last 4/5 seasons has pulled his scoring up there with his assists. It's true he can disappear in games at times but I would always rather have him in the team for the talent he brings.
"Anyone who doubts him should answer one question…'Would you enjoy being the player against him?'
"It's been an honour and privilege to have him in the Hoops and hopefully for the rest of his career as well."
Real praise there for Jamesy. Lubo's Left Peg is next to answer the question about us missing Forest this season. "Massively. The amount of goals we could have scored had we had him on the park. Every counter attack we have stops as it reaches the half way line because we don't have him bursting up the wing.
"At half time they showed highlights of an old match against the sheep. We won the ball in our half…its played out wide to James who bombs up the right hand side and crossed a perfect ball to Sincy on the other wing to score! That just hasn't happened this season without him on the park. Now we win the ball. Bomb forward to the half way line then stop. Brown to Turnbull to Christie to McGregor…….then back to Ajer or into the feet of Eddy who will have 3 players around him…..and the reason he will have 3 players around him is because they aren't chasing Forrest up the wing.
"It's a scandal that we allowed the January transfer window to come and go without bringing in any quick wingers," he added.
Forrest does admittedly frustrate some Celtic Supporters, one being Legend07 who had this to add to the debate: "Sorry but he does my head in, so frustrating. He is an incredible player when he wants to but that doesn't happen anywhere often enough.
"Go back a couple of seasons when Brendan Rodgers' team was have a slow start to the season then went to Perth and blew St Johnstone away with Forrest running the show. He then had a run of 6 or 7 games for us and his country (so I heard, no time for Scotland) but how many games does he play and he is invisible hiding behind the full back as not to get the pass?
"Compare him to Sinclair in his last season or so when his form dipped but had similar stats to Forrest with goals and assists he was starting to get a lot of criticism but the big difference for me was he always showed for the ball unlike Jamesy just my honest opinion."
Niall J (also of this parish) added: "Inconsistency and injury plagued his early years but he came good when he added constancy. I watched that Kennedy team (on Saturday) and it was clear he wanted a 4-2-3-1 but was constrained by the availability of wide players.
"We have full backs supplying all our width at the moment, when both Taylor and to a lesser extent Kenny are decent defensive full backs who would benefit from not only width but width with pace to get in behind, and carry the ball and give players a breather.
"We played Klimala to press from the front but also to stretch the opposition defence in behind. It's an underrated role of the winger to do that sort of role and stretch the game – open it up to the advantage of the attacking side.
"Forrest not only offers that but also a heck of a threat by way of assists and goals. He makes the opposition counter our thinking and in turn impacts their threat, and in certain games he is negated as a result but it needs to be acknowledged that even when that happens it plays a vital role for the rest of the team. Not only have we missed him this season he should be recognised as a legend of the club imo."
Another doubter though is The Deadner: "He's way overrated. Very frustrating player. When he shows up he's brilliant. Unfortunately more often than not, he hides. I honestly don't think he would have made much of a difference this season anyway. Too many players not bothering for one to make a difference. To me, he's just another Christie like player."
Another Celtic Noise member, 1888 thinks back to where Forrest was at Celtic when Rodgers arrived as manager. "James Forrest was getting pelters and was on the verge of leaving before Brendan Rodgers came in. He got a new lease of life and upped his game to the higher standards he had reached before.
"Unfortunately those standards slipped a bit again before he was injured and the constant turning in (which they all end up doing, and has to be coaching), was beginning to wind fans up again. No doubt has been missed though but I don't think he alone would have changed our fortunes that much."
John no was next to have his say: "I personally don't think Forrest would have changed our fortunes too much this season to be honest. Not that I am questioning his ability, it's more to do with how we have set up our team and at the tempo we have played.
"We have tried the 352 and 4231 to accommodate Jamesie but without getting him the space for him to thrive on he can struggle like most of our players do.
"Still an intelligent player and worthy of keeping a place in our squad and I believe if we were to go to a 343 formation in Scotland with him as 1 of the 3 up front then I could still see him being a big player for us."
Lubos Left Peg came back in to clarify his position. "I'm not trying to say Forrest could have been our saviour as it seemed our coaches believed pacey wingers were not necessary. So even with him in the squad it may not have made a difference. But we could have possibly picked up more points if they chose to ignore the rubbish instructions from the coaches.
"I'm not sure what the game plan was set out to achieve, have 5 CMs all bunched up in the middle of the park while the opposition defend with 10 men behind the ball. Dont let the ball go wide…when it does….cut back in to the packed middle. But who am I?? These guys are highly paid coaches. I'm sure there was a point to it."
John no replied to that: "We haven't played with a high press at all, letting opposition get out of defence far too easily. With a Forrest on the right and likewise on the left with a target man should give us far better options if we upped the tempo to our play with winning the ball back quicker and a player like Forrest could find more space for him to work in, not this slow play that allows him to be crowded out far to easily."
Bridie Bhoy makes a great point on this to finish: "We can't play a high press because our players aren't fit enough. Defensively and in attack we are far too ponderous letting our opponents set their defence or break at speed against our slow and unsure defenders."