Celtic FC Women kicked of the new SWPL season with a devastating and relentless nine goal demolition of Hibs, which saw Jacynta and Clarissa Larisey both score hat-tricks and new signing Amy Gallacher brab a brace, as pre-season anguish as to how Celtic might replace the forty goals Charlie Wellings scored last season answered by a cohesive and sparkling team performance and a stunning score-line that in no way flattered the Hoops.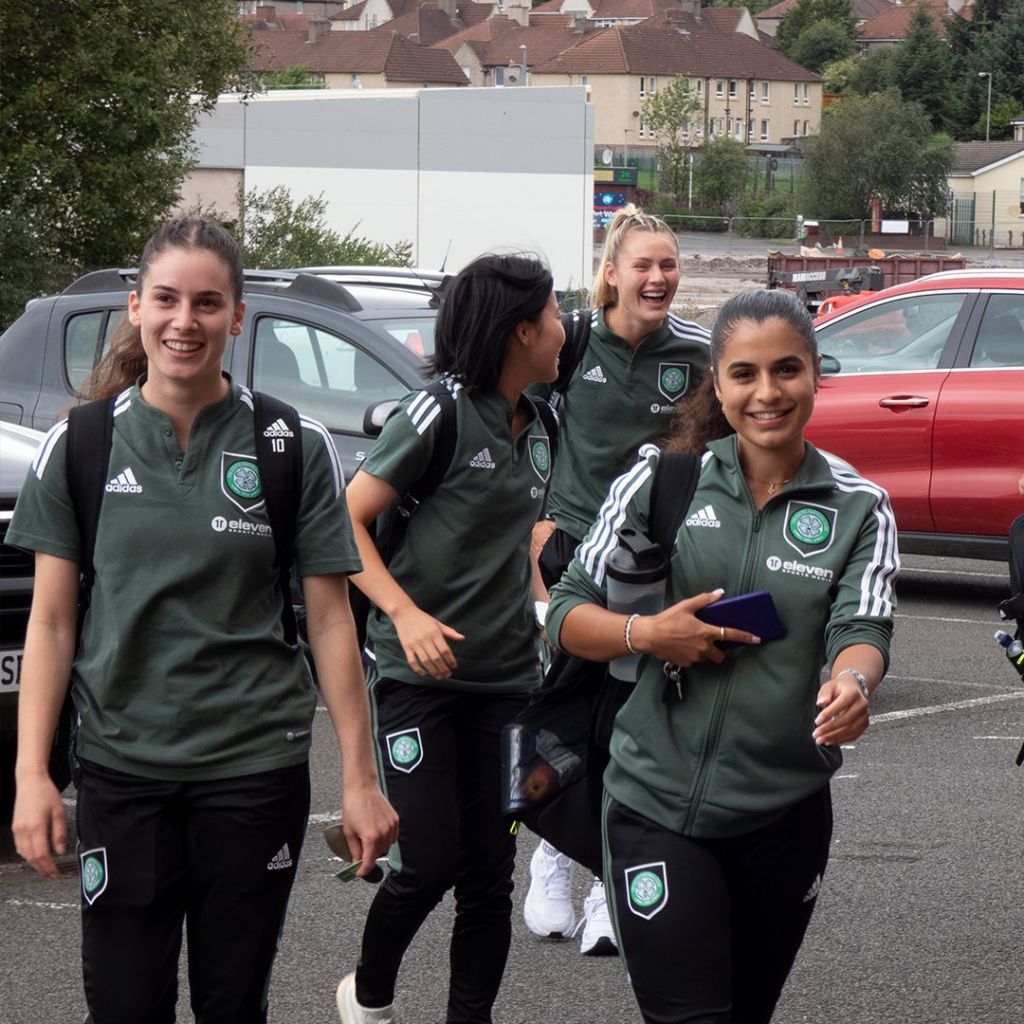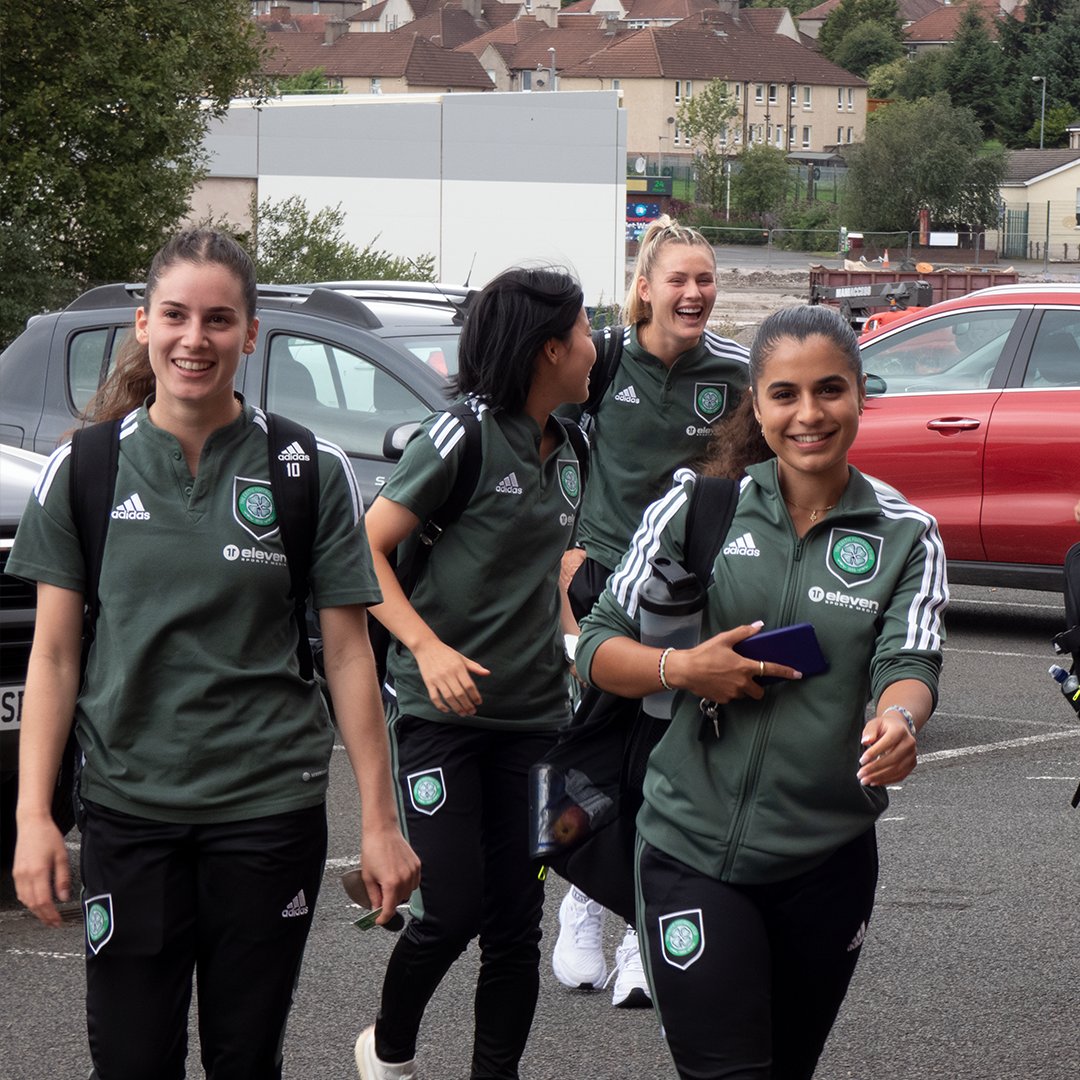 Fran Alonso's side began the new SWPL season minus the guts of the successful domestic cup double winning squad of season 21/22 with Izzy Atkinson, Chloe Warrington, Sarah Harkes, Jodie Bartle, Cheyenne Shorts, Tyler Toland, Maria Olafsdottir Gros and Charlie Wellings all falling into the good luck with your future endeavours category, as Celtic entertained a now professional Hibernian side at Excelsior Stadium.
And it took just 45 minutes and six first half goals for any concerns over lost personnel from the previous campaign to be alleviated, as Celtic set about showing Fran Alonso's pre match comments regarding his satisfaction with both the experience and balance of his team to be as accurate as he'd described.
Celtic did look balanced in this first half and they also looked lethal. The opening goal came after less than a minute as Tiree Burchill made a superb right wing run and matched that effort with a wonderful delivery, which first evaded the front post run of Clarissa Larisey, but not that of Jacynta, who arrived to execute a superb side footed finish the cross from Burchill deserved.
Hibs had looked a threat on the break early doors with Rachel Johnstone twice called upon to make good save from Hibs Thomas and from an Adams header, but Celtic were soon to exert their complete dominance.
One player who immediately stood out for Celtic was former Lewes wide player Lucy Clifford who offered a real threat out wide, exhibiting both great control and ball carrying abilities, allied to a lethal range of dangerous deliveries. And it was from a Clifford driven cross that Hibs Notley tried valiantly to defend only to loop the ball over her own 'keeper Haaland's head, and Celtic were two goals up courtesy of an own goal.
Number three arrived after 26 minutes and it was new signing Amy Gallacher who controlled a long ball from defence wonderfully, took a touch to set herself and with her third delivered a perfectly weighted ball into the path of Clarissa Larisey, who tucked the ball past Haaland for a goal as well finished as it was created.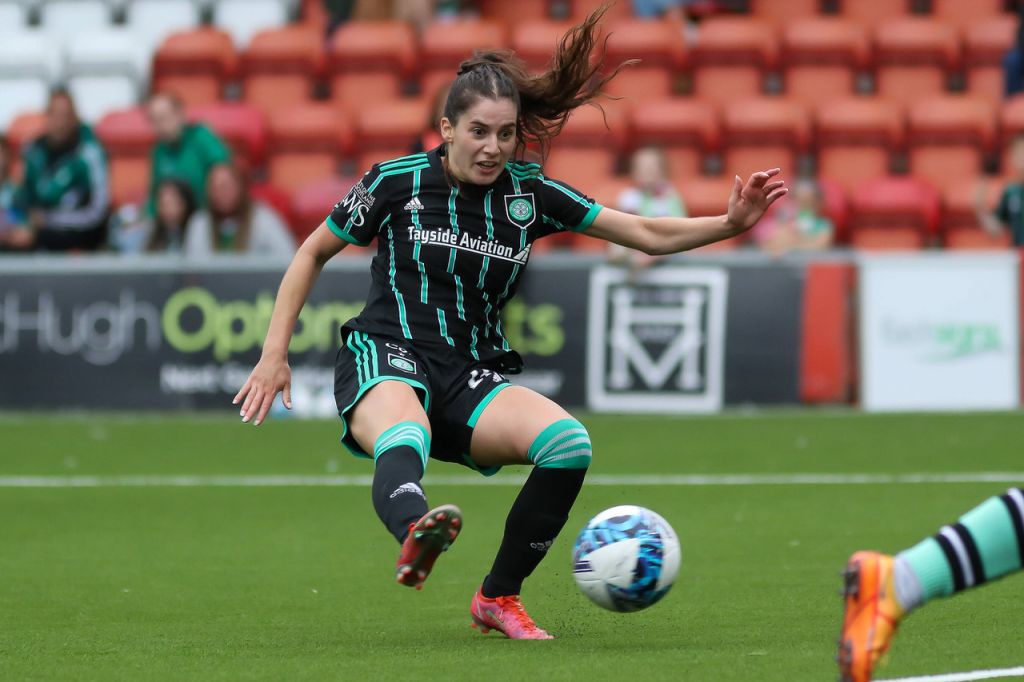 Ten minutes later and Celtic were 4-0 up. Jacynta controlled the ball on the turn and with one pass took out three Hibs defenders to find the angled run of Larisey. Without the need for a touch Larisey drove the ball first time high into the Hibs net to extend Celtic's lead still further.
And there was still time for two more from Celtic in a breathless first half.
First the Hoops carved the Hibs defence open with Clifford linking well with Galacher, who returned the ball to the new signing, and another superb delivery from the winger was met by Jacynta who finished well, before the Australian international then added a sixth and a first half hat-trick just over a minute later. Clifford on this occasion picked out a Larisey run before the Canadian produced a tidy cut-back for Jacynta to take a touch to create a yard of space before finishing expertly past Haland to put Celtic in at half-time with an incredible 6-0 lead.
The second half saw much the same flow of traffic toward the Hibs goal and another three strikes completed the scoring, with the Edinburgh side looking desperate for the final whistle long before it arrived.
Larisey was the player who grabbed the seventh goal and joined Jacynta in the hat-trick stakes as she was sharp as a tack in pressing Hibs 'keeper Haaland after hesitant Hibs defending. Larisey then harried and hustled the Hibs keeper before emerging with the ball and poking it home to put Celtic in seventh heaven.
And number eight was soon to follow as substitute Otto sent a lovely through ball to Amy Gallagher, who was felled by Hibs defender Hunter whilst in the act of shooting.
A penalty was the right decision, although Hunter appeared to disagree – advised the referee of her displeasure – and saw red for the colour of the language used. Gallacher then took the kick, which Haaland managed to turn onto the post only for the ball to rebound off the post and the keeper's ankles before rolling over the line.
And whilst goal number eight may have been the least pretty on the eye of Celtic's goals number nine was the pick of the bunch. A tired Hibs effort of clearing their defensive lines was pulled out of the sky expertly by Gallacher who then turned and hit a 20-yard screamer past Haaland and into the net.
Carlsberg may not do first days of the season in the SWPL1 but if they did, to all involved with Celtic, it would probably look something like today's 9-0 win over a Hibs side full of new signings and looking to make an impression in their first season as a fully professional side.
Celtic were to a player, a side constantly in motion from the first whistle to the last. Lisa Robertson brought bite and ball winning to the centre of midfield and already an assurance that Celtic will not be bullied in the middle of park this season, meanwhile Jacynta is already brimming with confidence and linked as well with Larisey this afternoon as she did in any game with Charlie Wellings last season.
Larisey herself edged the player of the match with not only a performance of top striker in front of goal but also a series of cleverly timed runs and a pressing from the front as the first line of defence that perhaps we didn't have last season.
A special mention must also go to two new signings Lucy Ashworth-Clifford and Amy Gallacher who both looked superb acquisitions by Alonso. Gallacher was composed and precise throughout and popped up with a well-deserved late double, meanwhile Clifford gave Hibs a torrid afternoon on the left wing, forced a Hibs defender into turning the ball into her own net, and showed assists aplenty are likely from the left wing back this season. And with a couple of sizing efforts from distance this afternoon, don't be surprised to see a dig from distance hit the back of the net in the coming weeks.
A perfect start to the season then from Celtic and a scoreline few would have predicted prior to the start of this game. Whether Celtic have laid down a marker with this win remains to be seen, after all a look to a Celtic bench still too reliant on youth gives some cause for concern.
Yet there is still time for new faces to arrive and bolster the ranks. And while we're waiting for those reinforcements it seems those who staked an impressive claim to a Celtic shirt today will make it very difficult indeed for any new season signings to dislodge them, as and when they arrive.
Even a coach as renowned for tinkering as Fran Alonso would be hard pushed to justify any changes to the line-up next time out. After all, today – and a nine-goal dismantling of arguably Scotland's fourth best side – was just about as close to perfect as you get.
Niall J