Celtic headed to Petershill Park to face Partick Thistle in this afternoon's second SWPL fixture of the new season, and emerged with a comfortable 2-0-win thanks a professional and controlled performance in hot conditions – and on a far from ideal narrow, plastic playing surface.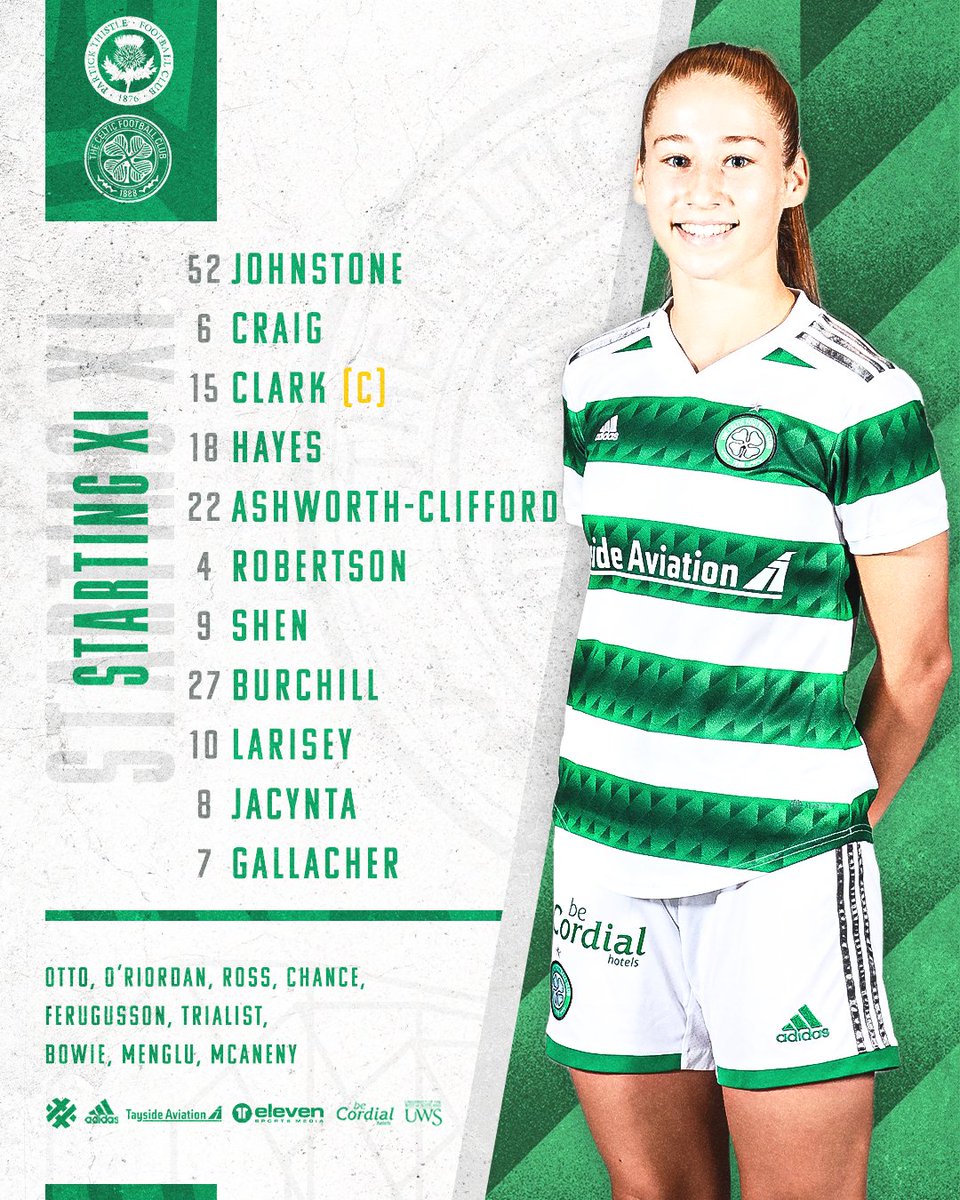 Fran Alonso looked to name an unchanged starting eleven for this afternoon's SWPL match with Partick Thistle following Celtic FC Women's stunning 9-0 thumping of Hibs on the opening day of the new season. However, despite his best attempts at continuity, Rachael Johnstone's succumbing to a pre-match injury left a space open for Pamela Tajonar – a 5ft 7 experienced Mexican international and former Barcelona goalkeeper who had been listed initially as a trialist -to come in from an expected place on the subs bench to start the game.
Meanwhile latest signing Irish international Claire O'Riordan made the bench, as Tiree Burchill was rewarded for an excellent first start for the club last time out with a second consecutive start in the Hoops.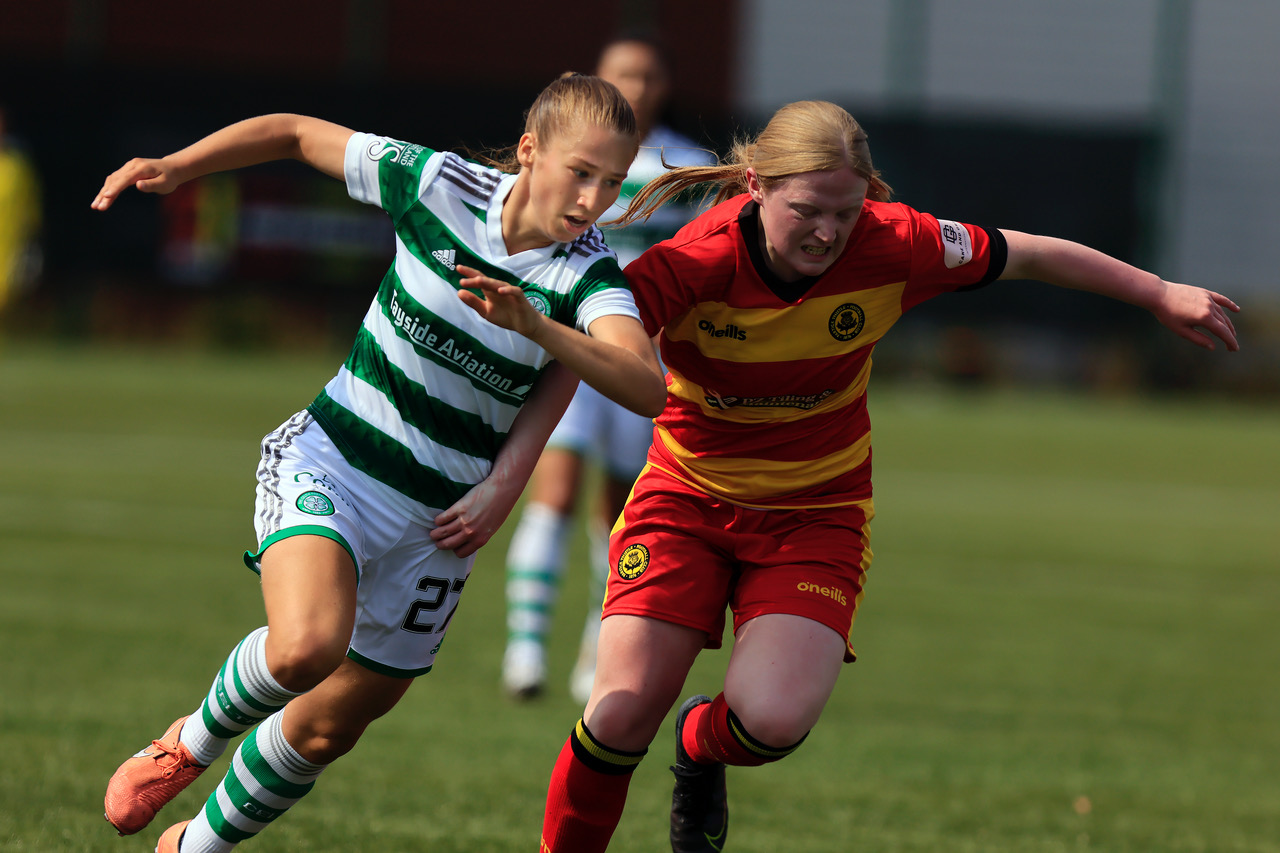 A 9-0 win was always going to be a difficult act to follow for Celtic, particularly on a pitch so narrow it was enough of a concern for Fran Alonso to shorten the field of play in Celtic training this week to prepare for today's Petershill Park surface. Add to that a dry pitch – not helped by the intense summer heat – saw a far more slow-paced performance from Celtic this afternoon. Yet despite the challenges faced Celtic bossed this encounter and the final scoreline possibly didn't reflect the level of control and dominance of the football Celtic exhibited.
Celtic went in at half time in this one a goal to the good, as after missed opportunities for Lucy Clifford and Chloe Craig inside the opening ten minutes, Celtic's next real chance of scoring resulted in the Hoops going ahead after 23 minutes. It was Clifford who forced the ball home via the aid of a deflection for her first Celtic goal, after Jacynta had created the chance from a cross-ball. And with it Celtic had broken down an organised opponent by exhibiting assuredness in executing their gameplan alongside the healthy dose of patience the conditions demanded.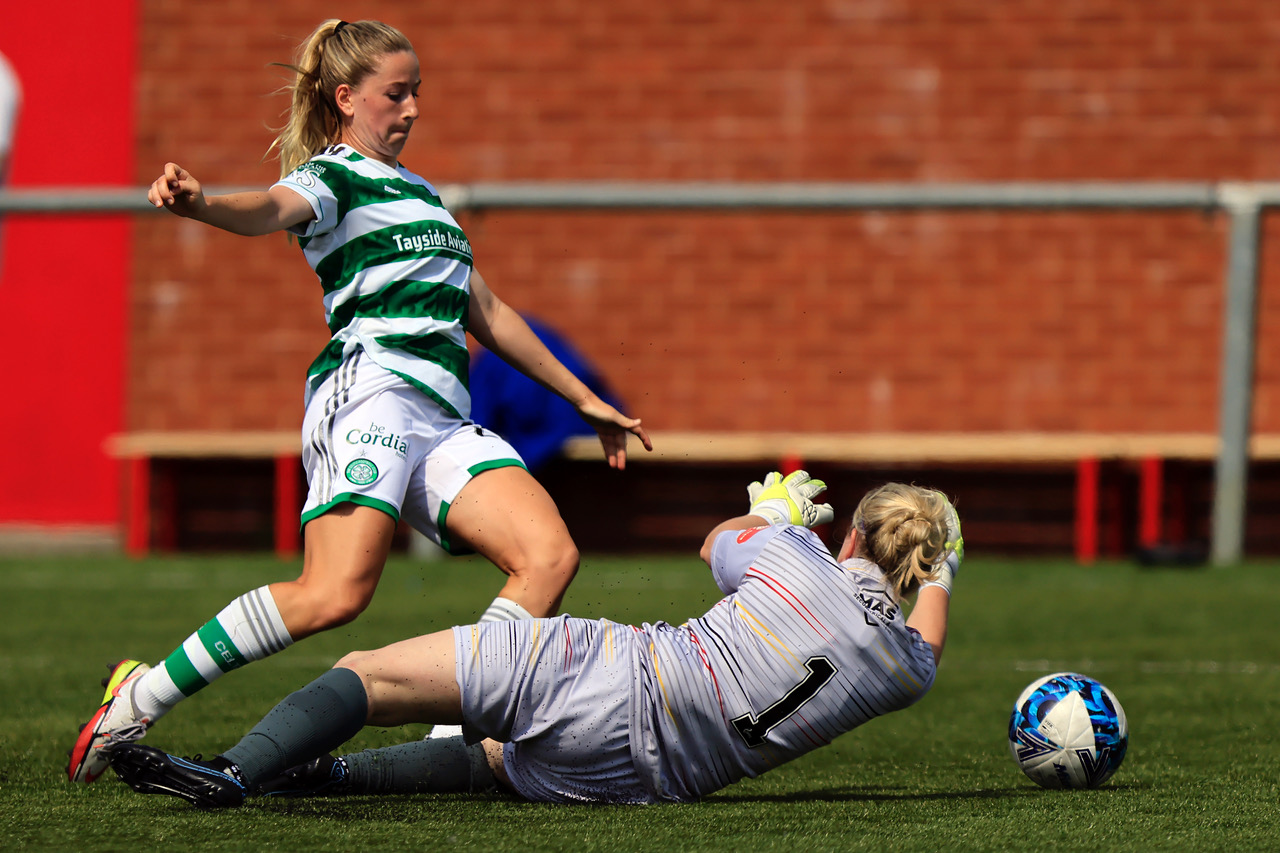 Celtic did have further chances to score in the opening 45 minutes, as first Catlin Hayes attempted to convert from Lisa Robertson's delivery from a corner but could only head the ball too firmly into the ground and the effort bounced clear of the crossbar, before Shen also saw a sharp effort also rise just too high after an excellent attempt to assist from Amy Gallacher, but Celtic couldn't add to their first half tally despite being rarely threatened by Thistle and controlling the match almost entirely.
The half time break saw new signing Tyler Otto replace Tiree Burchill and within two minutes of the restart Celtic's second almost arrived, courtesy of a lovely three player move as a spin and release from Larisey found Shen who in turn picked out Jacynta to finish, but the flag was up for offside.
Celtic's second was just around the corner however, as after both Shen and Robertson had wishful efforts from distance, a handball inside the Thistle box saw a penalty awarded and Chloe Craig keep up her remarkable consistency from the penalty spot to convert and put Celtic deservedly two goals up.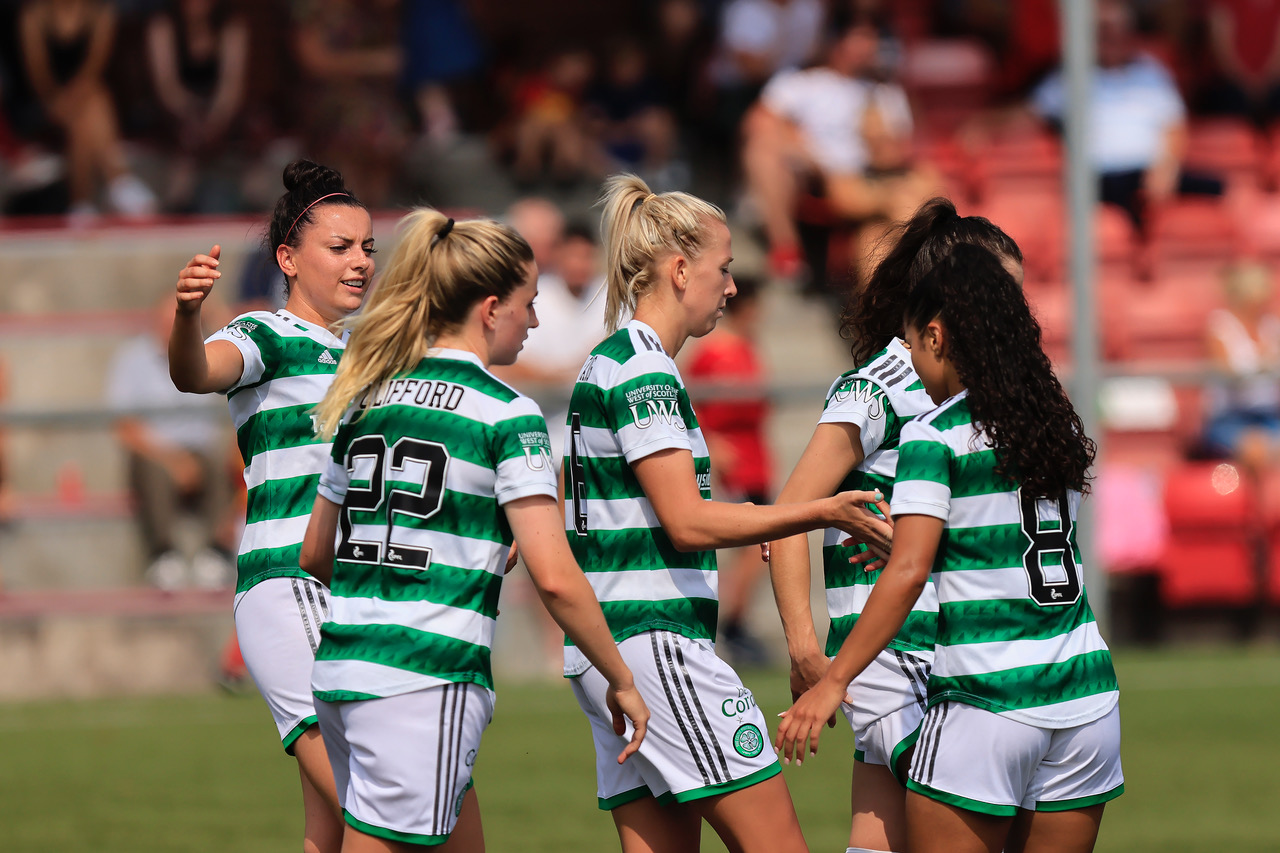 Craig's reward for what was ultimately the winning goal was to be replaced, alongside Amy Gallacher, by Liv Chance and Abbie Ferguson with 25 minutes to play. And Celtic were to have further chances as Jacynta and Ferguson both had chances to convert during a free-for-all in the Thistle area, just prior to Thistle 'keeper Ramsay saving as Liv Chance tried but just failed to pick out fellow substitute Ferguson making the angle to receive a pass in space. Shen then sent another effort whstling just over the bar before Celtic's best chance of the closing stages fell to Chance after tremendous work on the counter attack from Clarissa Larisey but once again the flag of the referee's assistant denied the Hoops another goal.
This one may not have been as entertaining as Celtic's opening day thumping of Hibs, but on a roasting hot day on a narrow and sticky plastic surface Celtic did their job in a professional and efficient manner.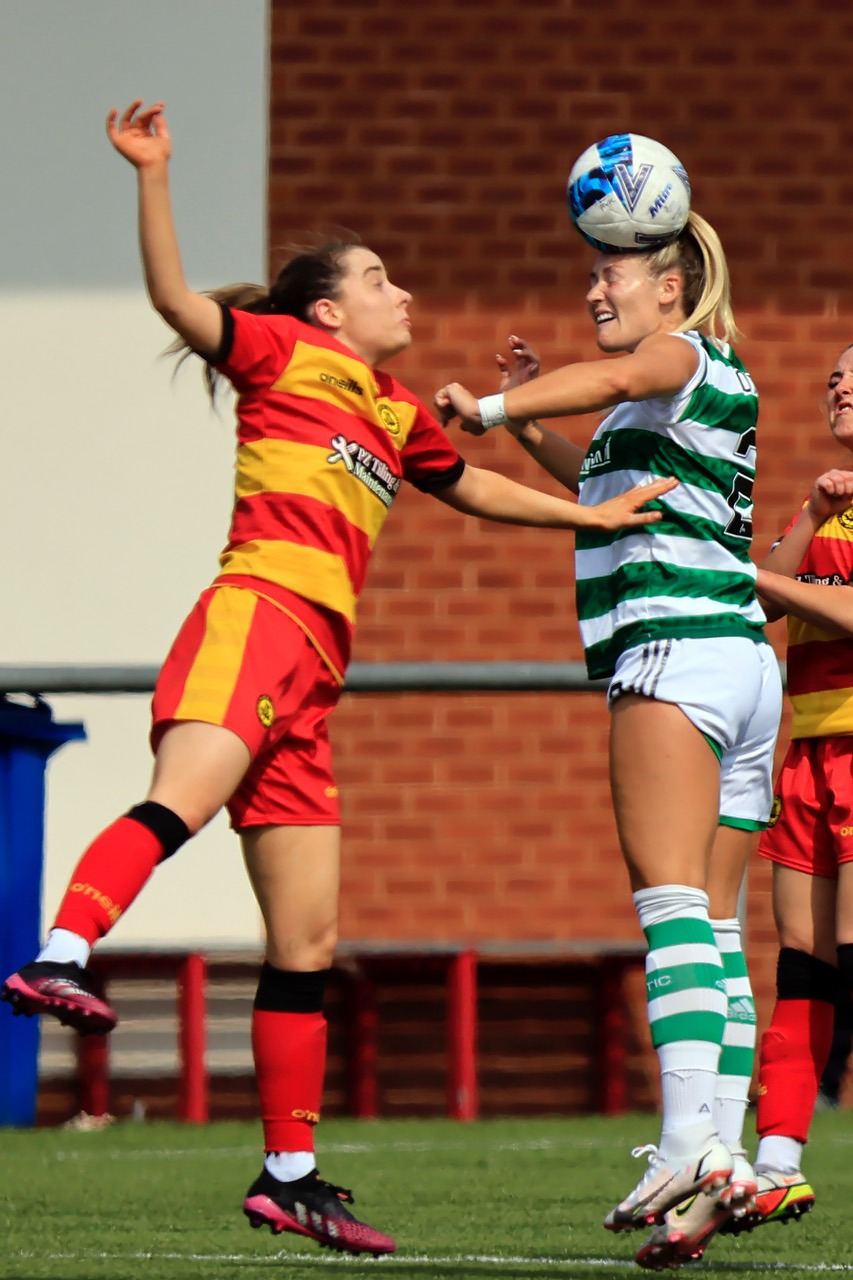 A 2-0 scoreline was possibly an unfair reflection of Celtic's dominance in this game, but it resulted in a second successive three points for a Celtic FC Women side who appear to be exhibiting a higher level of game management this season than they perhaps showed at times during the last campaign. Perhaps that's down to quality training time after a pre-season camp in Gran Canaria, or perhaps it's down to a squad that has more experience and nous in the ranks than last-time out.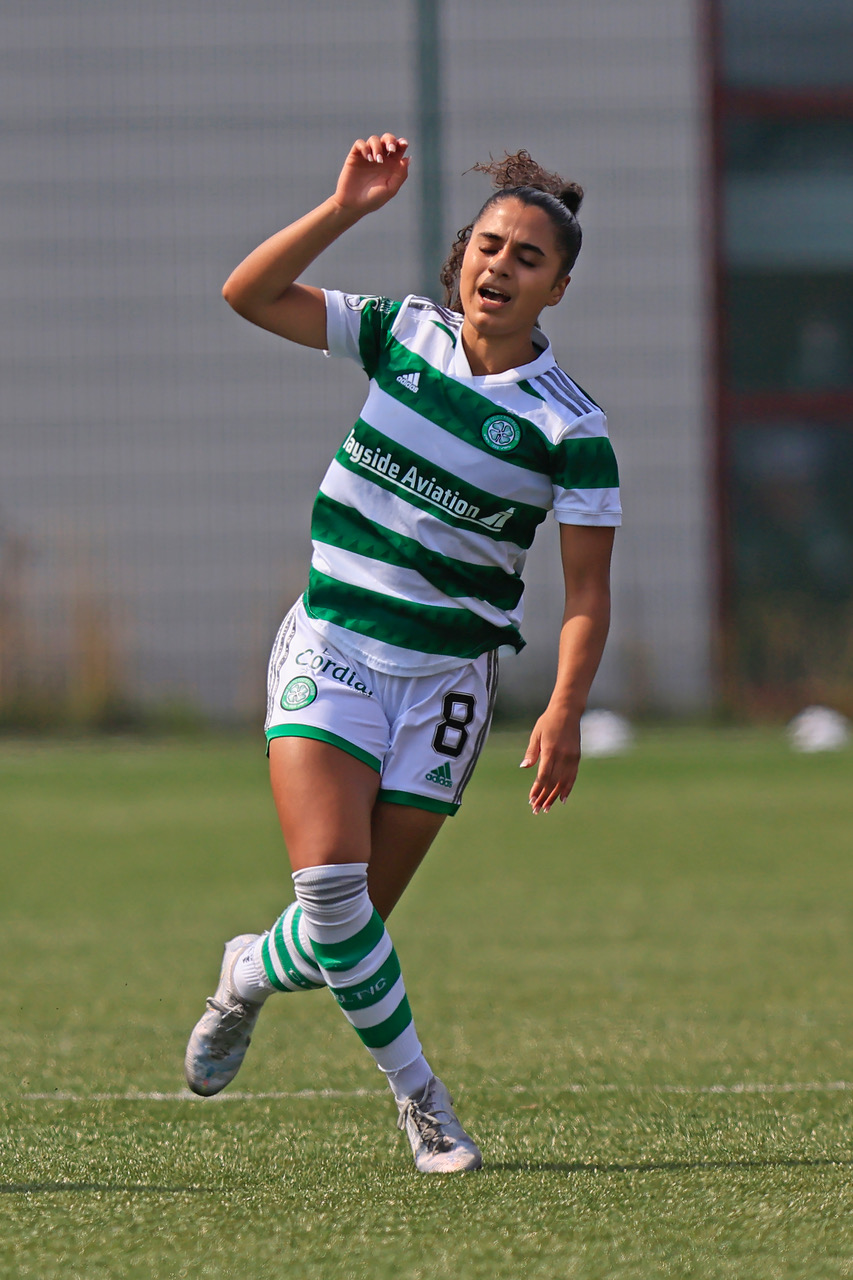 Either way it has been an impressive start to the season for Fran Alonso and his Celtic FC Women side. In both games thus far Celtic have had to find different ways to win, have done so, and have kept consecutive clean sheets to boot.
If the backdoor is bolted and the options for matchwinners come from all areas of the pitch, it certainly points at this early stage of the season to the consistent performances required to lay down a title challenge emerging.
Too soon for such a prediction? Possibly.
Yet this Celtic team is already looking a side who will score goals and will keep out the opposition more often than not. That's just the formulae a winning side requires.
Niall J