Matt Corr's Arctic Circle Diary…We're all off to Bodo in the snow, in the snow!
Thursday morning 3am is not a Simon & Garfunkel ballad. It's my wake-up call. Matchday beckons in Northern Norway so here we go again. We're on the road again.
Wednesday involved a 10-hour Granda shift followed by a late dinner then a mad panic to stay on top of book sales and promotion activity as we finalise our plans for the 2022 offerings from Celtic Star Books. I guess J K Rowlings faces similar challenges. So, it's hitting 11pm before I hit the sack for a few pointless hours trying to sleep.
Mrs Norman Naemates CSC has gone above and beyond again and has offered to drop me at the airport for a 4am check-in, despite my half-hearted protests that "I'll just take the car." With a day pass secured, my smug grin is soon removed as I clear security and head through to Beardsmores. The bar is not open so my traditional Guinness and roll and sausage at table 45 at silly o'clock is not an option. Bad news. We footballers like our routine. We don't do change.
Perhaps it's just as well. I've been on medication for several months now, having sustained nerve damage in my neck, back and arm as a consequence of spending crazy hours at my computer researching and writing my last book, the Harry Hood biography, Twice As Good. So, having run four of the World Major Marathons in my fifties and playing five-a-sides weekly/weakly before the pandemic closed that down, I managed to injure myself writing a book! You couldn't make it up.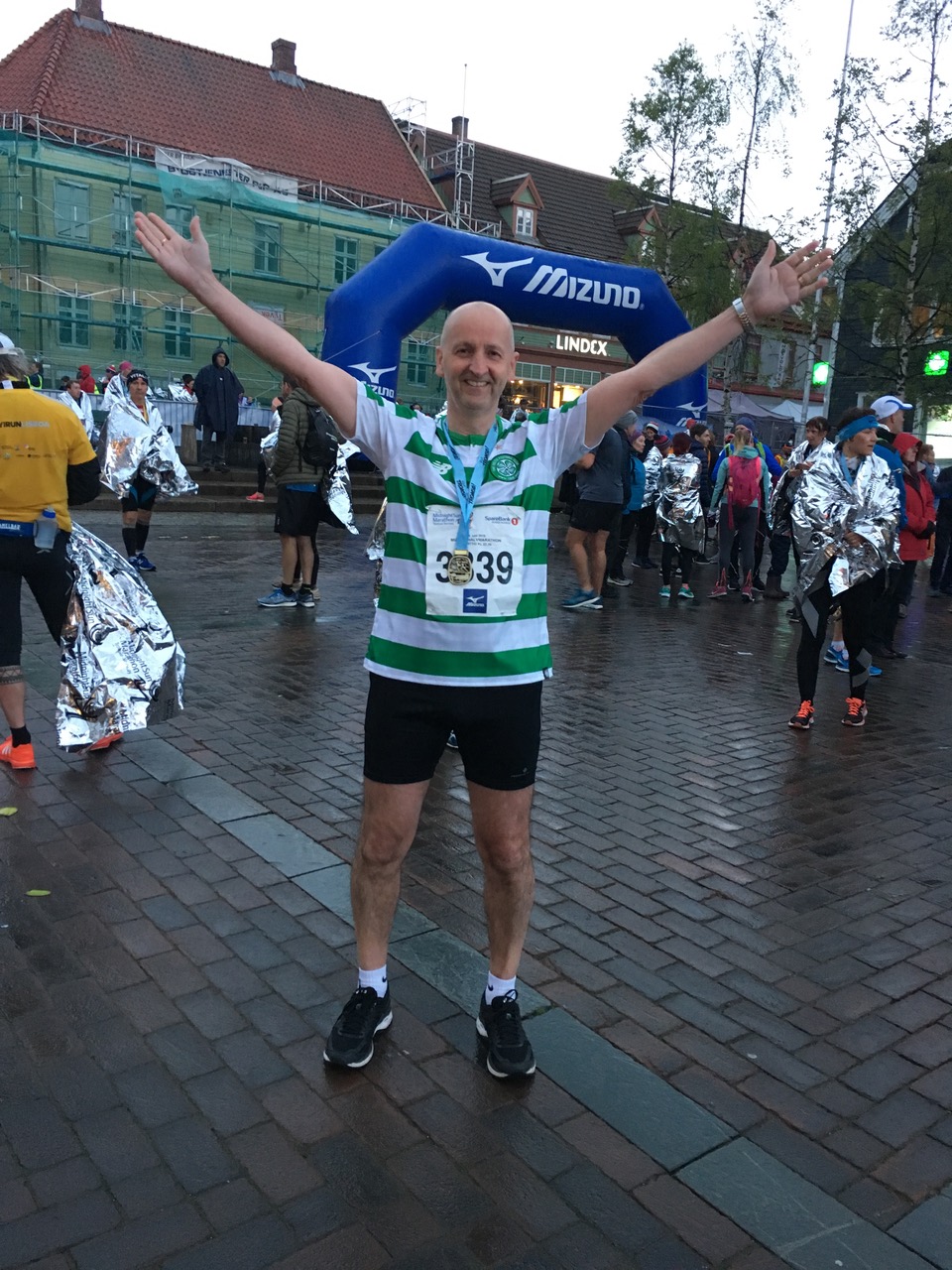 My plans to run the fifth major in Chicago in October were in ruins even before the US authorities decided they weren't letting us into the country a few weeks beforehand. Having run the last couple in New York and Tokyo for the Celtic FC Foundation three years ago, this latest attempt at self-torture was to supplement our fundraising efforts for Marie Curie from the sales of Harry's book, so that was a real disappointment. God willing, I will be fit enough to run it this coming October, albeit that feels like a stretch at the moment.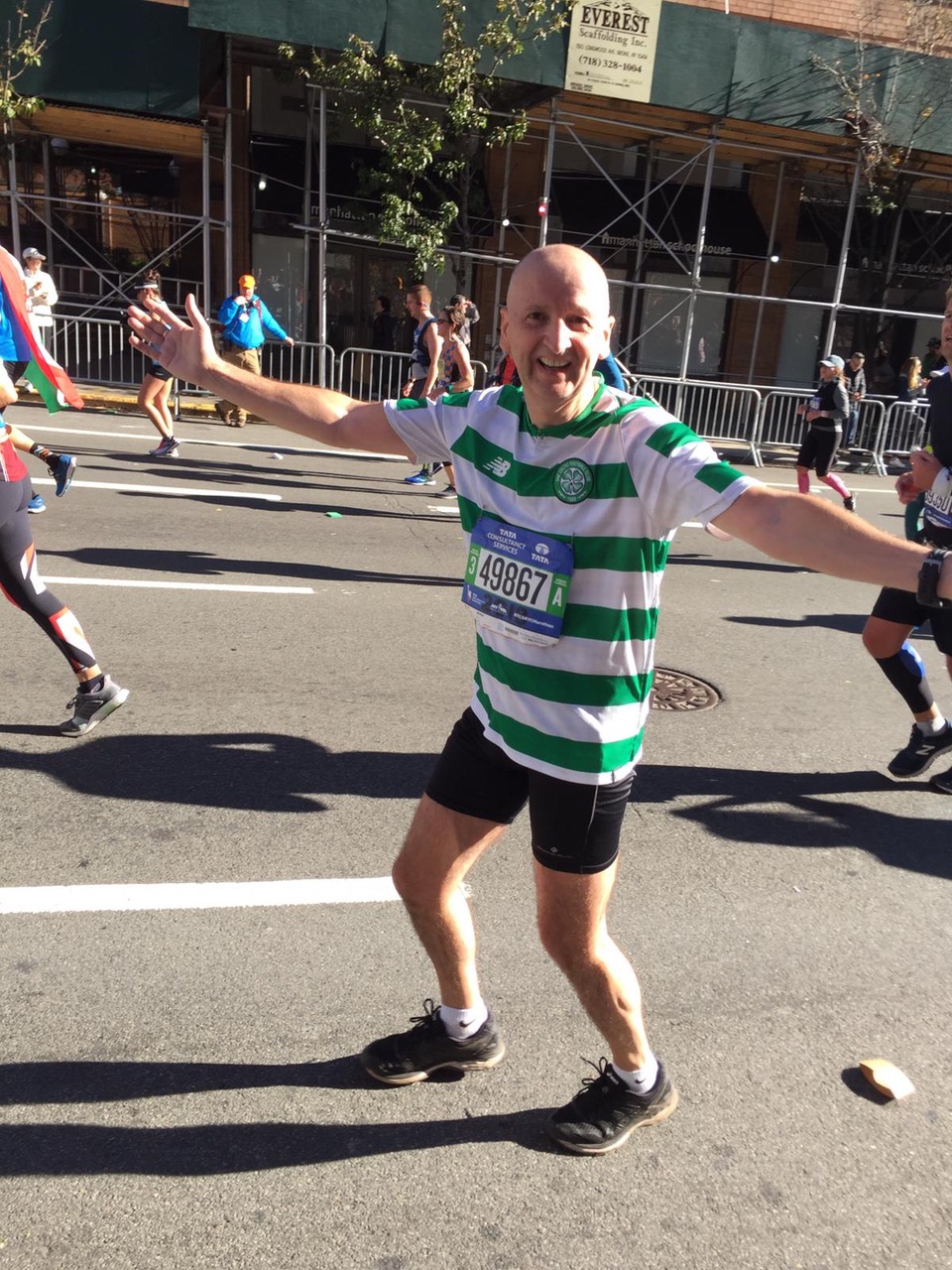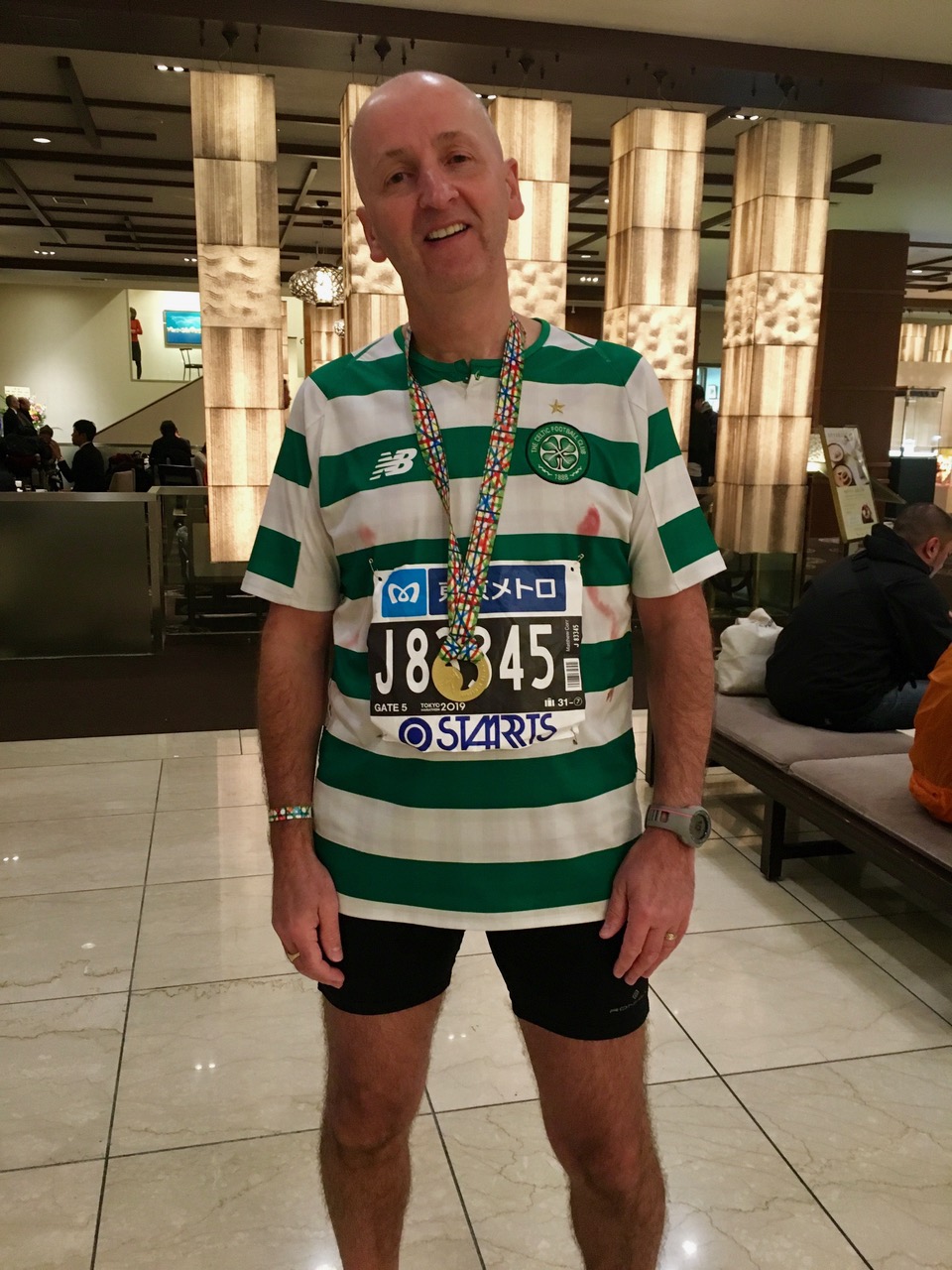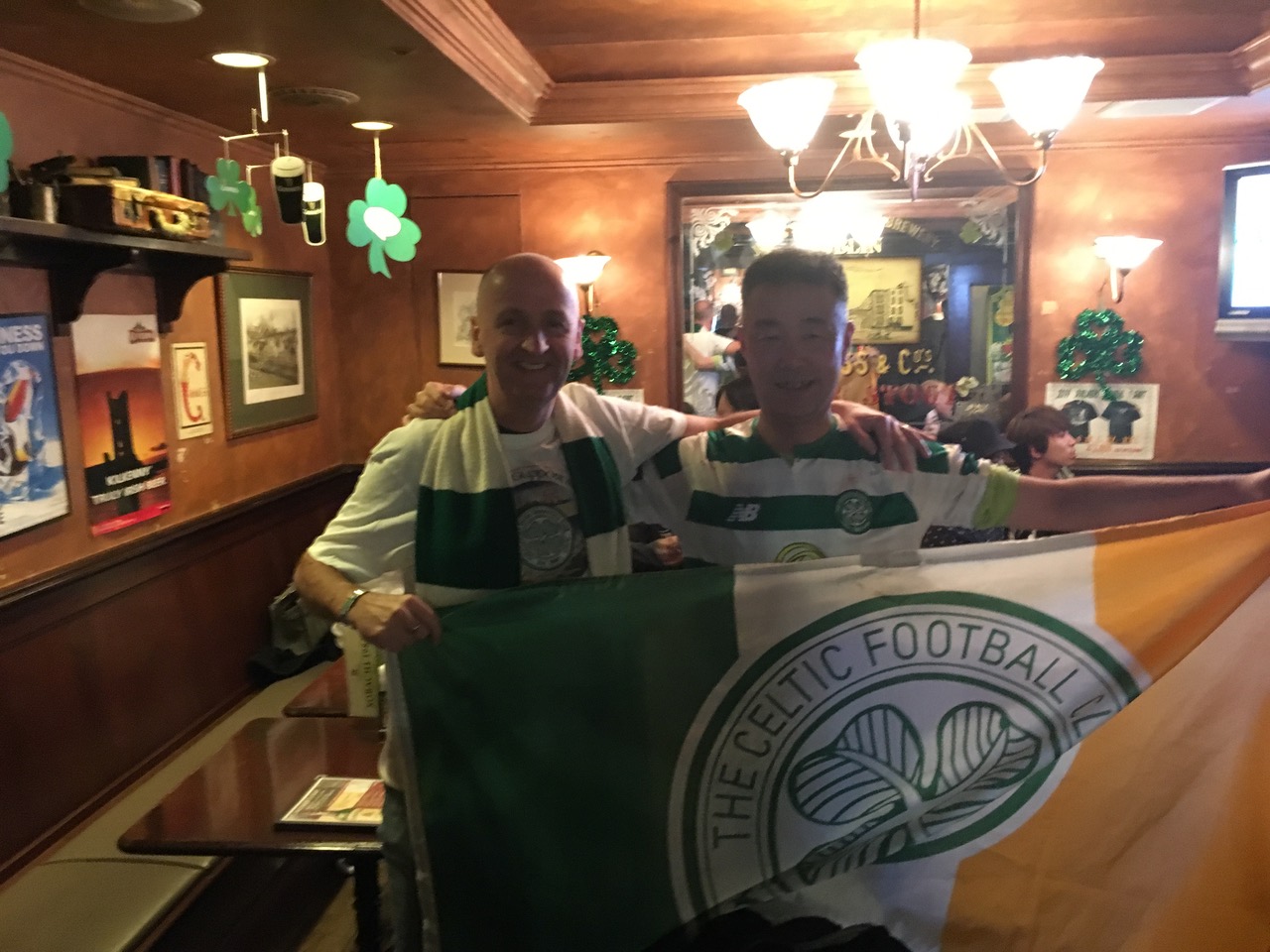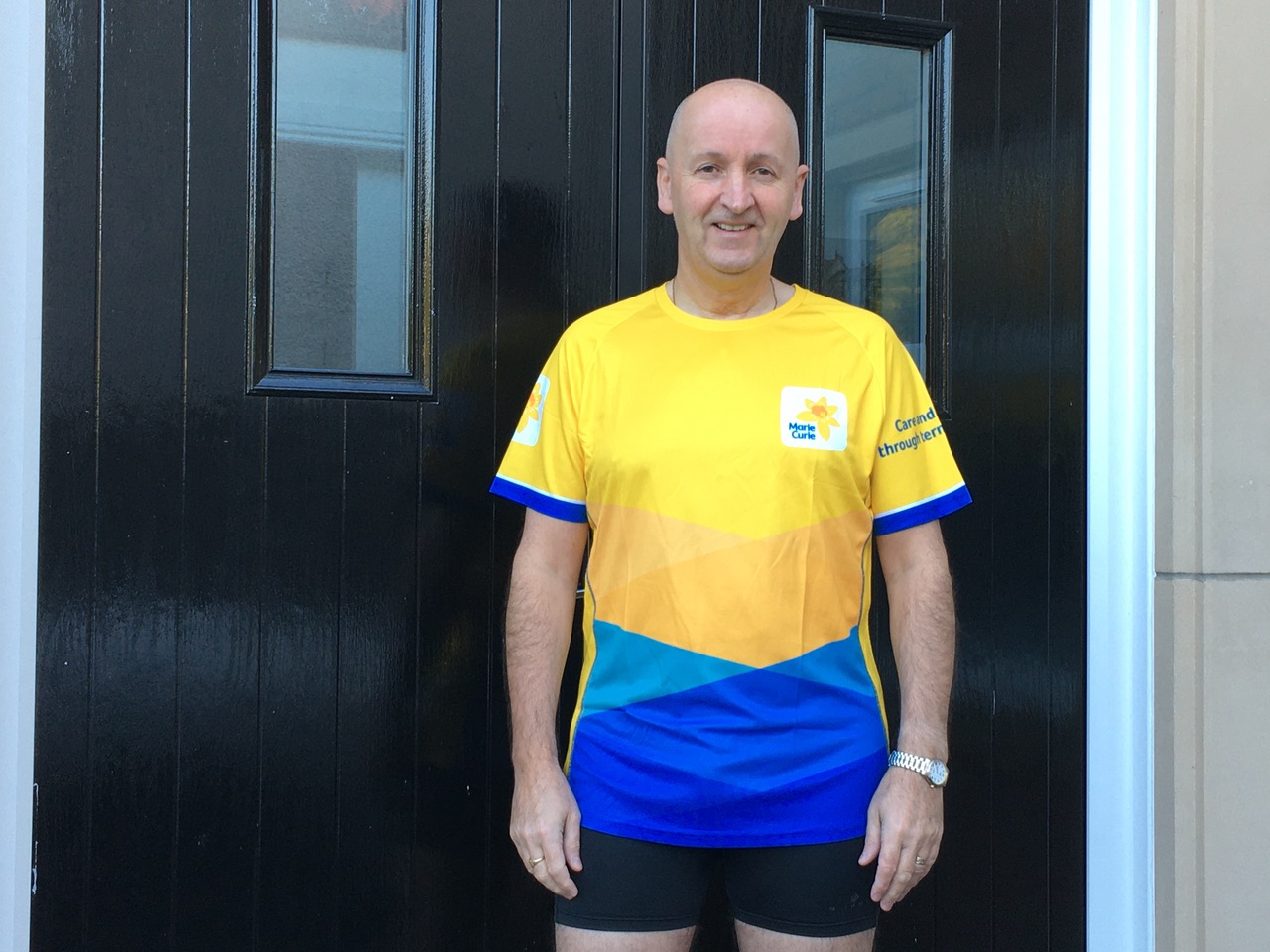 So today it's Captain Sensible CSC. Well for now, anyway. I look around the departure lounge for the usual faces, but it seems to be a much younger crowd today, more Green Brigade than Grey Brigade and noticeably few of my colleagues in the Nae Brigade. Other than Iain Hynds, I'm struggling to recognise anyone. I'm travelling with Hynds again for the first time since not-so-wonderful Copenhagen two years ago. The Milngavie-based operators always run a good trip and have been doing so since Iain's dad Harry took Celtic supporters abroad several decades ago. We're waiting at Gate 26 and there's a snow blizzard going on in Glasgow, so we're leaving Chilly Jockoland and heading to the Arctic Circle for a heat! Well, that was the theory anyway.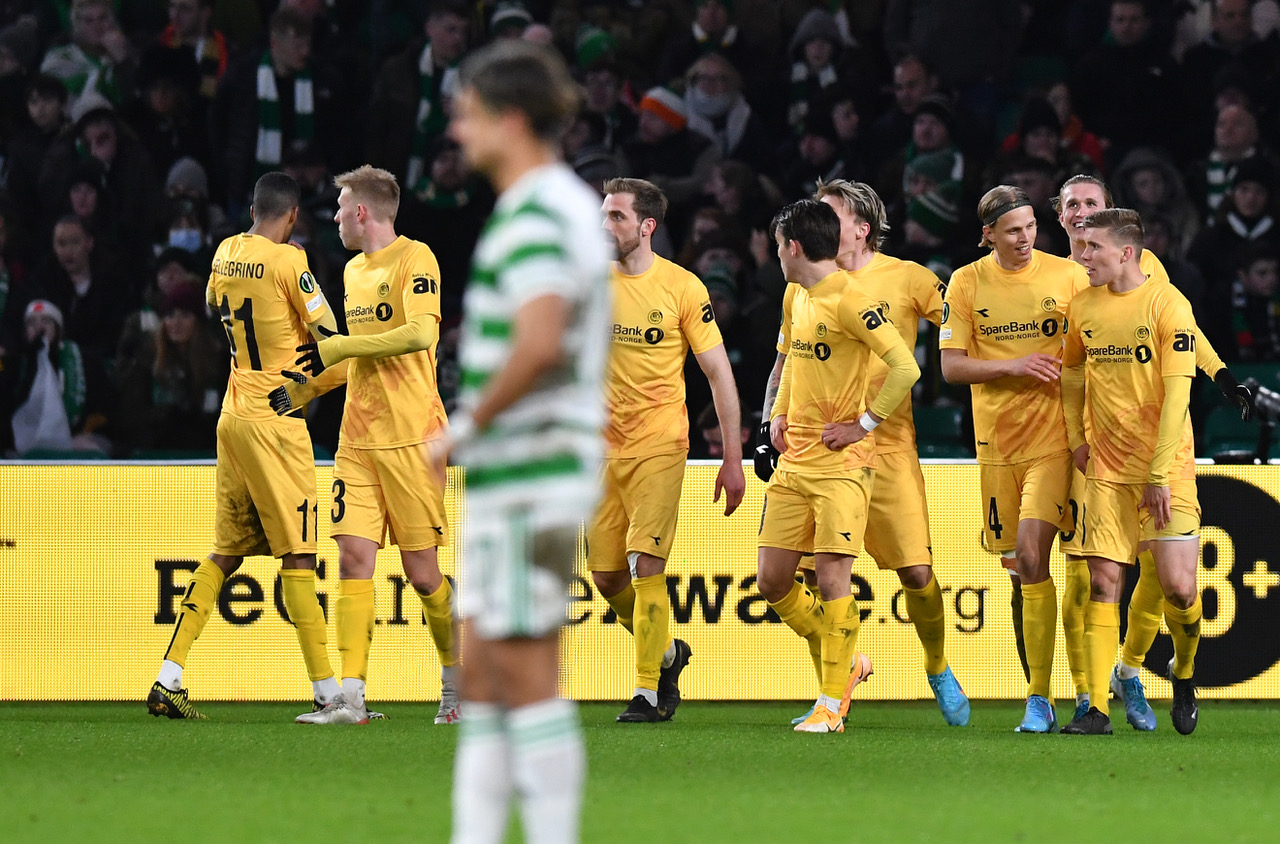 Describing this latest trip to support The Hoops abroad as a salvage mission is probably being kind, given that we lost 3-1 at home last week to a side who took six off Mourinho's Roma in an unbeaten run through the group stages. Shades of heading to Turin three goals down with my daughter a decade ago or to the Camp Nou 3-2 behind even further back. But I've convinced myself that this is when Celtic really need my support so we're all off to the Bodo in the snow, in the snow.
But only after a lengthy delay. The planned 6am departure has long since passed and the captain has emerged to announce to his disgruntled audience that the runway is closed due to the continuing snowfall. It's approaching 8am and we've been sitting on the plane for the best part of a couple of hours before we finally get the nod that the prep work can start to allow us to leave. It's going to be lunchtime when we arrive in Norway. The omens are not good. No Table 45 and now this, and into the bargain my phone is playing up and seems to be running out of charge as quickly as it powers up. Travelling into the Arctic Circle during a blizzard on my Jack Jones with a dodgy mobile was not really how this was supposed to pan out.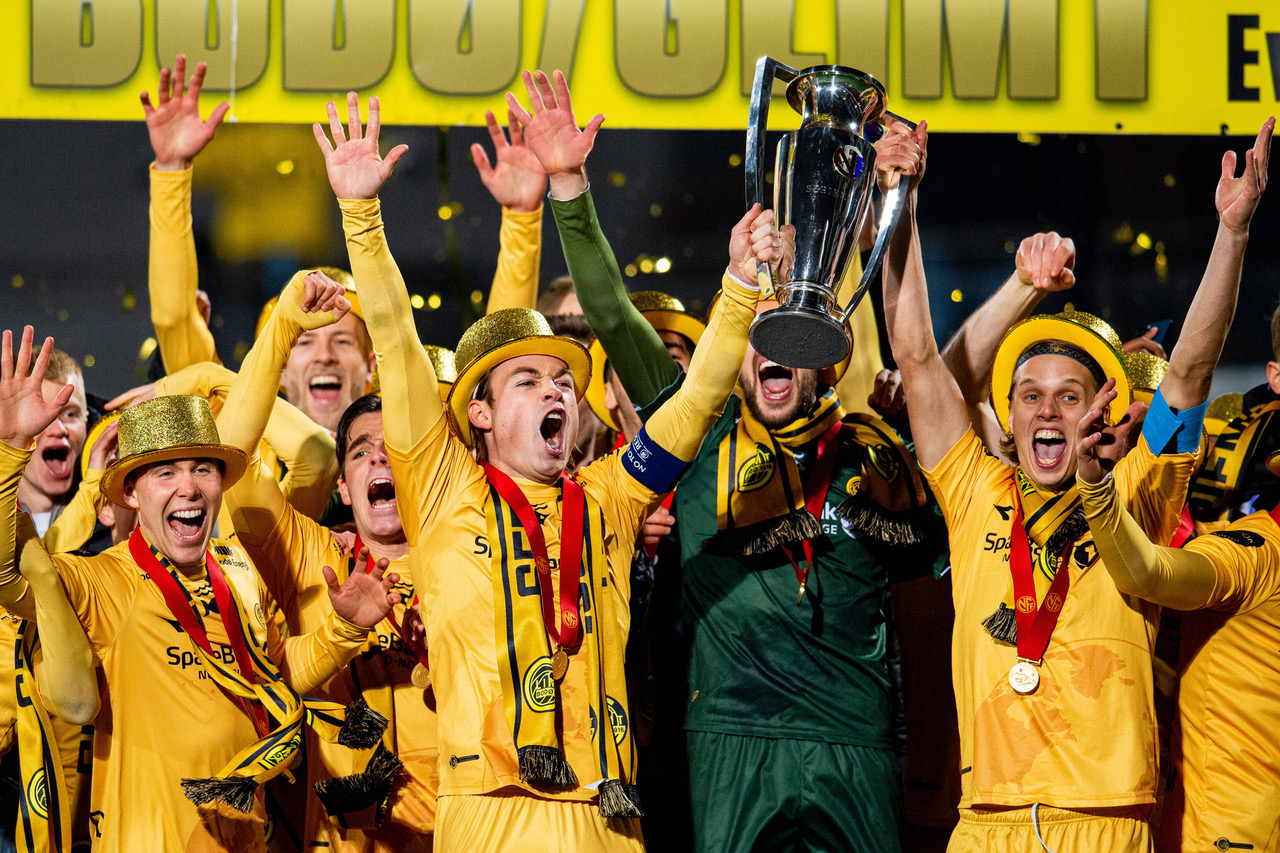 The story of Bodo Glimt is a remarkable one. Founded in 1916 in the Arctic town of Bodo, FK Glimt (translating as flash or lightning) was one of a number of clubs from the Nordland region who were denied access to the southern-dominated National League until the early 1970s. Their history at the top level of football is therefore restricted to half a century with their Norwegian Cup success of 1975 over fellow second-tier outfit SK Vard Haugesund at the Ullevaal Stadion in Oslo the club's first national honour.
The following season, Glimt came through the convoluted Norwegian play-off system to gain promotion to the top division for the first time in their history. And in 1977 they reached the cup final for a second time before losing to champions Lillestrom thanks to a late goal from star Norwegian striker Tom Lund.
Those early cup final appearances led to Glimt's first excursions into European football, both in the Cup Winners' Cup. First opponents were Napoli, with the Norwegians losing narrowly home and away, and two years later it was again powerful Italian opposition who knocked Glimt out, Inter Milan cruising through on a 7-1 aggregate after Union Luxembourg had been overcome 4-2 in the opening round.
Glimt's next great side was that which was narrowly pipped by Rosenborg to the Tippeligaen but which won the Norwegian Cup for a second time in October 1993 by beating Stromgodset in the Ullevaal. That line-up featured club legend Runar Berg in midfield and a certain Harald Brattbakk in attack. Ironically, 10 years later, Harald would be part of a Rosenborg team which beat Runar's Glimt in the cup final in Oslo's national stadium, together with Runar's brother Orjan and two other names familiar to Celtic supporters, Stale Stensaas and Vidar Riseth. Back in October 1996, both Berg siblings were in the Glimt team beaten 2-1 by fellow northerners Tromso in the Norwegian Cup final in Oslo, with Runar opening the scoring for the Bodo-based outfit.
The 1993 cup success saw Glimt enter European football again in August of the following year. Qualifying round opponents Olimpija Riga were blown away by a devastating performance in the Aspmyra Stadion, a 6-0 win followed by a goalless draw in Latvia. That set up a first-round clash with yet more Italian opposition, this time Coppa Italia holders Sampdoria. Glimpt's best result to date saw Sven-Goran Eriksson's star-studded side beaten 3-2 in the Ullevaal.
Two weeks later, David Platt added to his Oslo strike by scoring in Genoa before the wonderful Attilio Lombardo settled the tie before the interval. Incidentally, on the same night another Scandinavian legend Henrik Larsson added to his first leg strike as Feyenoord eliminated Lithuanians Zalgiris Vilnius in Rotterdam in the same competition. He would better that with four in the next round, including a hat-trick in Bremen, as the Dutch eliminated Werder 5-3.
Sadly, his first-half strike in the quarter-final first leg in Rotterdam – the last of his magnificent seven in the competition that season – would be cancelled in the Spanish return by eventual tournament winners Real Zaragoza. The Spaniards beat Arsenal 2-1 in the Paris final, despite an equaliser from Henrik's future Celtic teammate John Hartson. Big Bad John had also converted a shootout penalty in the semi-final in Genoa as the Gunners overcame Sampdoria.
A number of high Tippeligaen finishes around the turn of the millennium saw Bodo Glimpt feature in the UEFA Cup for the first time. Qualifying round wins over Beitar Jerusalem, Vaduz and Levadia Tallinn were followed by elimination against Turks Trabzonspor and Besiktas and the powerful Bundesliga side Werder Bremen. That would be it until Glimpt finished runners-up to Molde in 2019 then finally won the Norwegian title in 2020. They duly followed that up with a second success the following year.
Bodo Glimpt would enjoy comfortable home victories against Lithuanian opposition in the first two qualifying rounds of the 2020/21 Europa League, played as single match ties. The run would come to an end in the San Siro in the third qualifying round, as AC Milan edged a five-goal thriller. Milan would duly eliminate Celtic at the Group stage before losing in the Round of 16 to Manchester United.
This season's campaign has been by far their best to date, featuring in the Champions League for the first time but losing home and away in the first qualifying round to Rapid Vienna, for whom Josip Juranovic had a brief cameo role before joining Celtic. But it was in the new UEFA Conference League that Glimpt have built their reputation, with qualifying round wins over Valur, Prishtina and Zalgirus before an unbeaten Group Stage campaign. The Norwegians enjoyed three straight victories at home, including a remarkable 6-1 success over Roma in the Aspmyra Stadion in October of last year.
That was supplemented by three draws against the Italians, Ukrainians Zorya Luhansk and CSKA Sofia, with Roma requiring a late equaliser in the Stadio Olimpico to avoid back-to-back defeats from Glimpt. Mourinho's side's win in Sofia on Matchday 6 meant that they would finish one point ahead of the Norwegians at the top of Group C, Glimpt then drawing Celtic in the Play-off Round in mid-December.
That success led to approaches for several of the Glimpt stars in the winter transfer window, captain Patrick Berg joining Ligue Un outfit Lens and striker Erik Botheim heading to Russia with Krasnodar. However, manager Kjetil Knutsen duly brought in suitable replacements to fit his system, prolific forward Runar Espejord from Dutch outfit Heerenveen being a case in point, whilst retaining other star performers such as Ulrik Saltnes, Hugo Vetlesen, Amahl Pellegrino and Ola Solbakken.
Talk of Celtic being favourites due to the losses of star players and Bodo Glimpt being on a mid-season break did not sit easy with me, having heard that song so many times before with the inevitable defeat following on from that. I give you Copenhagen two years ago. So along we went to Celtic Park seven nights ago hoping that the Lightning wouldn't strike twice. Well I guess they didn't, but sadly they added a third immediately after Daizen Maeda's superb glancing header gave us brief hope of a comeback, as our old defensive failings in Europe kicked in yet again against an excellent attacking side. So, home we trudged feeling like we had seen this particular movie a few times before. Turning this around would be an incredible achievement, and we travelled to Norway more in blind faith than anything else.
I'm sitting near the front of the plane and get chatting to a young guy called Steven, who has followed the Celts abroad comprehensively. We compare notes on the best and the worst of these trips, with Tallinn being a particular favourite of his. Small world syndrome kicks in once again as he mentions that he plays amateur football and throws in the name of my son's team. For most of the journey we can't see a thing outside and as we begin the landing preparations there is considerable turbulence as the plane does a couple of belly flops which are not funny. But as usual the Celts see the humorous side of life or death and a spontaneous rendition of "Walk with me O my Lord" gets the chuckles going again. The Lord duly does his job and we're down safely to another outburst of singing. I get my first look at Bodo and it's a chilling prospect – quite literally. Through the porthole window it looks like Winterfell.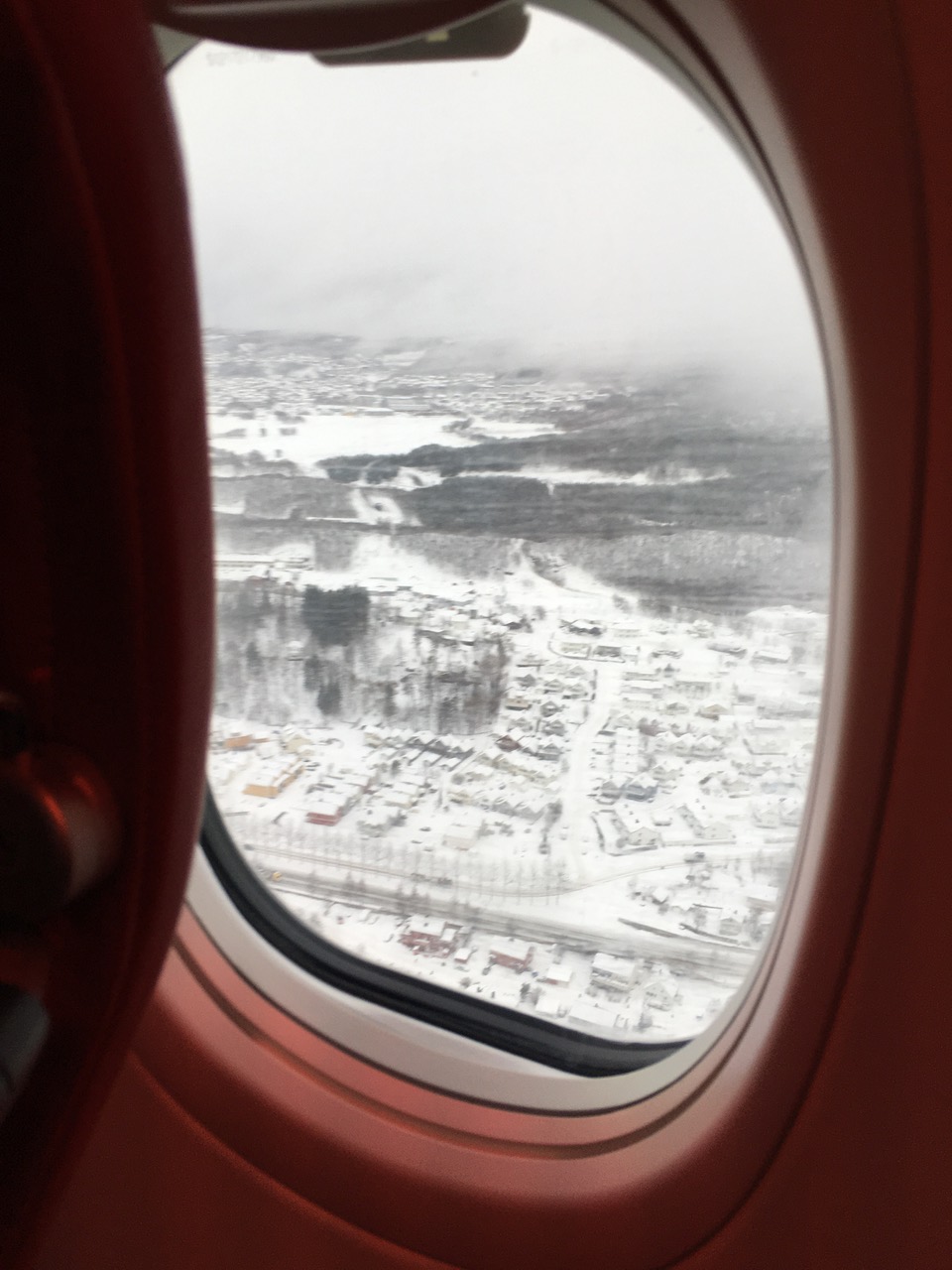 This is my third visit to Norway. I guess I'm one of the few on the flight who has been further north, having taken part in the Midnight Run in Tromso as part of my training for the New York marathon in 2018. But that was in June and whilst cold it was beautiful.
Trip number two was to Trondheim in November of the following year, as a Scotty Sinclair header made us forget the freezing temperatures on the day that we won away. As we land, the word amongst the support is that the other Celtic flight has just left Glasgow. A short day visit to the Arctic Circle has suddenly become a lot shorter for the poor folk stuck on that flight.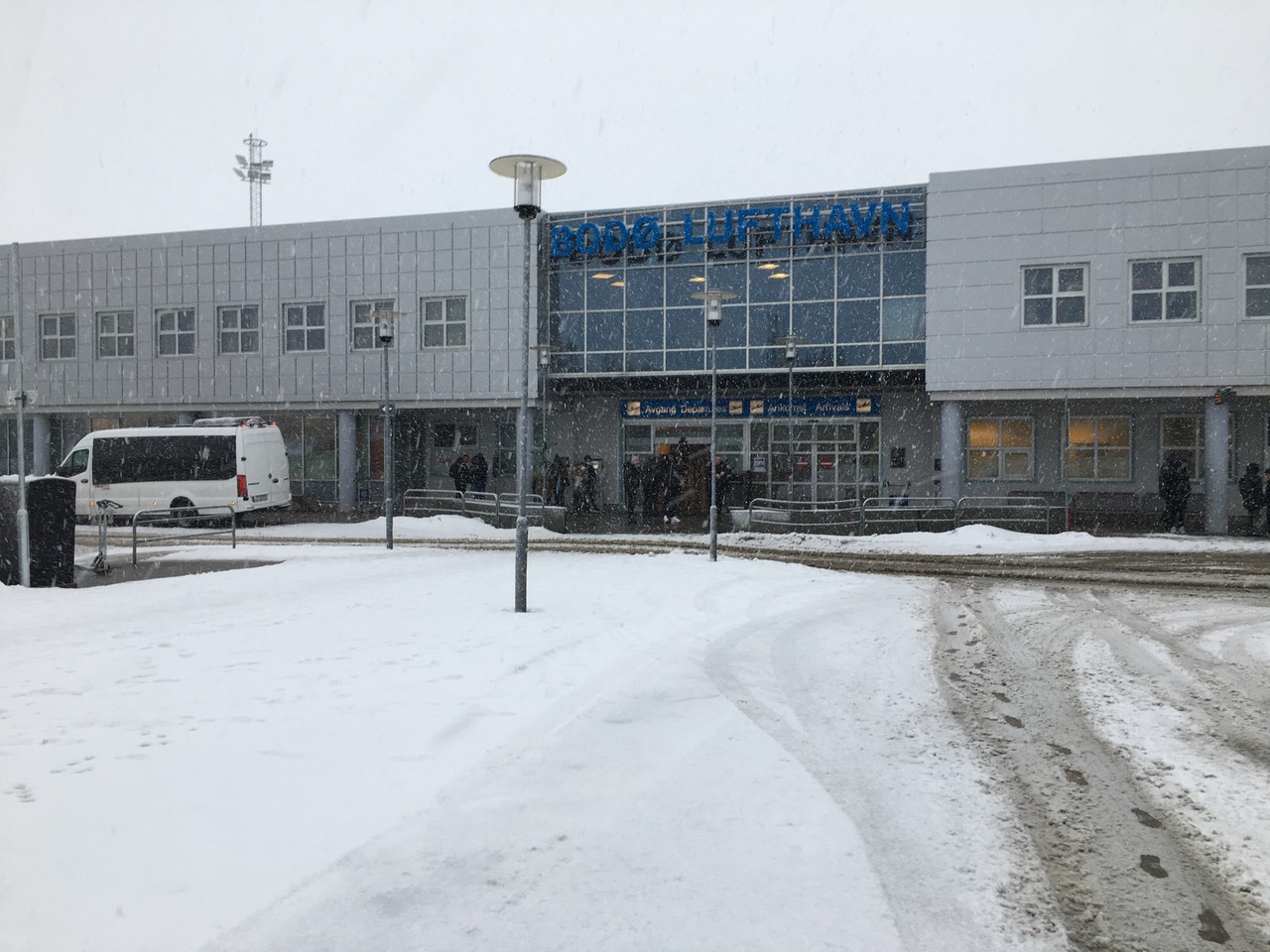 I exit the airport and take a deep breath. There's a full going blizzard which reminds me of the day we landed in Reykjavik during their worst weather for 70 years. The map inside the airport showed a walking route to town but I'm taking a different path. It also showed the stadium not so far away and I fancy a look at that first, with the opportunity to take a few photos. I've managed to get my phone charged up to around 30% and off I trudge, trudge being the operative word as the bleak landscape stretches before me. I wait patiently to cross the busy carriageway and a passing car almost skids off the road in an attempt to stop on my left. I'm immediately thinking that I've done something wrong before the driver politely waves me across the road. I guess that's the protocol and fair play to him stopping in those conditions.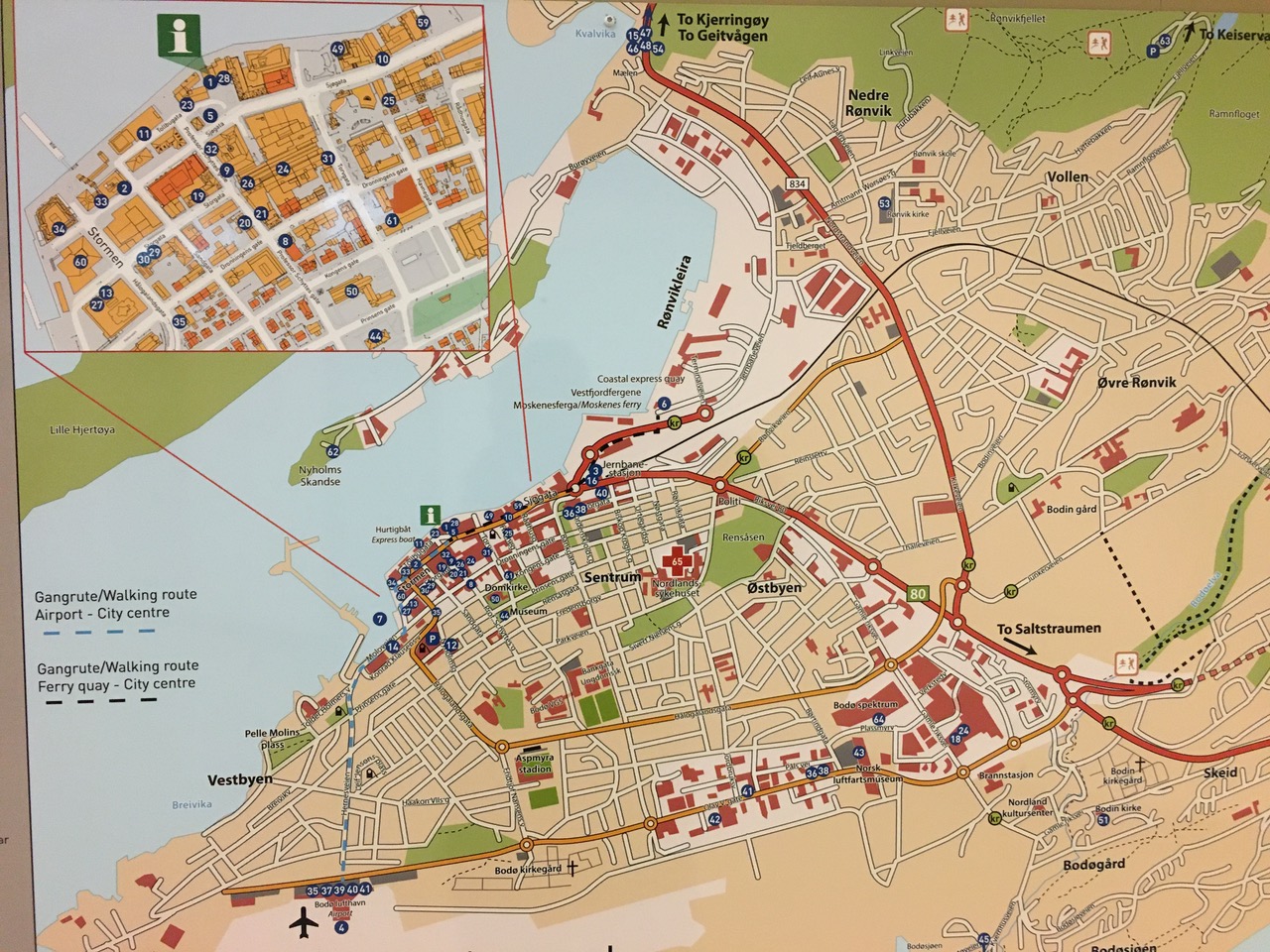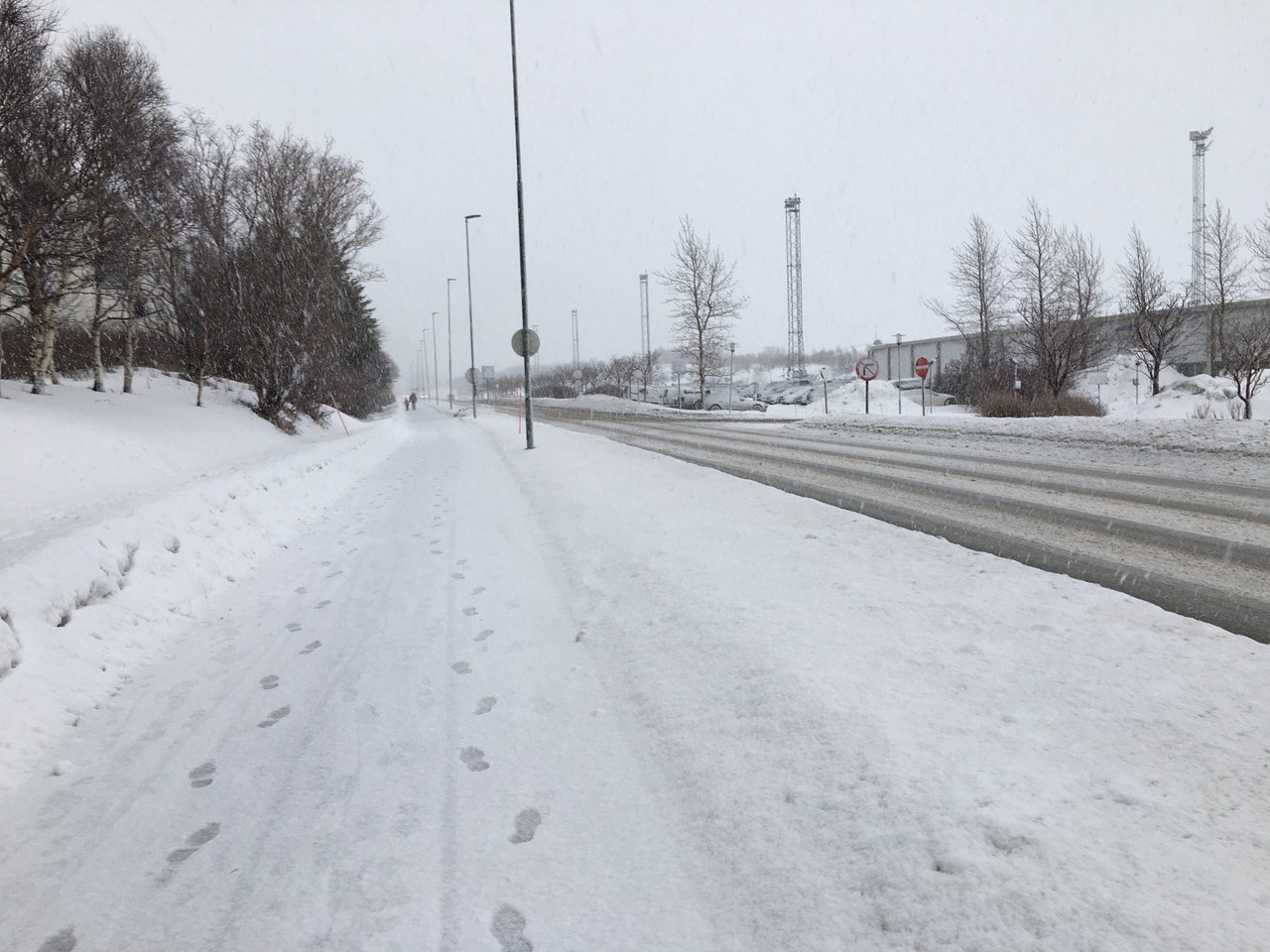 I've only travelled a few hundred yards and already my jeans and shoes are soaked through. I catch sight of the floodlights and sure enough I've reached the Aspmyra Stadion. I take a couple of photos then spy an open gate. Up the stairs I go to catch my first glimpse inside. There are voices and within a few minutes a steward is enquiring why I'm there. I mention I'm a reporter for a Celtic blog – which is kinda true – and I'm feeling quite good about that impulsive response until the guy asks for my UEFA accreditation. And I'm not getting in here no matter how wet I am.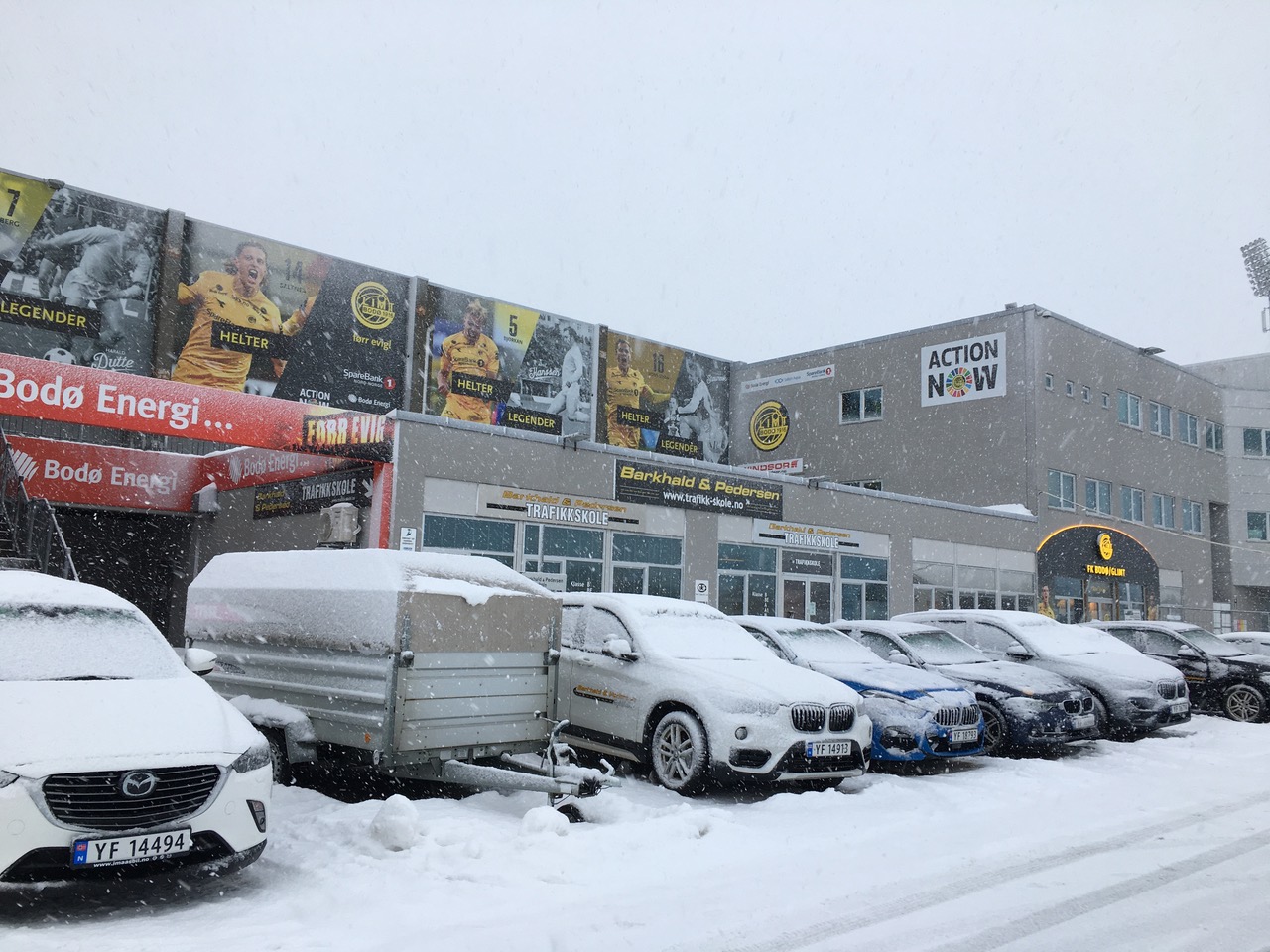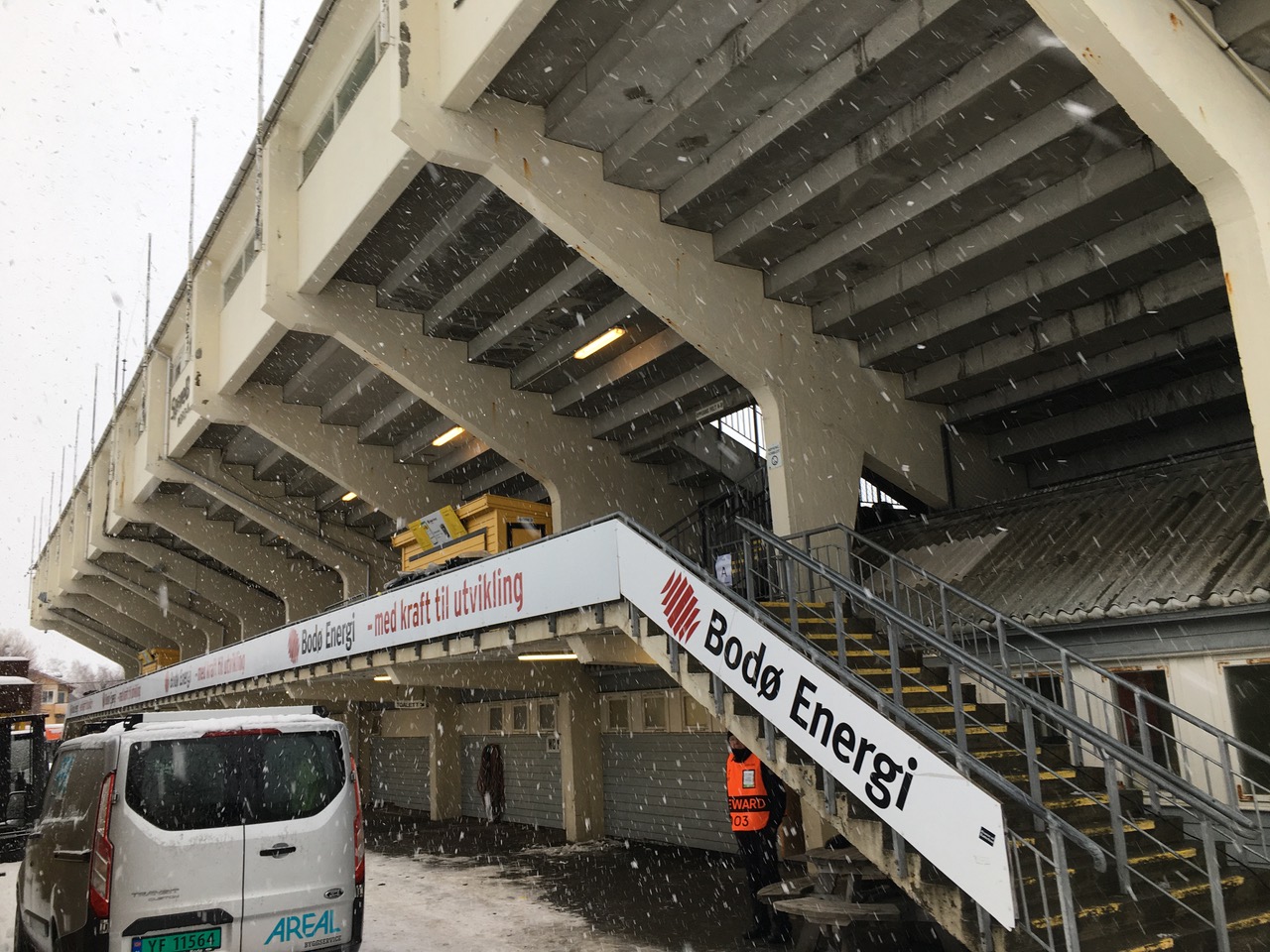 Walking around the stadium footprint the snow is piled several feet deep. How on earth will this match go ahead? This looks like the main stand and the gate is open and well, you know the rest. In I go looking like I belong until a steward appears from nowhere. I point to my phone and advise I'm just taking a few photos. He tells me this is the oldest part of the stadium and I impress him with a few comments around the club's history. Founded in 1916. Playing at the top level since the early 1970s. This is going well. He tells me that I know more about his club than him then he smilingly adds that I won't be able to go any further, because UEFA etc. God loves a trier, but apparently, he's done his bit for the day by landing our plane. Fair enough I suppose.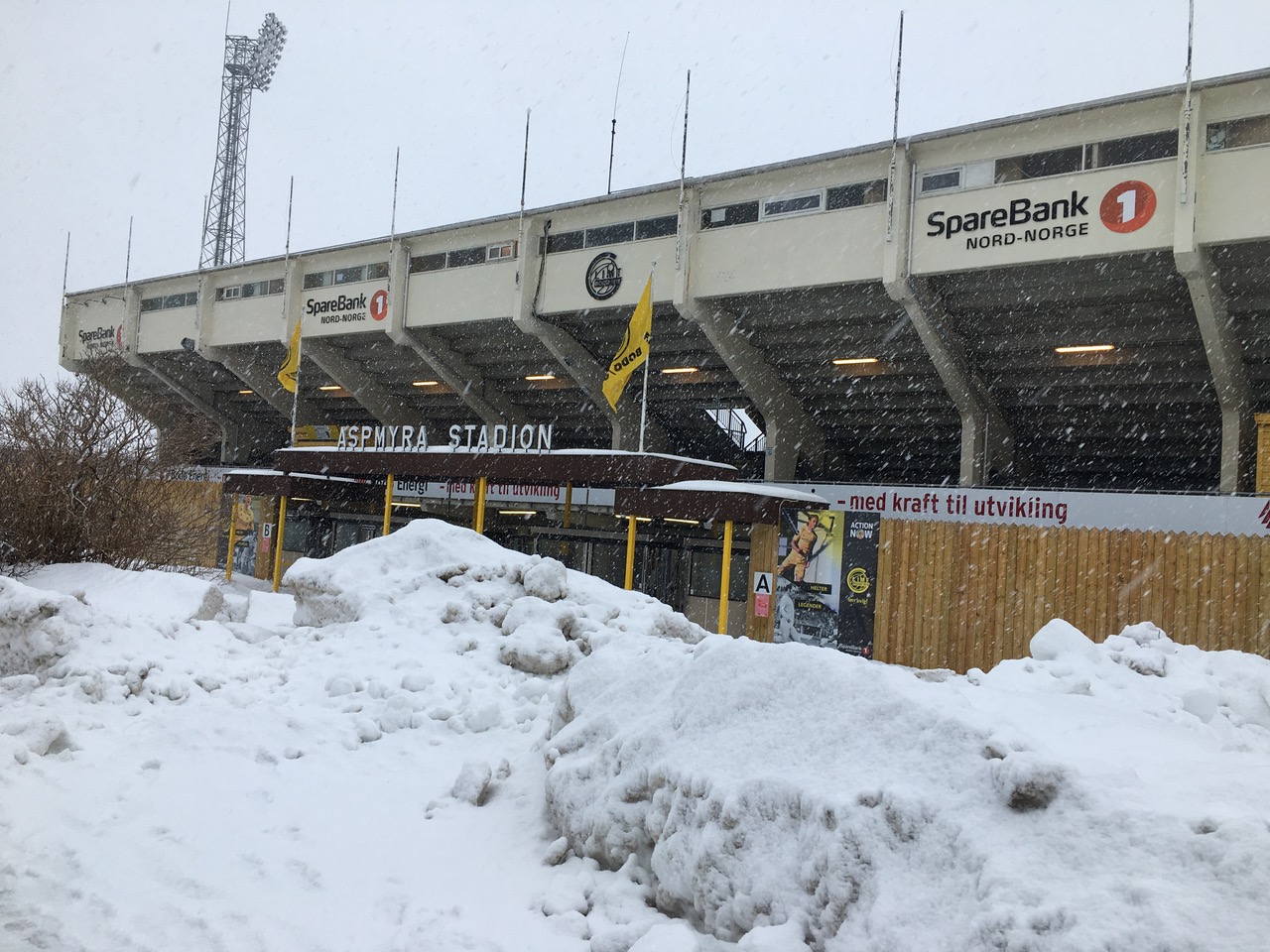 I head around to the visitors' section and take a couple of photos. It's open to the elements and looks absolutely Baltic, well Arctic really, and I'm immediately questioning the rationale for this latest trip. I think this will make a great video whilst my fingers are still functioning. The phone shows 10% charge and as I start the video it cuts out completely. No access, no video and now no phone. And now my gloves are soaked through and it's not lunchtime yet. Some trip this is.
A miserable walk through the snow and the sleet brings me to the town centre within 15 or 20 minutes. I haven't a clue where to go but food and heat are high on my agenda. A pizza place solves both of those issues until the sign on the door indicates a 2.30 opening. It's only just after noon. We go again, following my instinct and any semblance of life through the streets of Bodo. Finally, I'm passing an unremarkable building when a man in Celtic colours comes out a doorway in front of me. It's @paulthetim. Result. It's a bar, imaginatively named Public. It's small and dark but it's a better option than walking the streets until 2.30, and more importantly, a number of Celtic supporters have already pitched camp there.
I take my place at the bar and look around. It's a rock-themed pub and it actually feels quite cool, as two of my favourite worlds collide, music and football. One or two regulars are perched in the corner but most of the clientele are wearing green and white. There's no raucous singing as you tend to find in these situations. It looks like a more mature crowd or more likely they are still trying to heat up and dry out.
I ask the barman for a beer and somewhere to charge my phone. Whilst I'm waiting, one of the Celtic boys asks if it's ok to play some of his music, another European awayday tradition. But the barman is obviously related to the two stadium stewards, and politely enquires as to the genre of such music. I almost choke on the pint I'm still waiting on as the Bould Bhoy replies "Irish Folk" with a straight face. The barman's concession is to grant him one song. This should be interesting.
I'm quickly served my pint and the barman indicates for me to follow him then proceeds to squeeze into a group of Celtic fans happily enjoying a few beers. Each one looks about twice my size and I'm thinking they're going to hate me thrown into the middle of their company. But the opposite is the case. I'm told to "wire in" and I'm now perched in their midst with my troublesome mobile and wet clothes. Needless to say, nothing today will be straightforward. The charging constantly stops and the only way to make any kind of progress is to sit holding the connection and watch as it takes about 15 minutes to increase by 1%. Beam me up, Scotty.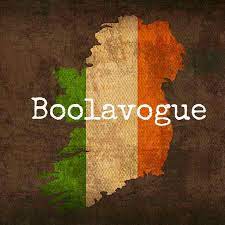 As always, within a short time someone starts to chat, or more likely I decide to annoy him by opening conversation. But this one is a real positive. The young Celt on my left says I look familiar and when I give my name he says, "Boola Vogue?" I'm made up that he recognises me and even more so when he replies, "I'm Boola Vogue as well." This is turning into a Life of Brian sketch and I'm waiting for the "…and so is my wife" punchline before he tells me that's the name of his band. I'm familiar with them, and I tell him that he stole my Twitter name! Not the case, of course, and not wise given that Kevin/Smiddy is about 6' 27 tall.
Anyway, we have a laugh about that and suddenly we're deep into a conversation about the special song both of us took as our names in different worlds, then our background as Celtic supporters. Smiddy has followed the traditional rite of passage and shows me some fabulous photos of his late dad and him as a youngster with some of our mutual heroes in Hoops. And then of him and his own young son on their first visit to Celtic Park, the Ross County game on TRNSMT Day in September.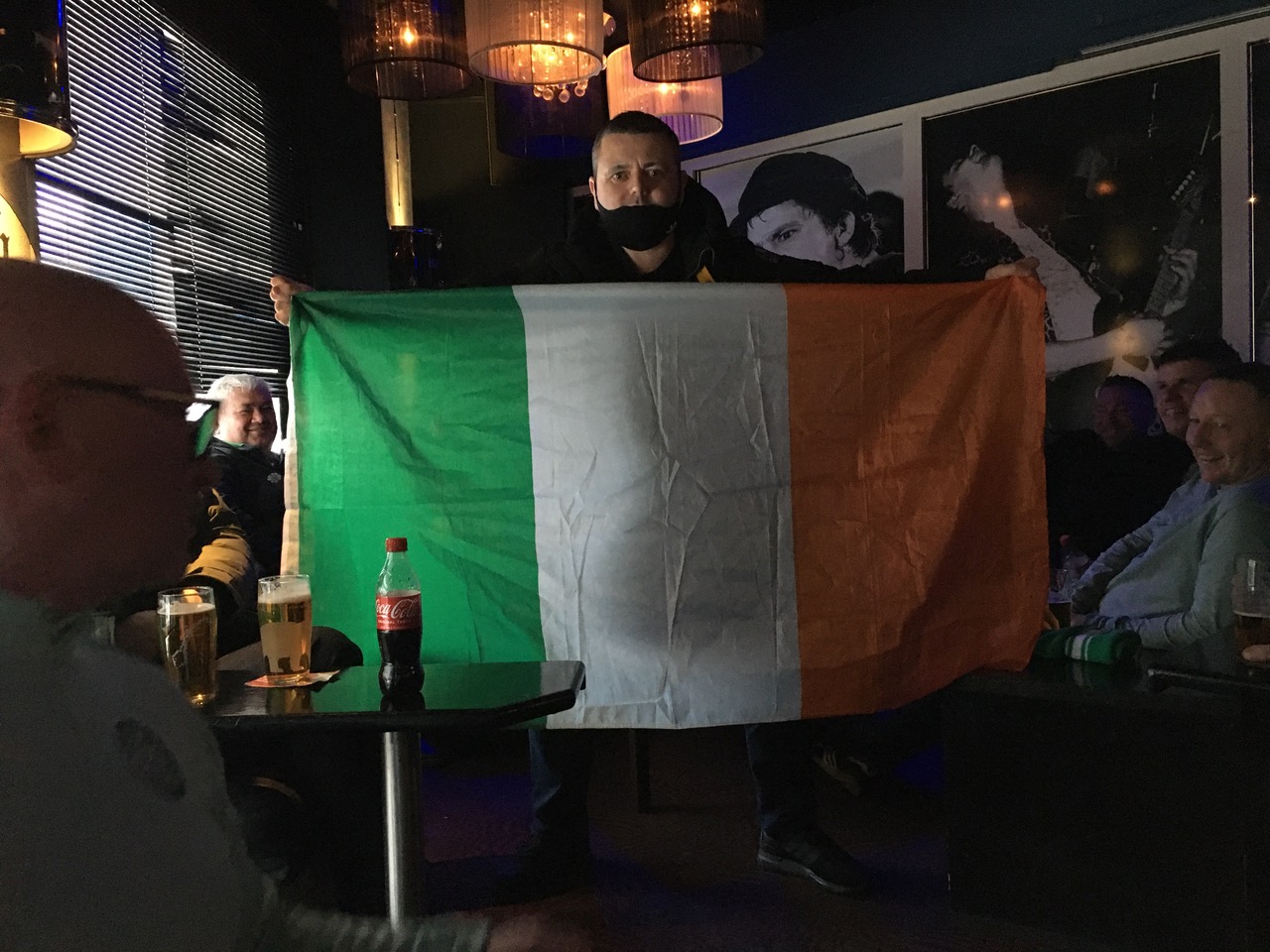 I tell him that the ballad Boolavogue was my dad's song, which means that every time I see or hear that he's with me. I'm still soaked through but suddenly this day is looking better. This is the very essence of why I love these trips, despite the almost inevitable disappointment to follow in the evening. Sharing our stories and our songs with a guy who makes a living by doing just that. It doesn't get any better.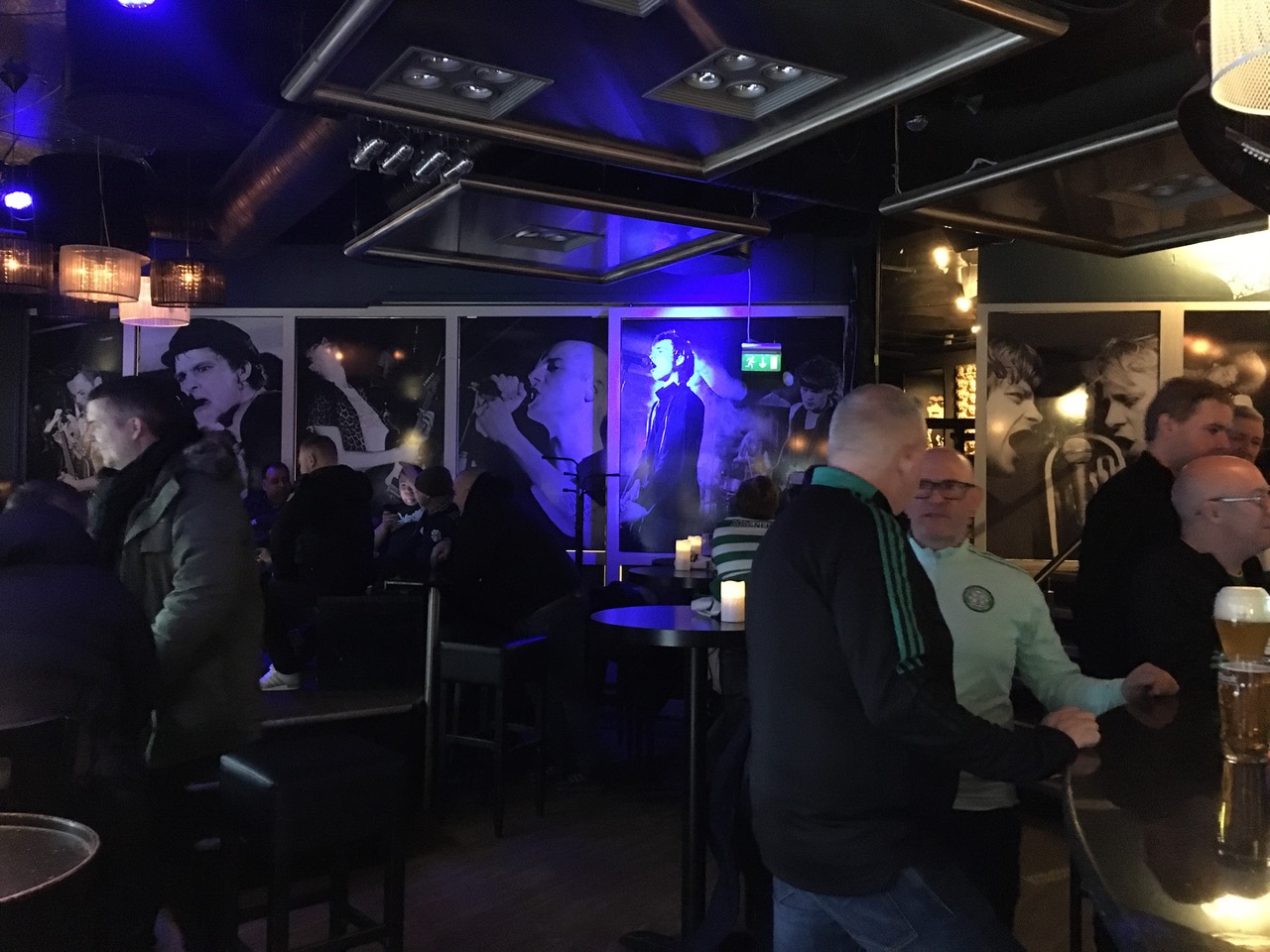 Smiddy is a cracking guy and we spend a brilliant couple of hours chewing the fat all things Celtic. He tells me that he has my first book INVINCIBLE, and I'm made up about that until he adds that he hasn't had the chance to read it yet, as a guy with two jobs and a young family.
Turns out, of course, that Smiddy was the guy at the bar earlier asking for Irish Folk music to be played. A few other customers have also struck the same deal with the barman apparently, as every now and then, the Wolfe Tones meets Thin Lizzy or Queen. His own choice of song is from a group he says are the best rebel band from Glasgow, the Blarney Pilgrims.
There's depressing news sporadically shared about the plight of the supporters on the other flight. They seem to have been diverted to Trondheim and at this stage I'm wondering if they will see the game at all.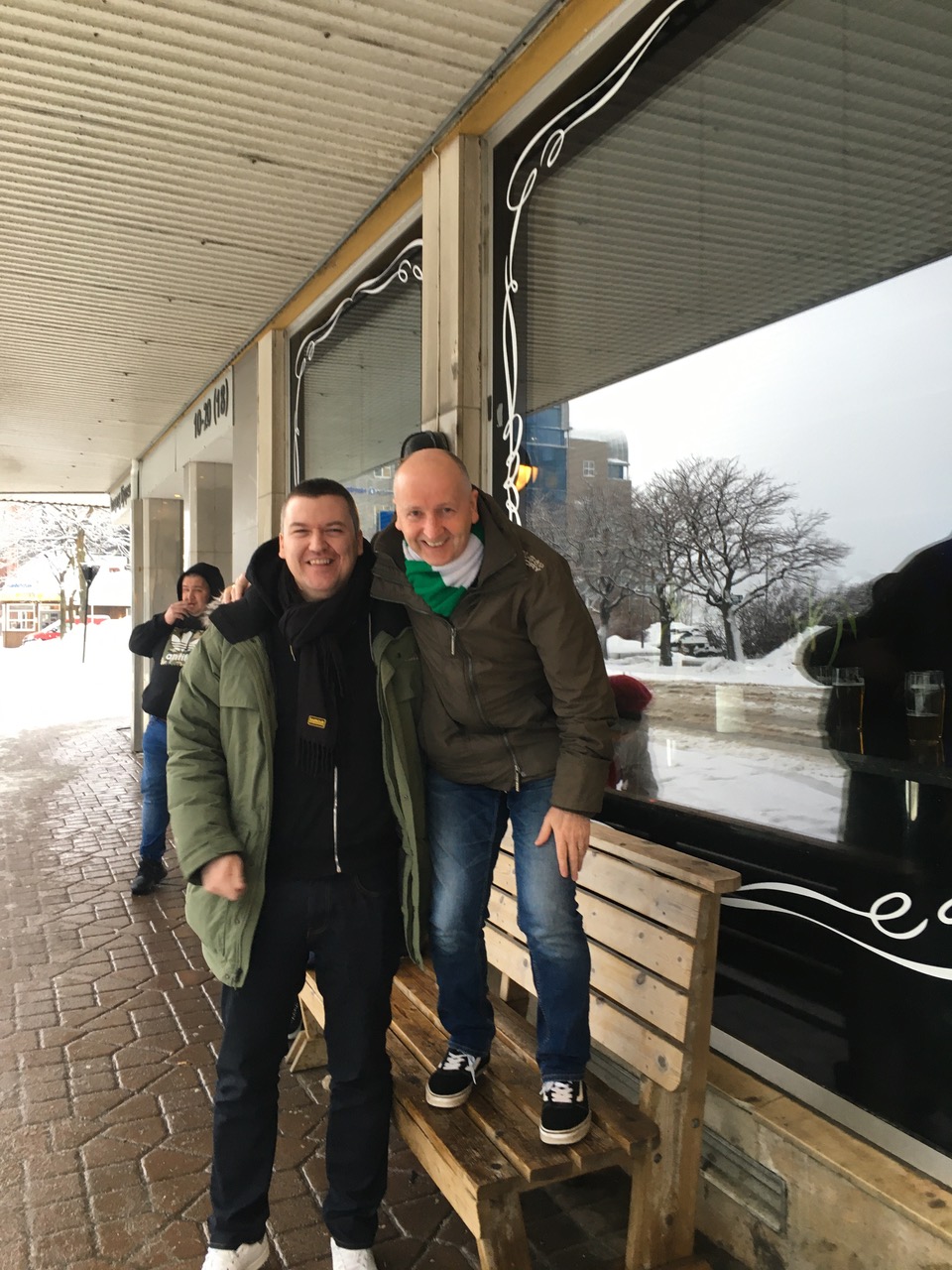 My phone is now sufficiently charged to allow me a photo, and there can be only one choice…when Boola Vogue met Boola Vogue, shown above.  Out we go to the front of the pub, dragging one of the other guys out to take it. Standing next to Smiddy I feel like the doll with the monocle whom Ray Charles used to sit on his knee. I'm not going to suggest that as the pose, instead I jump on the bench and a wee moment in Celtic time is captured forever.
Soon it's time for the fun to stop and head to the game. I bid my farewells to Smiddy and his crowd and promise to keep in touch. My destination is the pizza place from earlier and in I go in search of food. That's not my greatest decision of the day, as an insufferable wait means I am now behind the main tranche of Celtic support to arrive at the stadium. Long story short, my advancing years and wet, bedraggled state see me sympathetically escorted to a seat in with the Bodo supporters rather than behind the goal. The Nae Brigade are in the house.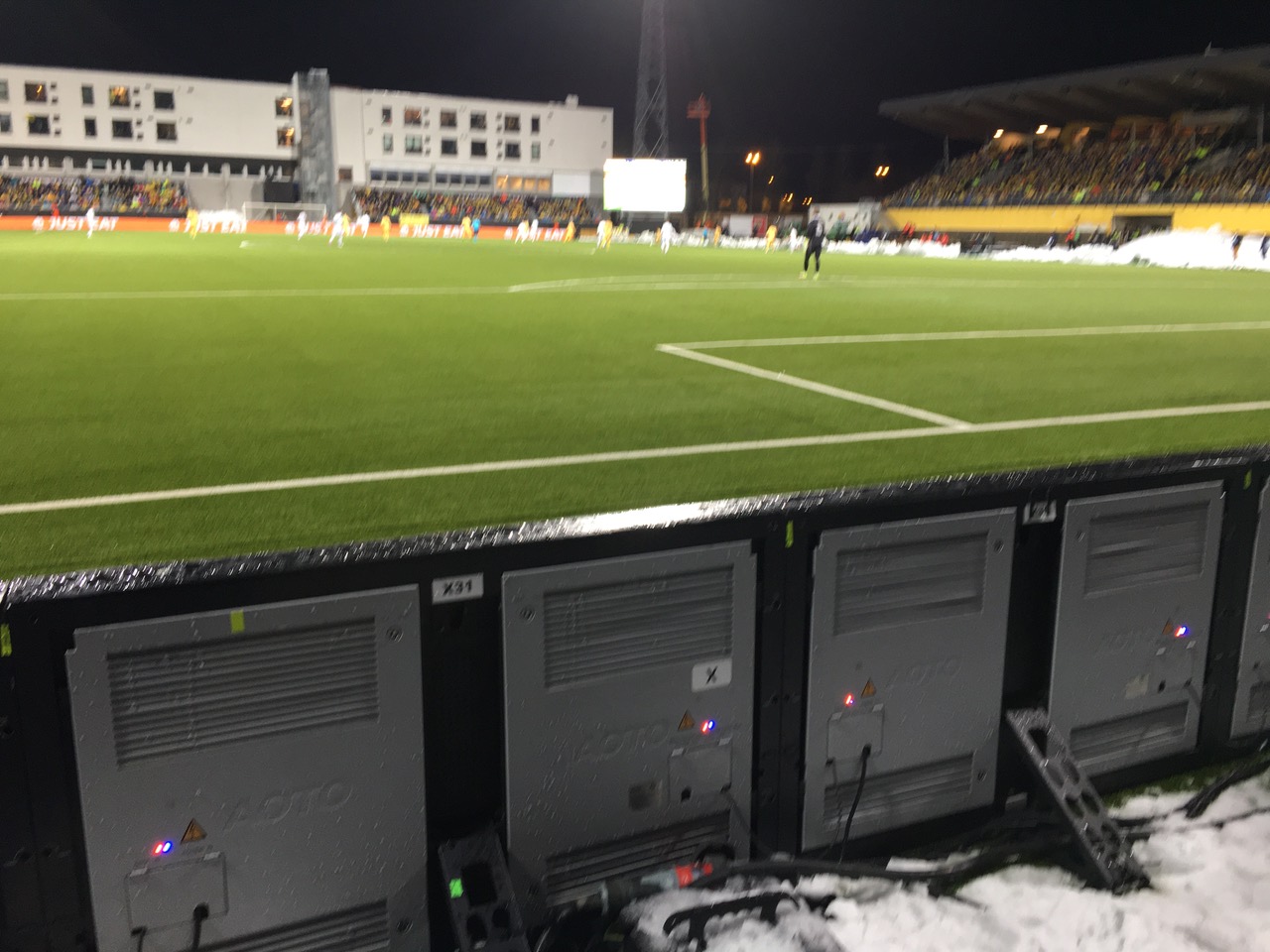 Still too raw to say too much about the 90 minutes which followed. Pretty much as expected, sadly, with the Norwegians never looking in any danger of blowing the tie after yet another early goal. I'm still defiantly shouting for Celtic even at 2-0, as that's what we do, even though inside I'm gutted. Shades of the Amsterdam ArenA in 2013, with the same puzzled looks from the home support who noisily enjoy a wonderful night in their own club's history.
The scene on the way back to the airport is straight out of Game of Thrones, the supporters forming one long, wet train of humanity as far as I can see on that bleak road which I walked along more hours ago than I care to remember now. Ghostly figures creating a surreal scene. The scene in the terminal itself is depressingly familiar, most supporters broken by a combination of weather and performance which crushes the early optimism of the afternoon pub chats. The delay is also inevitable, and I fill the gap by beginning yet another attempt to charge a phone which long since stopped playing ball. Eventually the silence is broken by a movement towards the departure gate and it looks like we're on our way.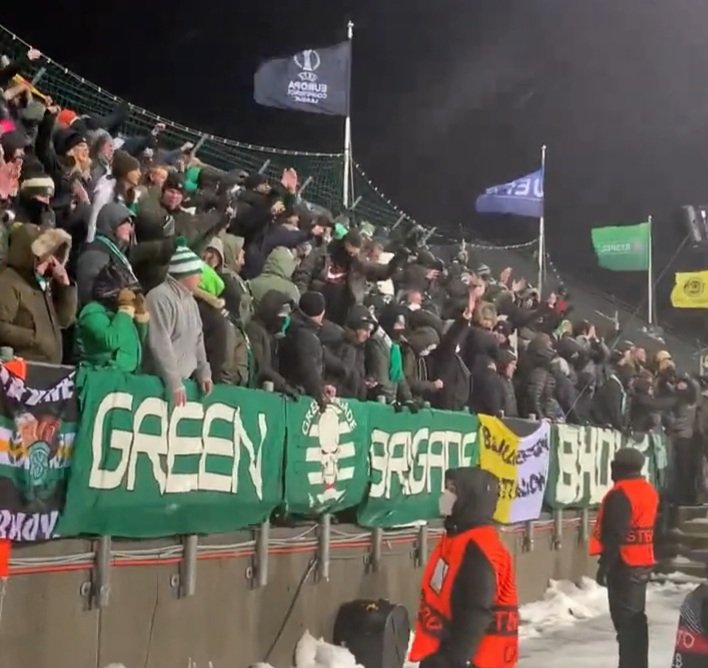 The flight home is a chance to finally get some shuteye and whilst not the most comfortable of trips that's exactly what I do. I'm nudged by Stevie as the pilot announces landing protocols will be kicking in and all I can think of is that within an hour I will have the opportunity to prise these wet jeans and shoes off and start the process of feeling human again. Of course, by now I have told myself that this will be the last trip abroad with Celtic. It's a young man's game.
My wife has yet again gone above and beyond. My messages re the delays have – surprise, surprise – failed to send and with no flight update information online, the poor thing has been stuck on the outskirts of Glasgow Airport in her car since 11.30. It's now gone 2am. Perfect end to the day, not. She asks me the usual question.
"I take it you won't be doing any of these trips again?"
Definitely not," I mumble.
We're on the motorway heading home and the radio is playing quietly in the background. It's a song from earlier in the Public, Thin Lizzy with Dancin' in the Moonlight.
"It's 3 o'clock in the morning and I'm on the streets again."
I am, 24 hours after I set out.
Following Celtic is such a strange combination of madness and passion.
Hail Hail!
Matt Corr
The other Boola Vogue.
£1 for every copy of Matt's book Harry Hood – Twice as Good sold is donated to Marie Curie.