Matt Corr's Boston Diary…
Almost time to leave Boston after the most incredible few days, and as always there's a Celtic connection to a trip abroad. Main objective of this particular journey is to run the Boston Marathon to raise funds for @foundationcfc and in doing so complete the sixth World Major Marathon, a personal challenge I set myself a few years ago. Only around 11,000 people in the world have managed to do this so I'm joining quite a rare group.
Like pretty much everything else in my life, I tend to relate each race with a Celtic match. This will actually be the seventh marathon I've run, but the first – the Dublin Marathon of October 2010 – is not one of the world majors. I'll remember that one for two reasons, the positive one being the feeling of running past Kilmainham Jail, "where our leaders of '16 were executed," as Joe Biden may have mentioned if his recent press conference had gone on much longer.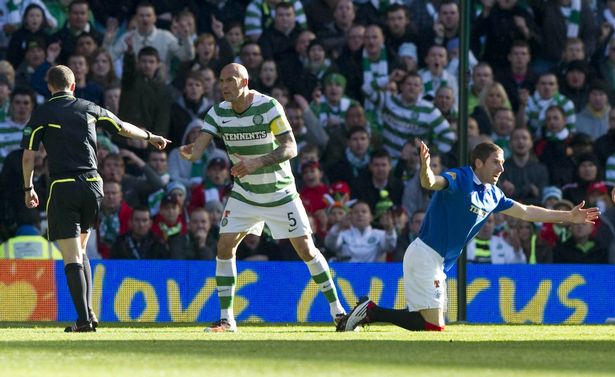 The negative reason was Celtic's 3-1 defeat at home to Rangers which ended our unbeaten start to the season. You might remember it as the one Willie Collum awarded a penalty against us for a dive which happened behind his back. Yes, the same 'Willie Wing Mirrors' who was later excused match duties at Ibrox for a considerable period following a complaint against his performance in another game involving the same club. Welcome to the strange world that is Scottish football.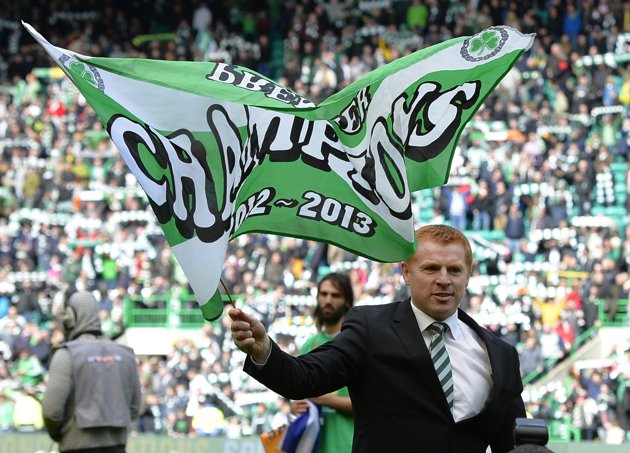 Marathon number two is London in April 2013, and back in the hotel afterwards I manage to catch the goals from Celtic's victory over Inverness Caledonian Thistle which secure a second successive League title for Neil Lennon's Celtic. Big Sammy is on fire and if I'm not mistaken it was during the celebrations afterwards when he lifts Wee Jay Beattie from the crowd and a new Celtic star is born.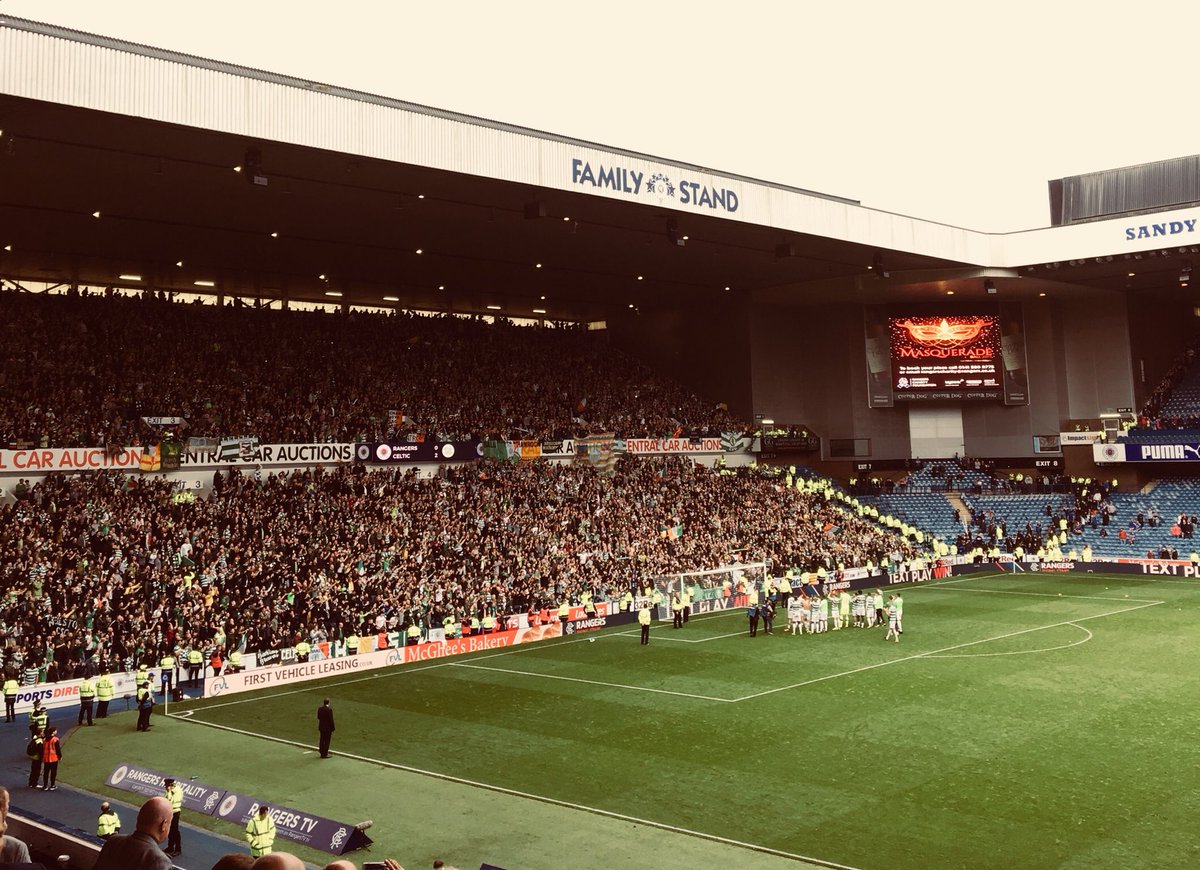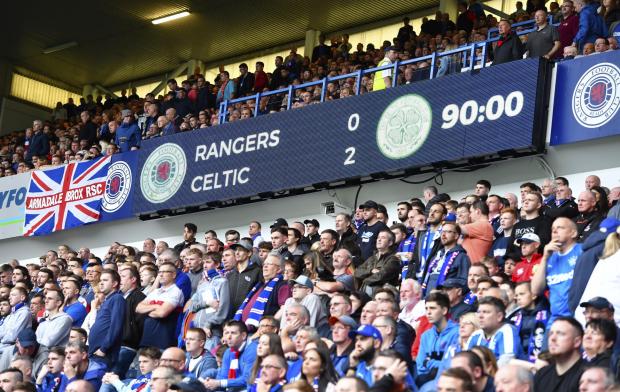 Berlin is the destination for the third marathon, which takes place in September 2017. This time the fixture list hasn't been kind, and I'll miss the match at Ibrox back in the days when the Free Broomloan was Party Central. If there's any consolation, it's in the fact that I manage to watch the match at the home of Berlin's St Pauli fan base, the Astra Stube in Neukoln. St Pauli are actually playing at the same time and the main bar is full of the brown, white and red-clad faithful.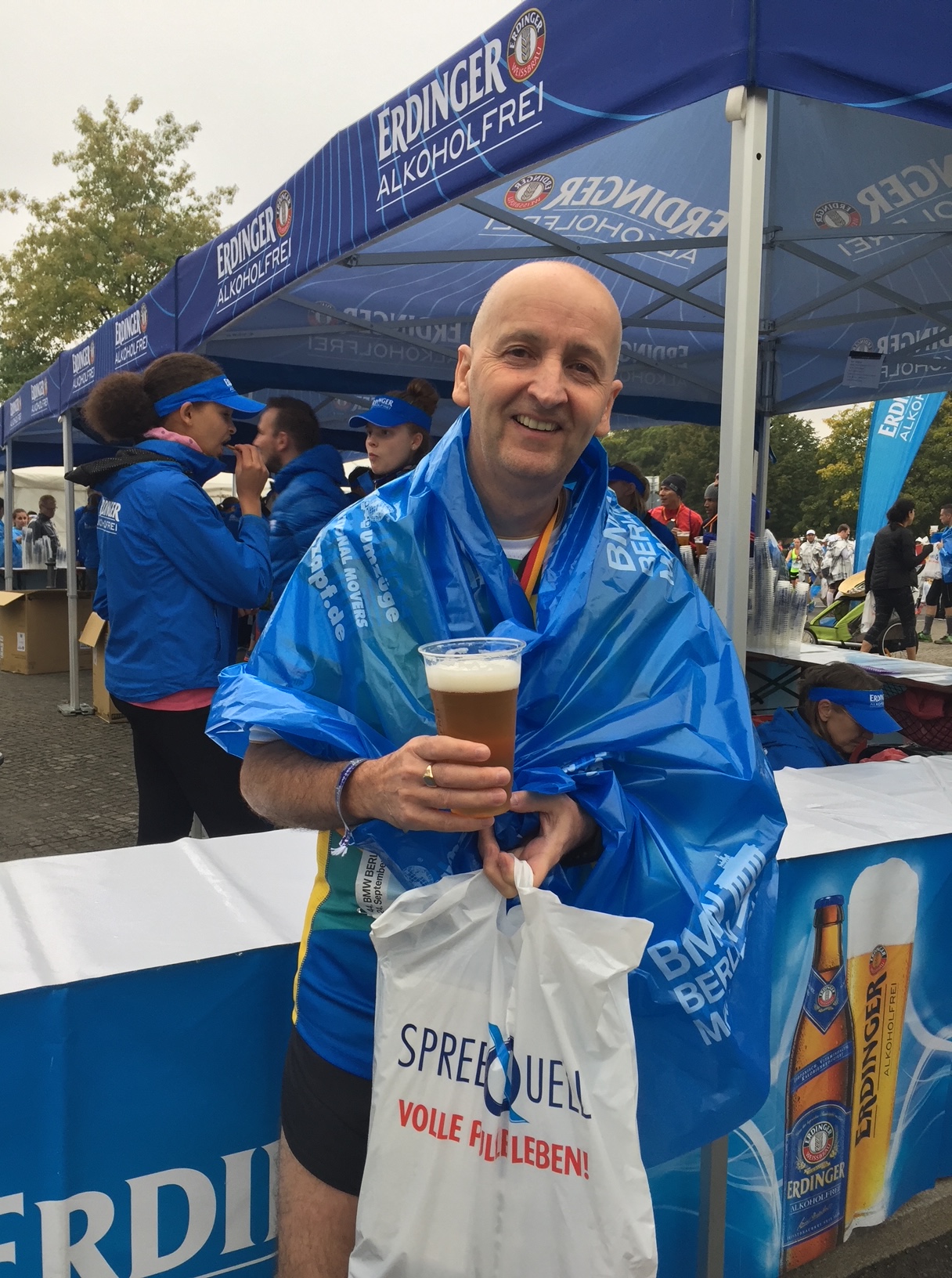 But our hosts have been true to their word and a small snug area has been set aside for the Celtic game. I enjoy a 2-0 victory courtesy of goals from Leigh Griffiths and, of course, the Wizard of Oz Tom Rogic in the wonderful company of the Berlin Buckfast Crew!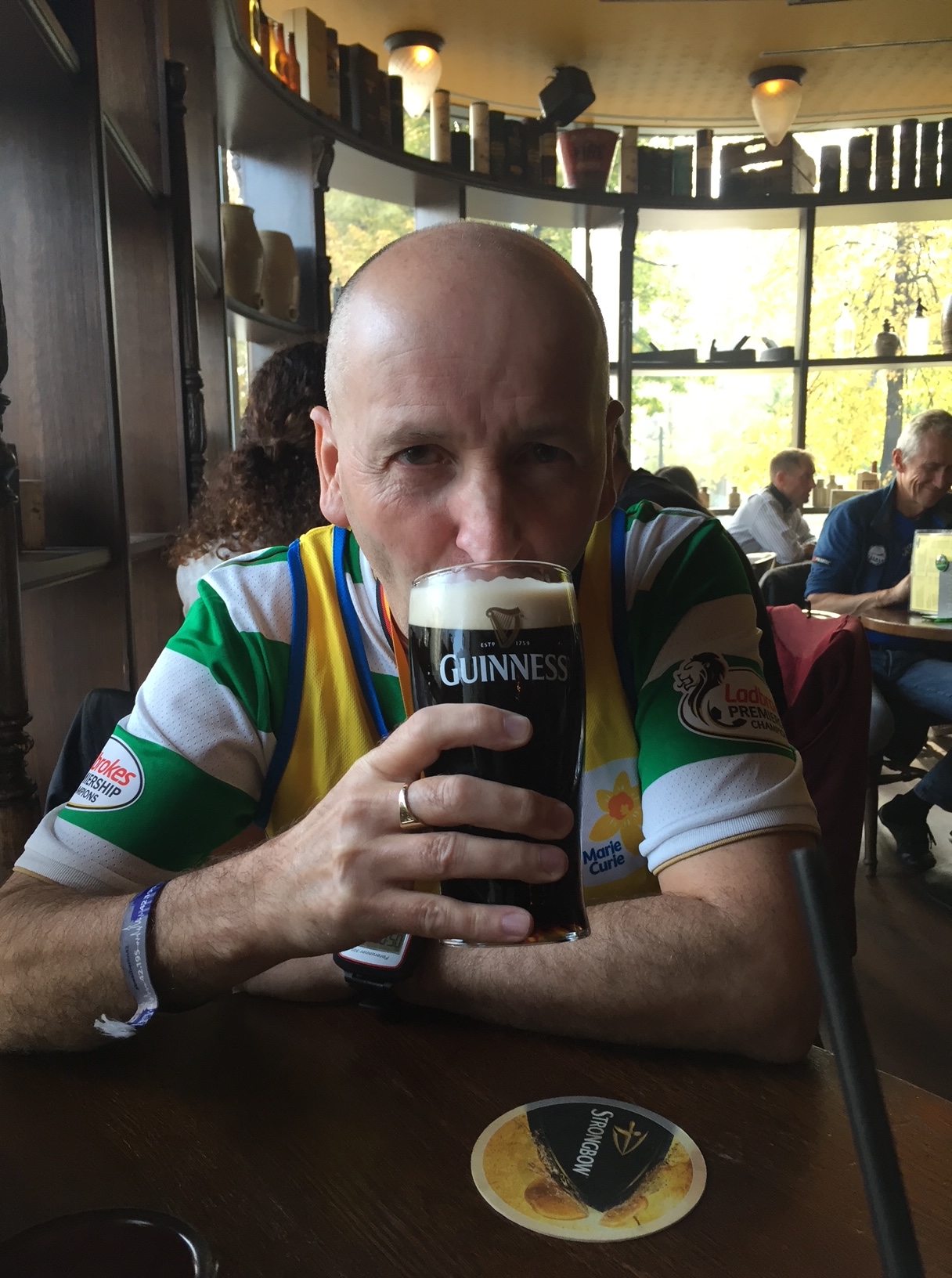 One year on and it's New York City for marathon number four. I'm in familiar ground here as I've been to the Big Apple a few times and each time I have managed to catch a Celtic match in The Parlour bar in Broadway, long-time home of the New York CSC. The first trip was one to forget, Celts already a goal down at Ibrox in that brief spell under King Kenny as I took my seat in the bar, although we did make up for that some nine years later, as the Irish Brigade of O'Dea and McGeady brought the League Cup home and made it a very special Paddy's Day Weekend in Manhattan for my son and I and our American family. Like this weekend, the third match involved a trip to Kilmarnock. We're holding on to a narrow lead courtesy of an early James Forrest goal as the match nears its conclusion when someone in the bar 'helpfully' announces that it's now 2-0 to Celts, Callum McGregor on target. It's still 1-0 on our screen, which we now find out is taking images from a stream which is a minute or so behind. Few things worse than a match being spoiled that way and said guy is not the most popular Celt in the bar after that. But at least it wasn't an equaliser. We're back in The Parlour the day before the New York City Marathon in November 2018 and this time French Eddie is on fire in a 5-0 home win over Hearts.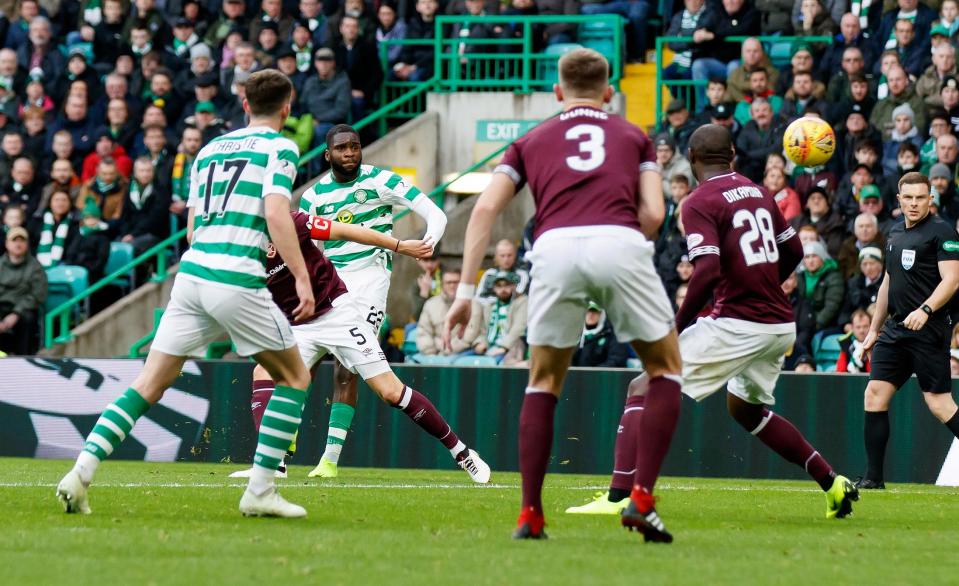 The end of February 2019 finds me heading for Tokyo in the aftermath of Brendan's sharp exit from Celtic Park. I'm flying to Japan at the same time as Celtic's vital midweek League match at Tynecastle and a combination of nerves and technophobia means it's the following morning before I find out that a last-minute Odsonne Edouard winner has kept the Hoops on track for the Treble Treble.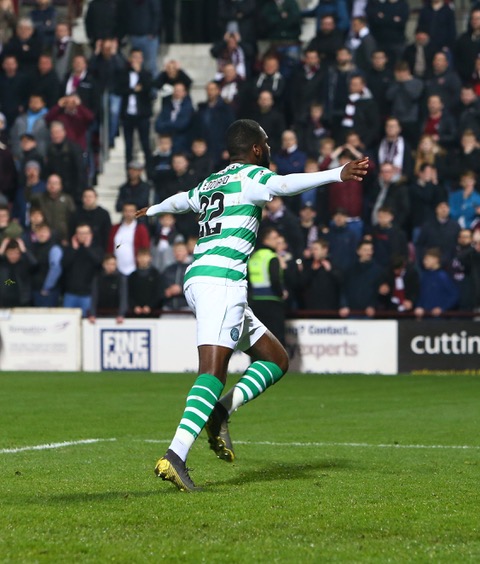 My hopes of watching the next game – a Scottish Cup tie with Hibernian at Easter Road – are dashed when I realise that the match will take place at 2am local time with the marathon due to start just a few hours later.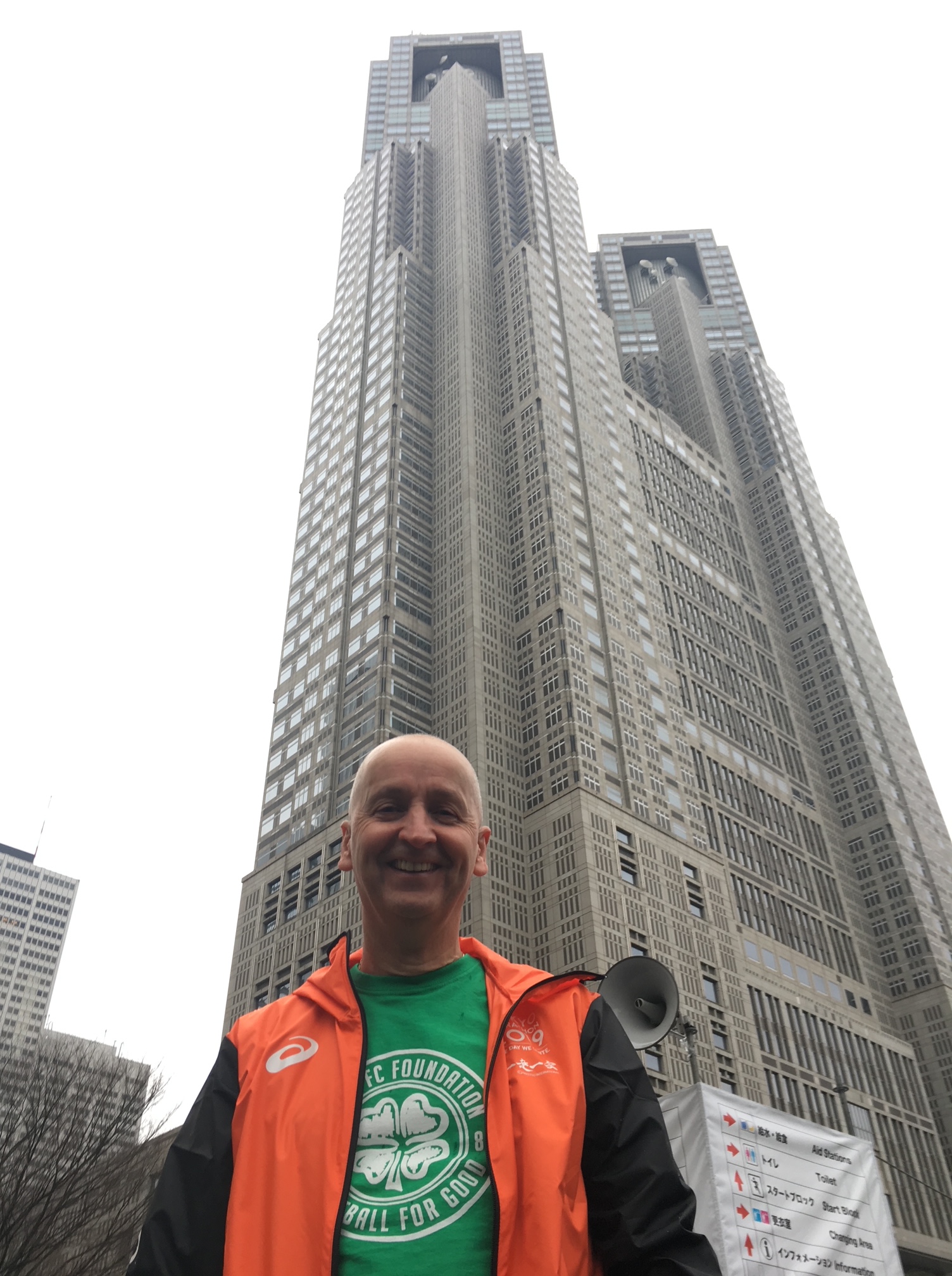 The highlight of that trip is not the visit to Mount Fuji, it's a meeting with Japanese Bhoy Nobu, who has invited me to meet up for a pint after the race. We've never as much as exchanged messages before but a meeting and a pint with a Celt from the other side of the world is not to be missed, and so it turns out. We have a brilliant night in The Dubliner in central Tokyo and small world syndrome kicks in again when Nobu presents me with a Tokyo CSC shirt identical to that which my cousin brought home for my dad about 20 years earlier.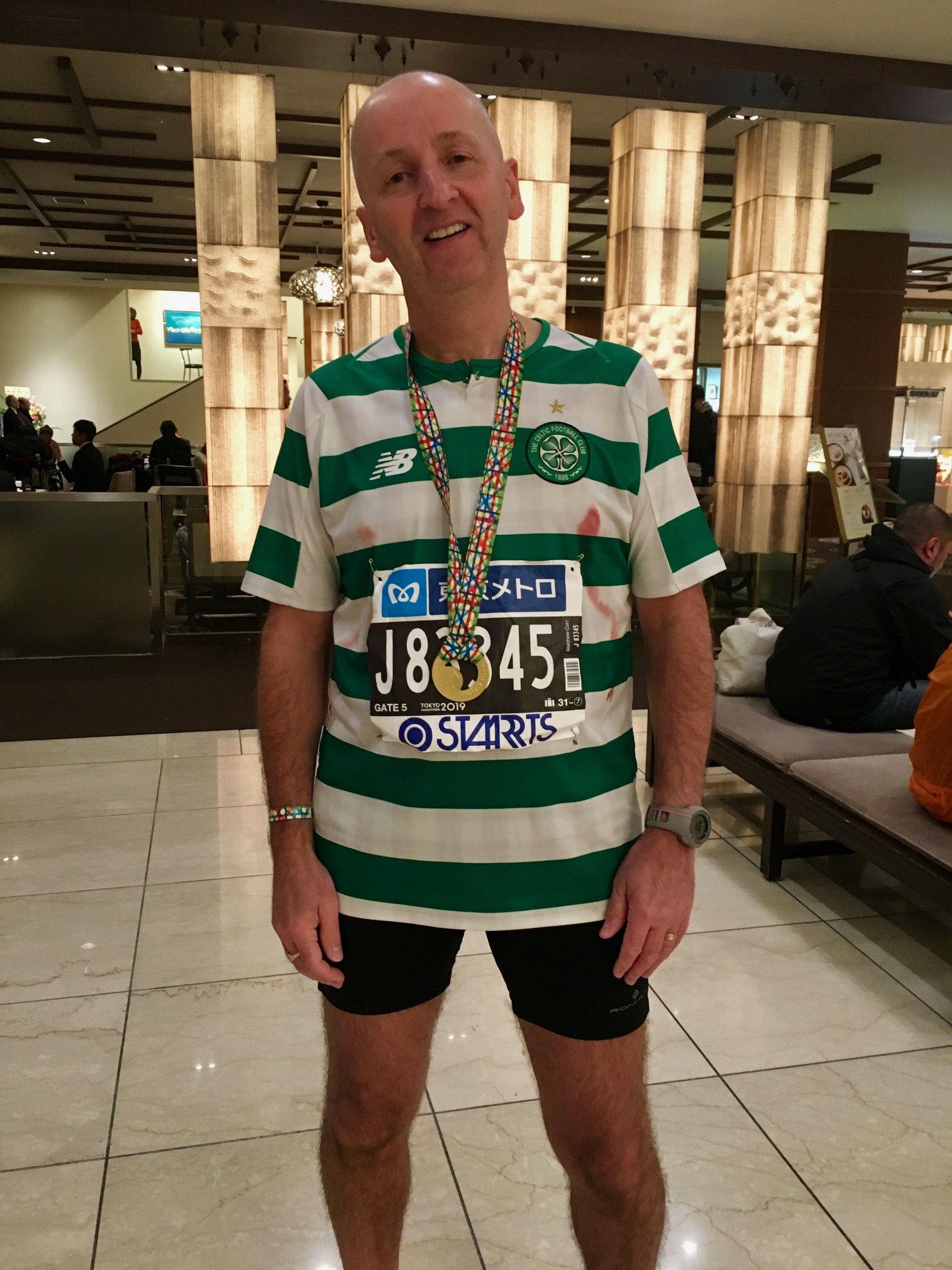 Turns out Nobu and my cousin, who now lives in the USA, are great pals from their days in Paddy Foley's watching the Celts in Tokyo. Next time I meet Nobu will be in Rome's Stadio Olimpico as Celtic beat Lazio and more recently it was my pleasure to welcome him and his friends as my guests on a stadium tour of Celtic Park. The Celtic Family truly is an incredible phenomenon.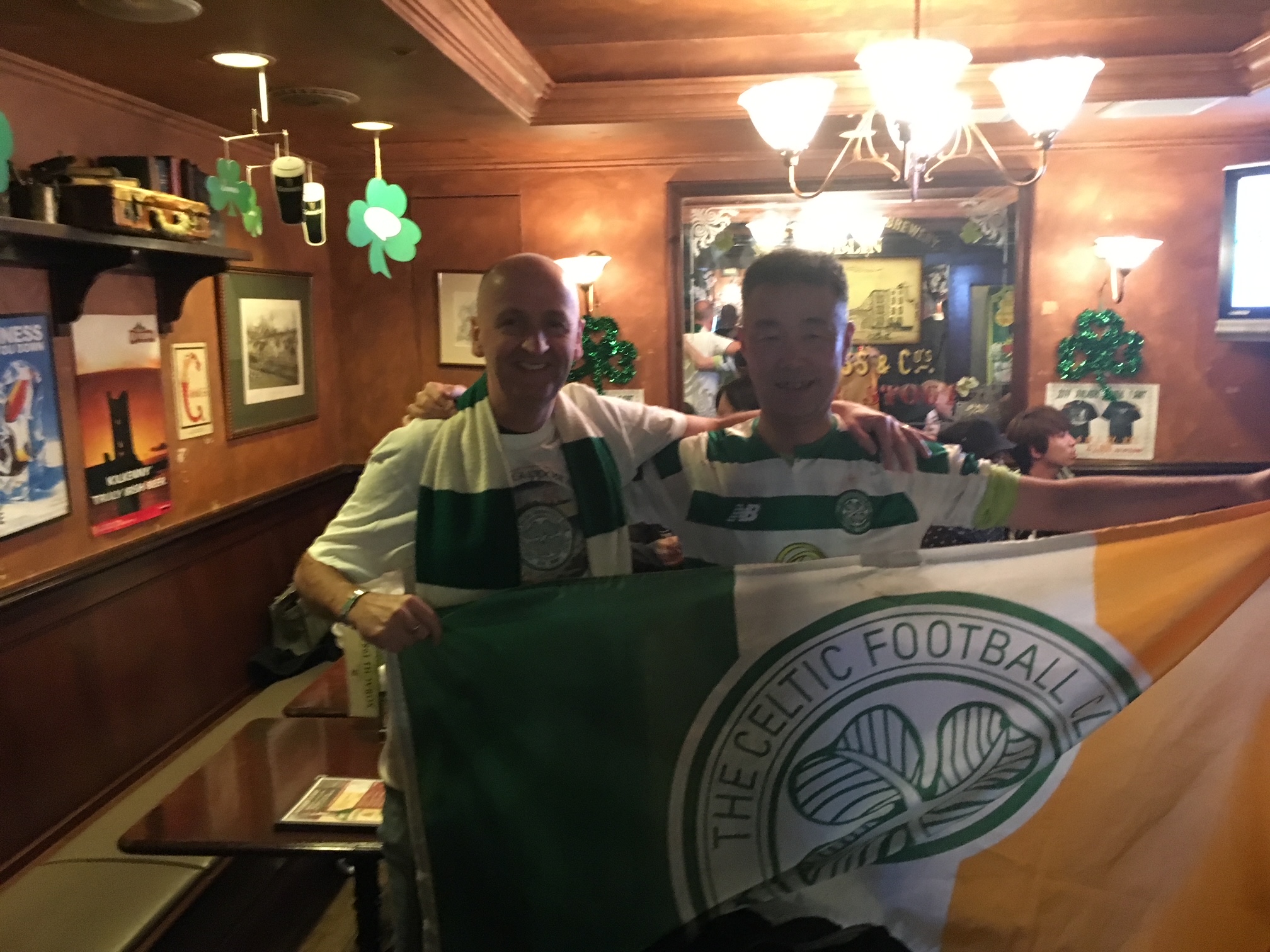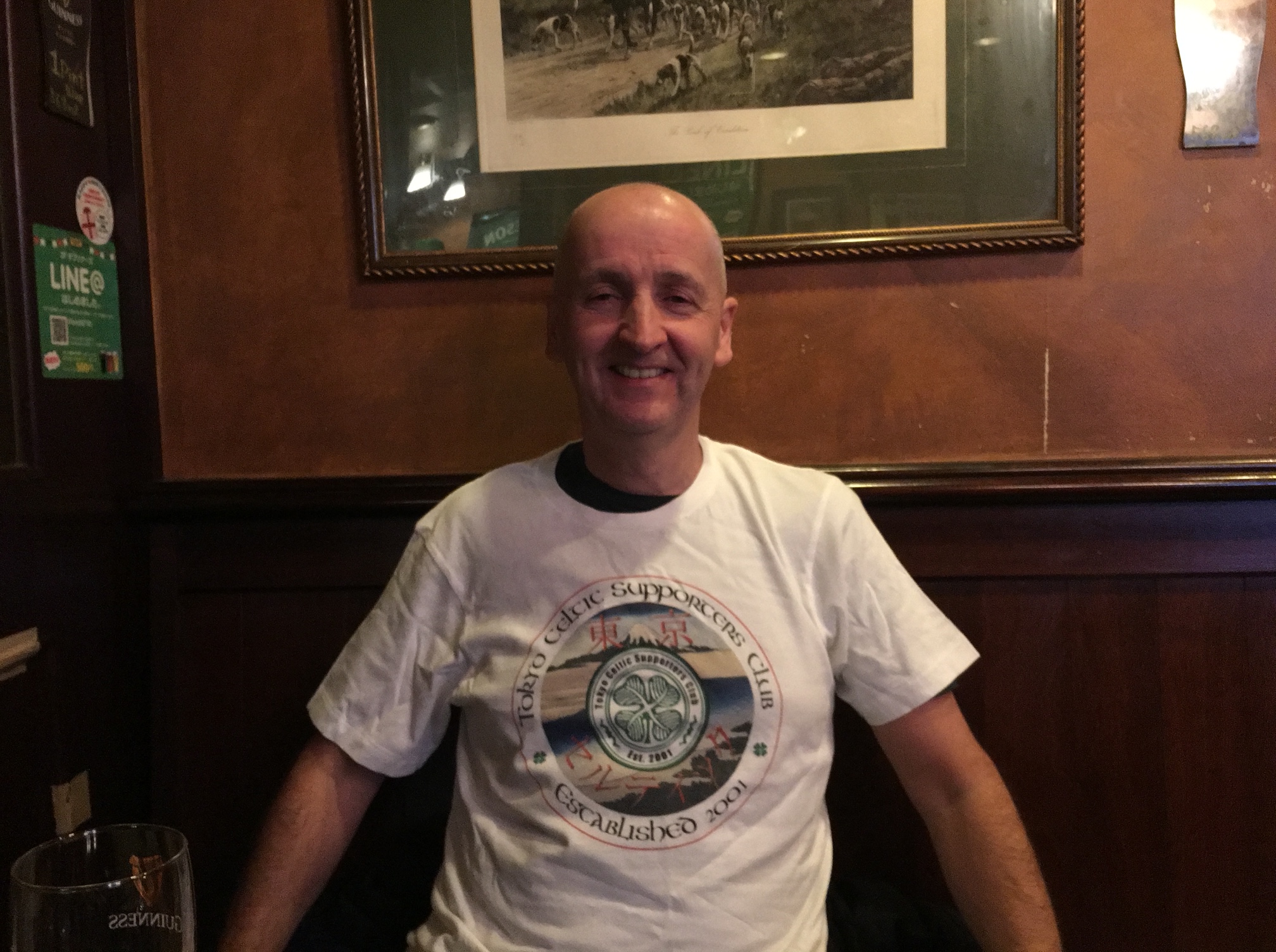 The pandemic put paid to my plans to run the Chicago Marathon the following year and so it would be October 2022 before I secure my fifth World Marathon Star. I manage to catch a stream for the second half of Celtic's match at St Johnstone and I'm gutted when Saints equalise near the death. Face tripping me, I continue to watch, and you would have heard the roar back in Perth when Giorgos Giakoumakis scores a 96th minute winner for Celtic. Squeaky bum time in the Windy City!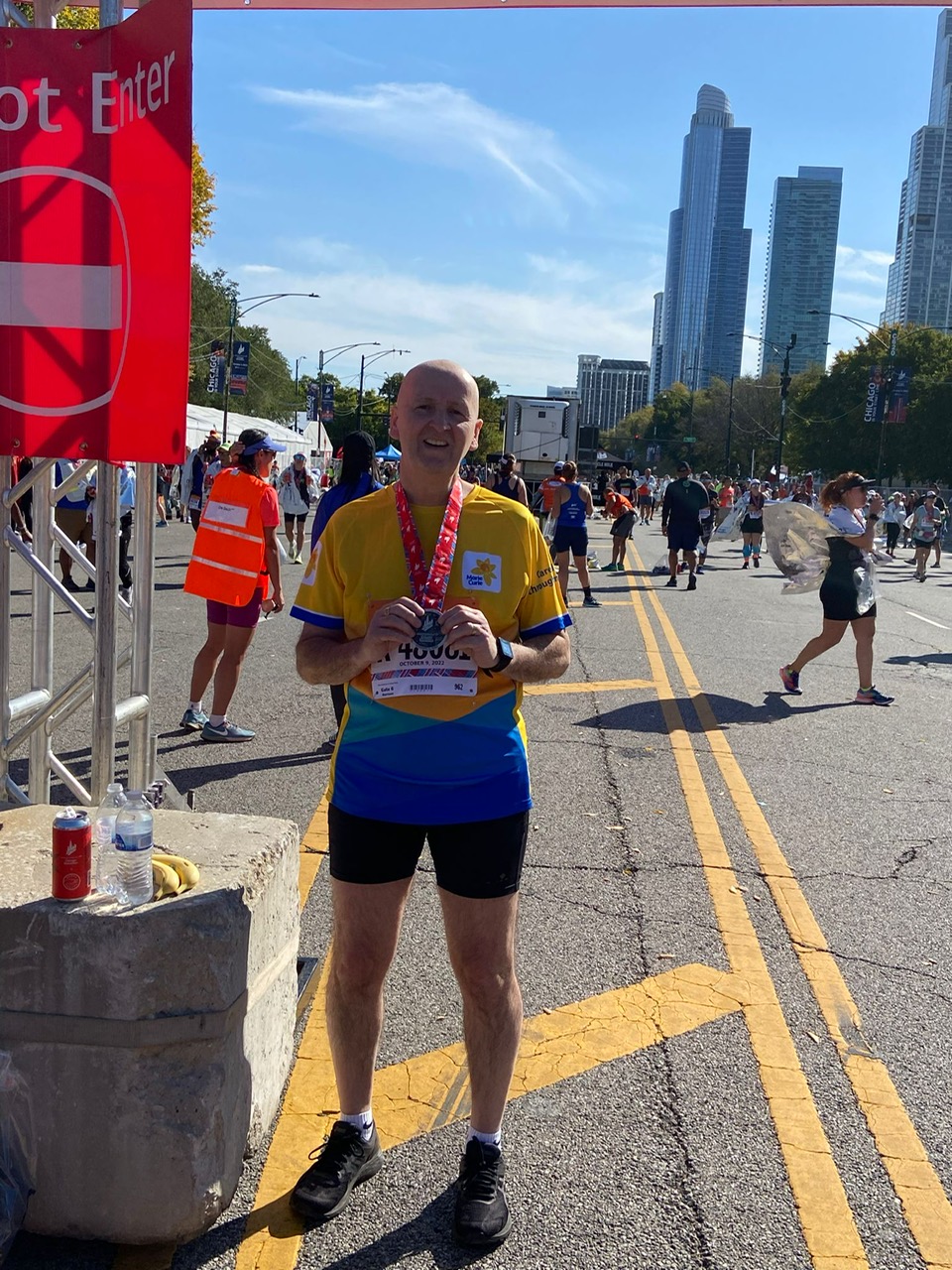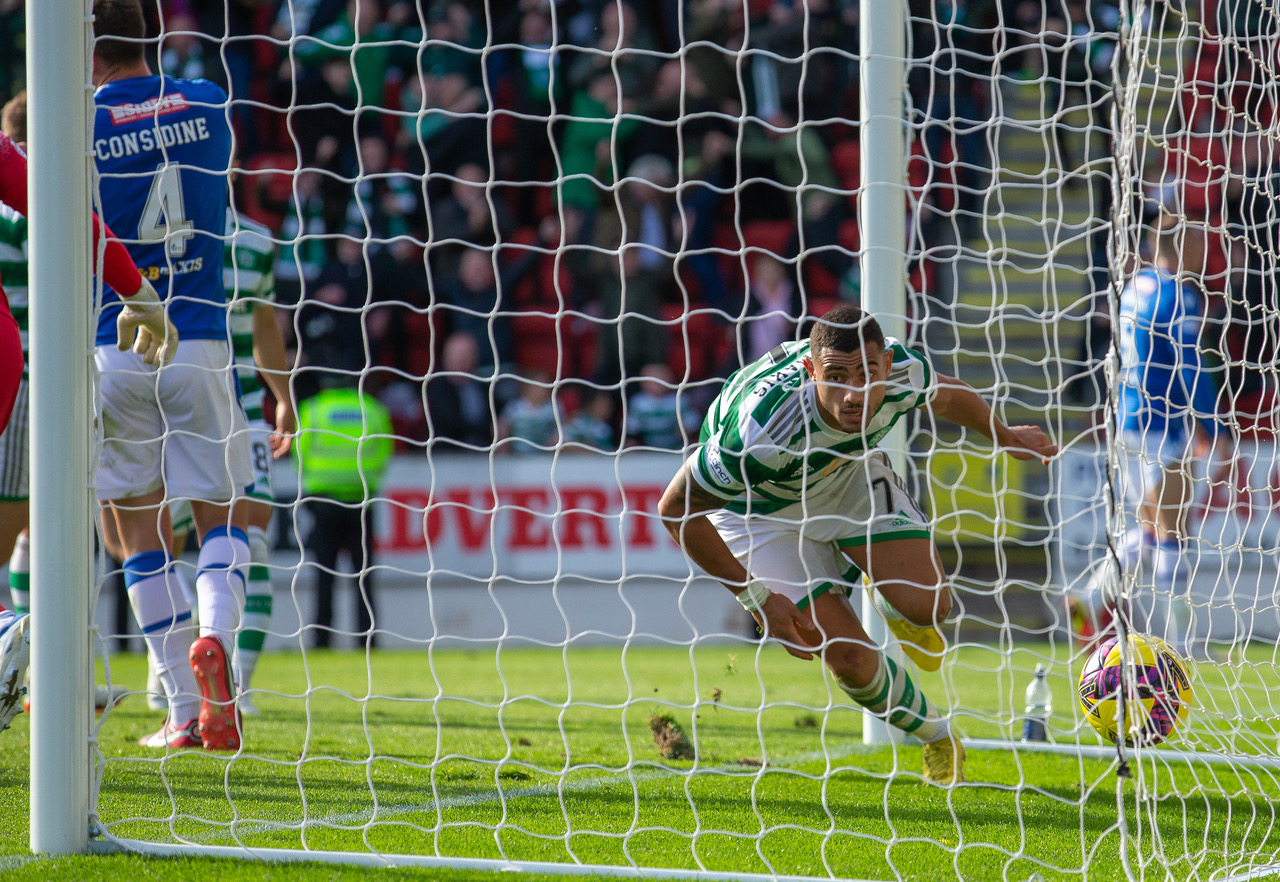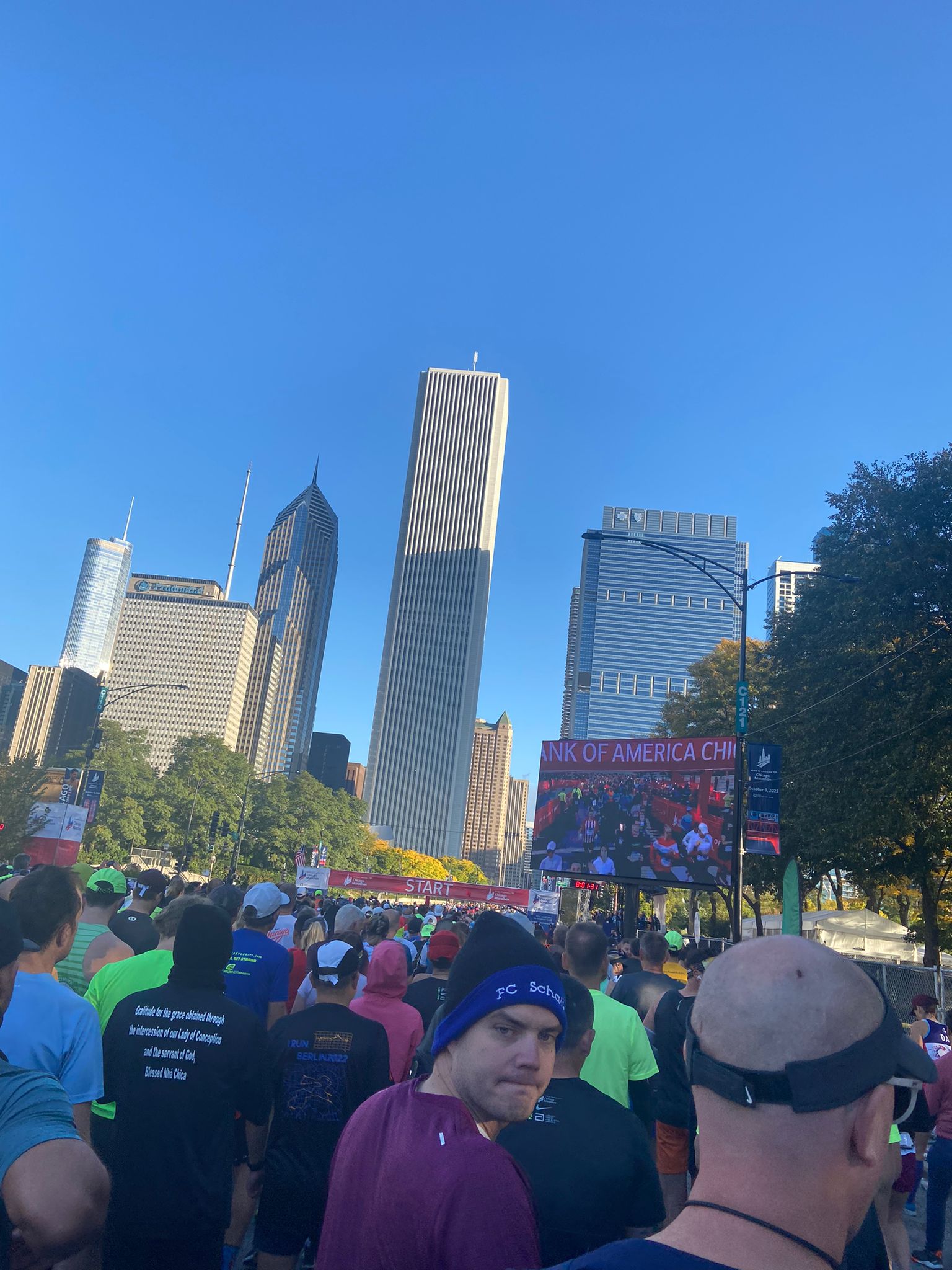 So only Boston to go and that's looking increasingly unlikely given that my best time would qualify me only if I had reached the ripe old age of about 140. Then I catch a break as a late cancellation for the sports company I use opens the door for me to run last weekend. It's a bit later than I would have liked in terms of training preparation but 'beggars and choosers' so we're on.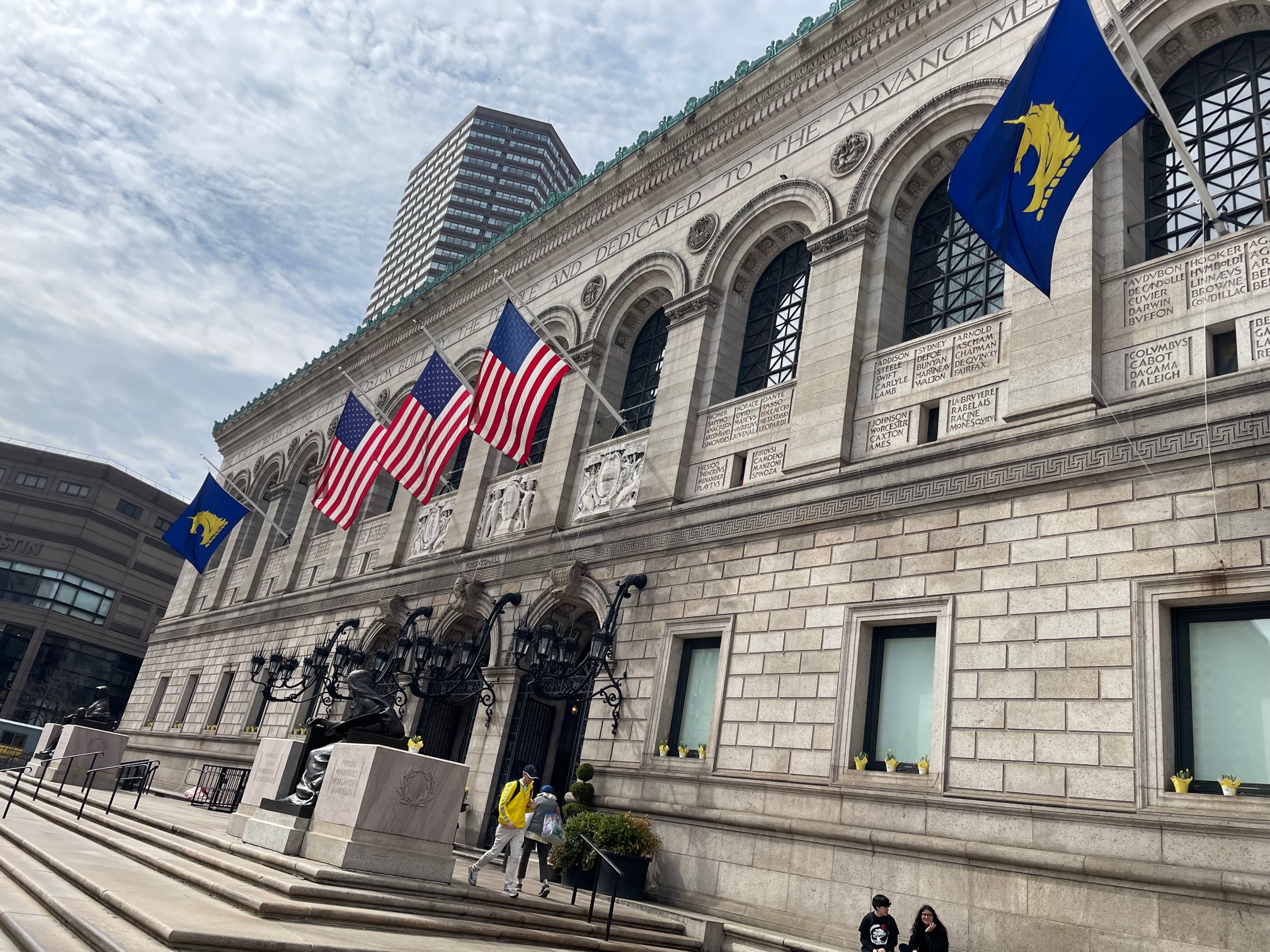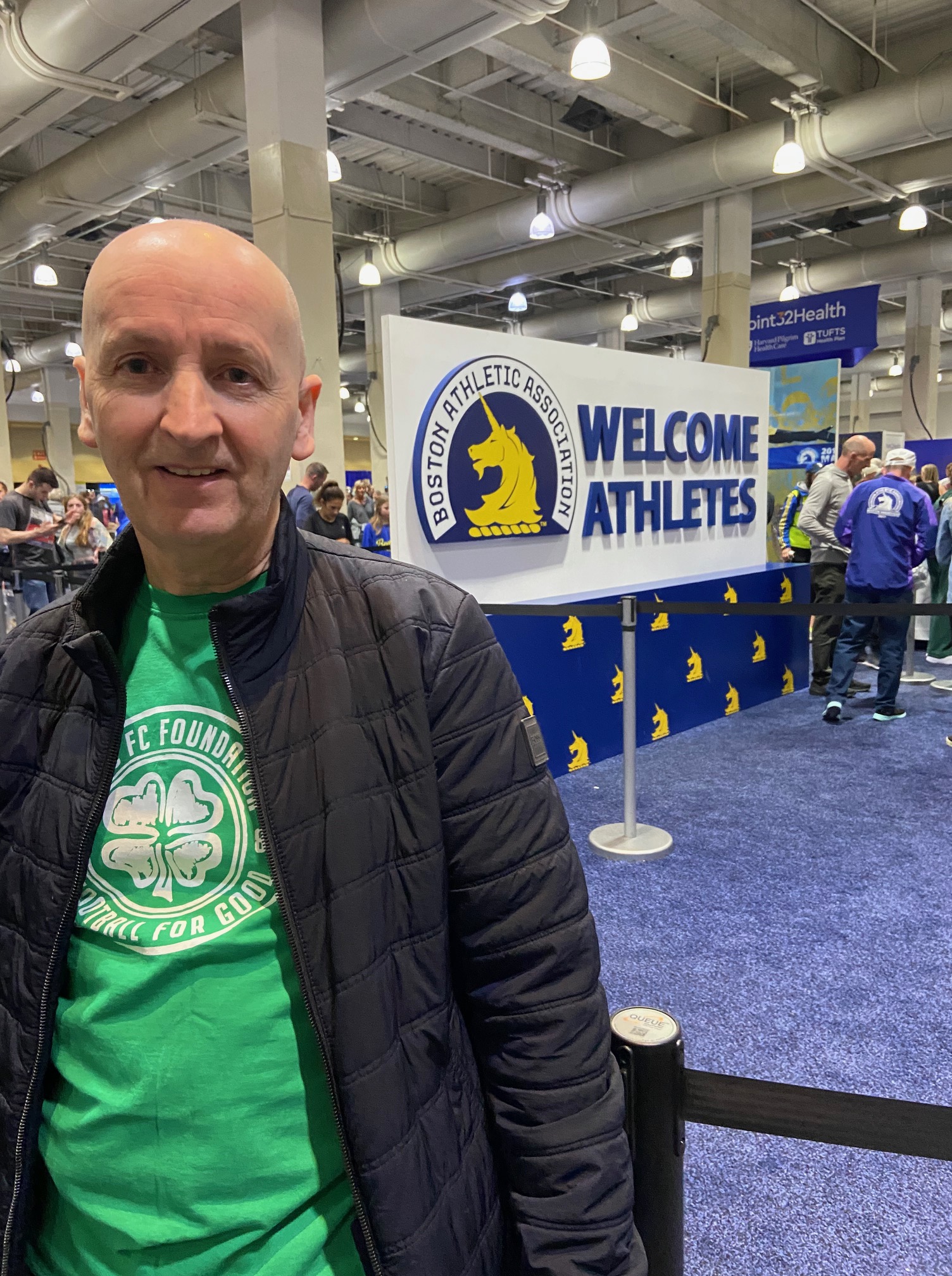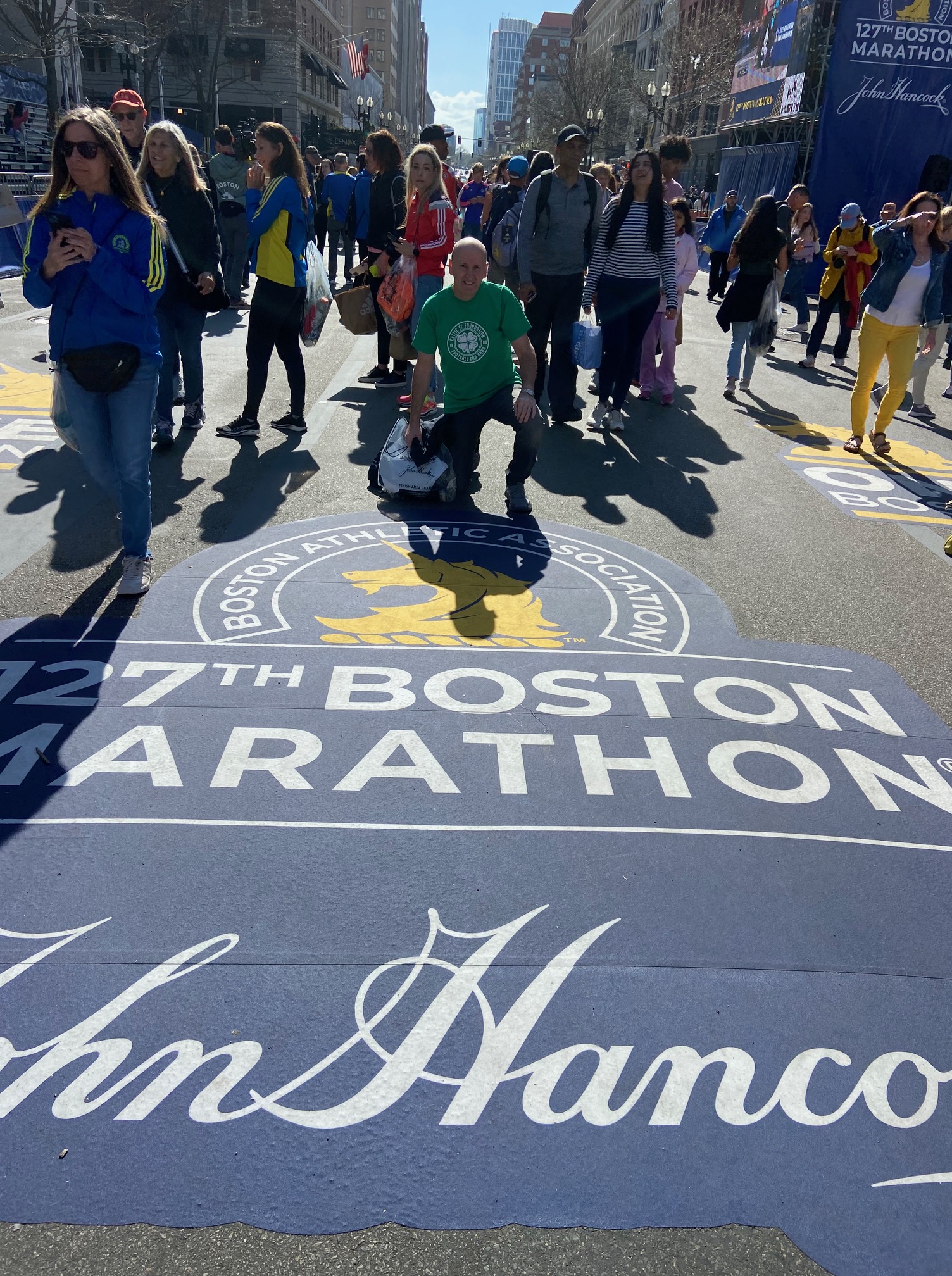 I've decided that this will be my final marathon and that I will run this one for Celtic FC Foundation, a charity very close to my heart. They do wonderful things in our name. Something for every Celtic supporter to be very proud of. I ran the Dublin, London, Berlin and Chicago races for another wonderful cause, Marie Curie, then New York and Tokyo for the Foundation. So, running this one for them again in Boston will be a nice way to finish up.
It's a trip to Rugby Park I'm missing, and a quick Google search identifies the Boston Number 1 CSC headquarters in The Banshee as the place to be. A message checking that the game will be shown receives an immediate "yes" from CSC admin Scott and so it's a 6am rise and short taxi ride to South Boston to watch the Celtic.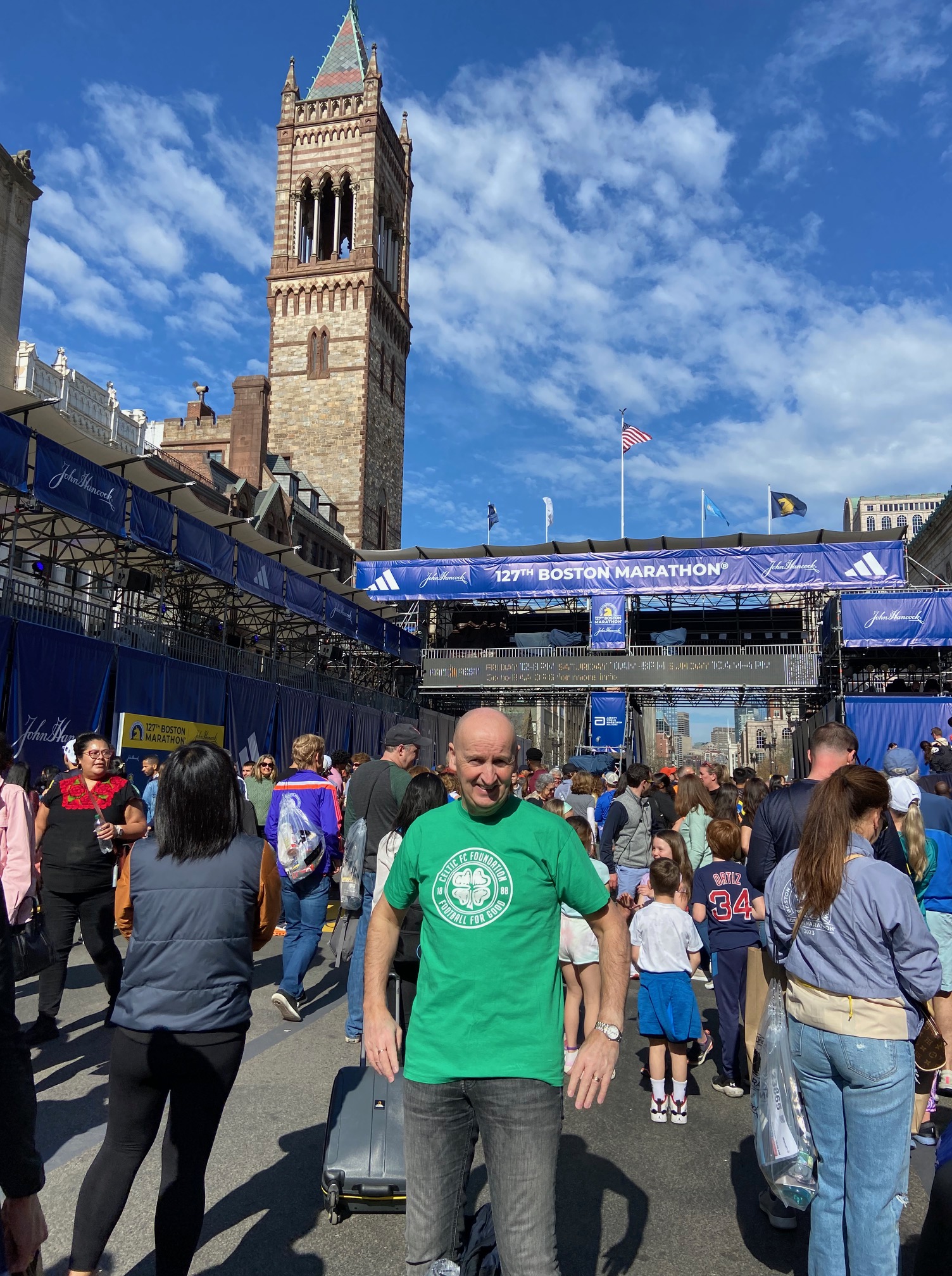 Scott's the only one in the bar when I arrive but by kick-off he is joined by the regulars and also a lovely young Scottish couple. Turns out it's Mick and Karen from Peter Grant territory in Chapelhall and he is also running the marathon.
We get to watch the Hoops finish the match within half an hour then we both order some breakfast to give something back behind the bar, given that we're not drinking. That plan backfires as the lovely Scott says his cheerios and disappears before the barmaid advises us that he has settled both our tabs. A classy gesture from a true Celt and hopefully one I can repay next time he is in Scotland. Cheers for that, Scott.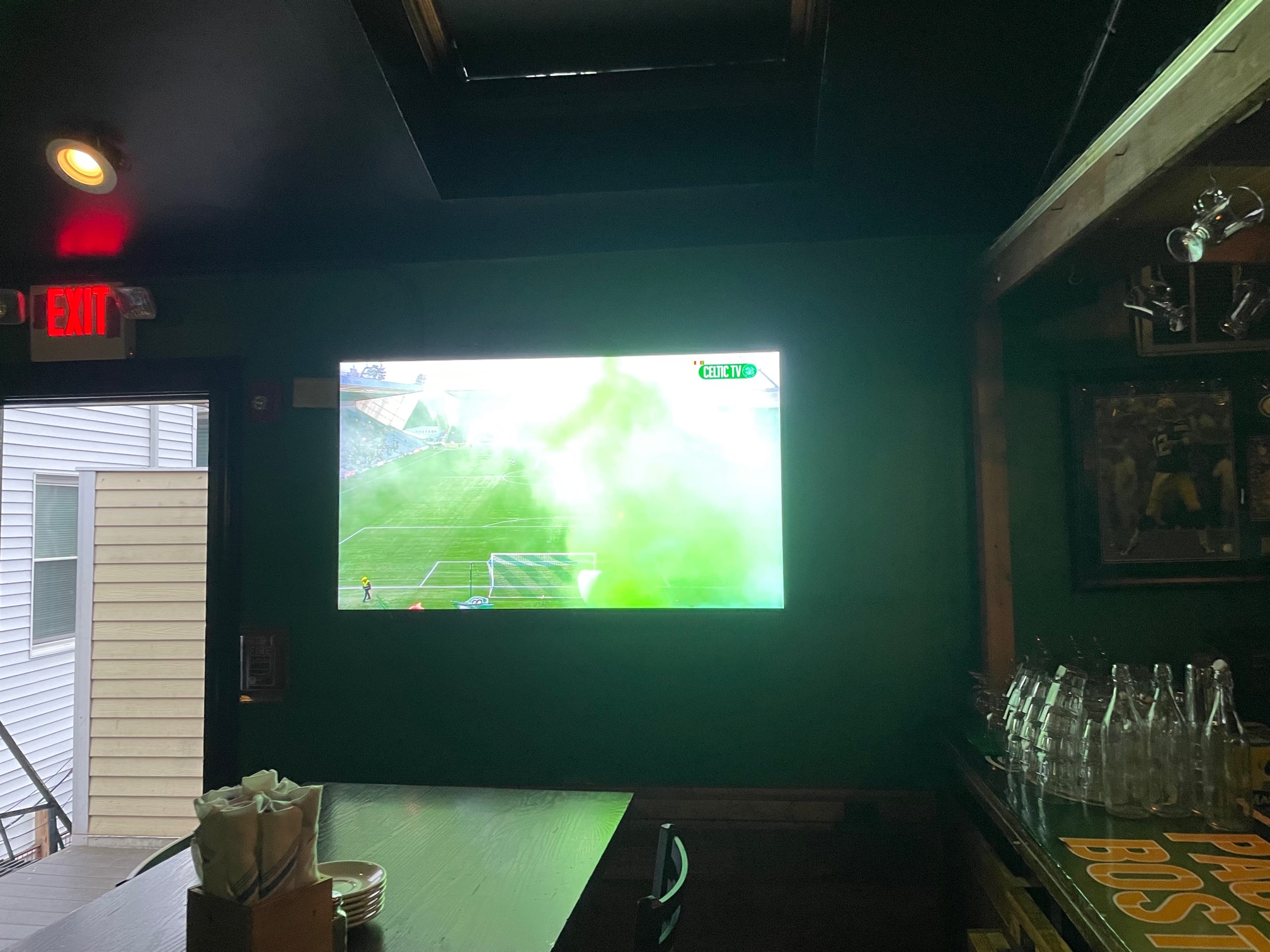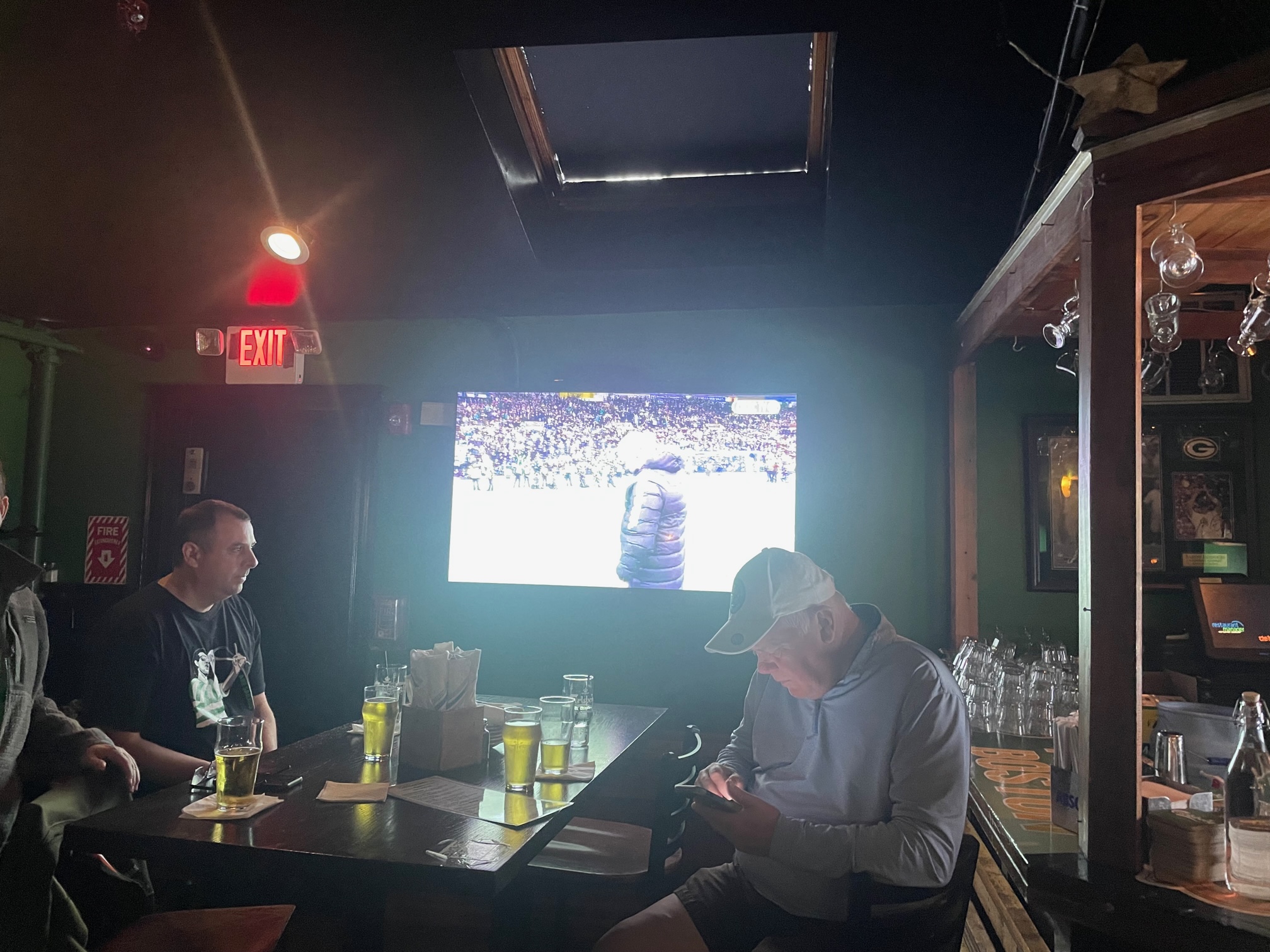 Next morning is Patriot's Day in Boston, a huge public holiday and the day of the Marathon. It's a short walk to pick up the buses – those yellow vintage American school jobs – to be driven out of town for what feels like an eternity before being dropped off in a huge park for the start of the race. The idea apparently is that we effectively run home from here, which borders on cruelty but hey ho. There's no plan B and I don't fancy staying here in the pouring rain. So, running home it is.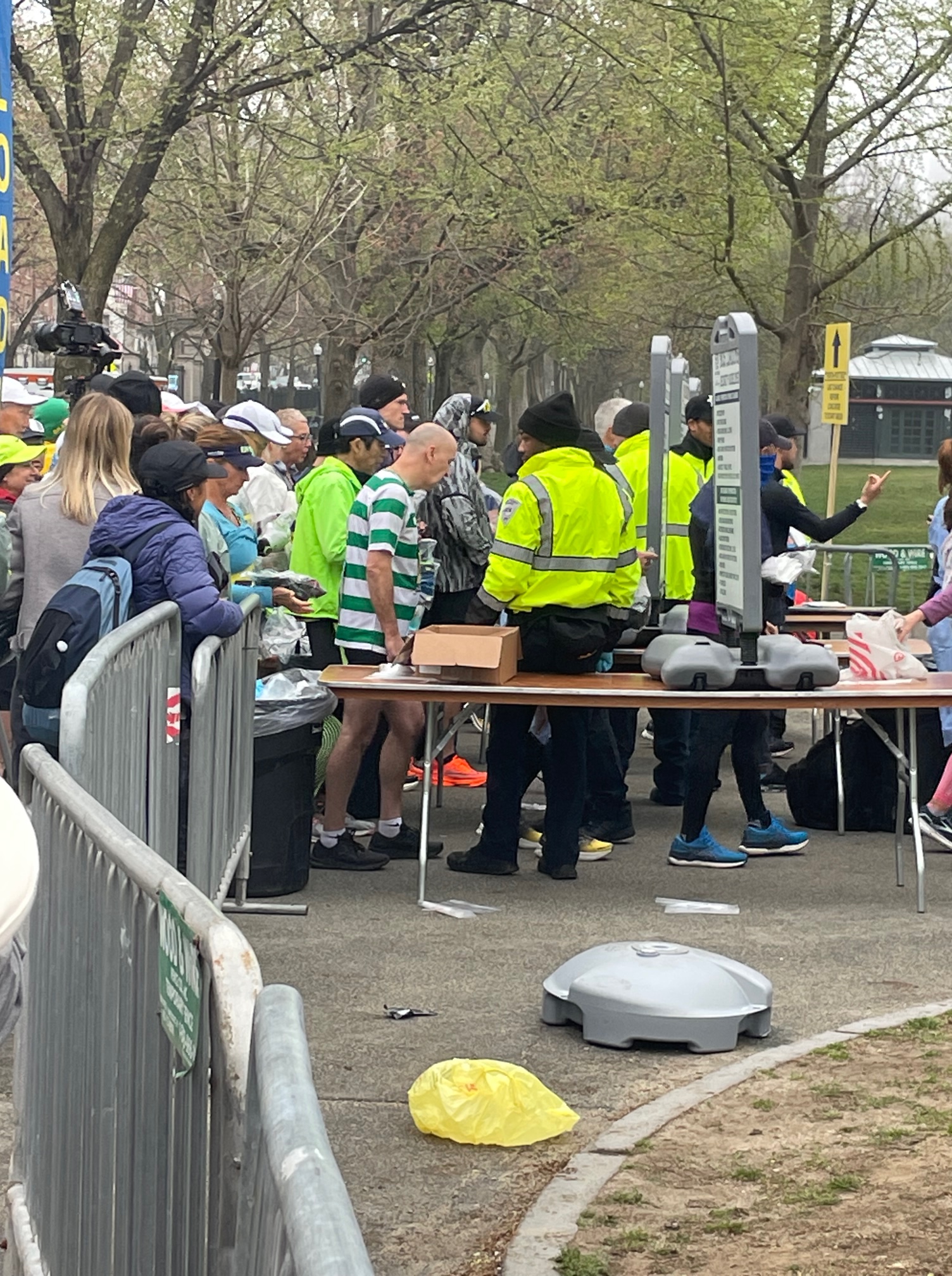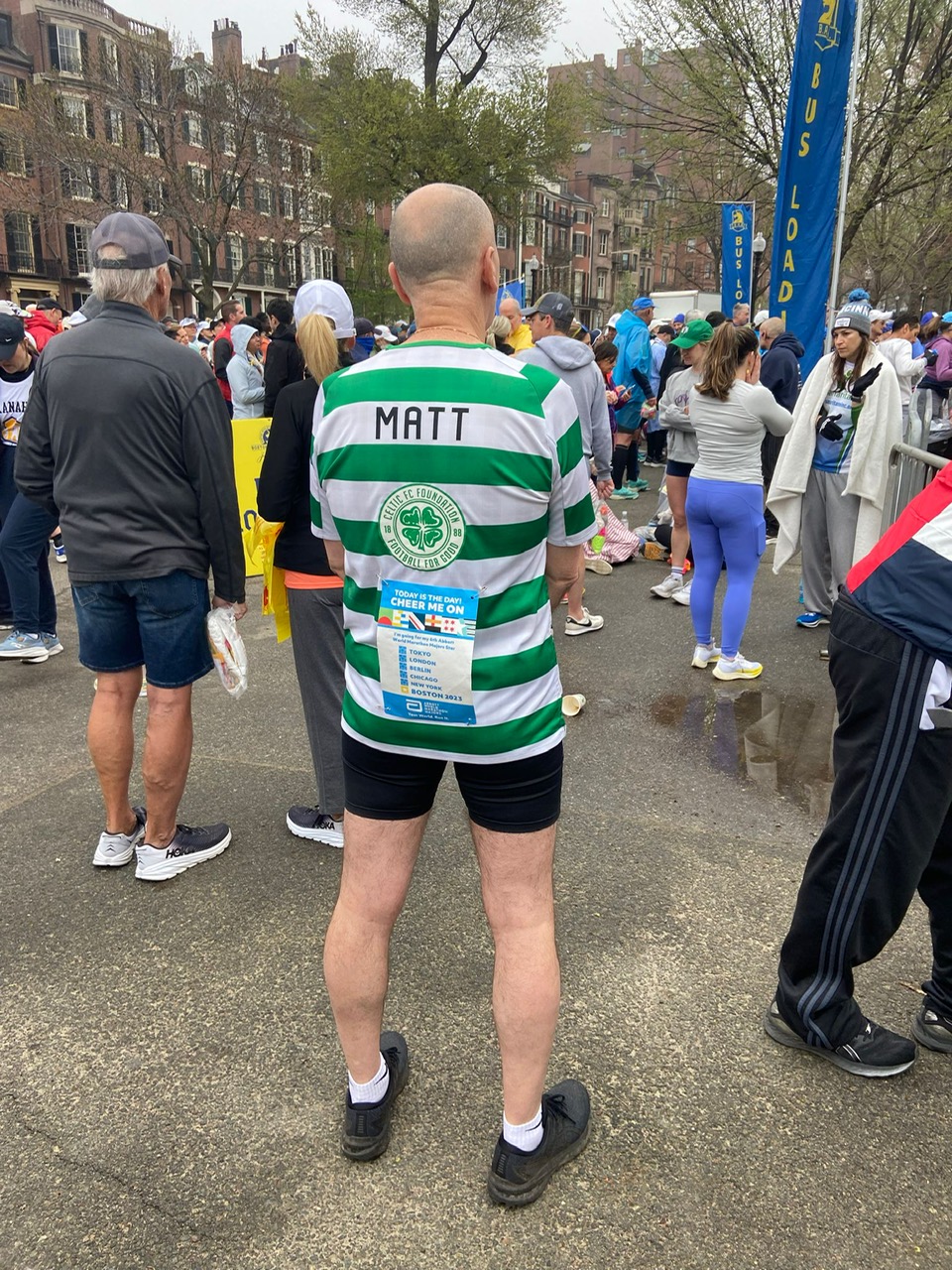 Walking down to the start line and an older guy says something to me in what I thought was Italian, so using my best schoolboy lingo I enquire if he is from that country. "Argentina" is the reply, "Although my grandfather was from Italy." So, as you do, I ask who his football team is, I'm guessing Boca or River Plate as the most likely responses.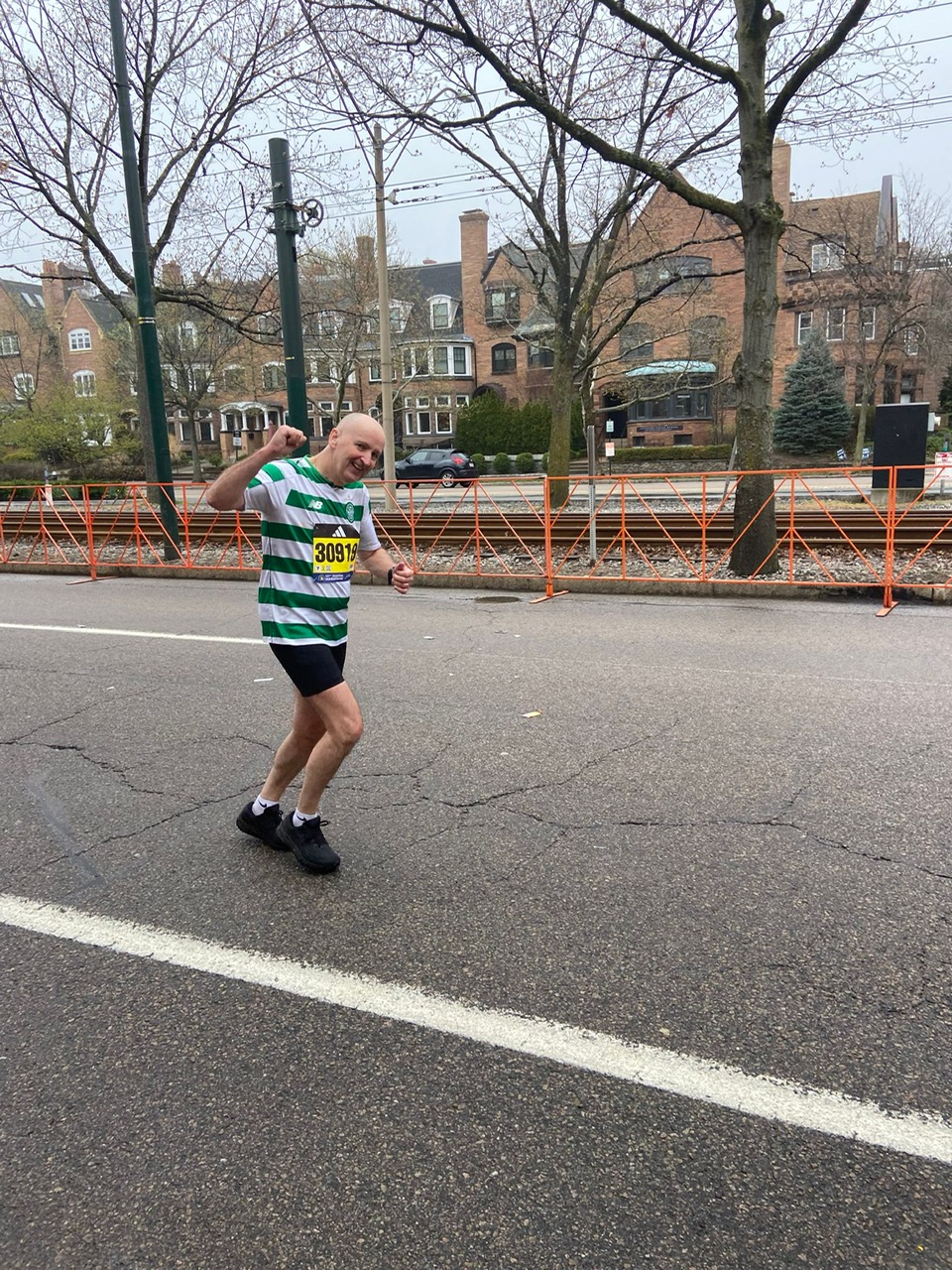 Then he tells me that Racing is his club and I point to my Hoops and mention 1967, a game most of us would rather forget. But, of course, you will have a different perspective as a Racing fan, the greatest event of their history. He recalls that a third game was required in Montevideo and then his face lights up as he describes the winning goal in whatever is Spanish for 'screamer' judging by his actions and huge grin.
In the interest of world peace, I don't mention some of the events that we would tend to think of when the Montevideo match is brought up. I wish him luck for the race and move on, and within 20 yards I'm standing behind a guy wearing an Inter Milan jersey. Bizarre that for a non-football event in the USA, I am confronted by memories of the two highest profile matches in Celtic's history. Anyway, I fight back the urge to get into a discussion with Inter as he's about 6'6" and now it's race time.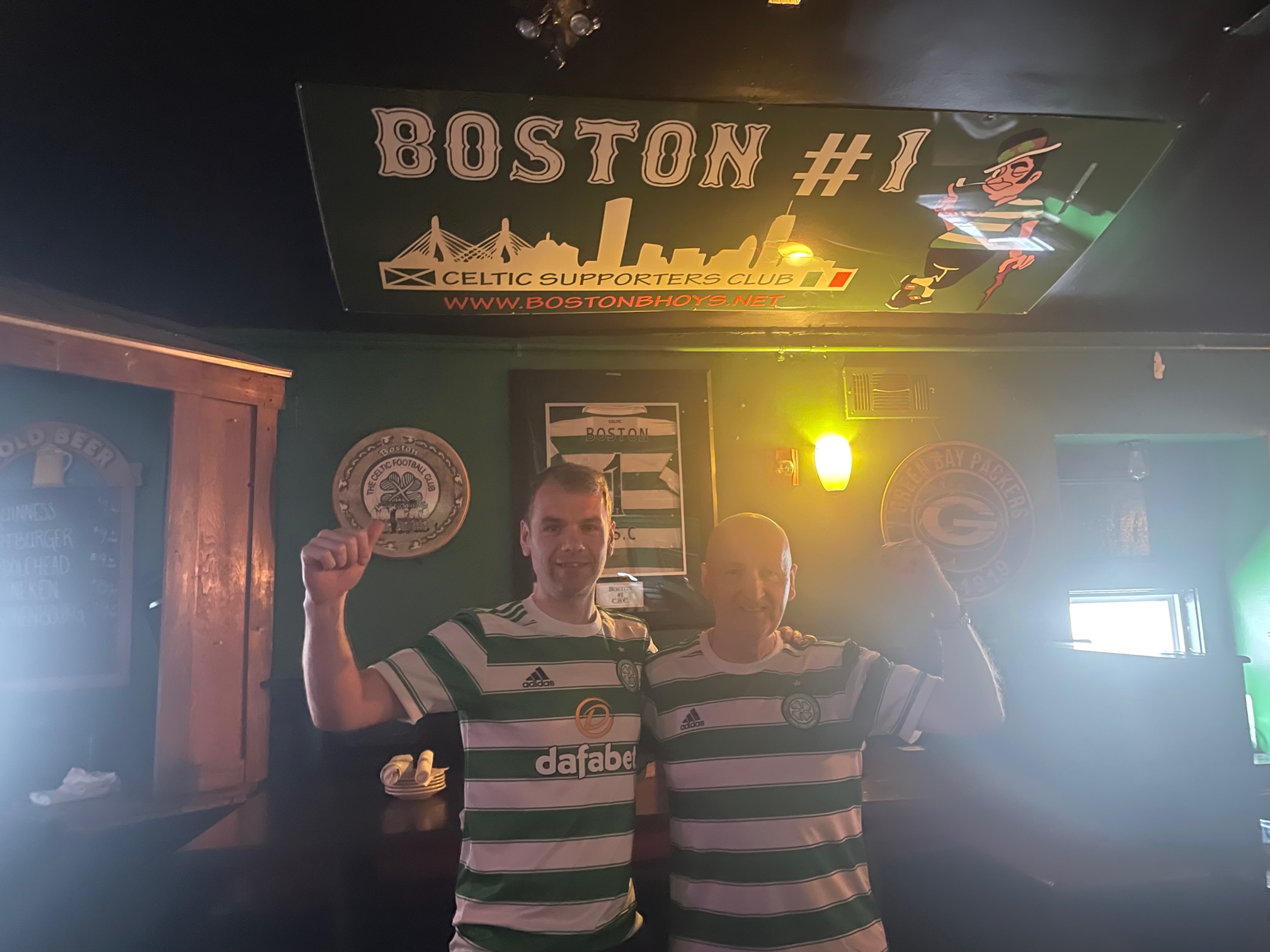 Running in the iconic Hoops in a foreign country is usually a surreal experience, and Boston is no different. Of course, I am not the only Celt here. Mick will be well on his way on the Road to Boston by this time, as he was starting earlier, but whilst I'm waiting for the starting signal a lovely Scottish lady approaches and introduces herself as Sharon, another Celtic supporter chasing her sixth star and the special medal that goes with it. Boston is most definitely green and white today.
So, it's head down and here we go. Incredible support from the people en route, many of whom are giving it "Come on Ireland!" as I run past, whilst others are on the money with "C'mon the Hoops" and even one with "what a beautiful shirt." You do get some characters who will run beside you for a bit, again attracted by the Hoops. Gent from Texas and a couple closer to home, Stirling and Kilmarnock, clearly not Celts as that is not mentioned whilst chewing the fat about the race and general chit chat. Stirling Steve is running this race despite having previously had heart surgery, as he is raising money for the hospital who cared for him. Some fabulous folk in the world.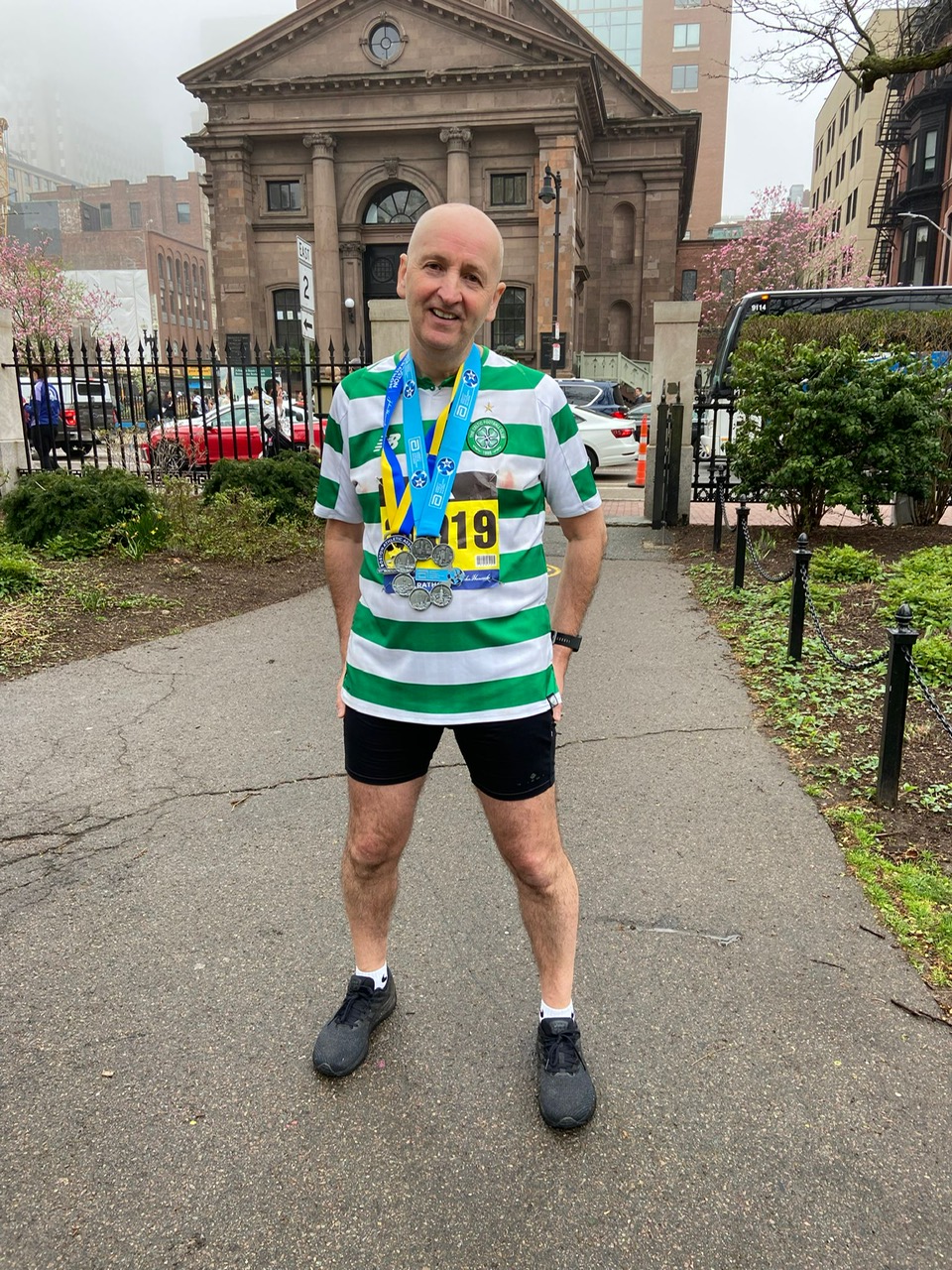 Speaking of fabulous folk raising money for hospitals, I also have the pleasure of meeting Marty from Belfast and his crew, complete with leprechaun headgear. Turns out Marty is in Boston with the same company as me, but he flew out from Dublin rather than Heathrow.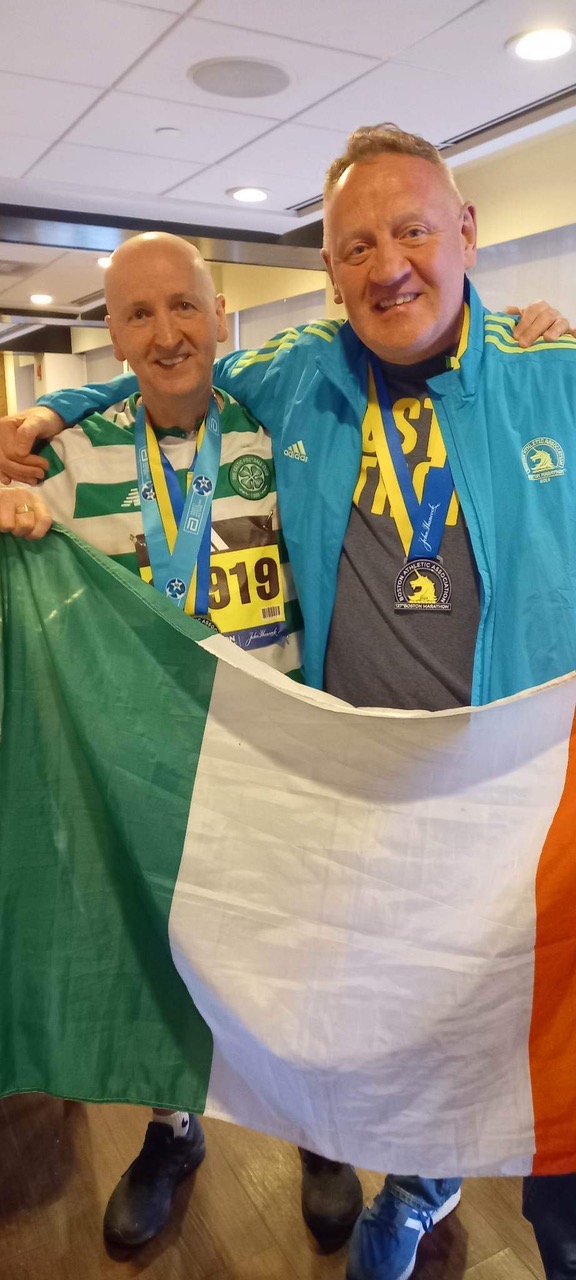 Finally, five hours down the line, the finish line beckons and it's 'job done.' I have the sixth star but more importantly, I haven't let the folk down who have raised over £1,500 for Celtic's Foundation. It's an incredibly emotional feeling as they drape the medals around your neck, one for the race itself and one for the sixth star.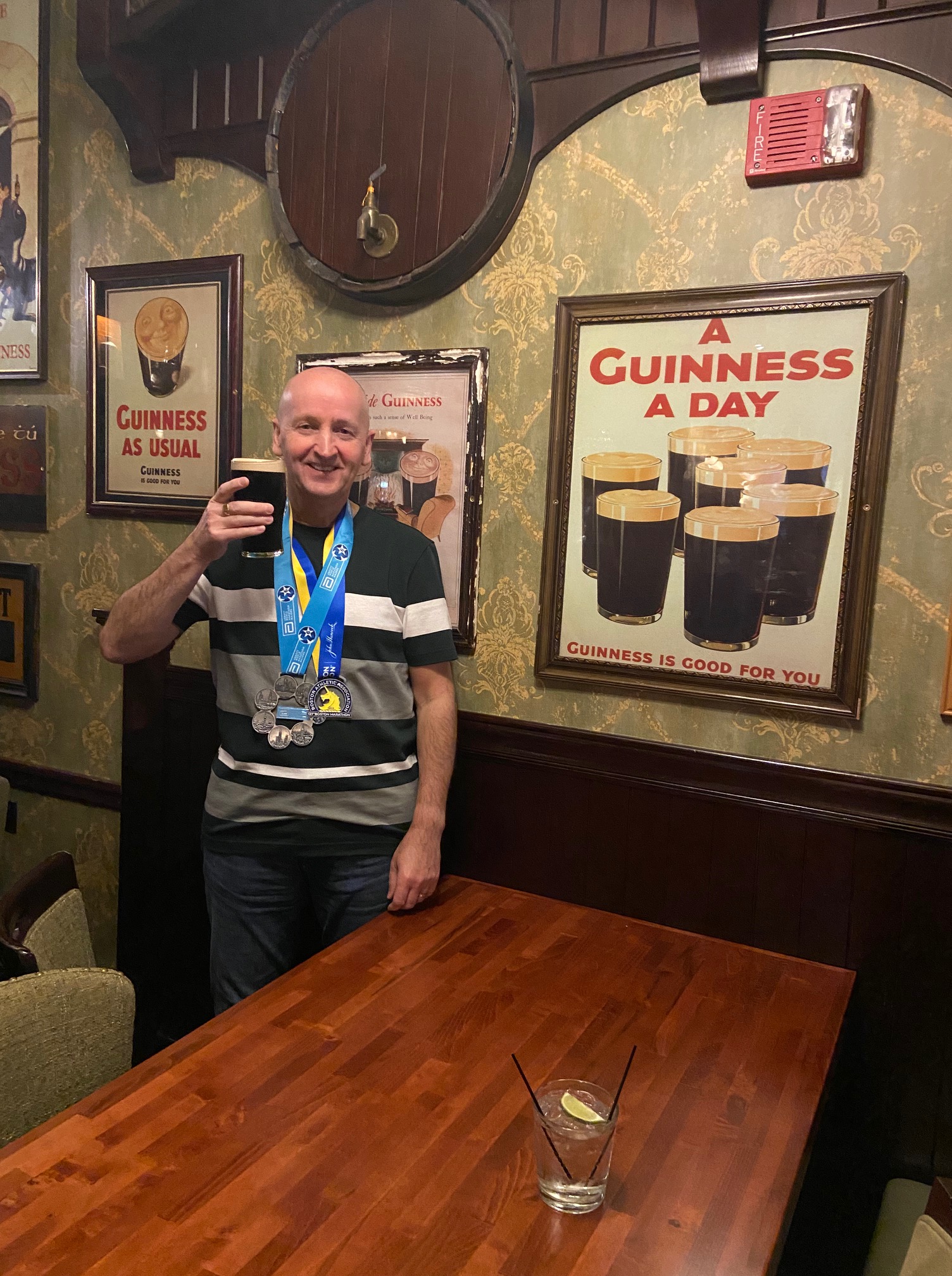 As I emerge into the street, I am greeted by another Scottish accent. This is Kevin, who I am struggling to place but who clearly knows me. Turns out he was also in Boston to run the race and was told by friends to look out for the guy in the Hoops running for the Celtic Foundation!
Back at the hotel to have a couple of pints with the lovely Marty, and a wee pose for a photo with his flag of peace. Then it's down to The Dubliner, which is heaving with a live act belting out some of the songs of which I am well acquainted, and a couple of pints of black gold before heading for dinner in a restaurant with stunning views over night-time Boston.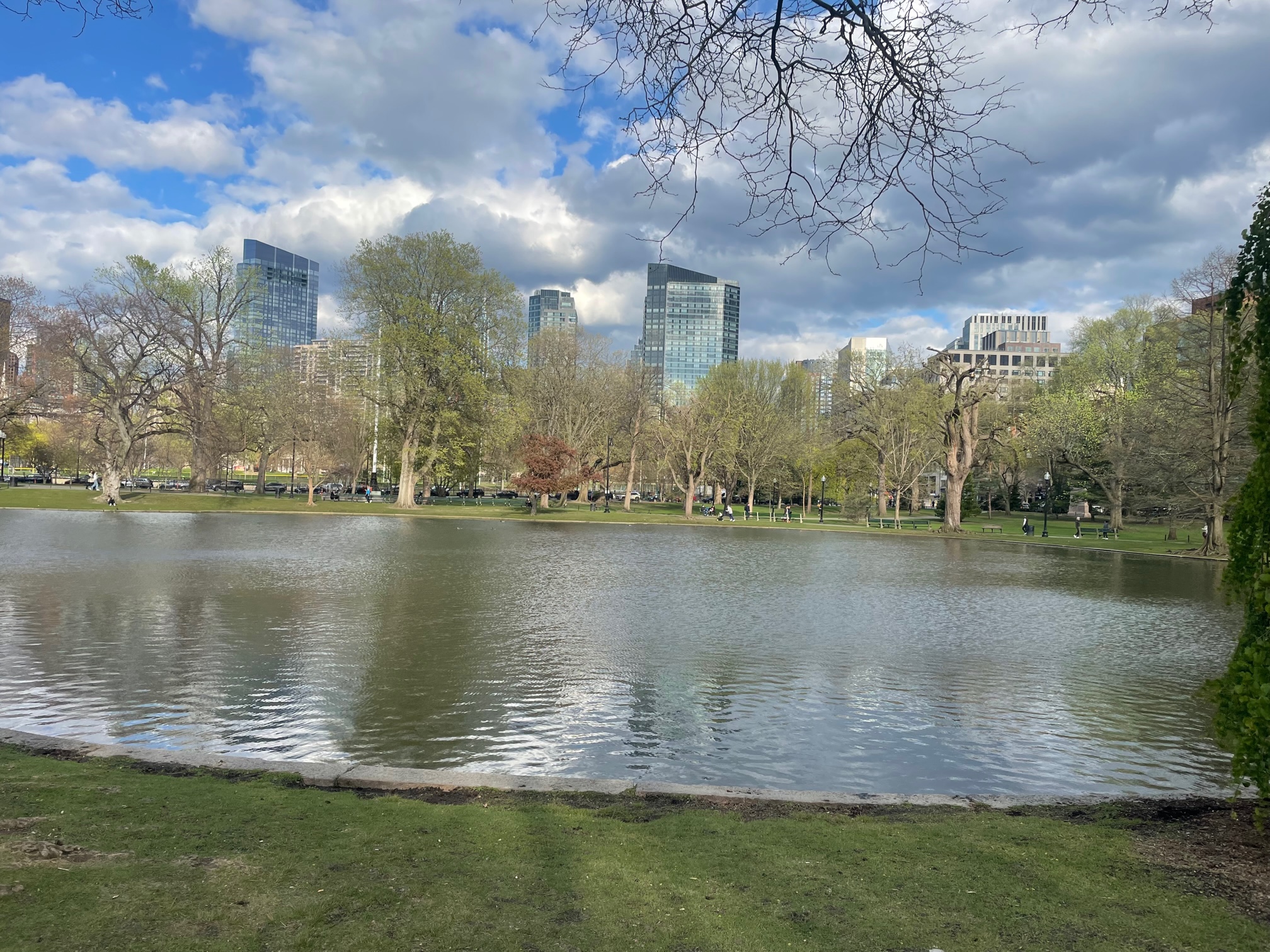 I'm in the queue to go through airport security when I once again bump into Kevin, the Scottish lad from the day before. We agree to catch a pint and I spend a really enjoyable hour or so with Kevin and his French pal Ed talking all things Celtic. Both guys are currently based in Zurich and are great company.
So, Boston was a blast. Incredible city full of the kindest of people. My running job is done now but the fundraising continues for a bit yet. Be good to get to the £2k mark if at all possible. Thank you to the dozens of generous folk who have taken us beyond £1,500 to support the wonderful work done by Celtic FC Foundation on our behalf. If you are in a position to help, the price of a pint or a takeaway will make a difference to those who would value some support. The link to do so is below.
Thank you and Hail, Hail!
Matt
Follow Matt on Twitter @Boola_vogue