As with Valencia last February, and many more over the years, I had travelled with some combination of my boys or Celtic-mad daughter. The rite of passage. One of my favourite things.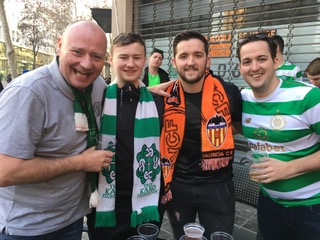 For others, those trips had involved pals. That included Celtic's previous tie with FC Copenhagen, back in December 2006. Having won all three home games, and with a superior head-to-head record against second-placed Manchester United, Celts only required to match the English club's result in the final match to top the group. It was a dismal day in the Danish capital, in every sense.
Dropped off outside the stadium, we were soaked through long before we reached the sanctuary of a pub, any hope of seeing anything of the old city ruined by the constant downpour. I suspect even the famous statue of the Little Mermaid would have stayed indoors that day anyway. And the game wasn't any better. A goal down before Zadok's anthem had finished, and two before the half-hour, there was nothing wonderful about Copenhagen.
At 3-0 down, Jiri Jarosik pulled one back to muted cheers from a huge but soggy support. Off we trudged to the bus and the inquest on the miserable trip home. Never again. Well not until we've dried out anyway. The mood is not helped by hearing that Manchester United have beaten Benfica, so we will finish second. An opportunity missed. They will get Lille, by far the weakest team remaining, and we will get AC Milan.
If Carlsberg did Wednesdays, they wouldn't be anything like this.
The group of friends on that Copenhagen trip had included Roy. And in a strange quirk of fate, we'll be going back to Denmark together again, after a period where we haven't seen each other that much, as life gets in the way.
We first met nearly thirty years ago, as work colleagues. A couple of Celtic-daft junior managers in a company which didn't have too many of those at that point. We're opposites in many ways but we hit it off. As you do. Last time we travelled together was to the Etihad, in December 2016. But in the nineties and early part of the millennium, there were countless trips and a thousand stories, which I'm looking forward to sharing again. Well, some of them not so much, perhaps.
Earliest memories of those awaydays are what seemed at that time to be an annual pilgrimage to OId Trafford, in the mid-nineties, long before the Champions League clashes.
We would head away from the busier fan meeting points to catch a few beers and some food 'in peace', ahead of the match. It worked well. There is one such day I recall. We're sitting in a pub near the Old Trafford cricket ground. Late afternoon, in come the United supporters, and before too long we're chatting away and having a few drinks with a couple of them.
Soon, it's 'give us a song then, lads' time, and we duly oblige, with some of our lovely Celtic or Irish ballads, which don't qualify as lovely Celtic or Irish ballads unless several perfectly innocent people have died cruelly, and your audience is weeping uncontrollably.
So, job done, it's blonde-permed Manc's turn. This time it's Roy and I who are crying, with laughter, as he launches into a version of REM's 'Man on the Moon', where the chorus involved several renditions of 'Would you believe, I hit him with a brick, with a brick'. A poor Scouser being the victim. In fact, said Scousers are victims in every one of the songs belted out by our enthusiastic new friend, with the only variation being the method of pain inflicted. Many years later, at my 50th birthday party, Roy had this played as a special request. It had been one of my favourites at the time. Minus the bricks, obviously.