This is how it feels to be Celtic, magic moments in the Eternal City…
2.30am. Thursday, 7 November 2019. My alarm's going off. It's the middle of the night!
Then I click. Matchday. Plane to catch. Sort yourself out.
It's a quick shower, shave, then the year's earliest cuppa. Then the short drive to pick up my daughter. None of your Norman Naemates CSC nonsense today. The Corrs are on tour again. Well, two of us anyway. The boys are both working and are gutted. They won't make this one. But Emma's here, 'bright and breezy', just as her text said, when I checked earlier that she was up. Even at 3.30am. Because the Celtic are playing in Rome tonight and we're going. The way it should be.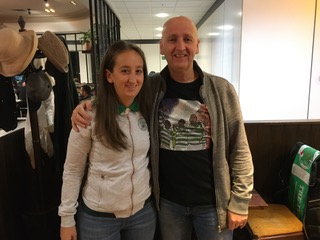 Even by Celtic awayday standards this is early. A 4am check-in at Glasgow for a flight two hours later. Madness. But it's the Jet2 terminal, which is good news. We have a pal who works for them. Maria. My other daughter's best pal's mum. Does that make sense? Inevitably, when we fly from there, she will be on duty, greeting me with a hug, kiss and the whispered words, 'I hope your team gets stuffed tonight!', before ensuring that I have the seats with extra legroom. That's friendship, Glasgow-style.
Maria's not working today, as she recovers from a recent op. Husband Andy told me that yesterday, when he completed some work he was doing in our home. But clearly the message has got through that the Corrs are on tour, as we receive the boarding passes with…the seats with the extra legroom. 'Ave Maria! Yer some wummin!' Even when you're under the weather. Real friendship, Glasgow-style.
Speaking of friendships, the first familiar faces I see today are a couple of the guys who work at Celtic, Adam and Martin. They hand us our match tickets. It's a tough gig trying to keep everyone happy on these trips, with all the unpredictability the day's events will throw up. I saw that first-hand in Leipzig.
Through security and heading for breakfast. We pass a guy who seems to be having an argument with himself regarding a shop being shut. It's 4.15am. Beardmores is open though and I tell Emma that we can have a breakfast roll and a drink at my usual table, number 45. She thinks I'm joking until we reach the place and pretty much the only unoccupied spot is…table 45. It is written. She shakes her head.
My airport Guinness this morning will be unique in that it will be the only one of the day. Early start, late return and the fact I'm going with my daughter to a city where the prospect of hassle seems more than a possibility have all made the decision to take the car a no-brainer. I love a few beers on these European trips but this just seems to make sense. I'll savour this pint then become Sensible Dad CSC.
There is a good vibe on the flight. Beers are flowing and so is the patter. The 'seatbelts' sign is on and the stewardess announces that all passengers should remain seated, 'apart from the gentleman who has had to use the toilets, as he has an emergency situation.' Cue hilarity in the cabin.
A few moments later, the poor guy emerges to loud cheers, looking suitably relieved, embarrassed and confused. As we approach the runway in Rome, a new awayday tradition kicks in again, the fans gradually building up the noise to a crescendo, until that moment when rubber hits tarmac, the trigger for bedlam as the by-now familiar 'Doo, doo, doo, doo, roo,' chant belts out across the aeroplane. Nutty but nice.
We're out of the terminal and piling onto the coaches, which will take us into the city. We decide to find somewhere for lunch once we know where the drop-off point is. We would normally pick up one of the sight-seeing 'hop-on hop-off' tours to kill a few hours in the afternoon but we've already done Rome. I'm gobsmacked as Emma tells me that was the best part of a decade ago. Where did that go?
That trip in 2010 had been my second visit to the Eternal City. Five years earlier, my wife and I had arrived, totally by chance, on Palm Sunday, joining the crowds as they thronged to St Peter's Square. We had spent hours in the baking sun, hoping for a glimpse of Pope John Paul II, stood below his room, his window-ledge bearing the maroon and gold drape, for so long in the fierce heat that I ended up looking even more like Quasimodo's Lovechild than normal. Deformed face, the works.
Then finally it happened, the frail pontiff appearing briefly at his window to wave, for images which would be global within seconds. People around me were weeping openly. It would be the last time he would be seen in public, passing away two weeks later. Whilst my faith is important to me, I am not a deeply-religious man. But there was definitely something special about the original Polish 'holy goalie', God rest him.
That evening, Mr and Mrs Quasimodo made a different kind of pilgrimage. To Rome's Stadio Olimpico. Who says that Scottish men are not romantic? It's AS Roma v AC Milan. She is one lucky lady…I tell her as I usher her into an expensive seat in the main stand. The things I do for her.
Three months earlier, the visitors had ended Celtic's participation in Europe, the goalless draw in Glasgow bringing our third and least successful Champions League campaign to an end. That had commenced in September 2004, with the unthinkable prospect of Henrik playing and scoring against his beloved Hoops, even before I had finished paying for the therapy required after his transfer to Barcelona the previous close-season. Then injury-time goals from Pippo Inzaghi and Andrea Pirlo in the San Siro, had scuppered our hopes of a first away point in the elite tournament.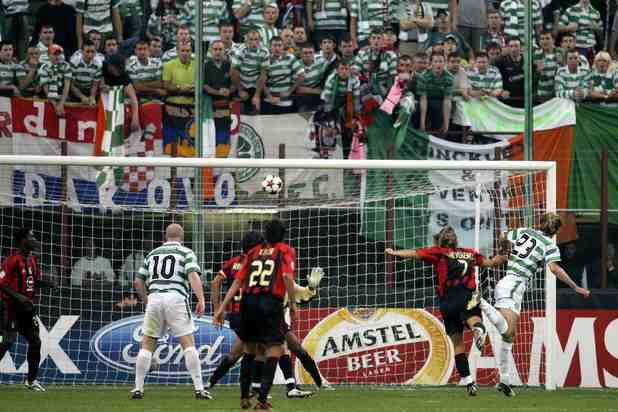 We would get that point in, of all places, the Camp Nou, courtesy of John Hartson's strike. But it would be a forgettable and ultimately fruitless campaign, the 1-0 victory over Shakhtar Donetsk at Celtic Park and those two draws earning us a miserly five points.
Ancellotti's AC Milan would then knock out Ferguson's Manchester United, Hernan Crespo scoring the only goal in both legs, and were preparing to face neighbours Inter in the quarter-finals in the next fortnight. That tie would become infamous, the second-leg abandoned after the rossoneri's Brazilian goalkeeper, Dida, was hit by a flare thrown from the blue section of the San Siro. AC were subsequently awarded a 3-0 'walkover' victory for an overall 5-0 aggregate win.
They would go all the way to the Istanbul final, where they would throw away a 3-0 interval lead over Liverpool, before contriving to miss three of the five penalties in the shootout, as the English side became the first to win Europe's elite prize twice by that method, having done so against Roma in their own Stadio Olimpico, in 1984.
I recall a few events from our visit to the stadium in March 2005. Firstly, the strange sight and sound of Roma fans booing one of their own players, Antonio Cassano, when he came out to warm up. That then continued during the game itself, for whatever reason. Milan won the game fairly comfortably with two second-half strikes from the aforementioned Crespo and Pirlo.
Then home idol, Francesco Totti, was sent off towards the end, the cue for a sea of missiles to come flying down from the back of the stand towards our section. Discretion being the better part of valour, we immediately headed for the exits, only to be greeted by the sight of hundreds of supporters fighting to get into the ground to join in the scrap. Perhaps next time we'll just eat out.