Ange Postecoglou has been at pains to make it known his Celtic rebuild is very much at stage one. That must be a frightening prospect for the majority of Scottish Premiership sides who have barely been able to lay a glove on a team they are now being told remains very much in transition.
It should also be all the warning theRangers need to be aware they may now be passing Celtic on the stairs, with Postecoglou's team very much the team and squad ascending. However, to ensure that happens Celtic also have much work to do.
While Celtic will be looking to add quality to complement the quantity that has been acquired over the last two transfer windows – simply to supply the manager with personnel to operate functionally in his system – theRangers will now have a summer of surgery ahead. That will require van Bronckhorst to be as astute as his rival manager with an eye for a player, and just as clever with his budget.
An ageing and expensively contracted Ibrox side needs evaluating and repairing, with some players disappearing over the hill of time and others out of contract and asking for too much – even if the manager fancies them.
Celtic under Postecoglou are already ahead of the curve in that regard, but perhaps not as far as first thought, as recent results against a higher standard of opponent have shown. Whilst results against some of the lesser lights may also point to the same.
Celtic have put six past Dundee and St Mirren in the early stages of the season, they have also scored four goals past Motherwell, Dundee again and Ross County, meanwhile sorry St Johnstone have been hit for seven. Out with those games Celtic, against what must be accepted is poor opposition, have tended to do just enough, with one goal wins in eleven of their matches during this campaign and two goal margins in a further nine matches.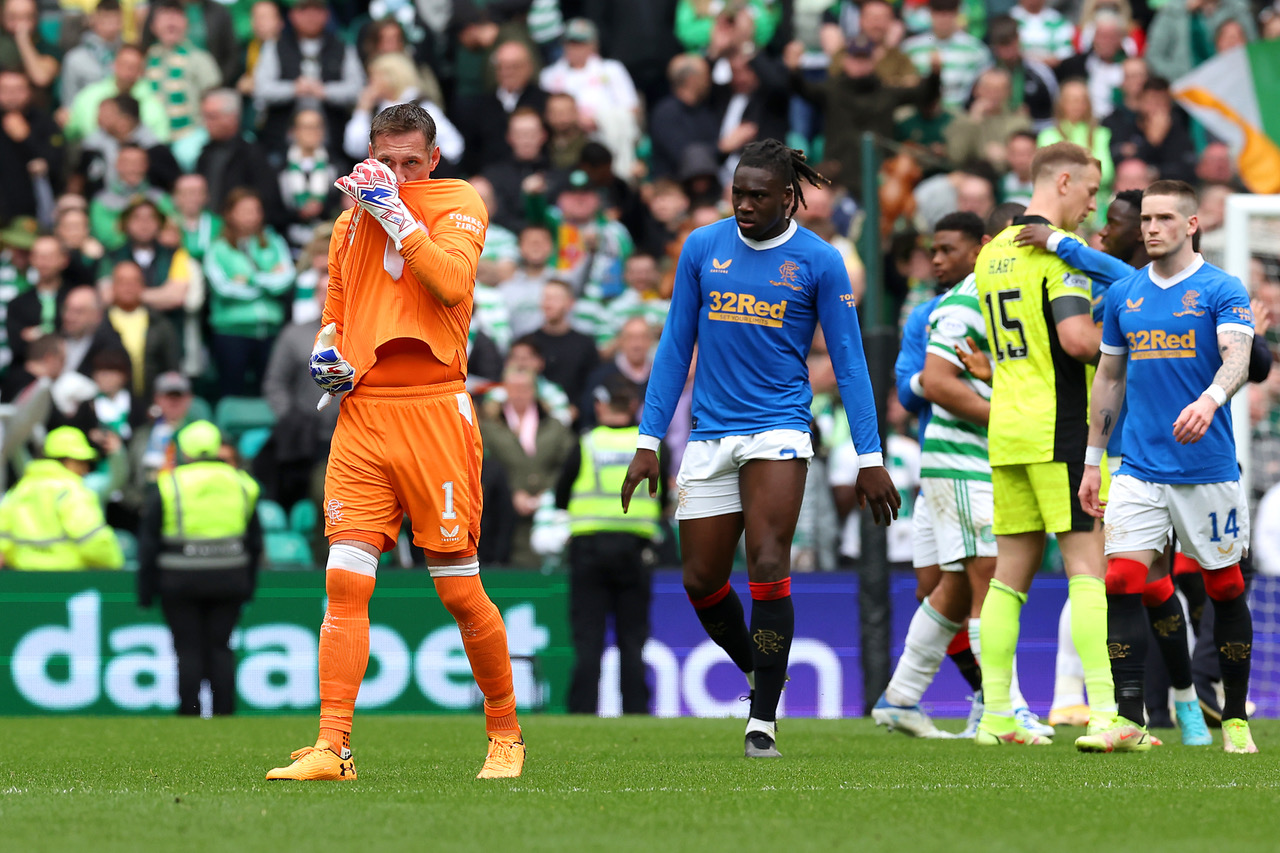 As such when Celtic go up against stronger opposition it is easy to see why Postecoglou considers his Celtic team very much on the journey rather than anywhere close to his final destination.
In Scotland there is really only one opponent of note. In those games against the Ibrox side this season, the Hoops lost the opening game at Ibrox – an easy one to discount given how early it came in the manager's tenure – have won at Ibrox and Celtic Park, drawn the final league encounter at Celtic Park, and lost a cup tie after extra time at Hampden. One thing that has become clear is, at this stage of Ange's rebuild, to score just once and win is a big ask and with Champions League football looming it will become even more difficult.
In February a blitzing first half saw how Angeball can leave even the best of Scottish opposition rocking, but at Ibrox and yesterday at Celtic Park, one goal was not enough.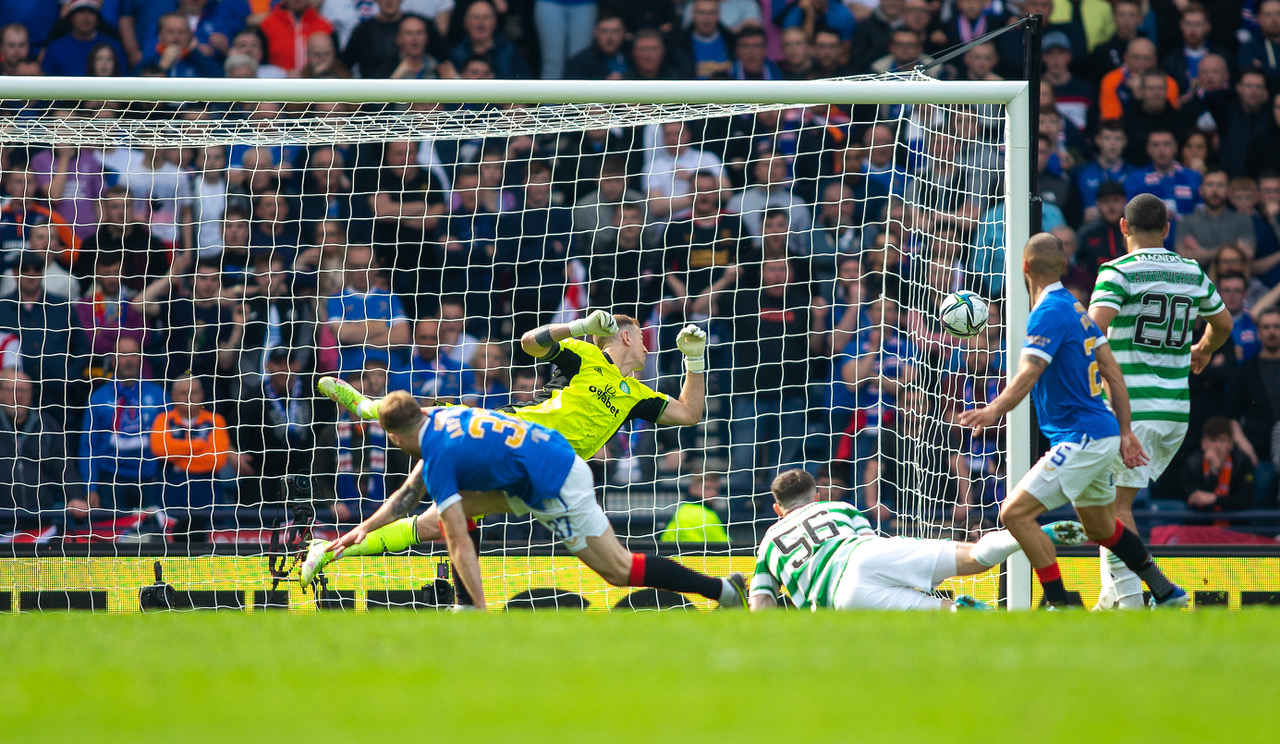 At Hampden Celtic conceded twice after taking the lead and yesterday surrendered a one goal advantage, and had to settle for the draw. At Hampden and again at Celtic Park yesterday, chances went abegging when a goal to the good, Carter-Vickers at Hampden, as the crossbar was hit at 1-0, and Maeda and Jota yesterday, who both missed excellent chances to add a second goal that would have ended the game as a contest. Such profligacy in a system designed to outscore and less so to defend a lead is an Achilles heal.
It appears unlikely Ange Postecoglou will be looking to try and tweak his system to ensure the backdoor remains bolted. Instead, it will need ruthlessness when ahead to kill teams off – preferably early, given our propensity to wilt later in games- with further goals. As such the need to add quality remains important, but the quantity may also be something that requires addressing,
It's difficult to see past the fact the manager trusts less than twenty players in his first team squad – even that is possibly overestimating things. As we head into next season, to be expected to play Champions League football and perform on the domestic front will be a big ask of those players in Ange's circle of trust. To play twice a week requires that trusted pool of players to be widened.
To compete in Europe quality will have to be added, but to ensure the physical demands on the players do not result in burn-out or soft tissue injuries, as we've seen all too often this season, players will have to be rested more often and that means the issue of quantity, at least those of a similar standard to compete on the domestic front, must also be addressed. At present the manager trusts too few to reasonably be expected to do both.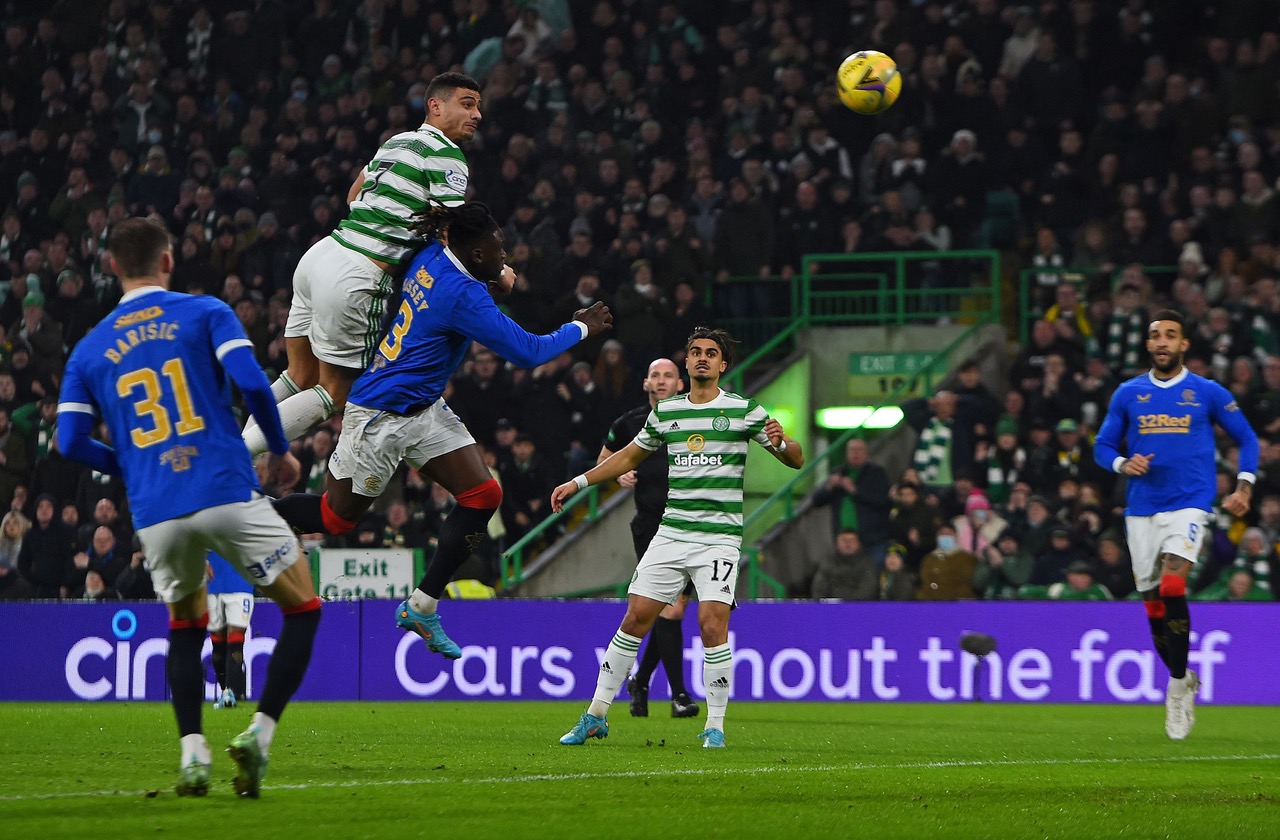 Recent results against theRangers have been a mixed bag. Performances however outside 45 minutes at Celtic Park in February have also been far from convincing. It is that factor that will hopefully ensure the Celtic board, as much as any of us following the team, are now acutely aware of the fact the Celtic squad still lacks the strength in depth for Ange Postecoglou's vision to be truly realised.
Celtic are on a par but have not yet fully overtaken a rival we perhaps underestimated, while at the same time we possibly assessed those in our own squad as being in a better position than they possibly are.
Whilst the unbeaten run Celtic is on has them appear a flat track domestic bully, a look at those one goal wins, suggest perhaps, given European football will make high demands on the squad next season, that some of those gains could revert to draws or even defeats, something that would impact on league placings next season without being addressed.
Yet Celtic's squad remains bloated. You can look for yourself, but even with a kind assessment of the squad there are double figures of players named as first team players at Celtic, who the board could point to as supplying necessary depth, but are surplus to the manager's requirements. If they were not, they would have been more involved this season, particularly at times when injuries hit hard – that they weren't tells the story.
https://www.celticfc.com/teams
Celtic FC First Team Squad and Player Profiles | celticfc.com
Full list of players in the Celtic FC First Team Squad with profiles, biographies and stats for the Goalkeepers, Defenders, Midfielders and Forwards. Read more.
www.celticfc.com
There are thirteen players out on loan, and even amongst the younger players it is difficult to see a future for any of them under the manager. Meanwhile of those listed as first team players, but not loaned out, a further ten players would appear outside the manager's trust.
If Celtic are to realise the potential for growth under the manager, and the squad is to compete in Europe and at home, a great deal of surplus to requirements players have to find new clubs, even simply to make way for the six to eight players the manager needs to bring in to fight on two fronts successfully. As such the exit door at Celtic and the wages it would free up becomes an essential log-jam to clear to allow more players to come through the door.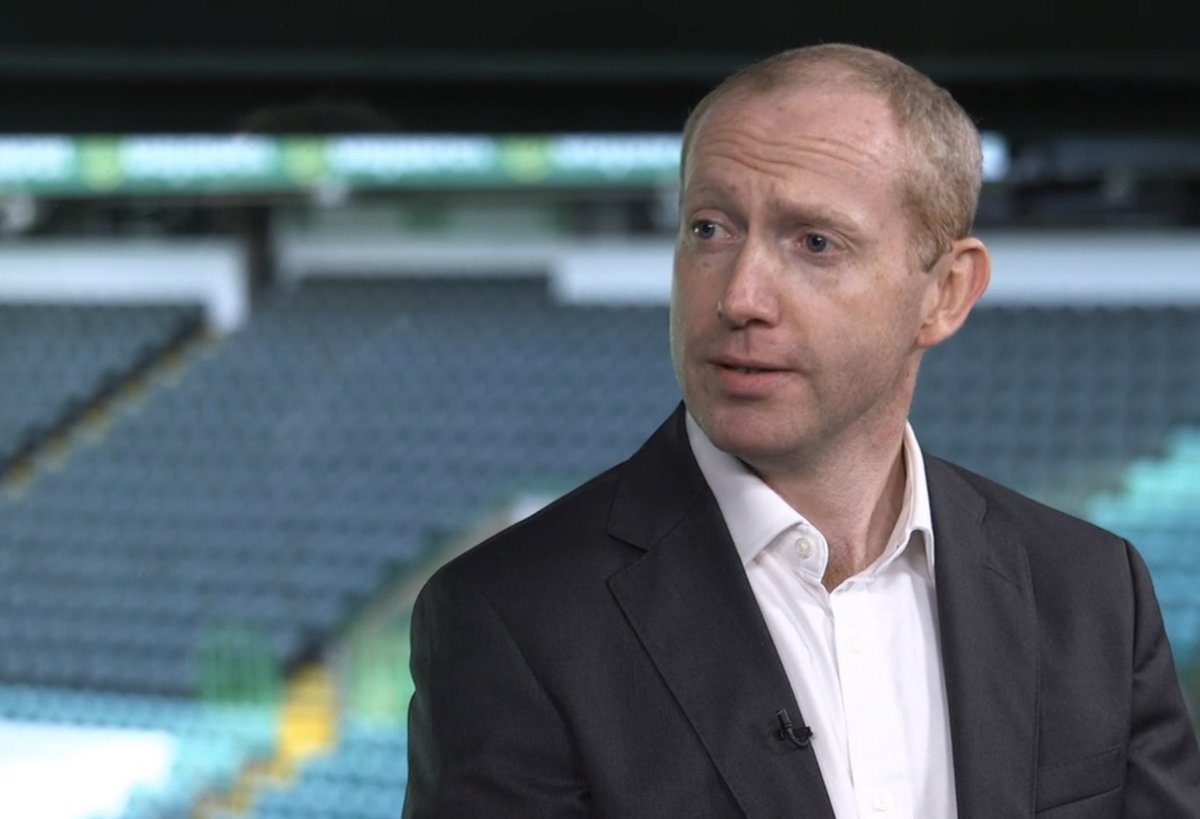 Michael Nicholson may have expected a quieter transfer window this time around, but deals for exits – and quickly – will need to be secured. And the boardroom has to realise only certain types fit this manager's style of play and too many in situ simply don't pass muster.
Celtic have exceeded expectations this season, but the worry with that is the Celtic Board see all in the garden as rosy. With theRangers certainly in need of addressing their own squad issues, that may be enough for those holding the purse strings to believe that to stay one step ahead of a rival, as they so often aspire to do, much of the work is done.
Instead, the target should be to clear the decks of the players the manager doesn't require, aggressively if required, even if it means taking a financial bloody nose on some of the losses, then do just that and allow the manager to build his squad over the summer. We must allow a balance between European standard quality and domestic standard quantity is recruited to ensure a fight can be fought on both fronts, but also to ensure the current manager's future plans are not waylaid by the deadwood of poor past recruitment, something he inherited through no fault of his own.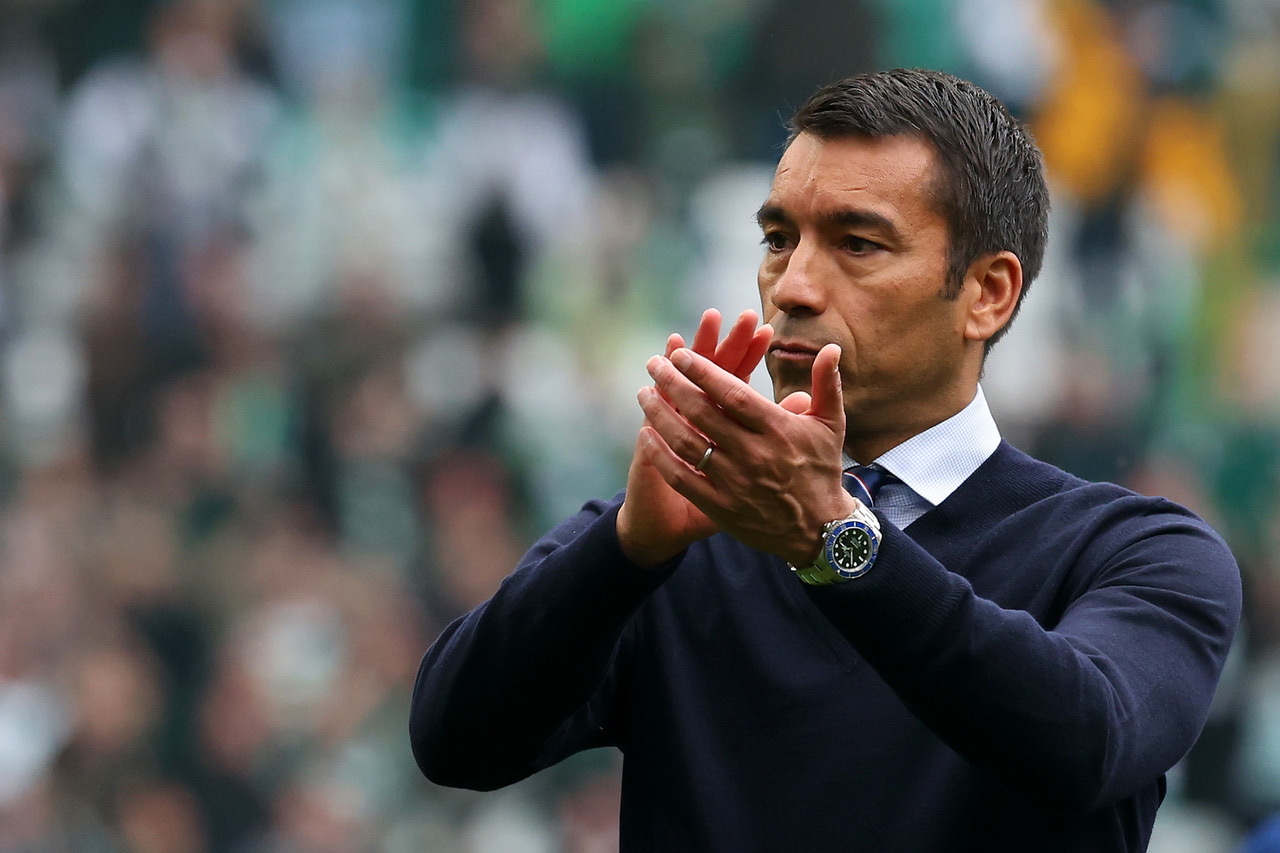 theRangers may be descending after this season, but it is also possible they will free up wages, sell the odd player and Van Bronckhorst and his coaching team find astute replacements on a budget. In fact, we should assume they will, because it was the fact they didn't assume the same in January that caused them to underestimate Celtic.
Ange Postecoglou has made it clear Celtic are some way short of his final destination, but that message has to be heard loud and clear at boardroom level as much as it is by supporters.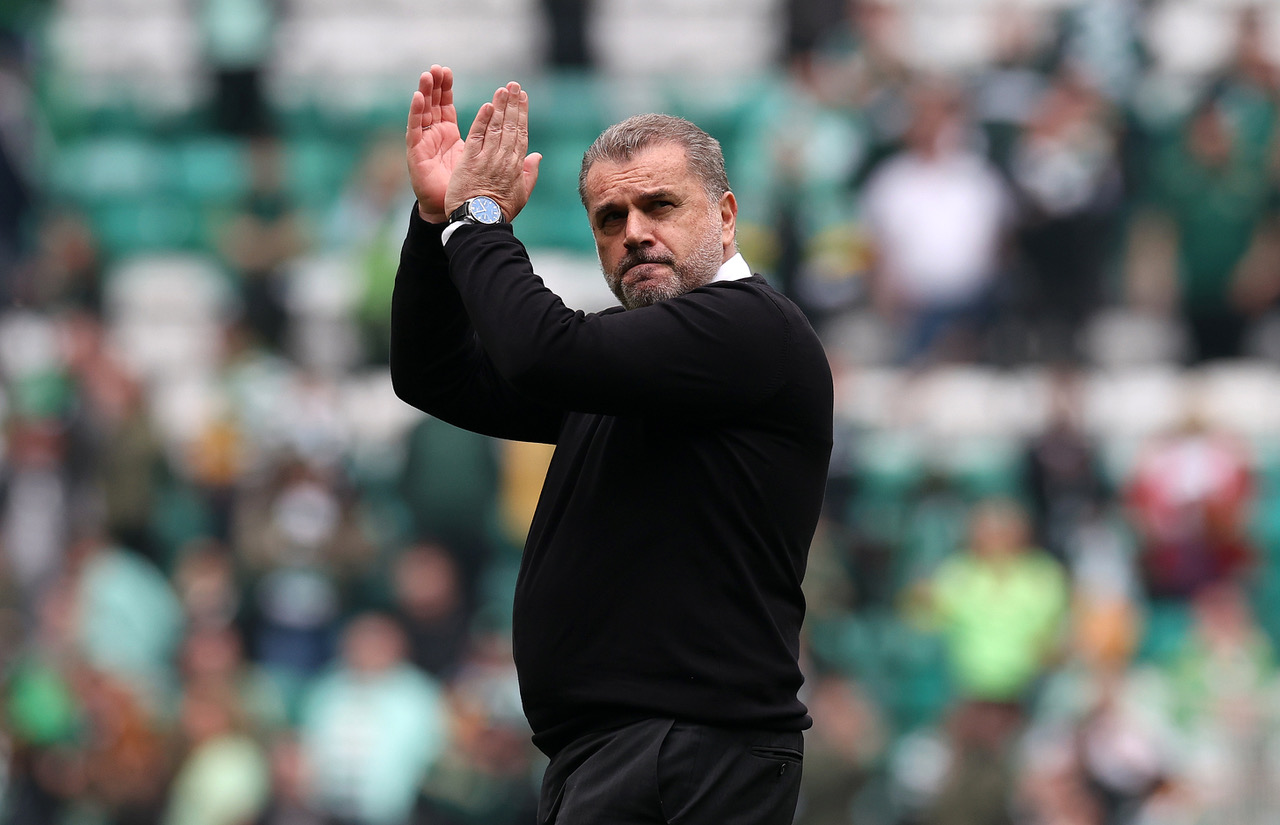 We've been here before, where initial success on the back of investment dropped off in future seasons, assuming the manager had all the tools he needed. Yet Celtic's results this season, when you scratch the surface, shows there remains work to be done to reach a genuine position of domestic dominance. Add in European football to that mix, and without quantity and quality, Celtic could easily stagnate.
To ensure that doesn't happen, this summer the back door has to be a busy exit route for too many players bloating the squad. And given performances and results against theRangers have also been closer than many may have expected after February's win at Celtic Park – as that result proved an outlier rather thana genuine gauge of the two team's standings – the manager will need backing with players who can compete in Europe alongside those who at the same time can ensure domestic superiority is maintained.
The rebuild of Postecoglou's squad is no doubt ahead of schedule, but that can be no excuse for resting on our laurels as we've done to many times before. This summer we need to believe we can be a European team, and the right recruitment will be essential. It will also take a sea change in attitude from a Celtic board who have appeared to disregard competing at that level as one of their own performance indicators. That has to change.
If we want to satisfy our manager's ambitions and those of our support, the thinking at board level also has to shift. The progress Ange Postecoglou has made in such a short space of time should also make the board believe European progression – and not merely qualifying – is possible, and not just a pipe dream.
We are onto something good with this manager, but we're not as far advanced as we thought we were. Getting the ins and outs right this summer will go a long way to seeing Celtic at long last progress to where we should be aspiring too, but we can't slow down now and simply sneak a peek over our shoulder. That won't cut it for the manager and it shouldn't cut it for anyone else making the big decisions at Celtic, not now.
Niall J