ALEX MCCARTHY won the Man of the Match accolade as Southampton stunned Manchester City with a 1-0 win at St Marys last night. Fraser Forster would have watched on as his compatriot quelled attack after attack as Pep Guardiola's side, who registered 26 shots, pushed for an equaliser.
Fraser Forster decided last week that he would remain in Southampton and either force his way into Ralph Hasenhuttl's plans for the new season or achieve a permanent move. McCarthy's display will have reinforced to Hasenhuttl and Forster that he is the club's No.1, as reported by Daily Mail.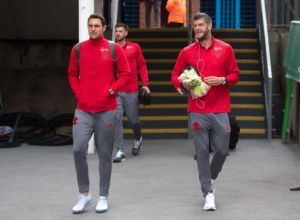 The display from McCarthy may hasten Forster's decision to force a move back to the Scottish Champions as its appears unlucky that he will dethrone McCarthy as well as second choice Angus Gunn.
Forster is currently in a transfer limbo as he awaits information on whether he will be making a return to Celtic next season. The 32-year-old has been the subject of a great deal of speculation in the last week but his future still remains up in the air.
Despite Forster not wanting a loan move, Hasenhuttl did say that the goalie wanted something concrete and this could still mean a move to Celtic. Last week, Forster's situation was discussed by the Saints manager as he looks to sort out where the player's future lies.
"We have not decided what we do next season with our plans in this direction.
"Of our loan players, some did a very good job and it's also clear that loan players don't want to go again on loan.
"Normally they want to go permanently somewhere and we will find the right solution for every player in the summer.
"When the right moment is to discuss it, then we do it."