The back corridor between the Boardroom and the tunnel entrance is one of my favourite spots at Celtic Park. The items displayed there are changed around from time to time to reflect current events, however, consistently, some of our greatest players are honoured there, providing a perfect platform for discussion on the tours.
That is most certainly the case at the moment. At one end, we have a display reflecting the career of the one and only Danny McGrain, or should that read 'two and only', given that he was both the best right-back and left-back in the world in the early/mid-seventies, where he alternated to accommodate other players at club and international level?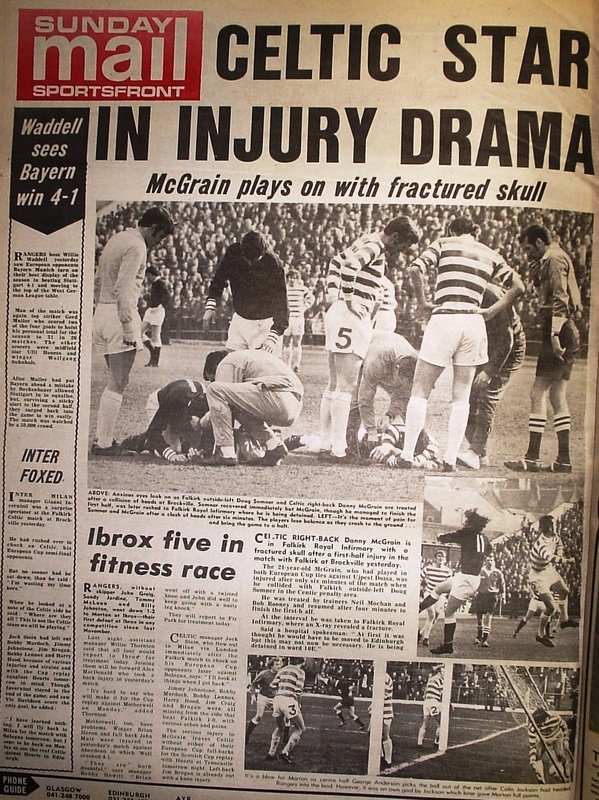 McGrain was indestructible, recovering from a fractured skull at Brockville, diagnosis as a diabetic then a dreadful ankle injury, which put him out of the game for eighteen months, to return as the inspiration behind the '4-2 season' and the best team goal ever, title-winning on 3 May 1986 at Love Street. They broke the mould with Danny Bhoy, that is for sure.
Next up, we have another two legends, side by side. The jersey worn by one of my late dad's heroes, Bobby Evans, he of the shock of red hair and heart of a lion, 61 years ago today as Celtic dismantled Rangers at Hampden in the Sun, the day of 'seven past Niven', protects the yellow goalkeeping jumper of the immortal John Thomson. "They never die who live in the hearts of those they leave behind".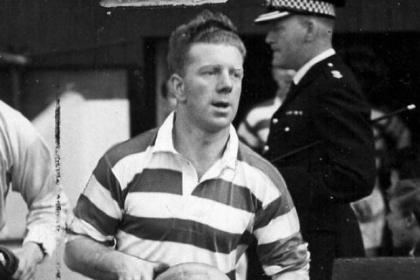 As we head towards the door, past Gerard Burns' glorious collage of all things Lisbon, the far-end unit contains the final two display items. On the right, the pink and yellow (primrose and marigold dahling, please!) Scotland top worn by Peter Somers, Celtic's 'Powder Monkey', against Wales in 1909, the colours of Lord Rosebery. Like Thomson and another Johnny we remember today, the late, lamented Doyle who passed, incredibly, 37 years ago, Peter Somers was taken from us far too soon, still only 36 years-old. It was truly fitting that the wonderful Celtic Graves Society honoured his memory in his hometown of Hamilton recently. More than a club indeed and in deed.
On the left is the traditional navy Scottish international jersey, again for a game against the Welsh but this time much later, in 1931. It was worn that day by one of my all-time heroes, the incomparable James Edward McGrory. Unlike Bobby, John or Peter, whose stories had been passed down to me over the years, I actually had the pleasure of meeting the great man in person.
Back in 1975, or thereabouts, my dad took me to the old Celtic Supporters Association 'hut' in Kinloch Street, where Jimmy was signing copies of his new autobiography, 'A Lifetime in Paradise', together with his co-writer/editor, a certain Gerald McNee. I still have the signed copy at home, one of my most treasured possessions.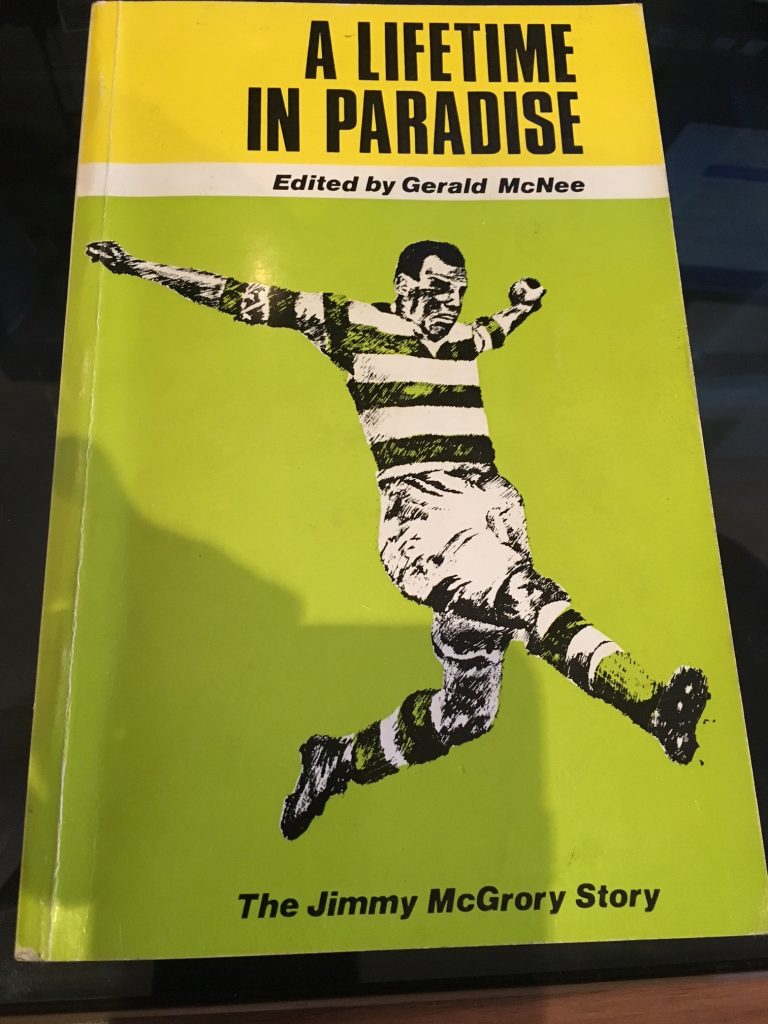 I rarely pass by this display without stopping for a chat about Jimmy, usually beginning with some self-deprecating humour around the fact that we have so much in common. Well it's true! We both went to St Roch's in the Garngad and played for the 'Candy's' Boys Guild Team. Hell, we're even around the same height, albeit Jimmy was built more man than pipe-cleaner. However, it all unravels a bit when we compare our respective goal-scoring records, where he just edges me…by around 546!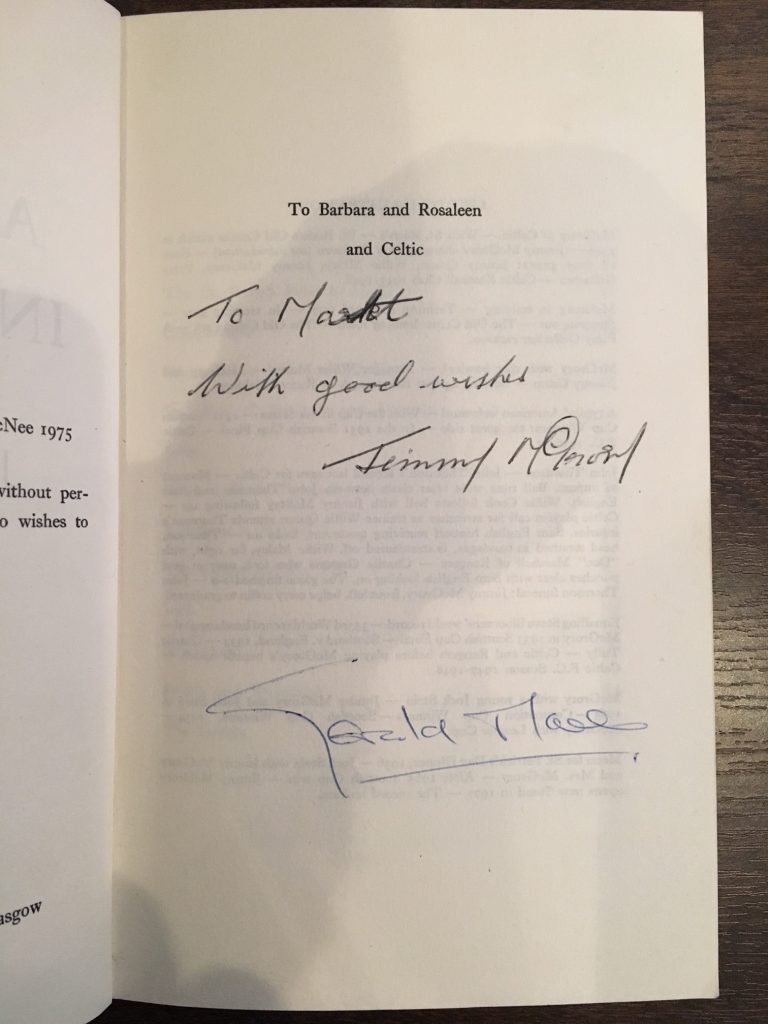 It is quite incredible to think that eighty years since he stopped playing, he remains the greatest top-flight scorer in UK history, with 550 goals in 547 games. He hit 55 hat-tricks, including one in less than three minutes against Motherwell in 1936, and on one occasion netted eight goals in a game against Dunfermline. In seven of his thirteen seasons with Celtic, he beat the 40-goal mark. An absolute star.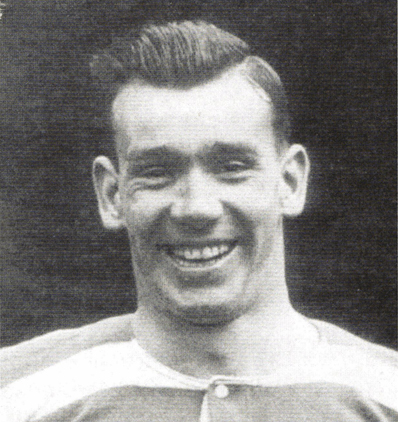 Whilst his goals tally said it all about McGrory the player, there was always one story for me which spoke volumes about him as a man. Following a 59-goal haul in the 1926/27 season, the 23-year-old striker accepted an invitation to accompany manager Willie Maley to Lourdes, where a meeting with Arsenal manager Herbert Chapman had been clandestinely arranged for Euston Station in London, the clubs having agreed on a world-record £10,000 fee.
Having resisted their overtures and completed the journey to France, on the return trip they were once again intercepted in London for a second sales-pitch, Jimmy again refusing to contemplate such a transfer. Jimmy's heart lay at Celtic Park, as it would for the remainder of his playing career. He is quoted as offering, by way of explanation, that "McGrory of the Arsenal just never sounded as good as McGrory of the Celtic". Such loyalty deserves reward and indeed that was forthcoming, a reduction in his weekly wage from £9 to £8!
How touching of the club?
Jimmy continued his one-man scoring crusade at Celtic Park until December 1937, when he retired to take up the position as manager at Kilmarnock. His debut could hardly have been more difficult, a 9-1 defeat by Celtic, however, he rallied his men to avoid relegation and complete a fine run in the Scottish Cup, losing the replayed final to East Fife.
The following years were extremely difficult, as war broke out and Rugby Park was requisitioned by the armed forces. On conclusion of the conflict, in July 1945, McGrory replaced Jimmy McStay, to become the third manager of his beloved Celtic.
Jimmy's 20-year career as Celtic manager was fraught with challenge, frustration and difficulty, with the odd triumph thrown in. Narrowly avoiding relegation in 1948, the team bounced back to win the Scottish Cup in 1951, a John McPhail goal enough to beat Motherwell.
There was a hugely unexpected victory in the Coronation Cup of 1953, as mid-table Celts beat the 'Arsenal and the Manchester too' before shocking the Famous Five of Hibernian, in front of 117,000 at a Hampden 'covered in banners of green', in goalkeeper John Bonnar's finest hour.
The Coronation Cup win was the platform for a memorable 1953/54 season, as Jock Stein captained the side to a first League and Cup double for forty years, since the time of Maley in 1914. A couple of Scottish Cup Final disappointments followed, in '55 and '56 against Clyde and Hearts respectively, before McGrory led Celts to our first League Cup successes, in 1956 against Partick Thistle, then the next season, memorably, against Rangers, on this day in 1957.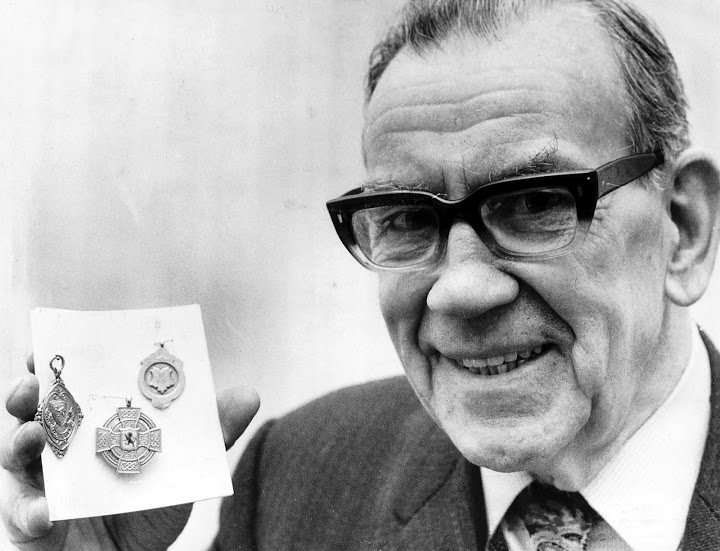 The famous 7-1 triumph would be the last major silverware for Jimmy, who passed the managerial baton to Jock Stein in March 1965, picking up a role in Public Relations at Celtic Park, as he eased into a well-earned retirement. He remained there until 1979, before passing away on 20 October 1982, aged 78 years.
A magnificent career. A magnificent life. A magnificent man.
May God bless and keep you always, McGrory of the Celtic.
Hail Hail!
Matt Corr