Well, our announcement yesterday that Callum McGregor was The Celtic Star's Player of the Year certainly got a reaction. We explained at the start of the process that we intended to count up Sandman's Definitive Ratings to discover how many points were awarded to each player for starting matches For Celtic last season and to allow us to look at every squad member to see who contributed what.
The numbers don't lie and the players clear at the top where McGregor, Ajer and then Scott Brown. Or we could have looked further down the list, fourth was Odsonne Edouard reached that position only in May, overtaking the much criticised Ryan Christie over the last few matches. After Christie comes David Turnbull – clearly the Young Player of the Year – with 29 starts. Had he been in the team from the start of the season you'd probably have your winner right there. Maybe next time. After him Greg Taylor and then Jeremie Frimpong – who left in January – score higher than anyone else so the winner is logically coming from the players already mentioned.
And it really came down to McGregor v Ajer and we explained our reasoning yesterday why we opted for Callum, respecting everyone's right to disagree. But there it is, CALLUM McGREGOR is in our view the worthy winner of The Celtic Star's Player of the Year, despite having his worst season since breaking into the side. What does that say about the rest of them?
Check out the logic and the rating totals for the entire squad below..
READ THIS…Callum McGregor is The Celtic Star's Player of the Year
It certainly got Celtic Twitter talking judging from the comments below…
Callum McGregor is The Celtic Star's Player of the Year | The Celtic Star https://t.co/e9PKp2uYBS @CelticFCSLO @CelticFC @CelticGossip @CelticNation67 @Boola_vogue

— The Celtic Star Editor (@CelticStarMag) May 17, 2021
Our Player of the Year, and undoubtedly the next captain of our club (unless the unthinkable happens) has been speaking about David Turnbull whose chances of making a late push for Steve Clarke's Scotland squad have increased by the two things. The news from UEFA that squad numbers can increase by an additional two players and perhaps more significantly the loss of both Ryan Jack (theRangers) and Kenny McLean (Norwich City) due to injury significantly weakens the Scotland manager's midfield options so the door is maybe opening for Turnbull.
Callum McGregor reckons Turnbull would have no problem playing at that elite level. "David could make the step up from the Scotland Under-21s no problem," The Celtic Star Player of the Year admitted, speaking to Daily Record. "I have been hugely impressed with him. He has come into such a big club this season but he has handled the responsibility and played so well.
"As a No.10 you are judged on goals and assists – and his numbers are pretty good. David has been really impressive in there and he's a good guy, really humble and down to earth.
"That's what you want to see. Good guys getting their reward for working hard. I don't think there is any doubt he can step up to the full squad."
Turnbull himself was asked about his chances of making Steve Clarke's squad for the Euros in his Celtic media conference last week ahead of the match against Hibs. "Fingers crossed," was his reactions "I've been around the Under-21s as well and of course it's different going up to the senior level but I feel I as if I am ready to do that. It is what every young boy dreams of – playing for Scotland."
While McGregor is happy to offer his own personal endorsement for his Celtic teammate he still admits that he's gutted for his international midfield partners who are missing out to to injury. "I'm really gutted for Ryan and Kenny. We have had a good partnership in midfield during the qualifiers. It's been me and Ryan, me and Kenny, and Ryan and Kenny at times.
"We have pretty much filled those positions for a while now and it's just unfortunate that injuries happen in football. You just need to count yourself lucky if come 14 June you are fit, ready to go and able to take part in the tournament.
"I am gutted for those guys and it means there is now an opportunity for other players. We have a strong squad and I am sure everyone will be pushing."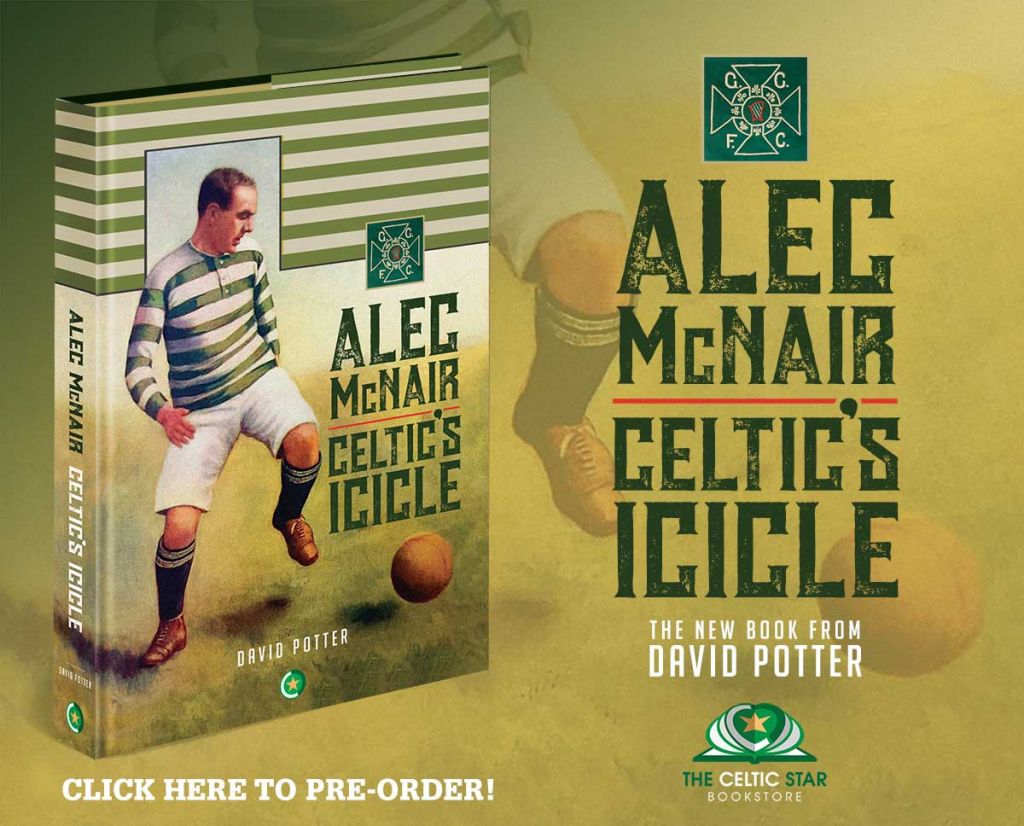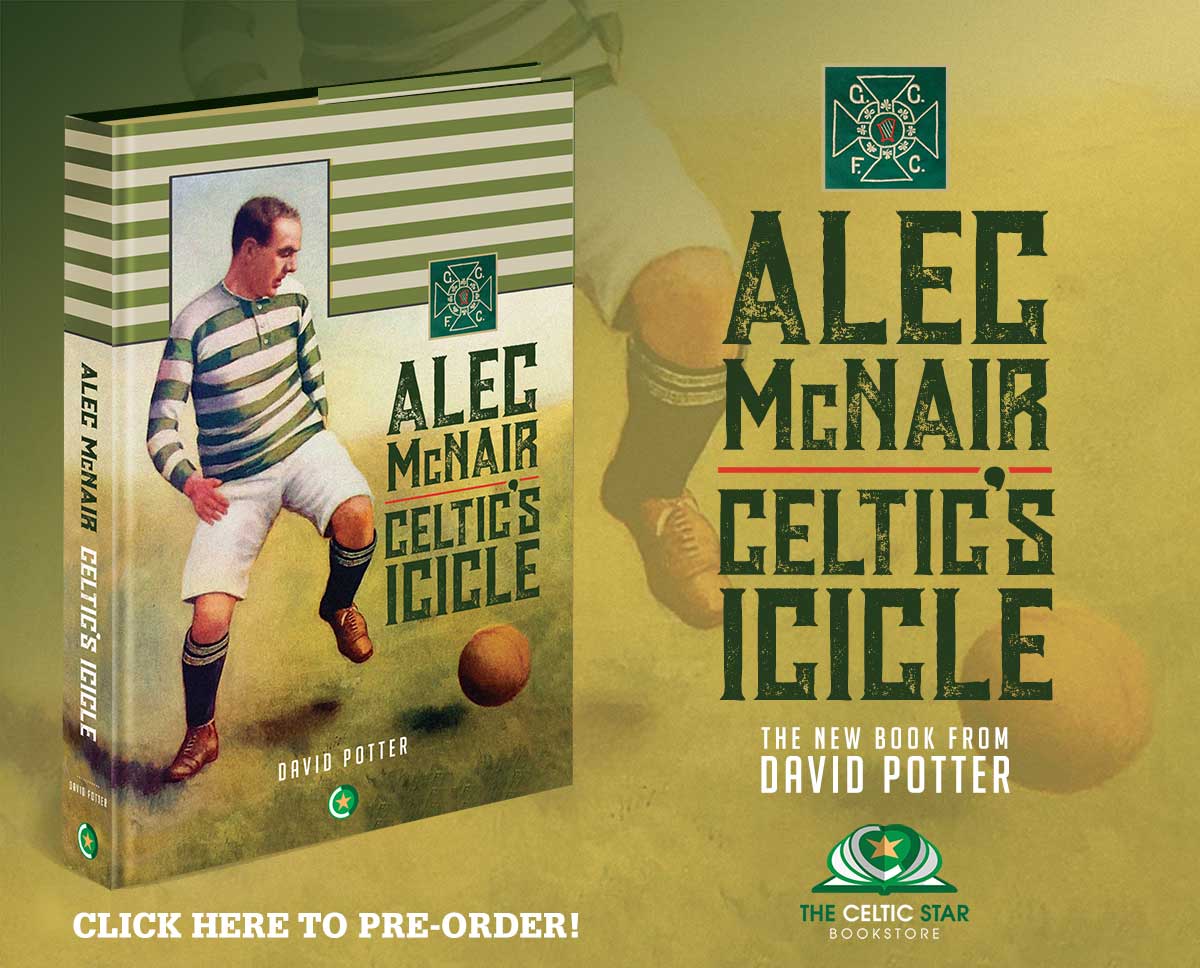 LISTEN TO DAVID POTTER TALKING ABOUT HIS NEW BOOK, ALEC McNAIR – CELTIC'S ICICLE ON THE CELTIC HISTORY PODCAST…