We recently published an article with a summary of a match from November 1966, when Celtic defeated Dunfermline Athletic by five goals to four. The Hoops managed to turn the game around in dramatic fashion against a very strong Dunfermline team in that era. Quite simply, it was one of the greatest matches and comebacks in Celtic's history. You can read the summary here
Following that article, I was contacted by John Woods, who was at the game. He kindly gave me his contact number and we had an hour long conversation about this match and other games of that time. John gave a unique insight into proceedings, beyond the information available from newspaper archives and match reports. These are his memories of the stunning game of football.
Dunfermline Athletic 4-5 Celtic: 19 November 1966 
"This was certainly the finest game of football I had ever seen at that time. I've seen some great games since, the Juventus 4-3 game was a similarly wonderful game for example, but undoubtedly this was the best match I'd watch at that point."
"In terms of Murdoch's goal (which cut Dunfermline's lead to 2-1), I remember a cross came in and as the defender kicked it clear, the ball thumped Murdoch in the chest and flew into the net. He seemed the most surprised man in the ground!"
"Jimmy Johnstone scored just before half time, which made the score 3-2 to Dunfermline. Then a couple of minutes into the second half Dunfermline scored again to go 4-2 up. I remember turning to my friend I was at the match with and saying 'they want to make a game of this don't they?'"
"After that point the game took a lull. Bertie Auld started orchestrating the attacks as he so often did, but one thing that really sticks out is that we noticed Bertie patrolling the edge of the penalty box. He was being man marked and followed all over the park, so he just stuck to the edge of the penalty area and that completely disrupted Dunfermline's game."
"Shortly after, Bertie scored and then Joe McBride made it 4-4. I was about half way up behind the goal where McBride scored, just slightly towards the corner flag."
"At 4-4 both teams went hammer and tongs for a winner, which made it great. There was a great rapport between the Celtic and Dunfermline fans at that time, so there was a good atmosphere but it was a friendly one. I can recall all the Dunfermline fans at one side leaning over the barriers and battering the advertising hoardings, a bit like the subs banging on the fence at Ice Hockey so it made a great noise with each attack."
"When it came to the penalty, it was a header by Chalmers and it looked as if it had gone in then you just see it loop over the bar. A few people around me thought it had hit the top of the bar but I was screaming for a penalty as I had seen that the defender clearly handled it. Tiny Wharton was the referee and he actually gave a corner until all the Celtic players crowded around him and virtually carried him to the linesman who then awarded the penalty."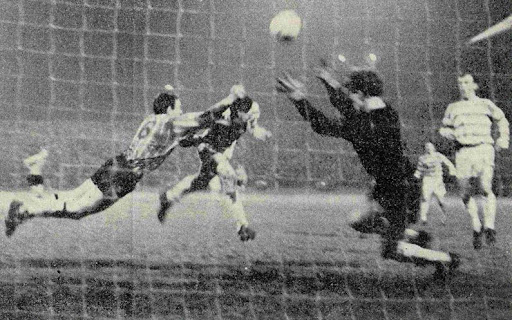 "After the game, when we had won 5-4, there was no animosity with the fans, everyone was shaking hands and congratulating each other I remember that well, it was a great game and a great atmosphere."
John Woods also pointed out the fact that only three members of the starting 11 from that day are still alive today, whilst Charlie Gallacher, who was sub, is still here too. It's quite tragic to think how many involved in that day have passed away.
I'd like to thank John for getting in touch and sharing these wonderful memories. If anyone else has a special game that they think should be relived, or has any memories to share from such a match, please don't hesitate to send me a message on twitter (@cfcliamk96).