Former AZ Alkmaar defender Michel Doesburg has outlined the fears that he has for his former club ahead of their trip to the east end of Glasgow tomorrow evening. The Dutchman, who has experienced the famous Celtic Park atmosphere during his time as a player at Motherwell and Dunfermline, was talking to the Daily Record's Celtic Podcast as part of the build up to the Europa League qualifier. He provided listeners with a great anecdote about his encounter as an opposition player at Paradise, and described how ex-Rangers goalkeeper Andy Goram was fearful of the support.
Doesburg said: "When I was at Motherwell we had Andy Goram in the side and I remember going to Celtic Park. There was a crowd even shouting at us on the team bus on the way in. The Goalie went over and said to the driver 'can you drop me off right on the 18-yard line?'
"When we jumped off the bus and eventually got on the pitch it was like 'wow'. The atmospheres at Celtic Park and Ibrox are incredible. I didn't mind whether it was You'll Never Walk Alone on one side or Tina Turner on the other. I didn't care about the background or the rivalry, I just love football, and the atmosphere in these stadiums is so special.
"I was in my 30s and had played in some big games but I was still blown away. It was always difficult going there, but we did manage to win at Celtic once with Motherwell. That was special. My best friend is Arthur Numan, who now works for Alkmaar, and we talk about it all the time and I know the atmosphere is exactly the same now."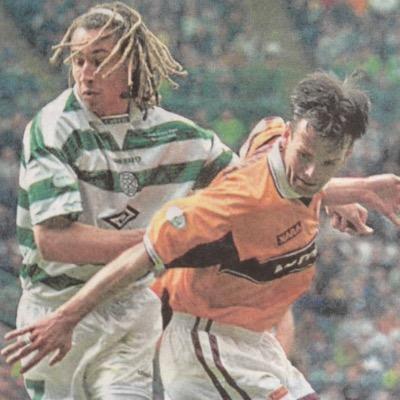 When asked about the impact of the Celtic faithful, Doesburg continued: "Can it be intimidating for AZ? Yes. No doubt. It can be a factor. This is a young, inexperienced squad, with around 60 or 70 per cent coming from the youth academy. They have done well in the last year or so at home and in Europe but they might not be used to this kind of atmosphere. It can be an issue and it is something they will have to deal with. The first leg will be vital."
AZ may include another couple of youngsters in their starting line up as they will be without suspended forward Jesper Karlsson and the injured Owen Wijndal. In that sense, the crowd really could be a 12th man, whilst the energy generated from the stands is also likely to enhance the fast, free flowing football that Ange Postecoglou's team like to play.
Aside from the off field aspect of the game, AZ are still likely to present a step up in class from the previous rounds of European qualification. They had to sell some of their top performers this summer. Indeed, top scorer Myron Boadu departed to Monaco, winger Calvin Stengs signed for Nice and keeper Marco Bizot left for Stade Brest. However, the Dutch club received £40m for those players and have sought to strengthen quickly.
Doesburg commented: "They are a very strong side – even though they have sold some of their best players. They have lost three very important players and could lose more with talk around the captain Peer Koopmeiners (linked with a move to Arsenal).
"It's a huge blow to AZ because these boys had been at the club since they were nine or 10. They know the club and they come in to the first team, do well for a couple of years and then they are sold for a lot of money. They will be missed.
"But if you look at their replacements, players such as the Greek striker Evangelos Pavlidis from Willem II, and Aslak Fonn Witry from Norway, they are international players. They don't look like they have been weakened too much. They managed to beat Real Sociedad and Torino in pre-season, as well as Panathinaikos. They have looked pretty good."
Despite, Doesburg's well informed remarks, AZ were beaten 1-0 by RKC Waalwijk in their opening Eredivise game at the weekend. Perhaps Celtic can exploit this transitionary period with a strong home performance tomorrow. In just over 24 hours we will found out.