In 1992 I was a 14 year old fitba daft Bhoy from the new town of Livingston in West Lothian. I had followed Celtic for years with my father usually travelling by car home and away and even further afield to England for testimonial games. I had pretty much never been to a match without my father. It was our thing. It was what we did. Almost every Saturday for 9 months of the year we would either be at Paradise or another football ground in Scotland watching the famous green and white Hoops play.
30 years ago today, Celtic draw 1:1 with Middlesbrough in a testimonial for Tony Mowbray.

Cracking volley from Tommy Coyne. pic.twitter.com/vJNhnDYL9R

— Li'l Ze (@LilZe_7) July 25, 2022
As a 13 year old Bhoy with a source of income (paper job) you start to think of going it alone. You want to stand on your own two feet have a degree of independence and also get those elusive match tickets for the big matches which at that time were secured on a local CSC by going week in week out to watch the Celts.
Discussions were had round the dinner table and I was able to secure a 'pass'. I could join the local CSC. I was over the moon. I had many friends who were Celtic supporters but I was going it alone. There were a number of buses I could have joined but my dad felt that one in particular would be suited to a young Bhoy travelling alone and I would be well looked after.
First match – Middlesbrough away.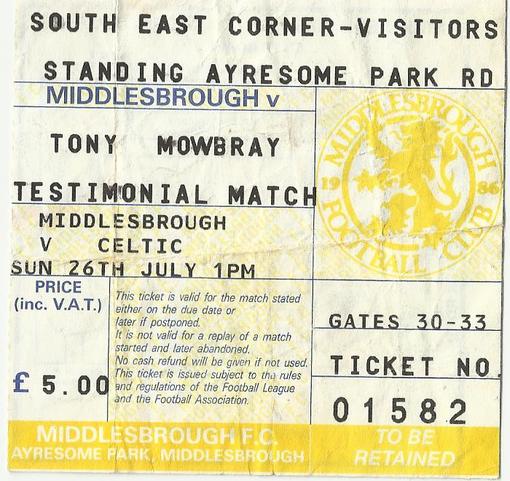 'Ach it's only down the road. Few hours on the bus, bus will park at the ground. Into the park and watch the game, back up the road and home at a decent hour. What can go wrong?'
I'm not sure my father could have been more out with that statement to reassure my mother that I would be fine.
It's fair to say I was up with a spring in my step on the morning of the game. Tony Mowbray a recent signing from the Teesside club had clearly managed to secure a testimonial before his £1m move. Before cheap flights and the emergence of the internet to book travel, hotels, etc. a trip to England was deemed exotic for Celtic supporters. To me travelling on my own it was like a trip around the world.
My scarf was fresh for the new season and I had the new home jersey which I had secured from my gran as a gift for my birthday a few months before. The money was kept aside to ensure I had the jersey the first day. It's fair to say I was an organised patient Bhoy when it came to Celtic.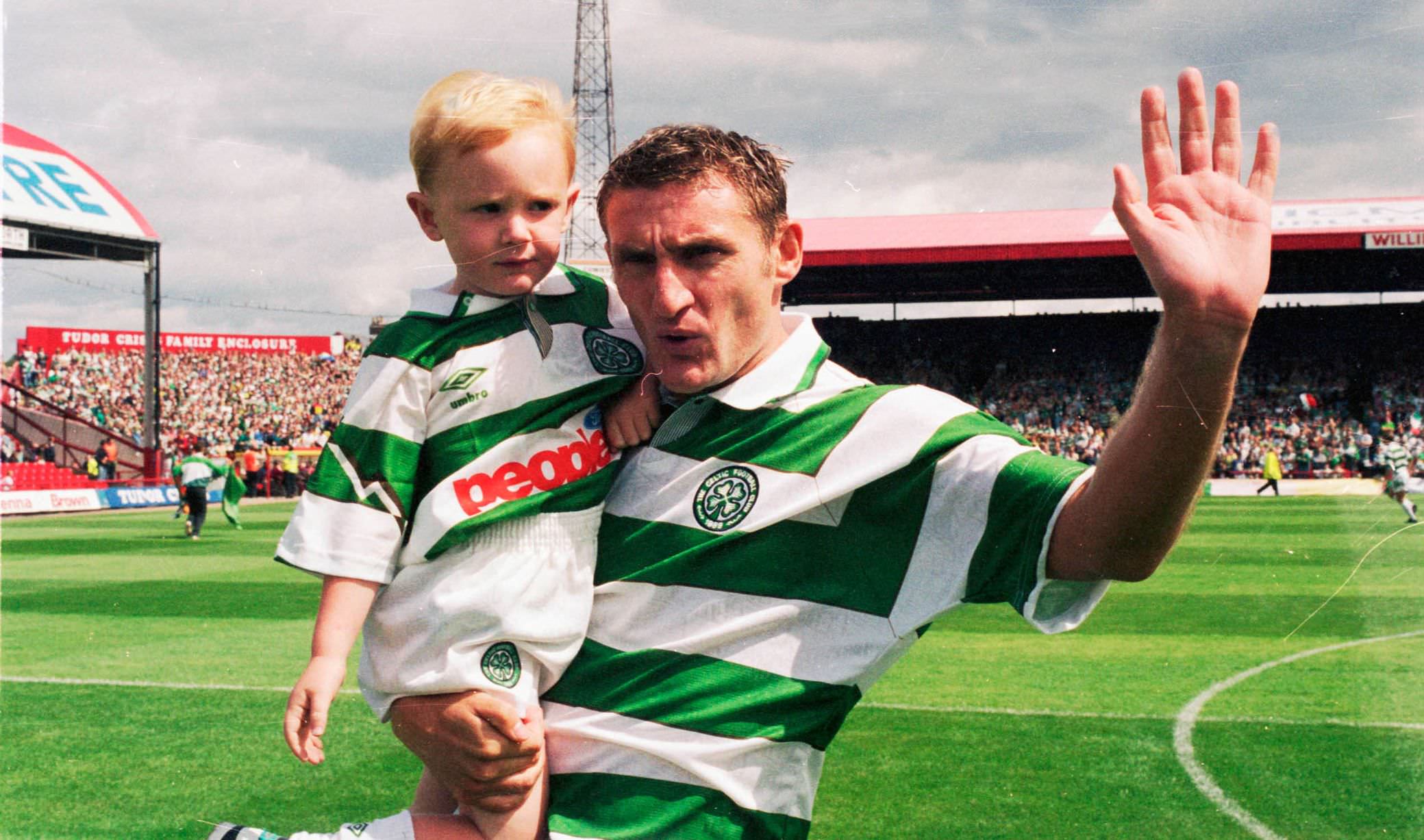 My dad had to work that Saturday so he dropped me at the local bus station at 7am to be faced with a lot of men some I did know and others I didn't stotting about loaded up with cases of lager and bottles of spirits loading them onto the coach. When I climbed aboard that bus it was the start of an education about life that you can't learn in any establishment in the world about the passion of sports fans and the love of not only a football team but a community that reaches far over the planet which gives a people identity and pride in the football team that represents what they stand for.
I managed to locate a seat in the middle of the coach which avoided the smokers at the back and the mobile bar which was positioned at the front. I had a small packed lunch and a paper for the journey. I packed my rolled up scarf and tracksuit top into my wee bag and sat proudly in my seat at the window and waved to my father as the coach took off to the sounds of On the One road blasting from the coach stereo at a volume that can only be described as distorted it was that loud! I swear my dad had a tear in his eye as I ventured off as a young man to watch the team he loved and had handed down to me like a cherished family heir loom and knew that I had reached the next step in my own Celtic story.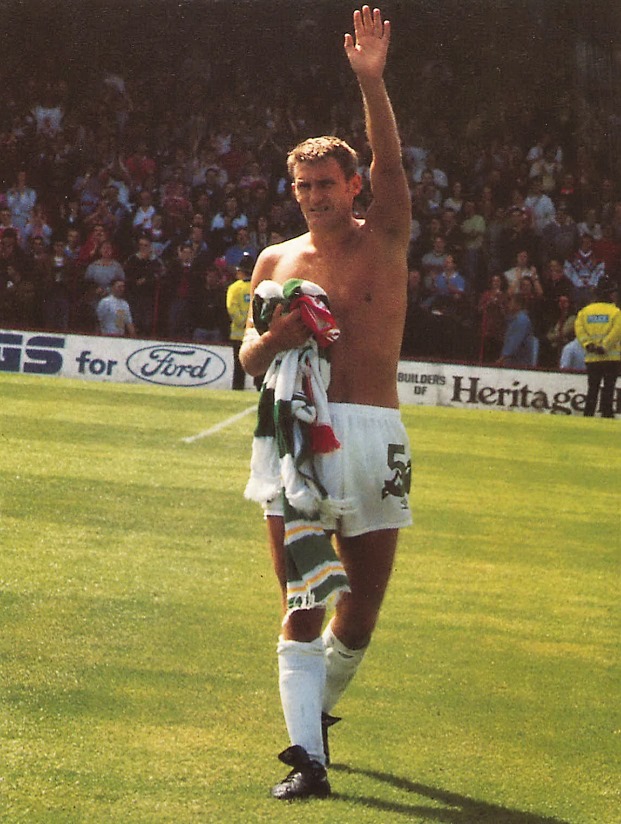 The journey itself was a fairly raucous affair of singing, banter and general mayhem. Anyone who has been on a CSC for any length of time knows the drill. There is a lot of alcohol consumed, toilet stops are common even with a toilet on board and the singing is loud and constant. This is not a competitive match but it feels so much more than that. Celtic are travelling out with the confines of our domestic league and are taking on an English side. This is a big deal. Celtic are a big club and don't want to lose to English teams. As the English have continually talked down our game this is a marker and the fans on board this coach are treating this match like a European tie and I am loving it.
ON THIS DAY 26TH JULY1992:
Celtic played Middlesborough in a testimonial for Tony Mowbray – the game finished 1-1.☘️☘️ pic.twitter.com/FObYdIBVxp

— Willie Collow (@CollowWillie) July 26, 2023
'You alright wee man?'
Celtic fans look after their own and I am being kept an eye on. It essentially means nothing but if you are 14 years old it just means that you are part of it. It's a wee sign people are acknowledging you are there.
Strangely enough before this trip I had horrific travel sickness travelling as far as Edinburgh which is only 9 miles away on buses. On this journey my travel sickness never entered my mind and never did again.
Something's wrong.
As we battered down the A1 at a healthy speed – I think the driver was on a bonus if we could make the pubs for lunchtime.
It became apparent all was not well. First of all the tape that had been played to melting point at the distorted volume since the bus departed my home town had now been turned down. There was a bit of animation at the front of the coach and we were slowing down.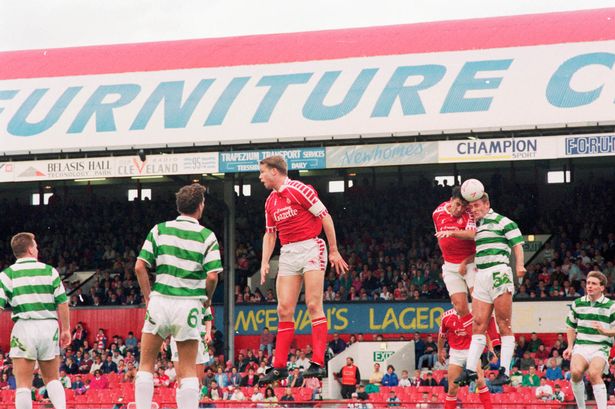 Disaster – The bus had a puncture. The atmosphere clearly changed quickly. The joyous singing of a few minutes previously were replaced with puzzled and sad expressions. The damage to the wheel was surveyed by all manner of experts in inebriated states. It was deemed by the driver to be unfixable certainly at the roadside and a tow truck would be called. We would need to wait on a replacement.
That was all I heard. I was off. Headed down the road away from the coach with my rucksack over my shoulder my scarf out and my thumb pointed in the direction of the south. Within minutes a car had pulled over and a couple in their 20's from the Stirling area were beckoning me into their car.
Unbeknown to me a friend of my father had snuck off behind me being a seasoned Hoops traveller not only keeping a watchful eye on me but also spotting the opportunity of a lift as a young Bhoy had a lot more chance of one than 50 half cut punters in green and white. Think the Only Fools Jolly Boys outing coach disaster and you can imagine the scene.

On the road again – We were on the move again. It turned out the young couple were travelling back to Stirling that evening and would happily give us a lift back up the road if we couldn't source the coach after the match. I wish I had got their details to thank them.
On entering Middlesbrough I couldn't help but think it looked like a big Grangemouth. I don't think it is unfair to describe it as industrial. In all honesty it was a fairly ugly place back then. Not sure what it looks like now but I have to be honest and say it's not one of my favourite UK city break destinations.
We parked the car and having a few hours before Kick Off and not being of drinking age I stuck with the young couple who drove the car down whilst my father's friend went off in search of a good local hostelry to meet some other Bhoys who had stayed overnight.
I decided to enter the ground around an hour before kick off as I always did in those days to secure a programme and secure my spot for the match. It's fair to say the ground was in step with the rest of Middlesbrough. Ayresome Park was not the prettiest venue I have visited. Celtic were allocated an area behind the goal and this was a benched area that resembled Pittodrie in that respect but the terracing was not as steep and the area was penned which reminded me of Hillsborough which I had seen on the TV a few years earlier. Middlesbrough had also provided a small section in the stand which faced the main stand and this appeared to be populated by parents and children.
As the Kick Off approached it was fairly clear that the atmosphere was going to be more cup tie than friendly. I had spotted a few Rangers kits and Union Jack's in the car on the way to the ground and the locals looked less than friendly but in fairness I didn't mix at all with them outside the ground.
The game kicked off and in usual Celtic fashion our end wasn't packed. Within 10 minutes of kick off it was crowded. God knows how many were in but it was snug to say the least. I had managed to purchase a flag before the game and was now regretting it due to the squashed nature of my surroundings.
At one point it was in danger of going up my nose I settled for putting it under the benches and concentrating on the game. The game was a fairly forgettable affair bar a few flashpoints and a fantastic Tommy Coyne goal which was a sort of half volley/overhead effort which I explained to my dad in great detail before coming home and seeing it on TV and being slightly disappointed at it not matching my description.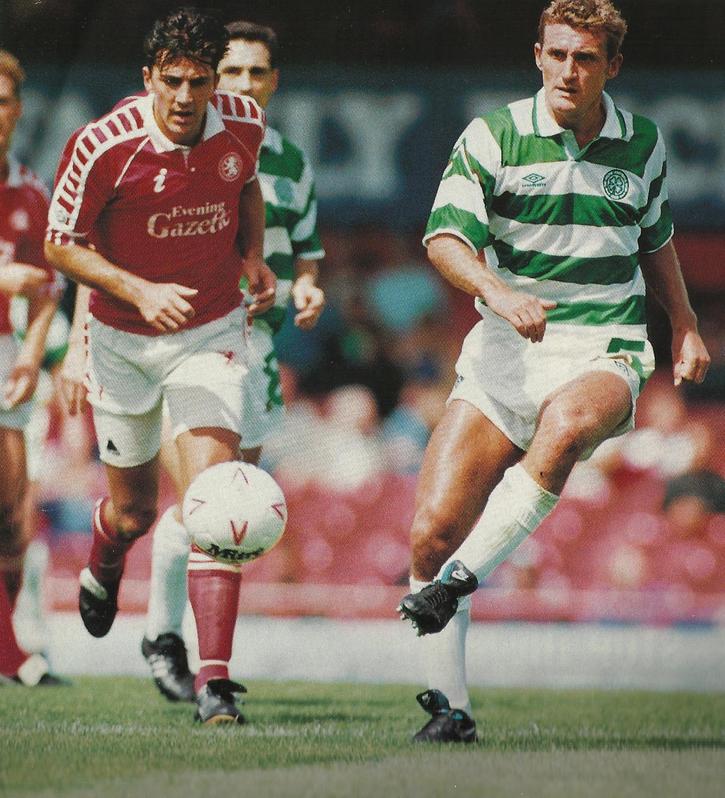 The real action was off the pitch. It appeared that in their wisdom Middlesbrough had put the Celtic family section next to their pavement dancing football casuals. There had been a small fracas and it was clear that these so called causals were smacking guys with their kids with them which is not on. As half time approached you could tell that the bulk of the support behind the goal had had enough.
Either at half time or near to it 2 Bhoys entered the pitch and beckoned the casuals on for a square go. With the odds stacked in their favour the English hooligans seized their chance and raced onto the pitch. At this point approximately half the Celtic end of around 7k fans emptied and streams of fans raced toward the hooligans who by now were trying to get back into their stand. I entered the pitch with my flag and ran about for a few minutes whilst the Celtic fans assisted by the police ensured that the hooligans day was over!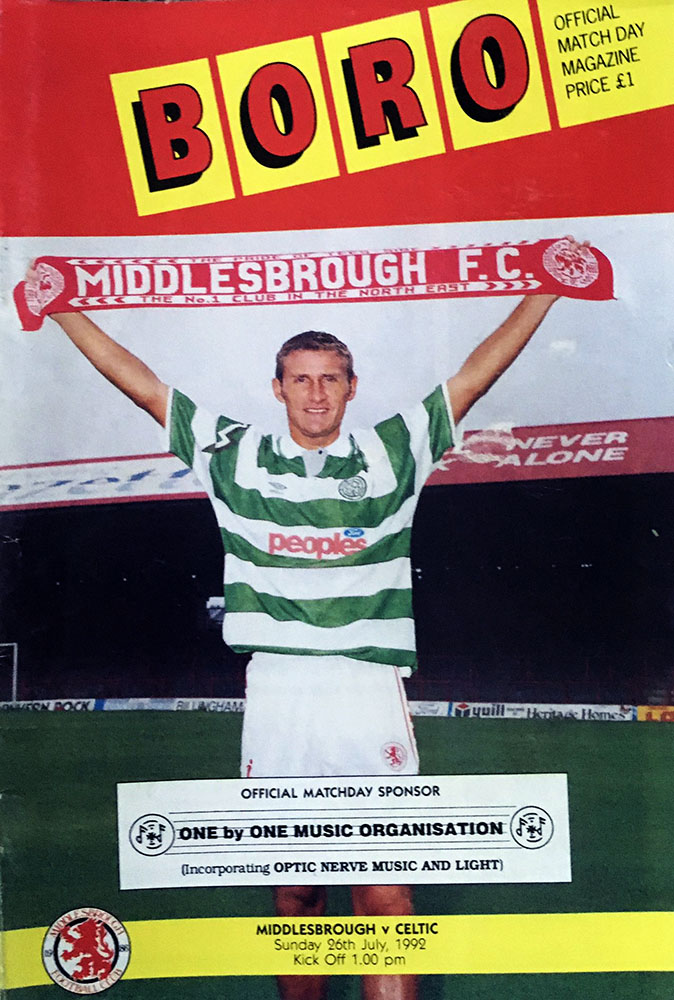 I believe there was a newsflash on STV regarding the incident and my father said he wanted to disappear into the couch when my mother who had to be convinced on whether I could go or not saw not only battling on the pitch but her son running along the screen complete with tricolour.
I suspect the rest of the match was just played out as low key as possible to with the police wanting the Celtic support up the road as quickly as possible with no further issues. The general feeling from the police was that Celtic fans had done them a favour as they didn't hold back arresting the Middlesbrough fans and I never saw one Celtic fan arrested.
The atmosphere all day was boisterous. Plenty singing and a lot of people who had one too many but strangely enough even though there had been a bit of a stramash on the pitch it wasn't aggressive.
I left the ground with a bit of nervousness as I had no idea where my coach was and was a bit hazy on where the car had been parked. I had about £20 spending money and had only spent less than half but I wasn't sure if it would get me home on public transport from Teesside.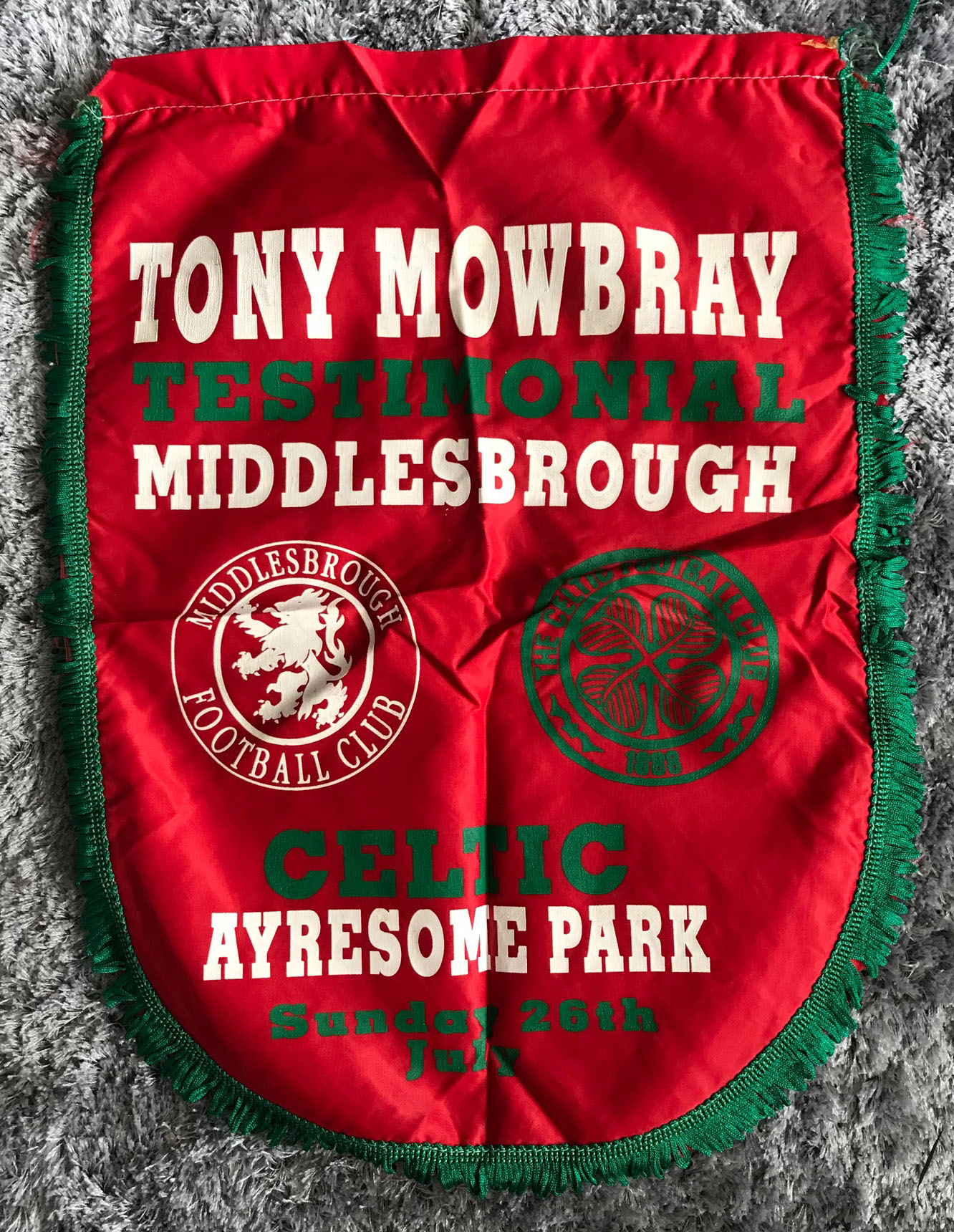 My fears were unfounded because I virtually bumped into a bus convener as I came out the ground. 'Alright wee man?'
He escorted me back to the coach to a hero's welcome. The rest of the Bhoys had waited for a replacement and had made it to the ground not long before half time. I was a bit of a legend. I had not only made it down for the kick off but also successfully negotiated my way back to the bus and I was in one piece. I had instant respect, it wasn't something I was wholly aware of until many years later when older Bhoys would tell other people about this trip.
The journey home was joyous. After an eventful day I was feeling tired and I couldn't wait to get back and recount a tale of a day out watching the Celtic to my father who had told me endless stories of his many journeys watching Celtic through the 60's, 70's & 80's.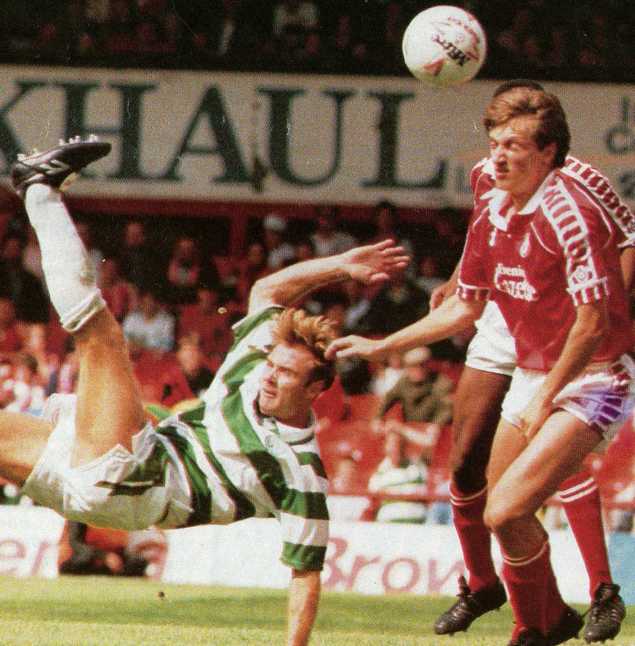 Due to our coach breaking down and the Bhoys not getting a trip to the pub in Middlesbrough it was decided that the replacement coach and driver would stop at Cocksburnspath on the journey home. I was gutted. I just wanted to get up the road to my dinner and my father.
The coach was stopped we found a pub and an off-sales and the Bhoys were happy. Myself and a few other non-drinkers were happy to discover a football pitch behind the pub and we spent a few hours kicking a ball about. Unfortunately it was getting on a bit and I had to make the dreaded call home. It was just after 9pm and the coach was due to leave for home at 10pm (of course with experience now I should have known better). My mother was less than best pleased. My father didn't get on the phone. I'm sure he was in the dog house but as I was on a pay phone the call was short and sweet anyway, well not sweet but short.
26th July 1992, Celtic draw 1:1 with Middlesbrough in a testimonial for Tony Mowbray.

Cracking volley from Tommy Coyne. pic.twitter.com/cOnKW6zngJ

— Li'l Ze (@LilZe_7) July 25, 2023
It would be after midnight by the time I got home. The coach dropped me off virtually at the end of my street. I waved farewell to people I had travelled with that day, little did I know that some would become lifelong friends and some of the best people I would ever encounter on this earth. It's fair to say it had been an eventful day.
As I crept in the front door my Father met me in the hallway. He had waited up. He made me tea and toast and we sat in the kitchen as I recounted my day to him. I recalled it in every detail and could sense his pride, excitement and envy at the tale being shared with him.
It was a moment he knew was coming and it was obviously something he felt was right not only from a football point of view but also for life experience. In a sense I became a young man on that trip. Somehow my mother allowed me to continue travelling to games on this bus.
This was the start of a beautiful journey on CSC's. I have been on many. Some for years, some for a day but I have always enjoyed travelling to matches on that mode of transport. There is a wonderful camaraderie and a banter that can't be replicated. There are friends, families and sometimes even foes on them. It is a travelling community of Celtic supporters. There are laughter, tears, anger, joy, sadness and a lot of celebrating. You feel part of something. Some of the best days of my life have been on Supporters buses travelling up and down this country and the result hasn't always been in our favour on the day.
It all started for me on a summer's day trip to Middlesbrough. Where did it start for you?
LiviBhoy
On this day – 26th July 1992 we played Middlesborough in the Tony Mowbray Testimonial Match 🍀

The match ended 1-1. pic.twitter.com/w6Tn6A6dRH

— Celtic Curio (@Celticcurio) July 26, 2023